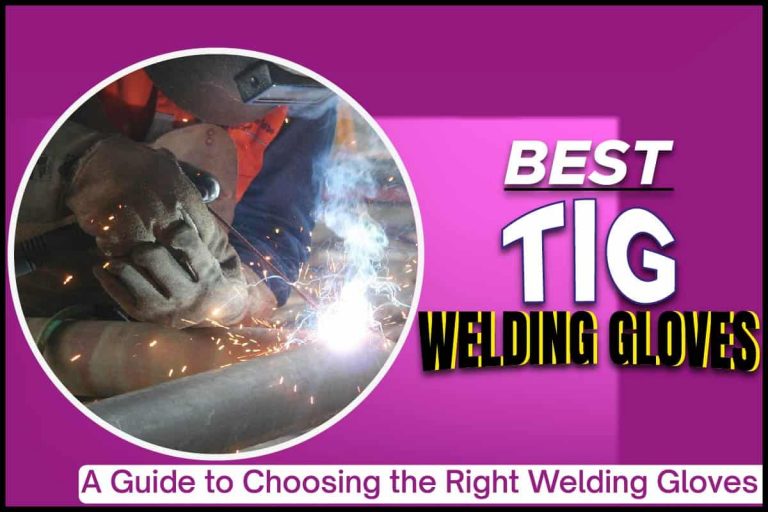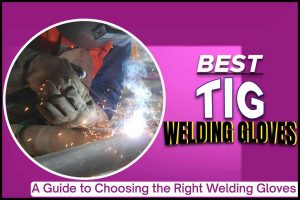 TIG welding has always been known for being the best welding option for those who want clean and more precision for metal welding. No matter how good you are in TIG welding, you need to carefully choose your welding gears to avoid all kinds of accidents and to boost productivity. Having a welding glove that provides maximum coverage for your sensitive hands is one sure way of becoming a professional welder. There are many welding gloves in the market today, and you may get confused on which one to opt for. Read the product review below alongside the comprehensive guide to find the right gloves that will meet your needs. 

Our Top 3 Picks To Look At A Glance
Length and width

Leather material

Maximum temperature range

Lining

Other features

Stitching

Rapicca 16" Leather Welding Gloves
16"

Goat skin

923F degrees

Double cotton padding

Flame , fire and heat resistant

Kevlar

BSX Premium 3 Kidskin Gloves
13"

Cow hide

800F degrees

Drag patch

Abrasion and heat resistant

Kevlar

West Chester TIG Welding Gloves
12.5"

Kid's skin

800F degrees

cotton

Flame and heat resistant

Kevlar
The Best TIG Gloves To Choose- A Product Review Of Top Best TIG Gloves In The Market
Based on volumes of sales and reviews from users. The following are the best welding gloves for tig welding in the market.
1. Revco GM1611 Top Grain Leather Cowhide MIG Welding Gloves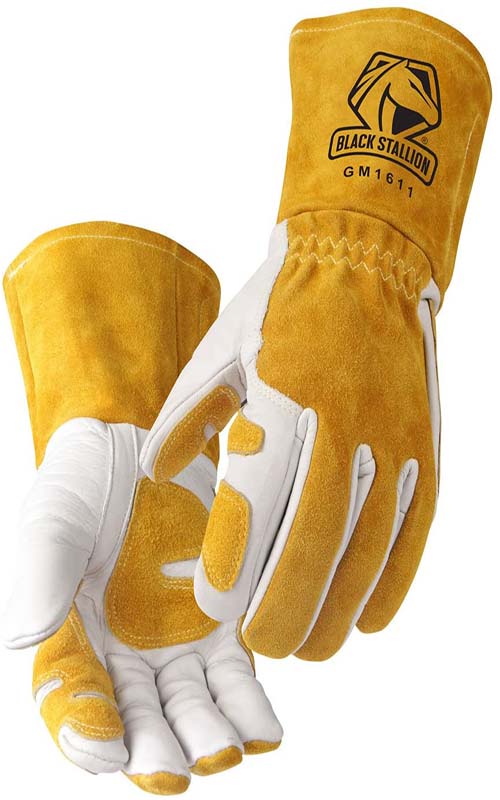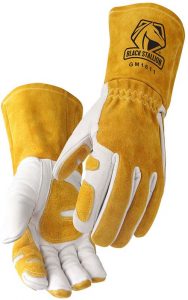 In addition to offering great practical results, this is one of the most aesthetically appealing TIG welding gloves you can find around.
Specifications
Reinforced palm, thumb, and index finger.

Seamless forefinger design

5″ cuff

Side and wrist padding design.  

6″ in length

Leather material

Tan color
Features
This product is available in six different sizes: medium, large, extra-large, small, XX-large, and limited edition. Made from a grain cowhide leather palm material, it is extra durable and strong.
The leatherback is split design, and there are reinforcement patches in the essential parts: index finger, palm, and thumb.
The design comes with a drag patch for side padding and a rest patch for wrist padding. There is a Kevlar stitch throughout the procedure for maximum durability plus heat, spark, and slag resistance.
The soft internal cotton lining of these gloves offers even greater comfort for the user. The material is not bulky in hand, and it provides a higher abrasion-resistant feature. This glove is undoubtedly a top option for all categories of welders.   
One characteristic feature you will appreciate on these gloves is that You can clean them easily. The outer leather structure is designed to be washed with water and mild soap, and it dries quickly after cleaning. This type of design means you can clean and wear them on the go.
Pros
Reinforced areas reduce pressure.
Large cuff provides extra protection.
Side and wrist padding provides extra cushion.
Heat resistant materials.
Soft internal cotton lining.
Cons
Extra leather at the index finger may limit its use.
2. Tillman 1338 Top Grain Goatskin TIG Welding Gloves with 4″ Cuff, X-Large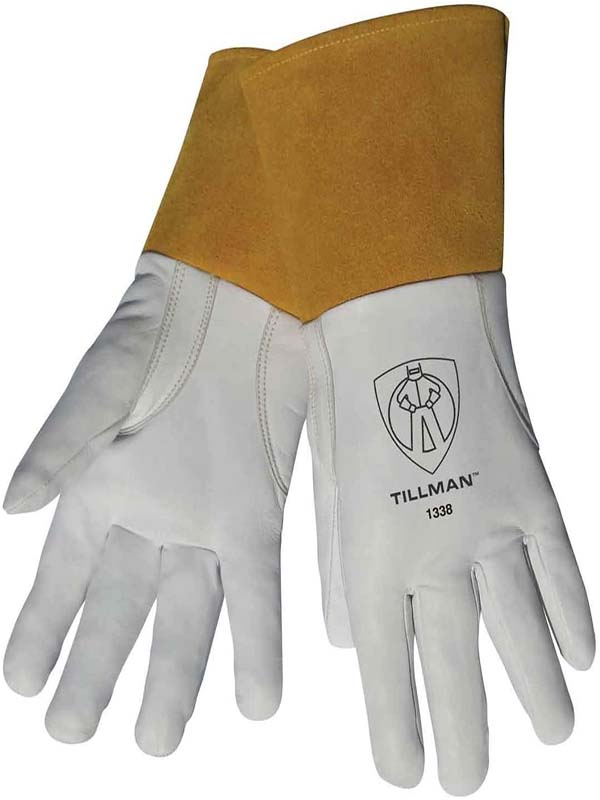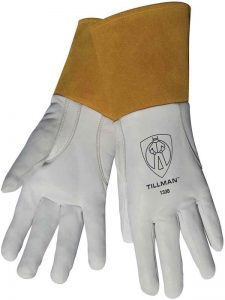 This glove is an extra-large TIG welding glove that also comes in small, large, premium large, and updated version sizes.
Specifications
4″ curve

Extra-large size.

Glide patches

Reinforced thumb.

Straight thumb design

Kevlar sewn gloves

Leather material
Features
It is made from a pearl top goatskin material to provide superior finishing and ultimate dexterity. With its glide patches, you can move your hands quickly and freely. The glide patch will also protect the side of the glove while you drag a welding gun.
The thumb area is reinforced to add extra strength in some key areas. With the straight thumb design, you can hold the gun much better. With the Kevlar sewn addition, these gloves come with added strength.
In addition to using the gloves for TIG welding, you can also use them for other things like barbecue tool handling and handling typical home DIY jobs.
With the internal design of these gloves, your hands will remain dry while you weld. Sweat is conducted quickly away from your palm, and you can comfortably continue working.
Pros
Glide patches for more effortless movement.
Less stress with reinforcements.
Straight thumb for efficient gun holding.
Kevlar-sewn for added strength.
Versatile.
Cons
Seams at palms may rip out with poor handling or storage.
3. Lincoln Electric Grain Leather TIG Welding Gloves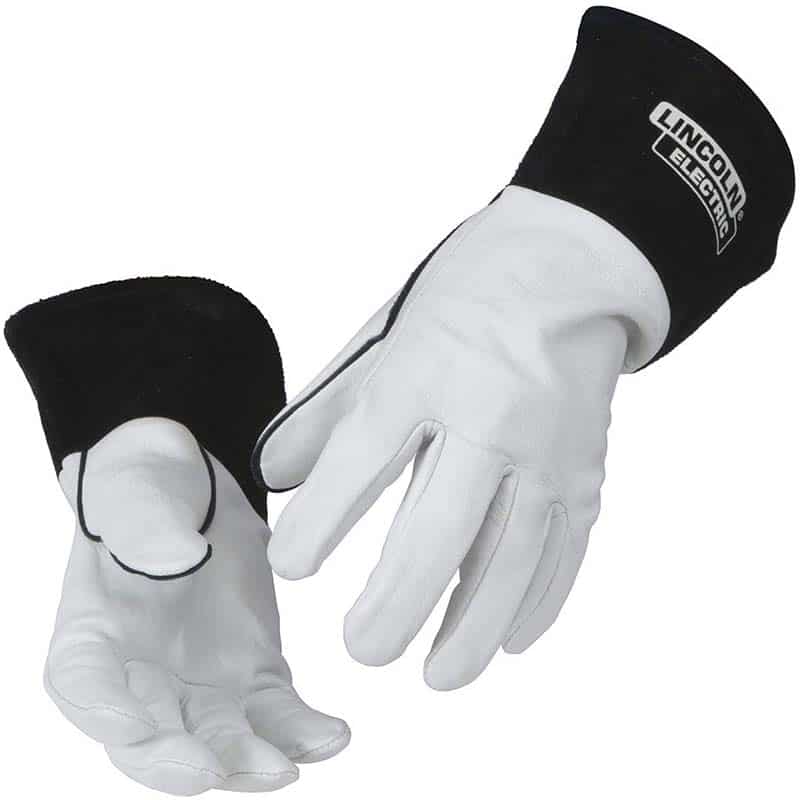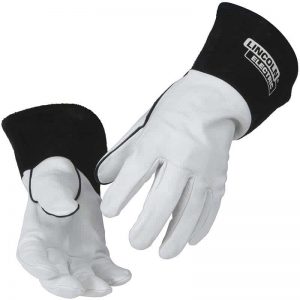 This glove is a lightweight, soft leather you can count on for your TIG welding needs.
Specifications
3-part sewn fingers.

4″ curve

High strength seams

Kevlar thread stitching.

Reinforced thumb

White and black colors
Features
The lightweight leather material used for the design of these gloves offers excellent dexterity. It has robust seams because the seams are stitched with very high-strength Kevlar thread to prevent any seam failure.
The leather reinforcement of these gloves promotes more outstanding durability. The glove thumb is reinforced for additional durability and comfort. The 4″ durable leather curve ensures a significant abrasion-resistant effect, and it also protects the wrists from heat, flames, and sparks.
Professional welders have used these TIG welding gloves for decades without issues. It is one of the most-trusted gloves around. The palm is also padded for added comfort and better handling. Its white and black color is considered minimalistic.
The outer layer of the gloves is not greasy, and that is why it provides an excellent grip on TIG welding materials and any other metal. Those who wear these gloves for grilling or other cooking activities can also rely on non-sticky leather to handle grease and other sticky items.
The holding capability of these gloves is excellent. You can hold any TIG welding material in your hand because the gloves offer excellent grip without causing sweat to your palms in the internal region. You can also straightforwardly clean the gloves though you should avoid letting water getting inside by all means.
Pros
High dexterity of material.
Excellent seam strength.
Reinforced thumb for comfort and durability.
Holds up to the palm nicely for good grip.
Leather is abrasion, heat, and flame resistant.
Highly versatile and multipurpose.
Cons
There is no inside liner.
4. Caiman White Goatskin, Long Cuff, Welding Gloves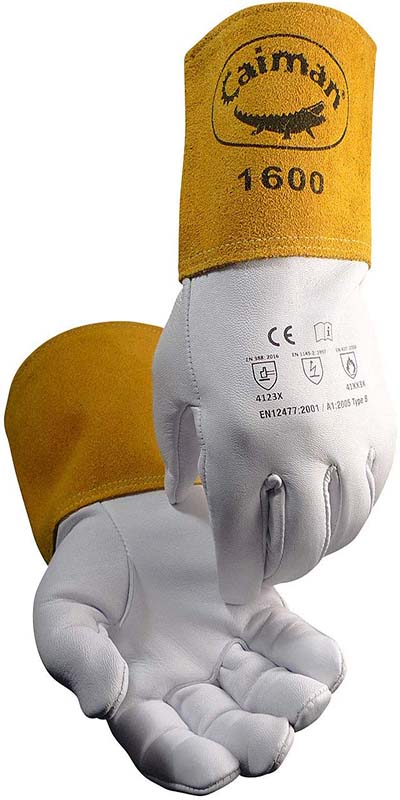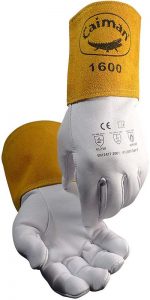 You can use these gloves for both TIG and MIG welding, and fortunately, they can be used by professionals, amateurs, and beginners.
Specifications
Medium size

Goat grain leather material

4″ cuff

Thin leather gloves

White and yellow colors

Kevlar stitches

Reinforced parts
Features
These gloves appear shorter, but they offer one of the best grips you can ever wish to have. The gloves are wholly unlined but still provide great comfort from within the inner section.
The white and orange color combination provides a minimalistic appearance; hence it is suitable for those who don't want great gloves. The gloves have thin structures that don't add bulk to your palm. Kevlar stitching ensures durability and strength.
Some parts of the palm have been reinforced to handle more physically demanding jobs without putting pressure on reinforced parts. The four-inch cuff provides more flexibility for your thumb to move freely. The leather material is heat, cut, and spark resistant.
Treated goatskin gloves are always known for high strength and resilience, and that is why they are trustworthy when it comes to TIG welding and some other uses.
Pros
Goat-skin leather is resilient and durable.
Very thin design.
Kevlar stitching provides durability.
Reinforced parts for added comfort and strength.
Affordable.
It snugs nicely to your hand.
Cons
They can be too thin for some applications outside TIG welding.
5. Rapicca 16″ Leather Welding Gloves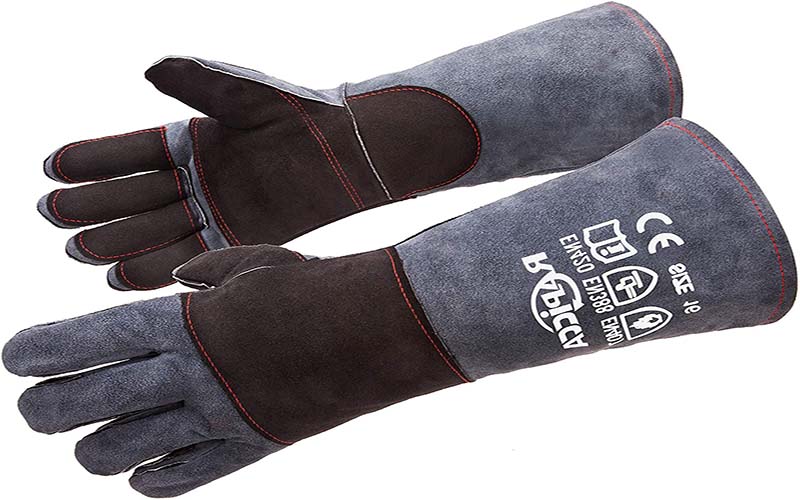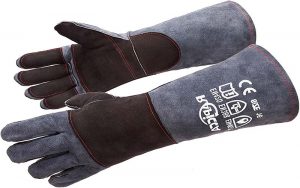 This is one of the most versatile TIG welding gloves you will find around; hence you can call it the best tig gloves for those who want to use the gloves for more than welding.
Specifications
923F degrees maximum temperature.

16″ length.

Flame, fire, and heat resistant

Grey-black color

Reinforced double layer padding

Flame-retardant stitching.

Four layers of heat resistant design.

1.5mm shoulder split cowhide leather 

80% UV protection. 
Features
This option is one leather glove that can resist hot temperatures even at a maximum of 923F degrees; hence it is reliable. It is an excellent glove for forging, MIG welding, and stick welding; it is also designed to be fire-resistance; therefore, it is recommended for fireplace handling.
The 16″ extra-long sleeve provides more than enough coverage for your hands. It is also available in the shorter 14″ sleeve option. This glove is the only brand that offers Kevlar double layer padding that covers palms, elbows, fingers, and back of the palm.
It also comes with a four-layer heat-resistant feature. While the outermost layer is leather, the intermediate layer comprises a composite made with laminating material called an air-isolated aluminum foil. The inner layer shall consist of 100% soft cotton.
The design is completed with flame-retardant thread stitching, making the entire gloves breathable, sweat-absorbent, and allergy-free.
It offers excellent security for the forearm, especially from the grinding debris, hot coals, open flames, and sparks.
These gloves are designed for easy cleaning; hence there is no need to scrub the outer leather layer as such may weaken the texture.
Pros
Highly versatile with multiple applications.
High fire and heat resistance.
Double-layer padding for comfort.
Soft inner cotton layer adds comfort.
Breathable and allergy-free.
One-size fits all.
Cons
Slightly costlier than competitors.
6. TIGster Premium Flame Resistant Snug Fit Kidskin TIG Welding Gloves-XL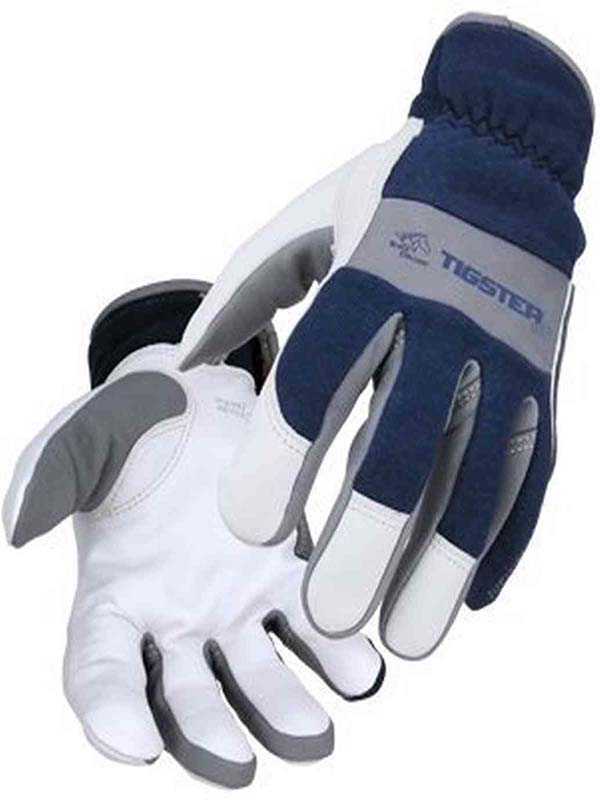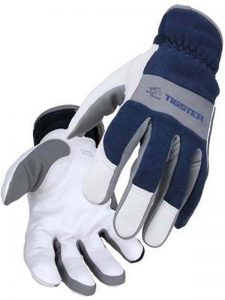 Soft on the inside, tough on the outside. This glove is a TIG welding glove that offers excellent convenience all day.
Specifications
Snug-fitting

Seamless index design

Drag-patch design.

Ergonomic keystone thumb

Kevlar stitching

It measures 6.4 x 2.4 x 1.8 inches in length, height and width.

Leather and cotton materials

Blue and white colors.
Features
The soft kid-skin gloves are designed to repel heat, flame, and many more. The glove comes with a seamless design at the index finger that offers extra protection and comfortability.
With a feasible drag patch, the lifespan of the gloves is greatly extended for prolonged usage. With the ergonomic keystone thumb design, you can freely move and grip things with your thumb without stress.
The gloves are completed with the Kevlar stitching process, which is flame and heat-resistant. This means you can continuously use the gloves at extreme temperatures without stress or fear of being burnt.
With its length extending to 6.4 inches, these gloves offer extensive coverage for your hands in every situation. Since they are short cuffed gloves, they are primarily suitable for experienced TIG welders who can avoid contact with the wrists.
Aside from welders, the gloves are of high quality for landscapers, mechanics, and other handymen and handywomen.
Pros
Flame retardant gloves.
Seamless design offers extra dexterity.
Drag-patch for the longevity of gloves.
Ergonomic thumb area design.
Flame resistant stitching material.
Cons
Quite short, they extend to the wrists only.
7. BSX Premium 3 Kidskin Finger Cowhide Back TIG Welding Gloves – BT88 LARGE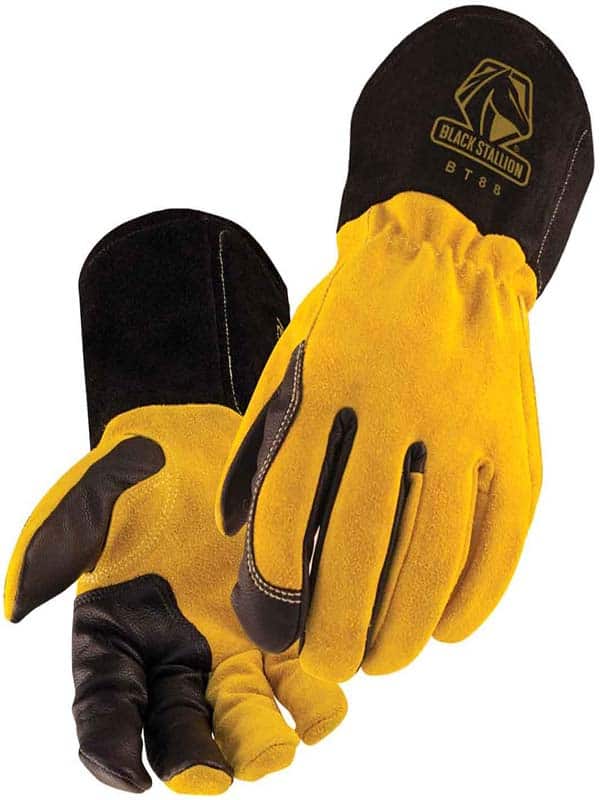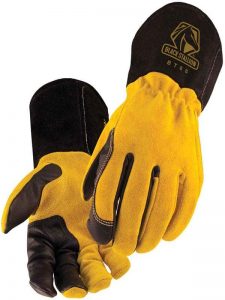 The rigid cowhide skin material used in making these gloves makes it one of the most durable options out there.
Specifications
Large size.

3-finger premium design.

Exclusive rest-patch design.

Drag patch insulation material.

Kevlar stitching

It measures 13 x 6 x 2 inches in length, height, and width

Tan and black color

Leather material.
Features
Though it comes in predominantly large size, this product is also available in extra-large size. The most striking feature here is the three-finger design with a premium goatskin grain design that makes it more challenging than regular gloves out there.
With its rest-patch design, there is an extra wrist-padding effect that protects your wrists from exerted pressure. With a drag patch design, extra insulation is provided for your wrist and fingers. The Kevlar stitching offers an additional abrasion-resistant feature.
With its 13 inches of length, it provides extensive coverage for your fingers during TIG welding. The gloves are very easy to clean from the outside, while the inside offers a breathable experience, keeping your hands dry.
These gloves offer more dexterity than the shorter version, but the shorter version may be more suitable for grip, especially with shorter fingers.
Pros
Extremely durable goat hide skin material.
Rest-patch protects your wrist.
Drag patch offers extra insulation.
Abrasion-resistant stitching.
Great length of coverage.
Cons
Thumb length may vary in the two gloves.
8. Welding Gloves, 3D, Wing, 11In, White-Blue, PR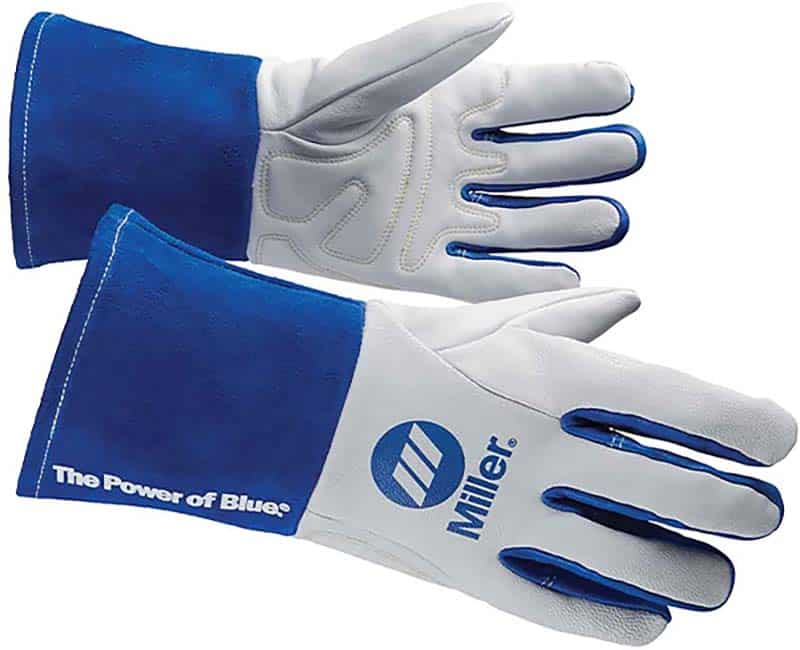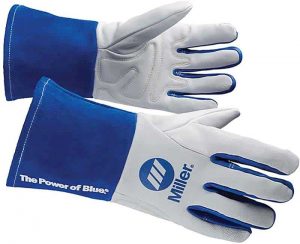 3D TIG gloves are not very common in the market, but this one will surely provide everything you need for regular TIG welding.
Specifications
Kevlar stitching.

Premium leather material.

It contains natural oils

Goatskin leather

Gauntlet size cuff

11 inches in length

Split leather cut

Keystone thumb style
Features
 One of the most exciting things about these gloves is that they contain natural oils to keep them soft always. With leather made from goatskin, you can expect the best durability and toughness you desire in TIG welding gloves.
With 11 inches of length, these gloves will cover beyond the wrist and provide an excellent grip on any material. The keystone thumb style design ensures good grip and comfort, giving your thumb the utmost flexibility.
This product is one of the most prominent gloves from Miller Electric, the foremost glove manufacturer in the world. The gloves are heat and fire-resistant, even at very extreme welding temperatures.
Available in large size, which is also a one-size fit. It can be used efficiently by beginner, amateur, and professional welders. As unisex gloves, they snug perfectly into your hands, and You can also remove them quickly.
Very tactile in design, hence it provides more excellent dexterity. It feels softer than thicker gloves around.
Pros
Very comfortable back material.
Natural oil improves comfort.
Keystone thumb design for extra thumb comfort.
One-size fits all.
Unisex gloves.
Cons
Smurf blue stains may appear inside your nails initially.
9. West Chester – 6141/XL IRON CAT 6141 Kidskin TIG Welding Gloves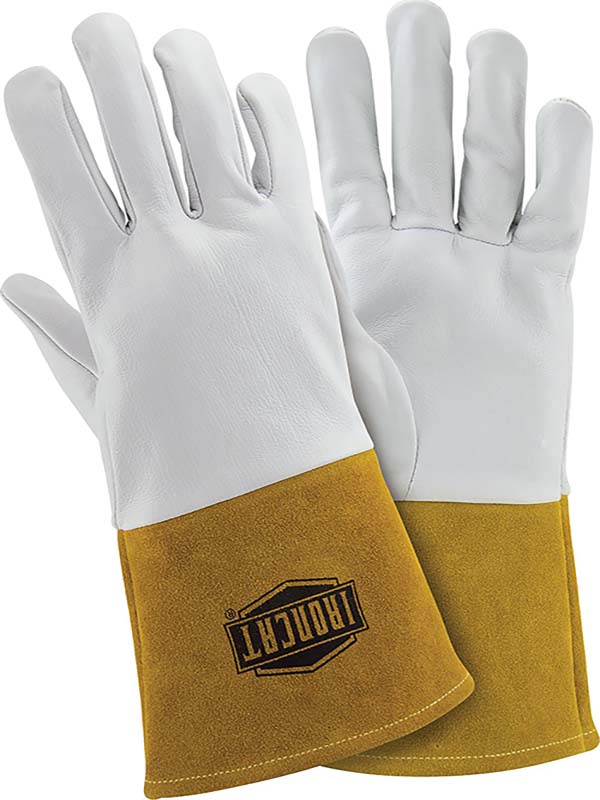 The extra-large gloves also come in five other sizes: small, medium, XX-large, and XXX-Large.
Specifications
12.5 x 5.25 inches in length and width

Gold cuff.

Straight thumb

Top-grain kid's skin leather.

Kevlar threading

Extended cuff.

Pearl color
Features
This glove is a TIG welding safety gear commonly used in steel mills, automotive, manufacturing, automotive, and many other works. They will protect your hands from welding sparks and molten metal fragments.
The leather comes from the kid's skin that provides the ultimate dexterity and comfort. The Kevlar threading will protect the seams from welding sparks. The extended cuff will ensure that your hands are well-protected from burns.
These gloves are resistant to punctures and abrasions, thus keeping your hands safe from dangerous metal materials. The superior grip is also provided by the straight thumb design. The pearl-colored gloves compare favorably with other sophisticated gloves in terms of price.
Very light and soft in design, these gloves are easy to manoeuvre for different applications. They are so durable for extended usage over a long period.
Pros
Very comfortable leather.
Kevlar threading for added protection.
Extended cuff protects lower arms from burns.
Straight thumb for better grip.
Its length extends beyond the wrist.
Cons
The stitch may break if not handled properly.
10. Superior 370GFKLXL Precision Arc Goatskin Leather Welding Gloves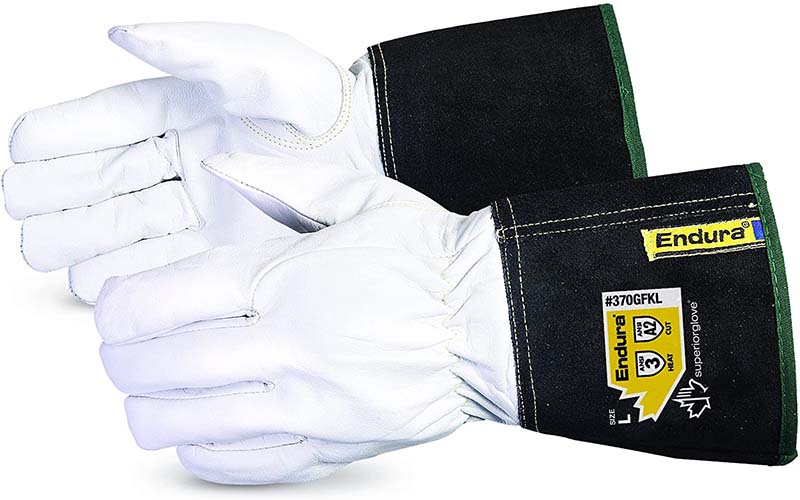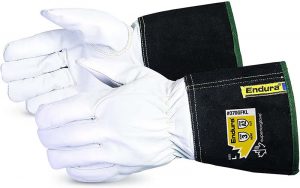 Just as the name suggests, this brand of gloves offers excellent protection and support for TIG welding procedures.
Specifications
Kevlar lining

Extra-large size.

ASTM level-2 rated

Made from goatskin leather.

Puncture resistance level 3

It measures 12.5 x 6.5 x 1.5 inches in length, height and width.

Black and white colors.
Features
In addition to the extra-large size, these gloves are available in three other sizes: Medium, Large, and XX-Large.
The gloves boast a 625 grams of cut-resistant design plus an ASTM level-2 rating that provides an excellent touch and higher dexterity and control.
 The hand portion of the gloves is lined with the cut and sewn KEVLAR interlock stitches for a snug-fit experience that wouldn't interfere with your work and provide heat-resistant capabilities.
The goatskin leather material used for the design provides extra toughness and durability you can count on. This leather also offers a great sense of touch and dexterity, two essential features for constant welders.
In addition to being recommended for TIG welding, these gloves are also recommended for MIG welding, stainless steel welding, and steel foundries, among others.
With a length of 12.5 inches, you will be conveniently covered beyond your wrist. The leather is also designed to resist flame, oil, and water, giving you the dryness to help you complete brief and long-term welding.
Pros
Kevlar stitches provide a heat resistance feature.
Goatskin leather for extra toughness.
Puncture resistant.
Easy to clean and reuse.
Good for all levels of welders.
Cons
It could be tighter on people with more giant fingers.
11. West Chester IRON CAT 6100 Metal Tamer TIG Welding Gloves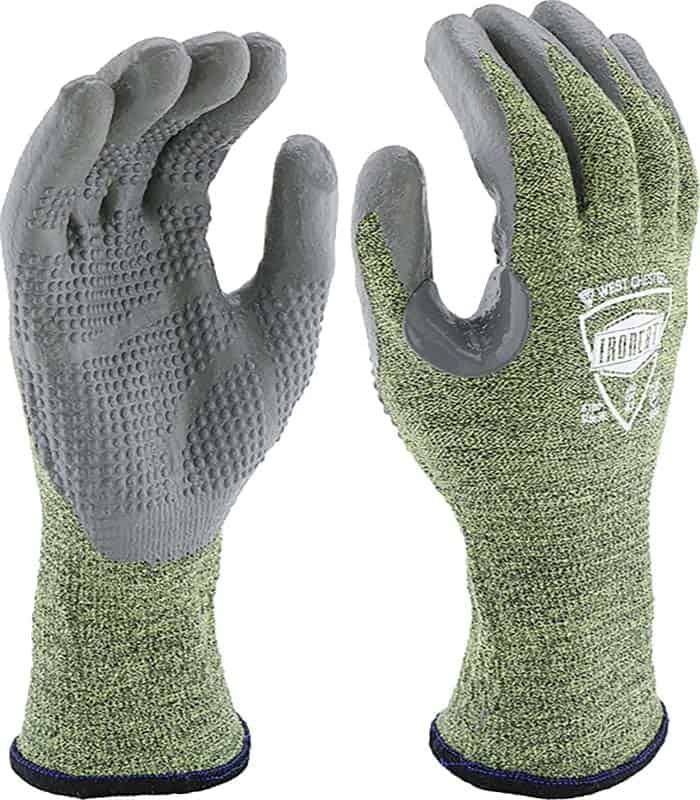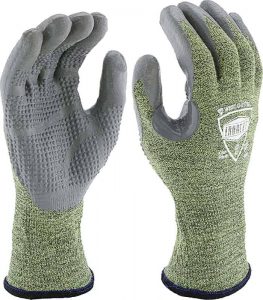 These gloves look ordinary when you see them for the first time, but they are more functional than how they appear.
Specifications
Large size

Silicone-coated palm knit

Fire resistant

Dotted silicone palm design.

Up to 212F degrees heat protection

Grey and green colors

11 x 4.25 inches in length and width, respectively.
Features
Perhaps the silicone material palm is the most striking feature of these gloves. There are dots along the joints of the silicone palm material, while the finger designs are bent to allow a better range of motion and more flexibility.
The gloves are not just for TIG welding alone, and it is also ideal for workers at metal fabrication sites who desire ultimate protection for their hands. These gloves must only be washed when necessary. Use warm water at less than 104F degrees to clean them but don't soak them for long.
Mild detergents are recommended for cleaning, but harsh liquid and semi-liquid chemicals are strictly prohibited. The gloves are characterized by grey inner color and green exterior color.
The wing thumb and rib-knit designs of these gloves ensure there is a snug fit in the palm. The snug-fit design provides a more excellent grip on metals and other welding components, thus reducing the risks of accidents.
Pros
Silicone palm for maximum protection.
Dotted palm joints provide more flexibility.
You can easily clean it with warm water.
11 inches of length cover beyond the wrist.
Sparks, flames, and heat resistance.
Cons
It can be stiff and quite hard to use these gloves to feed TIG rods.
12. Ironclad General Utility Work Gloves GUG, All-Purpose TIG Gloves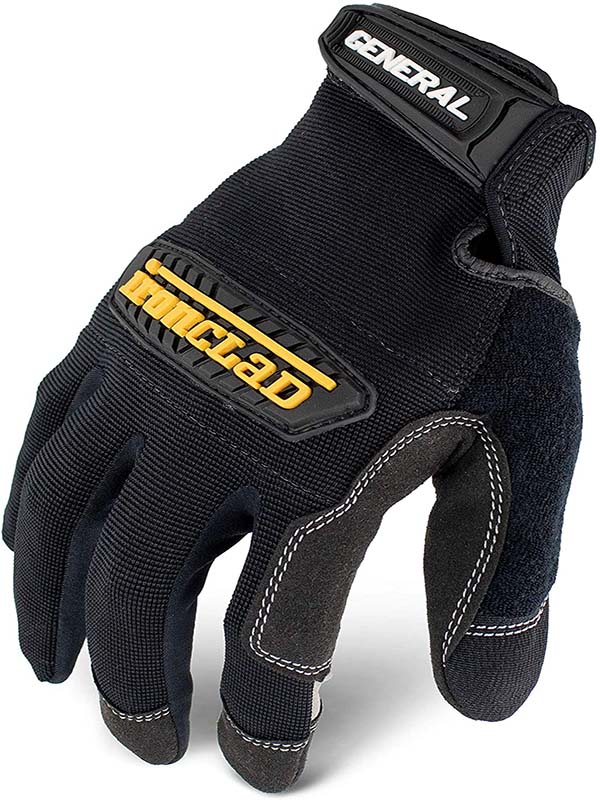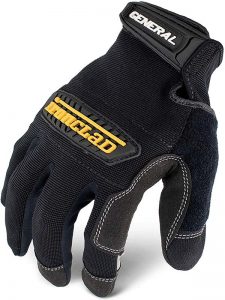 These multipurpose gloves are extra durable and engineered to last longer. They are available in 6 different sizes.
Specifications
Large size.

Secured by Thermoplastic wrist rubber knuckle

Back of glove terry cloth sweat wipe.

Machine washable

Engineered to be fit

Black color

Leather, nylon, and synthetic leather material

It measures 10 x 4.25 x 1 inch in length, width, and height, respectively.
Features
This glove is a performance-fit and machine washable glove that will last for years. With six different sizes, you can rest assured that these gloves will fit all hand sizes. It is available in extra-small, small, medium, large, Extra-large, and XX-Large.
It comes with a thermoplastic rubber knuckle protection that protects the knuckles against high impact and abrasion. With the terry cloth sweat wipe located at the back of the thumb, you can remove sweat with just one swipe of the brow. This glove will help you stay concentrated on your welding job.
This is the best-selling Ironclad glove in the market. The gloves are machine washable, but air drying is the only drying option recommended if you want to keep the size consistent over a long period.
These gloves are engineered to be fit, and the measurements were driven by more than 16 different applications to design the all-acceptable gloves. The gloves are designed with nylon, leather, and synthetic leather materials.
Pros
Six sizes for different hand sizes.
Knuckles protected by thermoplastic rubber.
Sweat wipe located at the back.
Snuggly fit.
Enough length to cover beyond the wrist.
Cons
The gloves are too thin at the top.
The Best TIG Welding Gloves- A Guide To Choosing The Right Gloves
Finding suitable tig welding gloves is not as difficult as you think; it is a lot easier when the correct information guides you.
Welding gloves are the protective gear that must protect you from scrapes, scratches, burns, and cuts while you work. To find the ideal welding gloves for your needs, you must check the statements in the ANSI Standard Z49:1. You must also consider the type of welding you want to do. The materials used in the making of the gloves are also necessary.
ANSI (The American National Standards Institutes) standard Z49.1 provides a list of safety standards for welders, cutters, and others working in such fields. The ANSI Z49.1 requires all welders to wear flame-repellent protective gloves. The guideline also stipulates that the gloves must remain in good condition, must be dry, and capable of protecting welders from electric shock.
To know the right time for welding gloves, you should be sure of the type of welding you are venturing into. From here, you can narrow down the material that will be most suitable for your type of welding job. The following factors are some of the most important ones you should consider when looking for suitable tig gloves. 
General desirable features

Thread

Fit

Lining

Leather or fabric hem

Welted or not welted

Length and width
1. General Desirable Features
TIG welding may be the best type of welding because they don't generate as much heat and sparks as MIG and some other welding types. If you choose a TIG welding glove, you should consider those that will fit your palm snugly. The gloves must be flexible and allow you to move your hands freely. 
 Heat-resistant may not be as important as comfort, and TIG welding gloves may have thinner padding. TIG welding gloves may come with goatskin and may come with cotton or nylon lining. Lightweight TIG gloves are also desirable. 
There are many other features desirable in TIG welding gloves. Ideal TIG gloves must be capable of protecting you from extreme heat, electric shocks, and mechanical injuries. 
You should look out for TIG gloves with excellent heat insulation and should be thick enough to protect your hands from sparks, splatter, and molten metals. Suitable TIG gloves should also be wide enough to prevent burns; such gloves usually don't deform when they contact hot materials. Gloves must be durable to withstand all-day extended usage. 
2. The fit of the gloves on your arms
Opting for the right fit of gloves also matter. The suitable gloves must be very comfortable to wear, and Often, welders, take off their gloves when such are uncomfortable, thus exposing their hands to severe dangers. 
Some gloves can become awkward, stiff, and bulky, thus creating discomfort. Make sure your chosen gloves are fitted well enough to get you started for the day. The right glove fit will allow you to move your hands freely and provide a broader range of motion. W glove with a good grip will allow you to perform more finger works. 
You may want to consider gloves with adjusting screws, vise grips, or any other wrist adjustments. Glove supports will allow you to change your fitness to suit your needs. 
The material used in making the TIG gloves also matter. Generally, you must go for TIG welding gloves made from leather or similar material. Make sure the leather can withstand the heat of up to 400F degrees. Many welding gloves are tanned with chromium oxide, making them suitable to handle hot substances like welding equipment.
TIG and other welding gloves come with two different types of leather materials: Split leather or top grain leather. The split leather is quite thick; hence it will split into two when used. Split leathers are more flexible, allowing your hands to move freely. They are also water-resistant and are not susceptible to puncture. 
Top grain leather is that part of the hide that you get when you divide it in half. Top grain leather looks more impressive and beautiful but is more expensive than split leather materials. 
3. Source of Leather
You should also consider leather glove materials according to their sources. TIG welding gloves may come from different natural sources, and these are; Cowhide, pigskin, Deerskin, Elkskin, and Goatskin. 
Goatskin TIG welding gloves are some of the most popular because they are incredibly durable and provide a better range of movement for the fingers. 
Cowhide is the most familiar source of leather skin used for making gloves. They are very durable and more heat-resistant than most of the other leathers. Cowhide skin leather is more comfortable to wear, and they come with cotton lining. Cowhide leather can withstand more than 900F degrees of heat. 
Pigskin leather is lighter than most other types of leather materials. It is pretty durable and moisture-resistant. Pigskin leather is not very common because it doesn't hold extreme heat much. Deerskin can mold to your hand over time, and that is why many people prefer leather. Elkskin leather is fire resistant and is comfortable to wear too. 
Aside from leather glove materials, there are other materials used in making TIG gloves. Rubber gloves are pretty standard, and as a matter of fact, they can protect you from electrical shocks and moisture. 
There are cotton gloves that are lighter and more comfortable. Aluminized welding gloves are also standard and can protect your hands from heat radiation while cooling your hands off inside. 
You may want to avoid gloves made from materials like synthetic leather only, PVC, Polyurethane, and some other forms of plastics. These materials can ignite or melt when exposed to fire. 
The key to choosing the suitable glove leather material is to consider what you are exposed to often during welding. Good leather must protect you from heat, fire, and molten substances. 
4. Lining of the gloves
In addition to the leather material used, you should also consider the lining and other components used in making the gloves. Common lining materials used in making leather gloves are; Foam, DuPont Kevlar, Jersey, Wool, cotton, and pile. 
Foam-lined TIG welding gloves are desirable, and they have a thin air barrier that can act as a cushion on the inside of the gloves. Foam linings are lightweight and soft to feel, and they ensure that your gloves don't slide off while you are welding. 
The DuPont Kevlar lining can be very durable and provide excellent heat protection- these are reasons it is trendy in TIG welding gloves. Kevlar linings support an excellent grip on the hands and wouldn't impact negatively on your touch sensitivity. 
Jersey linings are not very common in TIG welding gloves because they offer just moderate heat protection. Jersey linings are the most affordable linings around. 
Wool linings in welding gloves are known for drying quickly and for providing excellent heat protection. Wool is also a great choice because it is not very expensive. The issue with wool lining is that it can be thicker and may not fit snugly as you want. 
Pile and cotton linings are known to feel soft to the touch. They are very much breathable and promote air circulation. 
5. The type of Stitches on the gloves
Kevlar stitches are perhaps the best options for TIG welding gloves. These stitches are great because they protect the gloves from possible melting or structural breakdown when they contact fire.
Never go for gloves that don't come with the right stitches if you don't want your gloves to lose their structures in no time. 
Do you need a Fully-welted Glove and Gauntlet Cuff?
In addition to leather and good lining, you should ask yourself whether a fully-welted welding glove is necessary. 
Welts are simply those tiny strips of leather that are sewn over into the seams of the gloves. They are known to protect glove stitches from splatters and sparks that can melt down the gloves. 
Full welting of gloves will make them more durable because the seams are more protected. On the other hand, a partially-welted glove is cheaper and will still provide excellent protection for the seams. 
You also need to be sure if you will need gloves with a gauntlet cuff. The gauntlet cuff is that protective material piece that protects the forearm and wrist when welding. If you indulge in welding that generates many splatters, you will need gloves with a gauntlet cuff for maximum protection. 
6. Length and width of Gloves
There is no general rule for choosing TIG welding gloves based on length and width; you need to find gloves that match your needs. This means the gloves must not be too loose and must not be too tight. Some gloves will only cover up to the wrist region, while some extend beyond the wrist. 
You should instead go for one that has extra length and extend beyond the wrists for adequate coverage. Remember, your wrist is also exposed to welding hazards; hence you should go for the extra length instead of the shorter one. 
Frequently Asked Questions (FAQs) On Welding Gloves 
Question: Can I use Welding gloves for other purposes
Answer: It is essential to use TIG welding gloves for what they are designed for. When using for other purposes, there is no guarantee that you will not compromise the gloves' protective properties. For this reason, you may end up being injured when exposed to a situation outside of what the gloves can prevent. 
Question: Is exposure to UV rays a priority when choosing TIG welding gloves?
Answer: Gloves are not designed to protect you from UV rays; instead, welding masks are designed for protection against UV rays. The coverage of your arms has to do with protecting you from excess heat, flame, and slags. The UV rays emitted from the welding materials will likely affect you the same way UV rays from the sun will. 
Welding arcs can lead to a condition known as arc eye because they are very bright. For this reason, you should wear gloves that can protect your arms from welding arc and a helmet to protect your eyes when welding. 
Question: What amount of insulation should I go for? 
Answer: Regardless of the type of welding you indulge in, materials will generate excess heat from sparks and heat. The amount of insulation you need will depend mainly on the amount of heat generated. 
The metal you are welding will eventually generate heat that can burn our hands, but adequate insulation can prevent this. First, you must understand the capacity of each type of insulation material. 
The cotton liner, for instance, is an excellent insulator that can handle moderately high temperatures of heat. The cotton liner can insulate your hands against the heat of 450f degrees and upward. Though the cotton insulator will add some bulk, it is pretty affordable. 
The Kevlar liner is another powerful insulator you should consider. Since a cotton liner may be too bulky for TIG welding, a Kevlar liner will be your best option. A Kevlar liner will not drip or melt the oven at 800F degrees. The liner will not make your glove bulky. This lining or insulator also provides great cut-resistance, which is needed especially when dealing with sharp metals. 
Aluminized insulator is another popular insulator found in some welding gloves. These insulators are only recommended for very high heat-generating welding options like stick welding. Aluminized insulators are generally positioned at the back of the gloves, and they can deflect heat away quickly from the hands, thus providing longer welding runs and boosting productivity. 
Question: How long will an average welding glove last?
Answer: The lifespan of welding gloves will depend on several factors. The most prominent determinant is the quality of the materials used in designing the gloves. As mentioned earlier, leathers used for making gloves come from the skin and hide of animals, and they come with varying toughness. The more challenging the leather, the more likely your gloves will last for several years. Non-leather gloves don't last much as leather gloves. 
Another factor determining the lifespan of welding gloves is the frequency of use and maintenance of the gloves. Gloves that are rarely used will likely last longer than those used almost daily. Similarly, tighter gloves may eventually lose their grip and strength than those that fit snugly to your hands. 
Gloves that are rarely cleaned and well-maintained will get damaged quickly compared to those well-cleaned and maintained. 
How To Keep Yourself Safe With The Right Welding Gloves
TIG welding gloves can help you avoid specific injuries while welding. To ensure that you are safe with the proper welding gloves, there are certain things you must do.
You must always wear the most appropriate welding gloves for the type of welding you indulge in. If possible, you should wear the gloves with the most extended extension, especially the one that extends beyond your wrist. 
Make sure your welding gloves are always dry. Wearing a wet glove can reduce the efficiency of such gloves significantly. For instance, a damp glove will no longer protect you from excessive heat and melting components. 
Wet gloves will also make your fingers wet; hence you wouldn't have a good grip on welding components, and you will be susceptible to accidents. Wet gloves may slip off your arms and cause injuries through exposure to hot welding materials. 
Make sure the welding gloves are in tiptop condition. For instance, if there are holes in them or they appear they will fall apart at the seams, you should replace them immediately. Worn-out and tattered gloves will never provide you with the kind of protection you need. 
It is also essential to know how hot things can get while you are welding. For instance, the welding rod and the base metal or welded materials. Knowing the maximum level of temperatures, you will deal with can help you choose the right type of gloves for TIG welding. 
If you are welding at over 90 amps, for instance, your gloves should have Kevlar stitching. If the welding requires more than 125 amps of processing, then the gloves should have cotton insulation. If the heat goes up to 250 amps or beyond, perhaps you will need insulation stronger than cotton. 
If you are going to weld at over 500 amps, you should go for gloves with a backhand pad, and they provide some of the best insulation in the welding glove industry. 
Conclusion
It would be best to choose the most suitable and most practical gloves for TIG welding because they will save you money in the long run. Versatile gloves can be adapted to different welding situations; hence you wouldn't have to change your gloves or even buy new ones for another type of welding. With the guide and product reviews offered here, you should by now know what is best for you and how you can maximize the potentials in your glove choices. The best tig welding gloves will suit all categories of welder, be it beginner, amateur, or expert. It is also essential that you don't compromise quality for affordability; top-quality gloves should be your priority any day.