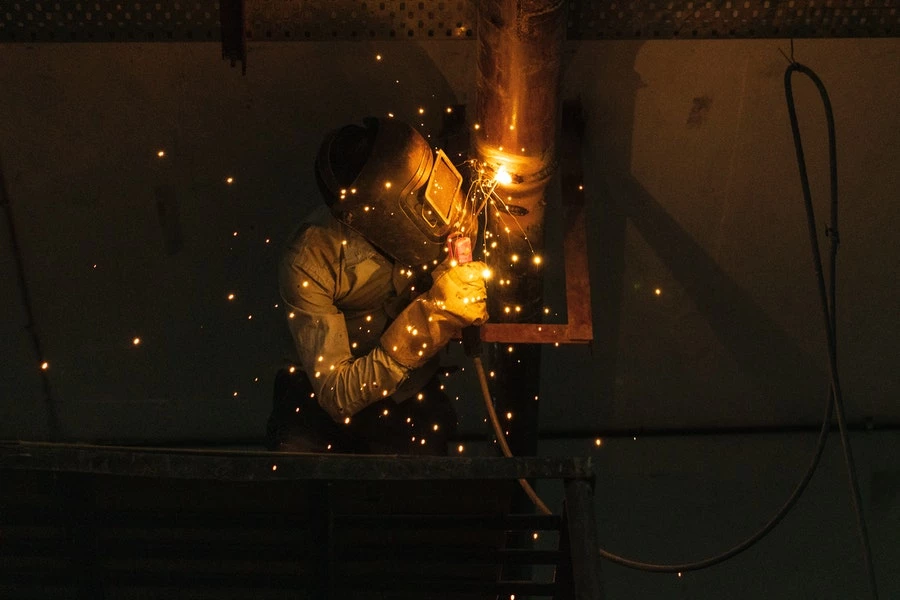 Miller Maxstar 161 review gives you an insight into the welder. The piece helps you decide whether it is the right machine for you. Model 161 is among the welders that Maxstar produces.
Buying a TIG welding machine is a significant investment and as a buyer, you will often face many options of machines with varying specifications. And that's where we come in.
Different people have different expectations of their welders. Finding one that suits your use case is important. We look at the Miller Maxstar 161 in detail to determine if it's the right fit. So,
Is The Miller Maxstar 161 Worth It?
The Miller Maxstar 161 is certainly worth the money. It is a professional grade TIG and stick welder that many pros love because of its consistency and overall performance. 
It is a welding machine suited for general maintenance and home improvement tasks. It has diverse applications and use cases, making it a great pick for everyone.
Miller Maxstar 161 Review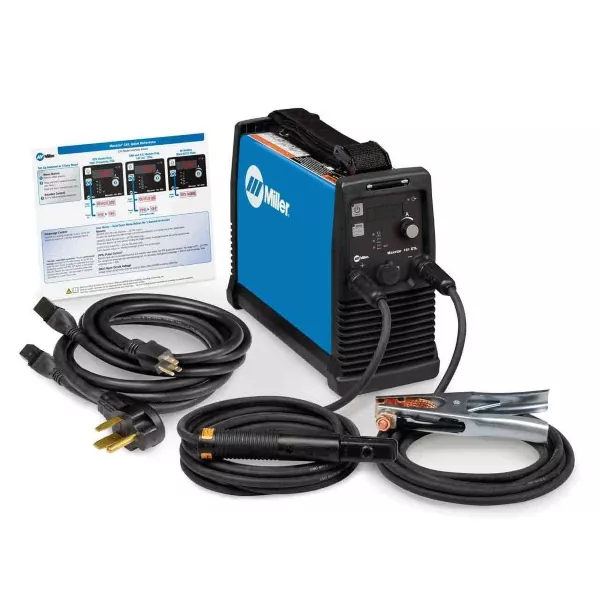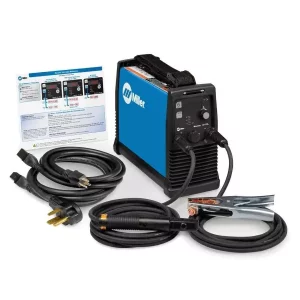 The Miller Maxstar 161 is a great welding machine for light and medium-duty applications. It is a sturdy welder built to deliver great welding results. It has many outstanding features that we shall discuss in great detail.
Specifications

Amperage Range 5-160A

Welding Processes: TIG (GTAW), TIG DC (GTAW-DC), Stick (SMAW)

Net Weight: 13 lbs.

Input Voltage: 110/120/220/230/240

Warranty: 3 years

Mode icon: CC

Polarity: DC

Today's Top Deal

Check Amazon

Reasons to Buy

Two process Welder

Accessories included

Dual voltage input

Sturdy build quality

Lightweight and portable

Reasons to Avoid

MIG welding options are not available

No support for AC welding
Features
Dual Voltage Support
Versatility is a key feature for any TIG welder. The Maxstar 161 is a versatile machine with dual voltage compatibility.
You get two 6.5ft 120V and 240V cables out of the box, enabling you to use the machine with most power outlets.
Having dual voltage support is beneficial as it lets you get the best out of your non-consumable welding sticks.
Dual voltage support is useful, especially when powering your TIG welder from an external DC power source.
Provided you have the right power cord, your Miller Maxstar 161 remains usable. It also saves you money, as you don't have to buy additional accessories to step down a source to a desirable voltage.
Adaptive Start Technology
Slag inclusion is a common problem for many stick welders. A welding byproduct (slag) adheres and fuses with the weldment.
It makes the welding job appear unprofessional. Slag inclusion also minimizes weld integrity, leaving some brittle points and shallow details. You get the same issue with other machines like MIG welders.
Fortunately, Miller has a solution to slag inclusion. The proprietary adaptive start technology minimizes slug inclusion.
The machine activates arc lift mode when using the stick welding machine process. Arc lift ensures that you do not get contaminated weld slugs, ensuring that the final joint is strong and stable.
The adaptive start technology makes the machine great, especially for beginners. The weld jobs look tidy and professional.
Amperage Welding Range
A welder's amperage range is important when measuring the extent of its usefulness.
The Miller Maxstar 161 has a decent welding range, from 5A to 160A. The machine is ideal for different applications depending on your settings.
You can use the lower amperage settings for jobs that require smooth welding arcs. The higher amps are great for course arc welds. The varying amp ranges help for deep penetrative and shallow welds. It makes the Miller Maxstar a great welder for steel and aluminum.
The amperage range allows you to use different welding sticks. The welder has a dedicated size 6010 stick setting.
User Interface
The Miller Maxstar is one of the most user-friendly TIG machines. The user interface details are easy to work out, making it a top choice for many prospective buyers.
The interface layout makes it an ideal TIG welder for many learners. It is simple, and you get a great and intuitive user experience.
The machine has simple knobs that allow you to select your preferred amperage setting. You get an LCD screen that shows vital readings such as voltage, machine process, and amperage. It also takes the guesswork out of making settings, as you can do it precisely.
Cooling Performance
The cooling performance of the Miller Maxstar 161 is great. The unit's design enables it to dissipate heat effectively. Heat dissipation is important as it lengthens the welding machine's life and keeps the weld performance high.
The rear panel has large cooling vents on the side. Excess heat can escape through the vents. They are large enough to allow airflow into the welding machine, keeping it cool.
The welding machine has large fans that direct heat out of the unit. Depending on your settings, the fan RPM increases as the internal temperatures increase.
With a good thermal management system, it is rare to trigger the breakers, even when performing intensive tasks. The cooling performance guarantees you many useful years out of the TIG welder.
Welding Machine Processes
The Miller Maxstar 161 has two primary machine processes, that is:
Tungsten Inert Gas:
Tungsten Inert Gas welding uses a non-consumable tungsten electrode in the welding process. The TIG torch heats the electrode, melting the welding surface on contact. The model 161 has a solenoid built into the unit, removing the need for the TIG torch.
The tungsten electrode is great because of its non-reactive nature, but shielding gas gets used as an added precaution. TIG is great if you mostly weld aluminum.   
Stick:
Miller Maxstar 161 has a custom 6010 stick electrode mode built into the machine. It is ideal for receptacles and storage vessels. The electrode gets used in vertical and overhead welding processes. The 6010 tip is great as it is suitable for many general applications. Stick is great for mild steel.
Warranty
Given the cost of welding machines, it is reasonable to expect a long warranty with these devices. You get a standard 3-year warranty with the Miller Maxstar 161. It is a decent warranty that covers all factory defects.
Accessories
The Miller Maxstar 161 ships with most of the relevant accessories. The setup process is quick and easy, and you should run the machine straight out of the box. The accessories include:
 

Maxstar 161 STL

13 ft. (4 m.) stick electrode holder with 25 mm. Dinse style connector

 

10 ft. (3 m.) work clamp with 25 mm. Dinse style connector

6.5 ft. (2 m.) primary cords for 120 V and 240 V

 

Adjustable handle/shoulder strap

 

Quick Reference Guide
Note that some accessories get sold separately. You can get these items at an additional cost:
 

Regulator/flow gauge and gas hose

TIG Torch with 25 mm.

 

Remote Control (6-pin)
The machine does not require a foot pedal.
Portability
If you are looking for a light and portable TIG welder, you should consider the Miller Maxstar 161.
Compared to other welding machines, it is on the smaller side. Its compact nature makes it the ideal travel machine. It is a great option if you don't have a fixed workstation.
The welder weighs 13lbs.
What Do I Search For In A Miller Maxstar Welding Machine?
There are so many welders in the market. Selecting the right one can be tricky and often involves guesswork. Here are some great pointers:
Input voltage: AC/DC
For welders, it's a must-have feature. Some machines support AC and DC power input sources.
An AC tig welding machine also allows a wider selection of aluminum or steel welding rods to be used with the equipment. For specific machine welding applications, you can use specialty rod types.
Wire feed speeds
Flux core welders are affected. The corded wire size range and speed determine the welder's speed. Because it is speedier, a flux core welder with a high feed speed is perfect.
User Interface
The user interface determines the user experience. Search for a welder with a modern interface.
Simple knob inputs and LCD or LED screens are standard on modern welders. These displays display critical information that you may require while working. Changing settings is easier on a decent UI.
On the main monitor, some welders display the machining process. The setup process is made easier by a decent user interface.
Number of Machine Process
A good welder should be able to do many machine processes. The various welds that a machine can perform are referred to as machine processes.
MIG, DC TIG welding, flux corded welding, and stick welding are all supported by most premium welders (multi-process welders).
You can use a Tig machine or a Tig process and stick welder for economical choices. Tig welders are suitable for a wide range of operations. MIG welding is ideal for aluminum.
Dual Voltage Welding support
You may connect your welder to various power sources with dual voltage support. The majority of power input sources are 110V or 220V. With dual voltage support, you can use either, as long as you have the proper power cord.
Cooling and ventilation
Cooling is a crucial consideration that you should not neglect. When you use a welder, they generate a lot of heat depending on your settings or task. As a result, they require adequate cooling methods to remain operational.
Accessories
Additional tools can be difficult to come by. It is why many manufacturers include them with the main unit. Most equipment is included with your purchase, except for the foot pedal and spool gun.
Portability (Work Location)
Welders are available in a variety of sizes. Some welders are huge and bulky. These welders are best for persons who have a set work location.
Other types of welders are small and light. A handle and a set of rolling wheels get included with some welders. These welders are great for people who need to take their welders on the road. They're ideal for do-it-yourselfers.
Duty Cycle
The duty cycle refers to the recommended monthly usage a welding machine can sustain. A good quality machine has a high duty cycle. Aside from quality, the welding application determines the duty cycle. Running at the recommended cycle will ensure your machine lasts longer.
What Are The Different Machine Processes?
Flux Corded
Flux corded welding uses special flux wire in the welding process. The wire melts in contact with an electrode, creating a weld pool. The wire gets fed into the machine continuously throughout the process.
MIG Welding
It is a type of welding that uses a consumable electrode in the welding process. Electric current gets channeled through the welding element, and the metallic weld surface acts as an electrode. On contact, the consumable electrode melts into a weld pool.
TIG Welding
TIG uses a non-consumable electrode in the welding process. To avoid oxidation, you need a non-consumable electrode (DC Tig weld aluminum) and a shielding gas. The tig torch heats the electrode.
Stick Welding
It is similar to flux-cored welding except that the electrode is a solid metallic tip bit. Current runs through the consumable electrode, forming the weld pool in contact with a metallic surface.
Welding and Safety
Tank Storage
Always store your weld tanks upright. Store your weld tanks in a cool and dry place. Avoid leaving tanks in direct sunlight.
Safety Gear
Always use the right safety equipment when welding. Use a helmet, earplugs, safety gloves, and a protective heat jacket. Safety equipment prevents injuries like burns.
Station Respirators
If you have an indoor weld station, please use a respirator. A respirator channels fresh air into the workshop, removing toxic gaseous byproducts and heat.
Servicing
Servicing your machine could help keep you safe. Inspect the machine for faulty cables and parts. Do not exceed the recommended duty cycle.
Bottom Line
Miller Maxstar 161 review is the ultimate and detailed guide to the welder's specifications, features, and functionalities. It sheds light on what you need to know about the TIG welder.
The machine suits professionals and casuals looking for a good quality TIG and stick welder.
Thanks to its portability and minimal profile, it would appeal more to folks who travel for work. Overall, it is a solid choice that always delivers high-end professional-looking welds.