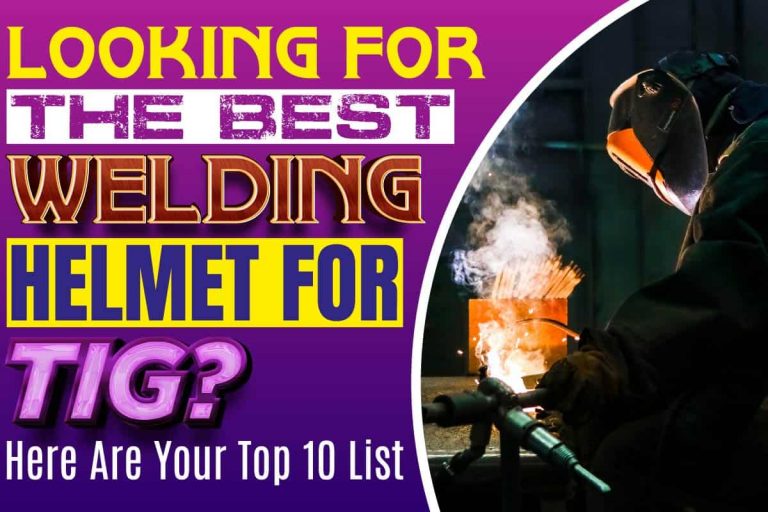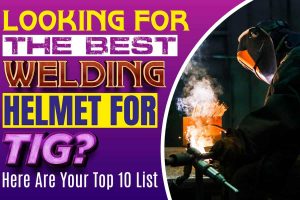 There are many reasons why TIG welding helmet is very important for welding. It is your number one priority when purchasing protective gears for welding. Alongside the helmet, you should also consider appropriate clothing, and gloves, just to mention a few. The TIG welding helmet protects your eyes from the smoke and light generated during welding, thus preventing any form of damages to your vital organs of sight. Helmets also give you better visibility of your work because it is structured to provide wider angles to see details of your welds. Some helmets do come with added features like auto lighting control for low-light welding conditions. 

Our Top 3 Best Welding Helmet For TIG
Viewing area

Optics rating

Battery life

TrueColor

Extras

weight

YESWELDER Panoramic 180 View Darkening Helmet
4.07 x 3.7 inches

1/1/1/1

3000 hours

Yes

Arc sensors

2.2 lbs.

ESAB 0700000800 Sentinel A50 Welding Helmet
3.93 x 2.36

1/1/1/1

3000 hours

Yes

Grinding buttons, and 8 memory settings

1.4 lbs.

YESWELDER Auto Darkening Welding Helmet
3.94 x 3.66

1/1/1/2

5000 hours

Yes

Control sensors, internal cushion

2.2
Review Of The Best TIG Welding Helmets – Your Top Options
Based on reviews, general perception, and efficiency of the products, the following TIG welding helmets are considered the best options for now;
1. Miller 281000 Digital Elite Black Welding Helmet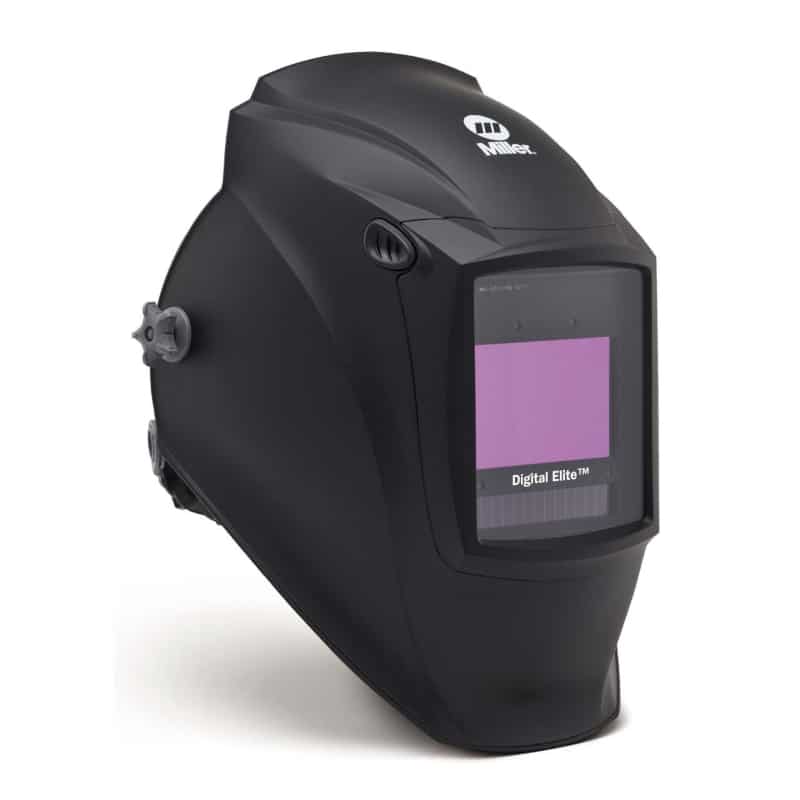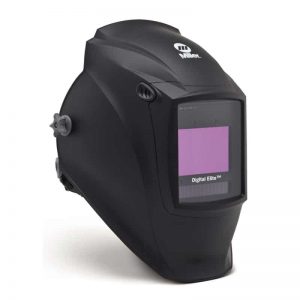 This TIG welding helmet accurately represents the quality of products Miller Electric is known to portray.
Specifications
Measures 12 x 12×10 inches in length, height, and width, respectively.

Black color

ClearLight Lens

Plastic body

2.9 lbs. weight

9.2inches viewing area

X-mode electromagnetic sensing

Four arc sensors

Quick-release cover lens

Helmet carry bag

1C battery included
Features
The ClearLight Lens technology of this helmet is one of its most essential features. This technology provides a high definition and natural color view that ensures detailed visibility. There is a 9.2 square inch viewing area.
The electromagnetic Area X mode senses your welding conditions and eliminates sunlight interference. This will ensure that your sensitivity to sunlight does not affect your welding results. There are four arc sensors available on this element to help you maintain a stable welding arc.
Depending on the situation, you can quickly wear or put the helmet back on with a quick-release cover lens. The automotive construction style used in the fabrication of this helmet makes it solid and able to withstand adverse outdoor and indoor conditions.
The device is ruggedly built to handle all welding activities. It comes with a battery that can power the device for days when fully charged. Grind, torch cut, and weld modes are some of the cool features included in this helmet.
With a 3-year warranty, the high quality of the helmet is guaranteed. It also means you can purchase the helmet with peace of mind. No matter how hard you crank down the side knobs, this helmet wouldn't break.
Pros
High-performance helmet
Lightweight plastic materials
ClearLight Lens improve viewing conditions
There is a broader weld viewing screen
X-mode prevents sensitivity to sunlight
3-year warranty
Cons
You may struggle with adjusting it for your head size
2. Lincoln Electric K3034-4 VIKING 3350 Welding Helmet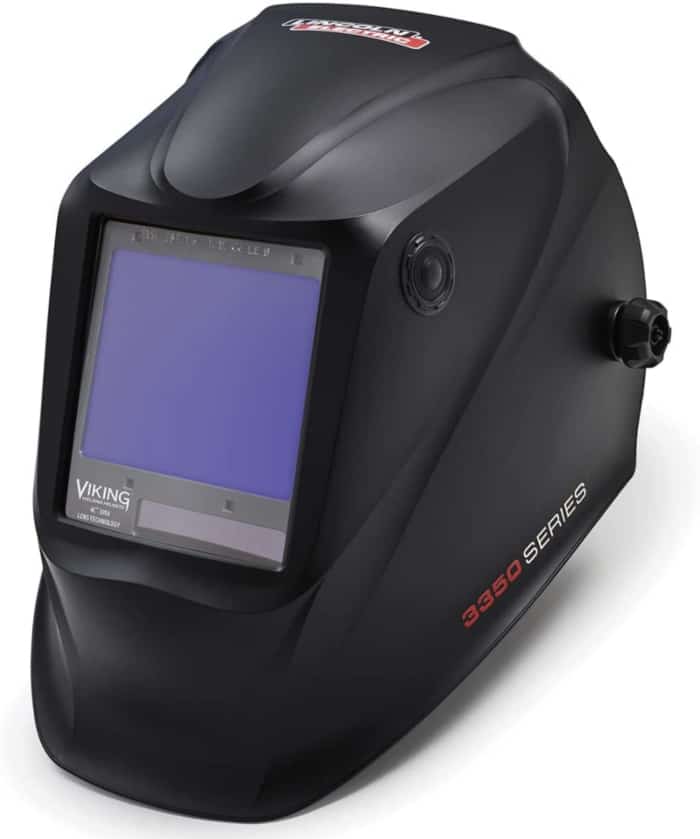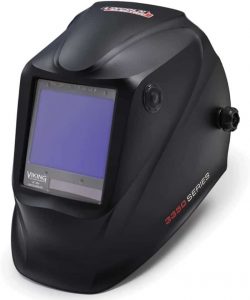 This could be the best tig welding helmet because of many added features. The auto-darkening mode, for instance, customizes your welding lightning condition.
Specifications
4C Lens technology premium optics

12.5 sq. in extra wide lens

Auto head contour adjustment

External grind button

3 lbs. weight

Measures 12.6 x 10.6 x 10.4 inches

Black color

Made of plastic body

Battery included
Features
This TIG welding helmet is one of the most modern helmets you will find out there. It is built with the exclusive 4C lens technology for premium optics. The 4C lens technology provides a crystal-clear true-color view of your TIG welder's puddle and arc. This technology will also enhance your welding control and improves weld quality. It is also built to reduce eye strains.
The 4C lens comes with a 1/1/1/1 optical clarity rank, which eliminates all regular lens imperfections. Blurriness and distortion, for instance, don't occur on this lens. It offers consistent brightness and performance even at any angle.
With its extra-large auto-darkening lens, you will get a larger view for enhanced versatility for diverse applications. In addition to increasing your productivity, this helmet also comes with some safety features.
This helmet will adjust to the contour of the welder's head, thus providing superior comfort. With the design, it will distribute weight evenly across the six contact points. This will eliminate pressure points and improve balance and provide a custom fit.
The low-profile external grind button on the helmet allows you to switch between grind and weld modes without removing the helmet or gloves. The device comes with a 3-year manufacturer warranty for peace of mind.
Pros
Crystal-clear arc and puddle view
Wider screen lens
Automatic head contour adjustment for comfort
Consistent brightness and performance at different angles
3-year manufacturer warranty
Low-risks of eye strain
Going mode button for quick switching
Cons
3. ESAB 0700000800 Sentinel A50 Welding Helmet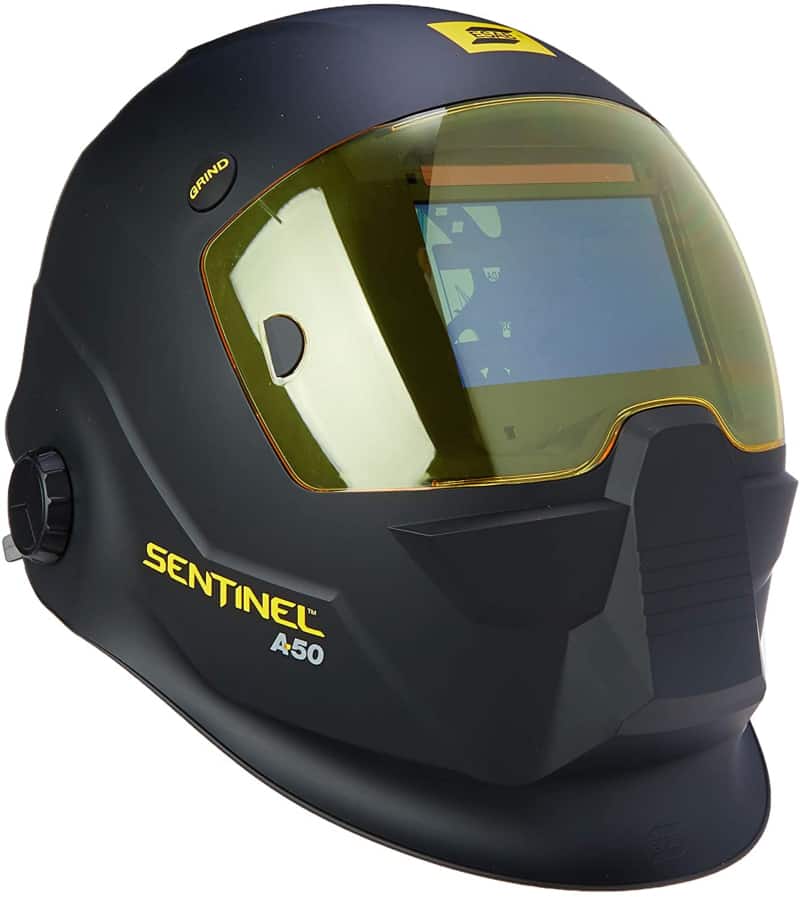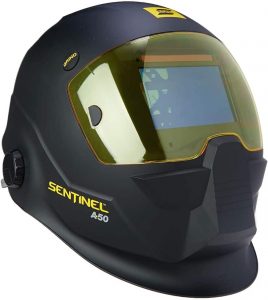 Apart from being a compact and practical helmet for TIG welding, this device is one of the most aesthetically appealing options on the list.
Specifications
Black color

3.93×2.36 inches viewing area

Shell design

Halo headgear

Made in China

Color touchscreen control panel

4 Grinding buttons

Hard Hat Adapter

1.4lb weight

Classic pattern

Plastic body material

1 C battery included

Manual power source
Features
This device is an affordable TIG welding helmet with lots of great features. The revolutionary shell design of this helmet comes with high-impact resistant nylon material for adequate protection against many destructive elements.
The Halo headgear design comes with five adjustable head points to create great comfort and balance. It has a low-profile design alongside a central pivot point that provides the maximum clearance for the head, especially when the helmet is in the Up position.
It also features a colored touch screen for extra clarity, and there are eight separate memory settings. You can activate the helmet's shade externally with an external activation feature. There are four grind buttons to help you switch from welding to grinding modes.
You can use the Hard hat adapter with this helmet. Solar cell CR2450 Lithium batteries power the helmet. Though you can use it for home or DIY welding, this machine is most suitable for commercial TIG welding and grinding.
It comes with a manufacturer warranty that ensures peace of mind after purchase.
Pros
High-impact resistant design
Very ergonomic and comfortable
Maximum clearance in any position
Color touch screen
Grinding buttons for an easy switch
Cons
4. YESWELDER Auto Darkening Welding Helmet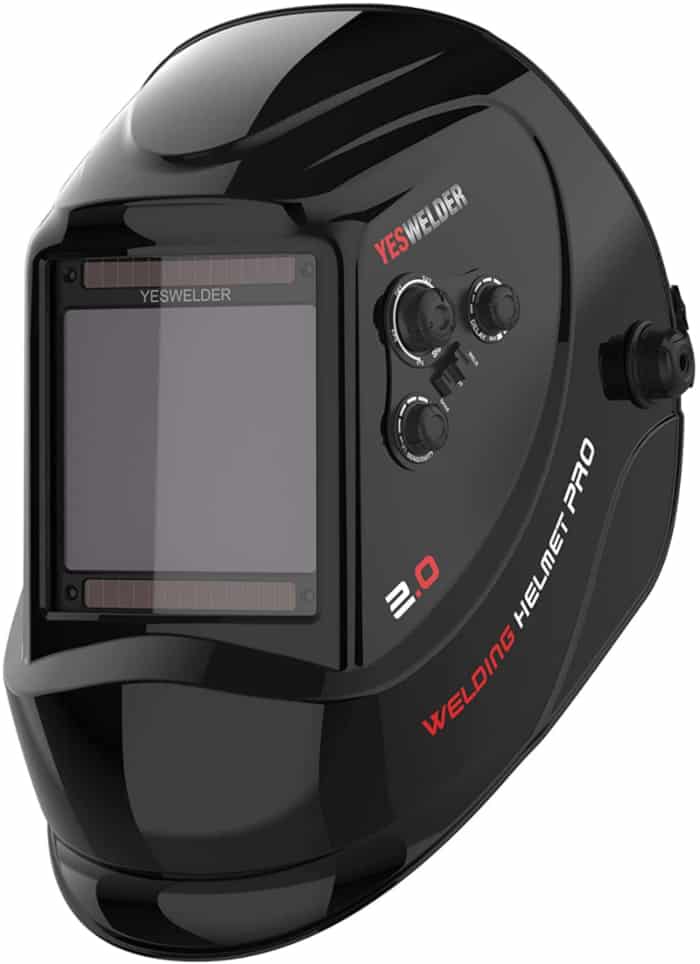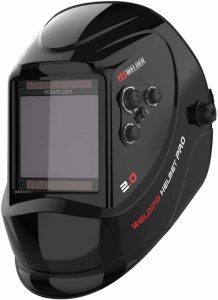 This welding helmet is an amazing Arc grinding and welding TIG helmet for all applications.
Specifications
3.94 x 3.66 inches

Auto-darkening feature

Four premium Arc sensors

1/1/1/2 optical clarity

2.2 lbs. weight

1 Lithium-Ion battery included

Measures 12.5 x 7.9 x 9.75 inches

Solar-powered battery

Black color

Plastic body material

1 Li-Ion battery included

1 carry bag.
Features
One visible upgrade on this device is the True color technology. This feature will increase visibility while reducing strains on the eye. It lowers eye strains by minimizing the traditional lime green coloring found on the helmet's screen.
It is excellent and compatible with TIG, MMA, and MIG welding. It is also great for Plasma applications that may require a grinding feature. The large viewing screen comes with four premium sensors that make adjustments easier based on your needs.
The true color view provides better optical clarity. Another upgrade you will find here is the improved battery life that supports even longer welding and grinding activities. The extra battery life may support commercial welding and grinding.
With its pivot-style headgear, you will get superior head comfort when welding. This helmet package includes; the welding helmet alongside adjustable headgear, two replacement lenses, a user manual, a replacement battery, and a carry bag.
This device is one of the most affordable TIG welding helmets you will find on this list. It comes with a manufacturer warranty for peace of mind purchase. The headgear comes with an over-size comfort cushion feature for adjustability and better fit and comfort. You can adjust the cushion set to fit your head.
Pros
Wider applications
Premium sensors for easy control
Better clarity with color view
Improved battery life
Lightweight
Comfort cushion on the inside
Cons
The screen may not be too wide
5. TR Industrial Forestry Safety Helmet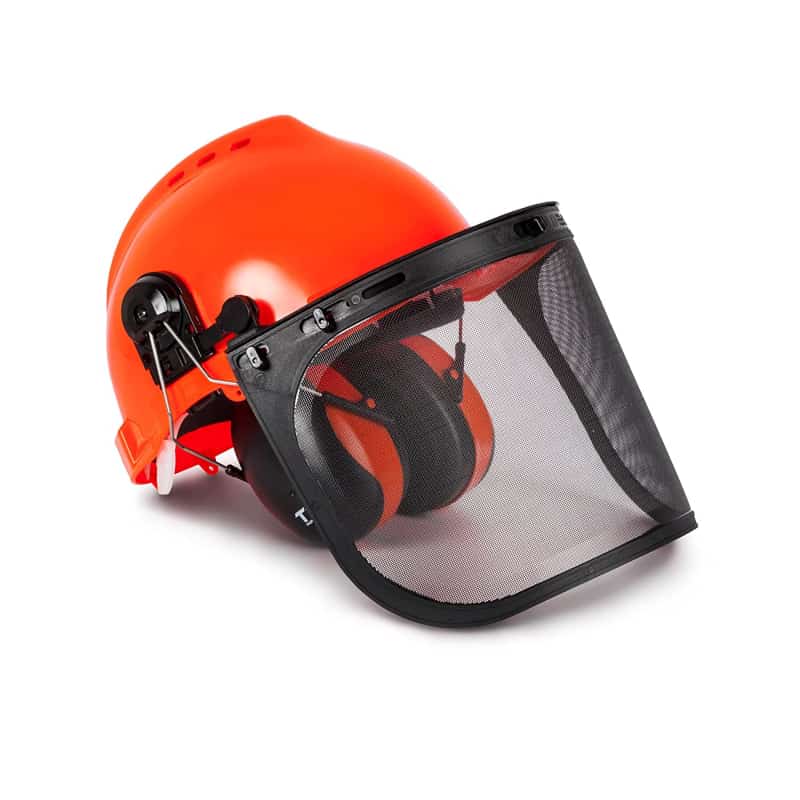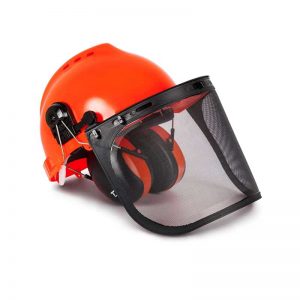 The simplistic appearance of this helmet may deceive you until you realize how practical and efficient it can be. It is one of the few options with a hearing protection system.
Specifications
Hearing protection feature

Orange color

2.6 lbs. weight

5-in-1 safety helmet

Dial knob fastening

Adjustable 20-24.5" circumference

Interchangeable visor mesh

Recyclable

Recyclable fabric

ANSI and CE approved parts

6-point ratchet-style suspension

12 x 9.6 x 5 inches measurement.
Features
This device is a feature-packed helmet for welding and other industrial activities. It comes with removable and adjustable ear muffs that cancel noise, plus plastic visors and mesh visors that offer excellent protection for welding and other jobs.
The lightweight helmet comes with an interchangeable mesh that can be changed based on the application. It secures firmly to your head via a convenient dial knob that also ensures the circumference can be adjusted within the 20-24.5" range. This mesh also works with the visor mesh to prevent any form of foreign materials like debris from entering the helmet.
The metal and visor mesh stay fit on your head and don't come with any contour that debris may get entangled with. The 6-point ratchet-style suspension system comes with an adjustable fit that positions the helmet correctly on your head.
All parts of this helmet have been approved and certified with ANSI and SE ratings. This product comes with a 1-year manufacturer warranty.
Pros
Noise-protection feature
Lightweight
Multi-functional and versatile
Fabric can be recycled
Great ventilation
Cons
Clips holding the headband may unsnap occasionally
6. DEKOPRO Welding Helmet Solar Powered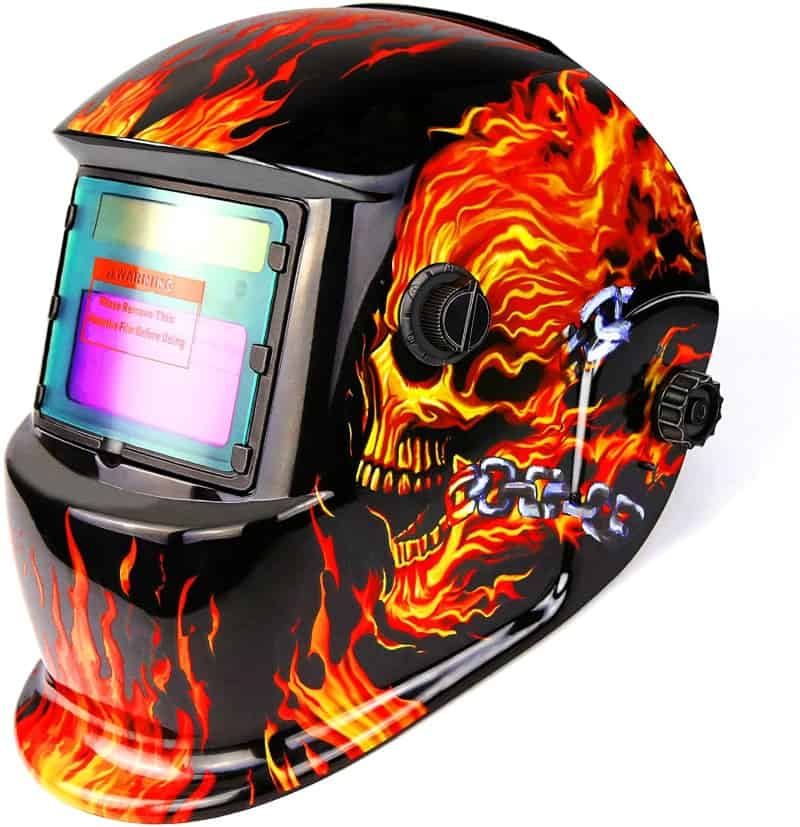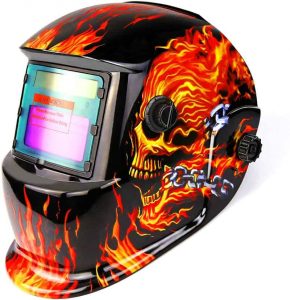 This device is one of the most economical options you can find on this list. The flaming skull design is as fascinating as its versatility.
Specifications
Auto-darkening hood

Adjustable shade

Flaming skull design

Auto-darkening filter

UV/IR protection

1/2/1/2 rating

Manual adjustments

Sensitivity and delay settings

3.62 x 1.65" clear visor viewing area

1 lb. weight

Measures 12.6 x 9.1 x 8 inches

Made from plastic, metal, and glass materials

210 mAh Li-Ion battery included

DIN4 Light level filter

23F to 131F working temperatures
Features
The auto-darkening mode for this helmet comes with filter switches from light to dark in micro-seconds time. This feature provides ultimate eye protection. With the shade included, the welder is protected against UV and IR radiation. All body parts come with ANSI certification.
The manual adjustment feature will meet all demands. The device is equipped with delay and sensitivity settings. These settings will improve adaptability for diverse tasks and environments. With this feature, you can enjoy enhanced visibility and color identification.
With its DIN4 filter level, the time to transform lighting conditions from dark to bright will take between 0.1s to 1.0s. The helmet provides a clean and comfortable view, and with the clear visor, the diffusion of light and variations in transmission of light and angular dependence is handled efficiently. This means the welder can see clearly at different angles.
This helmet is suitable for both short and long-time welding and other related jobs. The helmet is also balanced with adjustable and fatigue-free headgear for added comfort.
The auto-darkening filter adjusts to different working conditions. In addition to controlling the lens shades, mainly from various ambient light sources. With a solar-powered battery, you can expect up to 5000 hours of battery life.
This helmet is one of the most versatile options around. It has been recommended for the automotive, construction, manufacturing, military device maintenance, oil and gas mining, and metal fabrication industries.
This package comes with one CR2 Lithium-Ion battery.
Pros
Clear viewing area
Lightweight
Rounded perimeter for added comfort
Adjustable headband to reduce fatigue
Solar-powered
Cons
The head hinge may be too shallow
7. Geelife Solar Powered Welding Helmet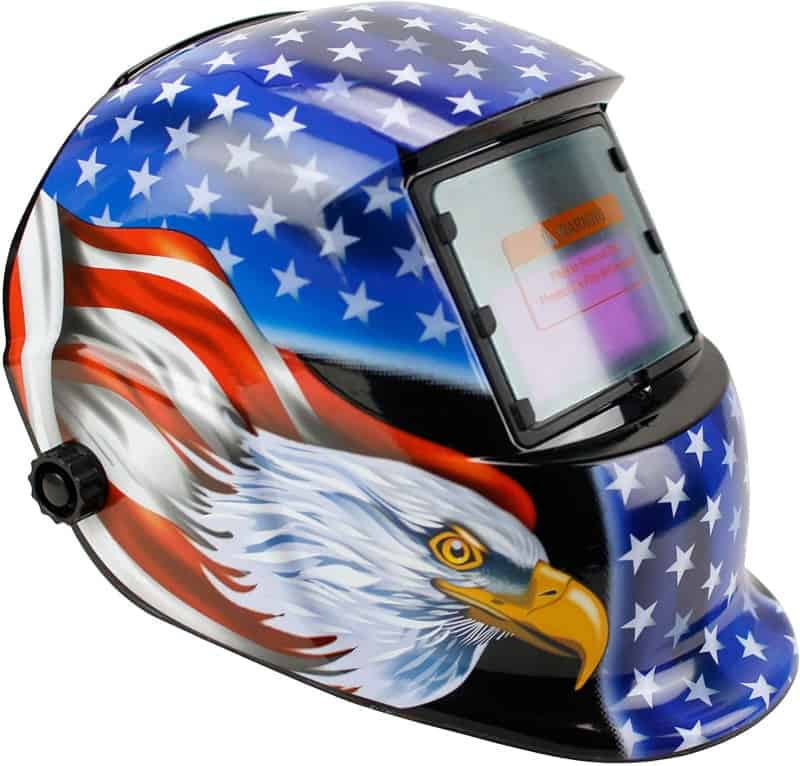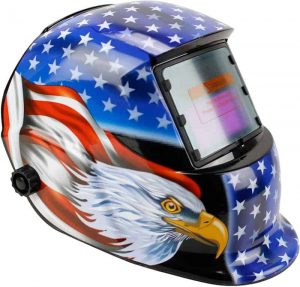 Also known as the Blue Eagle, this helmet comes with a unique American flag body design that makes you feel like a true American.
Specifications
Auto-darkening hood

Adjustable shade

MIG/TIG/Arc welder

Auto Light valve adjustment

DIN 9 AND 13 darkness adjustment

UV-IR filtering feature

1.7 x 3.6 inches viewing area

23F to 131F degrees working temperature range

20-80% relative humidity range

1.15 lbs.

It measures 6.3 x 3.94 x 11.42 inches

Polypropylene design material.
Features
The light valve feature on this device is one of its most striking features. The light valve switches the helmet into dark mode once the electric arc from your welding appears. The auto light switching works on the photoelectricity principle.
The UV-IR filtering assembly comes with a coated reflective glass plus a multi-layer light valve and polarizer. This feature will block ultra-violet radiation and infrared rays from passing through; hence your eyes are effectively protected.
It comes with a broader coverage area than many other helmets. The helmet can efficiently protect the face and neck from likely damages from an electric arc. The helmet was also built to improve quality and efficiency.
This device is recommended for use in all fields of endeavor, including manufacturing, aerospace, architecture, shipbuilding, and metal fabrication and repairs. It comes with an 18-month manufacturer warranty, and this covers replacement or repairs.
In addition to the regular TIG, MIG, and Arc Welding, you can also use it in Plasma cutting, GTAW, MAG/CO2, PAW, and PAC. Its performance rating is 1,1,1,1. It is powered by a Lithium-Ion polymer battery, which is included in the package at the point of purchase. When fully charged, the power can provide up to 5000 hours for welding.
Pros
Auto dark mode
UV-IR protection
Wider screen coverage area
Wide application areas
Lightweight
5000 hours
Cons
No markings for certain features
8. YESWELDER Auto Darkening Welding Helmet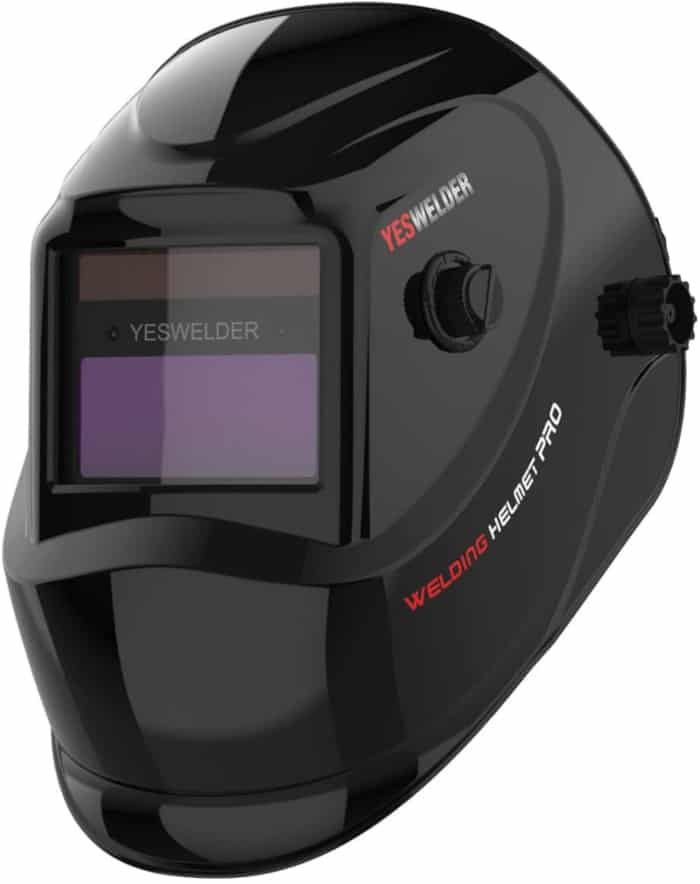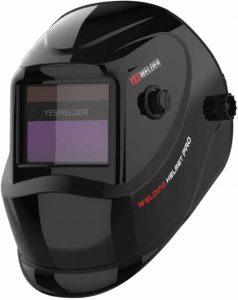 The stylish polished black-colored helmet will surely deliver great results any day for TIG welding. It comes with several great features too.
Specifications
Solar-powered helmet

Auto-darkening feature

5 Male and female variations

3.64 x 1.67 inches

Premium sensors

Clearer color view

Pivot style headgear

Cheater and magnifying lens compatibility

1.9 lbs.

Measures 8.5 x 7.8 x 12.8 inches.

Shiny black color

1/1/1/2 optical clarity

DIN4 to DIN 13 wide shade range

1/10000 seconds response time.

Powered by Lithium-Ion battery
Features
The solid helmet is built for TIG, MMA, and MIG welding, making it highly versatile for different applications. With a large viewing site, you can view your work with ease without straining your eyes. Two premium sensors are attached that automatically switch from bright to dark mode depending on the work environment.
With a single charge, you can get thousands of hours of battery life to complete several months of welding jobs. The cheater lens is compatible with a magnifying lens, and these two works together to improve visibility and performance.
The helmet has been upgraded to reduce the risks of eye strains by minimizing the traditional lime-green coloring on the helmet's view screen. This helmet is a unique luxury gear for improved comfort and ergonomics.
The headgear also comes with an oversized cushion to provide even greater adjustability and comfort. Several settings improve support for better fit and ease of usage. With great adjustability, you can adjust this helmet to suit your head size; hence welder can use it.
Pros
Better clarity through color view
Improved battery life
Available in Male and female variations
Increased battery life
Superior comfort
Super lightweight
Cons
It doesn't come with a standard lens
9. YESWELDER Panoramic 180 View Auto Darkening Welding Helmet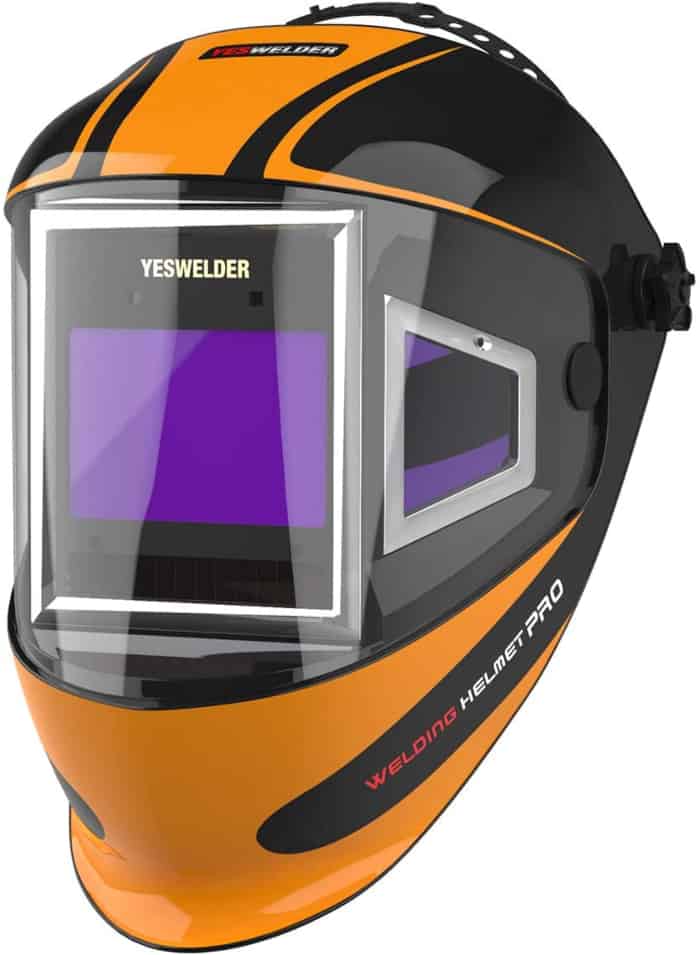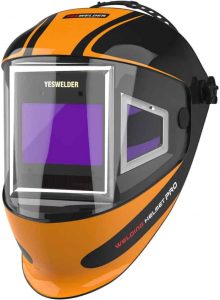 One of the best Panasonic helmets for TIG welding with great extension.
Specifications
Side view

Auto-darkening helmet

1/1/1/1 true color optical rating

Arc sensor

Wide shade

Welding and grinding

MMA/MIG/Plasma cutting

3 LCD screens

Compatible cheater and magnifying lens

4 variations available

Improved battery life

2.2 lbs. weight

Measures 12.05 x 9.76 x 7.95 inches

1 Lithium-Ion battery included

4.07 x 3.7 inches viewing area

Panoramic 180-degree view
Features
This device is a solar-powered helmet that is reliable for all-day welding and cutting. The battery can support up to 5000 hours of operations.
The package includes the helmet, adjustable headgear, replacement lens, user manual, replacement bag, and storage bag.
Three LCD screens can work independently and synchronously to reduce work time and enhance efficiency. It offers better clarity with a high optical grade of 1/1/1/1. The pivot style headgear provides superior comfort.  
You will get the most comprehensive shade level range with the DIN 5-9 and 9-13 ranges. It also comes with a DIN 4 grinding light shade. The helmet improves visibility by reducing the Lime-green tint on the screen. The panoramic 180-degree view further expands your viewing range to let you see more and better. It gives you that full range of vision in correlation with the welding area. All these combined wills give you better control.
There is an oversized comfort cushion that adds to its adjustability. It also comes with lots of settings that improve support for a better fit and comfort. The product comes with a 1-year manufacturer warranty.
Pros
Multiple LCD screens to save time
Multiple applications
Increased battery hours
The true color view feature provides more clarity
Widest shade level range
3000 hours battery life
Cons
It takes time to get used to changes in shade levels
10. 3M Speedglass Welding Helmet 9100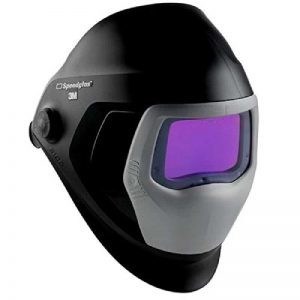 This helmet is a premium welding helmet that mostly suits professional welders.
Specifications
Auto-darkening filter

Arc sensors

For MMAW/TIG/MIG/Plasma arc welding and grinding

Improved 9100XXi optics

External welding helmet controls

2 memory modes

Auto-on technology

Expanded peripheral vision

Meets ANSI impact standards

1 lb. weight
Features
One of the most striking features here is the 9100 XXi auto-darkening filter that makes you recognize colors readily through peripheral vision enhancement. You can focus on your wedding setup and technique with improved vision, thus achieving precise welding or grinding. The 9100 XXi will also provide better visibility when inspecting your works.
A 3M Speedglass natural color technology further enhances the puddle control with brighter, lighter, and more realistic effects. Similarly, three arc detection sensors in the lens activate the auto-darkening filter quickly once you strike the arc.
There are varying selectable dark shades, including the 5,8,9 and 13. The external controls provide quick and easy access to different grinding and welding modes. With the strategic positioning of the external controls, you can switch between grinding and welding in less than 3 seconds. There is an exhaust vent that removes any smoke that enters the helmet, making the user safer.
The Grab and go feature will automatically turn your welding filter into the most recent setting. These features thus help you save time when you pick up the helmet. The helmet also comes with an automatic shutdown feature that shuts the helmet down after few minutes of inactivity and turns on once you pick the helmet up again.
It comes with all safety standard regulations that have received the ANZSI certification. With a reliable manufacturer warranty, you can rest assured of the quality this helmet has to offer.
Two adjustable crow straps ensure equal weight distribution and stability. The padded headband in the front will help redistribute pressure. There is a swivel-mount smooth ratchet system that produces a precise tightening and ergonomic fit. You can use the large knobs for a simple adjustment of prep and parking of pivot positions even while you wear gloves.
Pros
Peripheral vision enhancement reduces accident risks
More incredible welding and grinding precision
Better welding puddle control
External controls for easy access
Switch between welding and grinding in few seconds
Exhaust vents keep you safer
Improved stability with crown straps
Cons
Fits head sizes of between 6.25 and 8 inches only
What To Look Out For When Buying The Best Welding Helmet- A Mini Guide
There are many factors you should consider when looking for the best tig helmet, and the following is the most paramount among these;
Weight of Helmet

Viewing area measurement

Lens power

Battery option (solar-powered or replaceable batteries)

Switching speed

Comfort and adjustability

Versatility and compatibility

Helmet's weight
1. Helmet's weight
The weight of a helmet should be one of your primary considerations. The heavier the helmet, the more the strains on your neck. If you have to weld for hours, you should consider a helmet with an internal cushion or one that distributes weight evenly. A helmet with a hood or pivot multiple bands can displace weight more evenly on your head, thus reducing risks of stress or injuries even with prolonged welding.
2. Switching Speed
It is easy to ignore critical features like switching speed when choosing a helmet for TIG welding. The switching rate of the lens is as essential as lens quality. The lens can switch from natural shade to higher and lower shades like 3 and 4 when welding begins.
The switching speed of the lens can vary from 1/3600 of a second to 1/25000 of a second. A smaller switching speed may cause eye strain if you have to weld for hours, but a faster switching speed may prevent eye strains.
3. Solar Powered Battery or Replaceable Battery
This issue is one factor that can be tricky. The reason being that both solar-powered and replaceable batteries will eventually become useless.
Irreplaceable batteries with solar panels can be recharged via natural sunlight and provide up to 5000 hours of power when fully charged. You can't recharge replaceable batteries; they are cheaper and can work for several months to a few years before they are replaced.
Solar-powered Lithium-Ion batteries may not be readily available like replaceable AAA batteries. Rechargeable batteries may also be more expensive than replaceable ones. If you are a regular welder who welds daily, a solar-powered rechargeable Li-Ion battery may be more economical. If you are an occasional welder, you will be better off with replaceable batteries, but you need to store these batteries when not in use.
4. The Viewing Area
The viewing area is one of the most critical factors you must consider when comparing the best tig welding helmets. The more you see, the better you can weld and control your weld and cutting settings. It would be best if you naturally went for a helmet with a larger welding area with a good optics rating like 1/1/1/1 or 1/1/1/2.
The larger the welding area and the higher the optics rating, the more contours and edges on your welded materials you will see. With a clearer view, you can set up your welding electrodes with higher precision. This will eventually increase your efficiency and performance.
There are some helmets with more precise optics on their screen for high-definition viewing of your welding jobs.
5. Comfort and Adjustability
You will do most of your welding under the hood; hence you should be comfortable enough to avoid sweating and strains. It would be best if you watched out for a fully adjustable helmet with a head harness. It will even be better if the helmet comes with multiple adjustment points alongside an even weight distribution for a custom fit.
Other extras that may add to your comfort include; neck and head covers and welding earmuffs that cancel high noise from the welding process.
6. Versatility and Compatibility
You want to use your helmet for a wide range of things. In addition to TIG welding, you may want to use the helmet for MIG, MMA, and plasma cutting at some point. For this reason, you need a helmet that can quickly adjust to all these applications without hassles.
No two jobs are the same, but you need over-head protection, a flip-front visor for applications like grinding, and a helmet that wouldn't stress your respiration when working. You shouldn't compromise on quality just because you have to use a helmet for TIG welding only, and you should go for an all-around helmet for diverse purposes.
7. Lens Performance
Contrary to popular belief that the number of photo-sensors and auto-darkening features is irrelevant on a welding helmet, these features are necessary for consistently detecting welding arc. The power of the lens on a helmet is more important than how many sensors are available. So, a high-performance lens must come with higher quality arc detection and great sensitivity. The higher the number of photo-sensors, perhaps the more sensitive the helmet becomes when detecting welding arc.
Different lens shade options can affect their performances. There are 6-13 and 9-13. The wider the range, the wider the applications. For instance, the 6-13 shade lens provides a grinding mode that does not require turning off the helmet before switching an application.
The primary 9-13 lens shade should be enough to get your welding jobs done. The 6-13 lens shade is more efficient for a broader range of applications.
8. Grind Mode
Many may not see the grind mode as an essential factor, but it pays to have it on your helmet.
Since cutting and grinding often accompany many welding applications, it is essential to have a grinding shield in a helmet. A grinding shield increases the versatility of a helmet to handle different applications.
The auto-darkening feature is often found in front of the grinding shield in helmets, and there is a hinge mechanism that can be rotated in front of the clear grind shield. The grind mode is one of the auto modes in a versatile helmet activated mainly for grinding purposes.
9. Ergonomics
Ergonomics in welding helmets may be seen as the ability of a helmet to provide constant balancing. If a helmet is too heavy, the welder will feel severe strains on the neck and head. Ergonomics often revolve around the center of gravity; hence the helmet must distribute its weight across all surfaces. Maintaining stability is when the helmet is said to have a tremendous ergonomic or suitable center of gravity.
A helmet with poor ergonomics may keep most weights to the front, and this can cause strain on the neck. A lightweight and compact helmet can still provide great ergonomics for added comfort despite having all the necessary features.
10. Operational Costs
You should add the operational costs of a welding helmet to the entire budget for the device. Added features will typically drive up the costs of a helmet, but an ill-equipped helmet may cost more in the long run; hence, you must always consider quality built over price.
You must know the costs of consumables and spare parts. Polycarbonate lens, for instance, may require constant change; hence you end up spending more in the long run. Make sure you can easily access genuine spare parts from the manufacturer to avoid paying more in shipping such items elsewhere.
Frequently Asked Questions On TIG Welding Helmet
The following are some of the most frequently asked questions on TIG welding helmets, with their answers;
Question 1: Passive or auto-darkening lenses, what are the differences?
Answer: Your TIG welding helmet will either come with passive or auto-darkening lenses, and you should know the differences. Passive lenses come with a single shade; hence you must position your welding torch, gun, and electrode correctly to view your welding job. The passive lens helmet is also worn in an up position on your face. Passive lenses cost much less than auto-darkening lens helmets, but they are not the most ergonomic options.
Auto-darkening lens helmets can change the shade in seconds according to your needs. The auto sensors can lighten or darken the shade depending on the settings used by the welder. When the helmet detects welding strikes and arc, it darkens the shade.
You don't need to flip an auto-darkening helmet, and they are much safer and more ergonomic than passive lens helmets. Auto-shade helmets protect against UV and IR rays during welding, unlike passive shade lens helmets
Question 2: Is the True Color Technology Relevant in Welding Helmet Use?
Answer: TrueColor technology is the most recent advancement in Optic technology, and it allows a broader range of visible light to pass through your helmet's filter. In any auto-darkening helmet, the actual color is inactive when the sensors detect no welding arc, and this is referred to as the #3 or #4, and the helmet is easy to see through.
The true benefit of True color technology and its relevance can be found during the welding state when the auto-darkening function is rated between #8 and #13. Without true color, it can be difficult for a welder to differentiate between two similar colors like red and orange without true color.
Older helmets tend to suffer from color saturation and increasing the contrast can make it difficult for welders to differentiate between two similar colors. True color can also help welders with training time. Without color technology, welders will suffer from fine-detailed errors. True color brings some high definition clarity that can help welders avoid welding defects that may distort their final products.
TrueColor technology does not only provide gains in performance and productivity, it also helps in reducing the risks of eye strains. Looking at blurry welding products for prolonged periods can lead to headaches and some other health issues.
Question3: Do I Need respiratory Helmets (PAPR)?
Answer: Respiratory helmets are often considered PAPRs, and they have received approval from top agencies like OSHA, and NIOSH for usage.
PAPRs work by producing a positive breathing pressure zone within your helmet. It works with the HEPA filter, blower, and a specialized mounting harness to boost breathing. It is the blower that will draw ambient air from your immediate environment, and the HEPA filter will filter out particulate materials in up to 0.3-micron size. Filtered air is thus transferred into the helmet at up to 180 liters per minute flow rate.
Very few helmets are PAPRs, and they are very important if you think you have breathing issues. Asthmatic welders for instance can benefit from PAPRs
What Are The Benefits Of Wearing Welding Helmets?
There are so many reasons why you should use welding helmets, these are highlighted below;
1. They Protect Your Skin and Eyes from Damaging UV and IR Lights
Ultra-violet, Infra-red and all other radiation lights can damage your eyes and skin quickly, and this is the reason why you need welding helmets. You don't just choose any helmet for welding, grinding, and other forms of welding, you must go for light shield. Arc eye for instance is an inflammation of the cornea of the eye caused by exposure to welding lights and sparks.
 Retina burns is another similar eye issue that can happen as a result of constant exposure to UV lights. Since dark screens don't reflect the eye, welding helmet can protect you adequately from all kinds of damages to the eye and skin.
2. They Come with Great Weld Settings
Features like auto-settings can create different shades based on welding environment and conditions. You may also find features like auto-adjust for even weight distribution and settings for welding arc color differentiations. While some of these settings require manual operations, most don't need your input.
3. Welding Helmets Boost Visibility
Since welding helmets help you differentiate between two similar colors like orange and yellow, through TrueColor technology, you can easily interpret colors when welding, cutting and grinding. With poor visibility, you may end up with distorted or poor welding results.
4. Affordability
Welding helmets are quite affordable, even though you can find some much cheaper than the premium quality options. These helmets fall within different budget ranges, and you can find one that suits your finances without compromising on quality.
5. Versatility
Welding helmets are applicable in diverse areas. Even a helmet marked for TIG welding may be useful for MIG, MMA and Plasma cutting. You should read the manual though, to be sure of the kind of applications your helmet can handle.
Conclusion
Personal preferences may also matter when deciding what is the best welding helmet for tig. Aside from knowing what task you will use the helmet for, you need to customize your search based on weight, viewing lens and budget. Helmets also come in diverse colors and beautiful body designs. We all know the importance of vibrant colors and artistic designs on the mind of the people, and how it plays a critical role in the choices we make. You should not allow secondary factors like preferences to overshadow quality and productivity, hence you should be flexible when making your final choices.