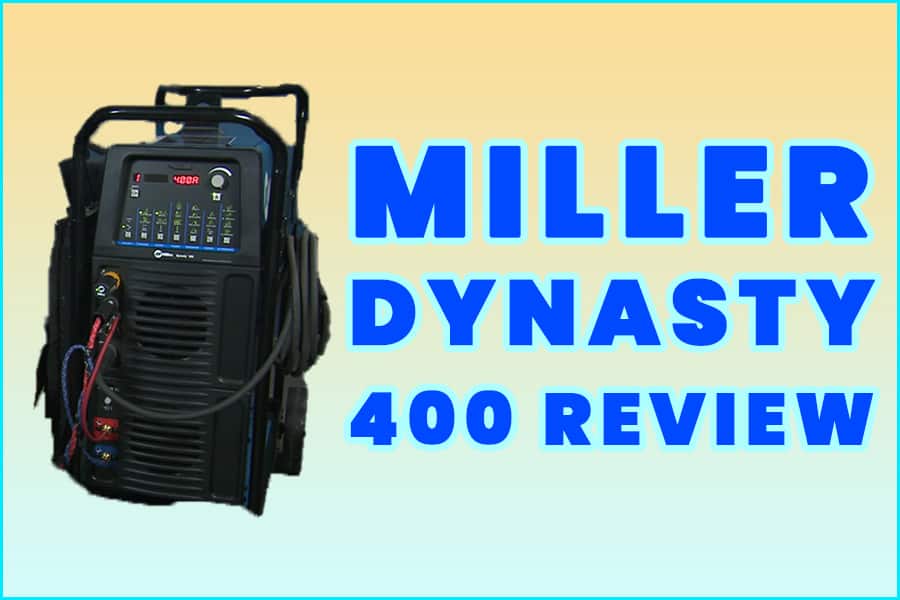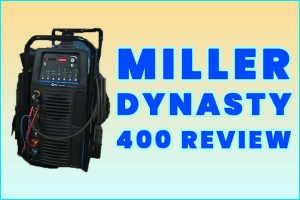 When selecting a welder, you should always consider the one that simplifies your work. Additionally, look for the one that offers you some flexibility in your workshop.
Miller Dynasty 400 has plenty of amazing features that make it highly efficient. Its advanced technology will enable you to create perfect welds. The kind that is closely associated with pros.
This article dissects the features of this machinery and weighs its pros and cons precisely. Read along to find out why many recommend this welder for TIG welding.
An Overview
The Miller Dynasty 400 is a versatile welder with advanced technology. With Auto-line and inverter technologies, this welder is dynamically ergonomic. Thus, it can handle AC, DC, TIG, and Stick power supplies.
Also you can check out our in depth review on best titanium welder here.
Its flexibility has a wide range of applications in the welding industry. You can use it to weld on areas that demand precision, like sheet metals and auto parts. Moreover, it is highly efficient in pipe welding and the fabrication of pressure vessels.
This is the pick we have got in our hand and we will be reviewing it completely.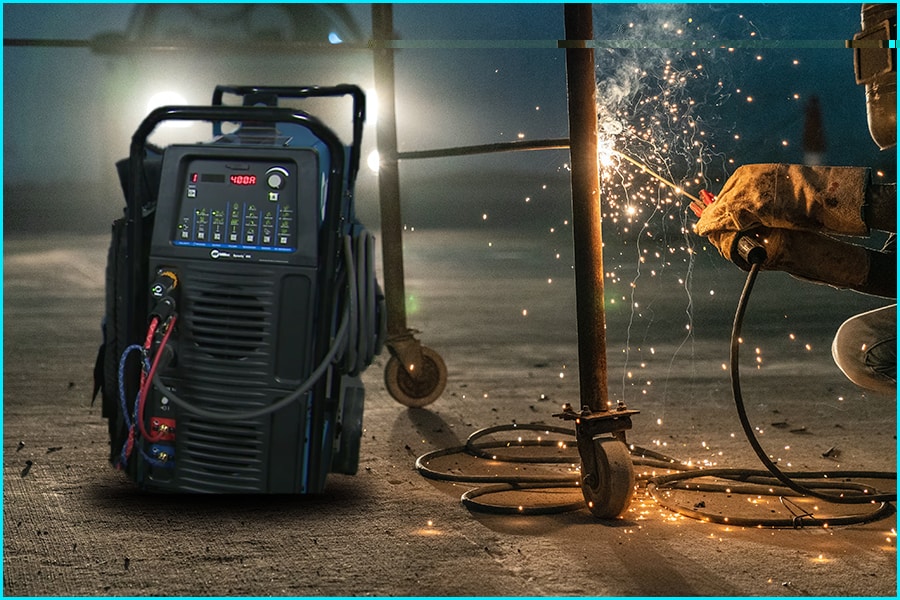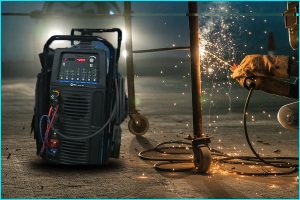 "The Dynasty 400 welder boasts a range of features that make it suitable for plenty of use cases. It is perfect for professional applications in addition to casual usage at home. Additionally, its advanced technology makes it possible to perform clean welds on metal workpieces."
Available for both single and three-phase

Capable of lift-arc starting for AC/DC initiation

It has a balanced control enough to make high-end aluminum welds.

It has a program memory that saves your custom parameters.

It is less noisy, and it's power efficient.

It is highly durable, thanks to the wind tunnel technology in play.
What's In The Box
Miller Dynasty 400 Welder

Portable parts like the running gear

Adaptive Hot-start control.

Frequency control for AC power source

120 V CPS (Cooler Power Supply)
Specifications
| | |
| --- | --- |
| Product Name | Miller Dynasty 400 208 – 575 V |
| Current Rating | 400 A-Max and 3 A Min |
| Open Circuit Voltage | 75VDC |
| Weight | 136 lbs |
| Phase | Both Single and Three Phases |
| Input Frequency | 50/60Hz |
| Warranty | 3 Years  |
Technical Specifications
Current Range

Phase

Output Ratings

Current Input at the output ratings (50/60 Hz)

Maximum voltage with no load

Dimension

(mm)

Weight

230 V

400 V

kW

kVA

300 to 400 Amps

Three

400 Aat 36 V

20% Duty Cycle

–

28

18.6

19.4

75 VDC (10-15 VDC-VRD)

Without TIG Runner

H: 629

W: 349

D: 559

With TIG Runner

H: 1095

W: 587

D: 1111

Without TIG Runner

61 kg

With TIG Runner

114 kg

300 A at 31 V 60% Duty Cycle

–

19

12.5

13.1

250 A at 30 V 100% Duty Cycle

–

14

9.8

10.3

Single

300 A at 31 V 20% Duty Cycle

60

33

12.7

13.9

250 A at 30 V 60% Duty Cycle

47

26

9.9

10.9

200 A at 27 V 100% Duty Cycle

36

20

7.5

8.2
Features Of Miller Dynasty 400 Welder
The Miller Dynasty 400 operates in single and three-phase to suit your needs. Here are some key features that come with this welder.
Here's a video review of this welder:
AC And DC TIG Features
AC TIG Features
Dynasty 400 has an independent amperage control feature. This feature makes it possible to set EN and EP independently. For this reason, it is possible to control the heat you apply to the workpiece and the electrodes. 
Dynasty 400 makes it possible to form clean welds on aluminum surfaces with an extended AC balance. Besides, an AC frequency regulator lets you control the width of the welding arc and the force you apply to it.
Additionally, its balance control has an adjustable oxide removal feature. The adjustable oxide is necessary to fabricate high-end welds on aluminum material at extended ranges. Thus, this welder leaves an aesthetically appealing weld.
The frequency controls the width of the arc. By regulating the cone of the arc, the Dynasty 400 welder enhances the directional control of the welding arc. For this reason, you won't make great mistakes when working.
"Independent Amperage and Amplitude is responsible for the high-end aluminum welds in this machinery. This allows you to regulate current and voltage independently."
DC TIG and Stick Features
The Miller Dynasty 400 also features a DC TIG, essential in forming precise and clean welds. This feature is crucial for welding on exotic metals like titanium and magnesium. It has a 5kHz frequency rating that makes it pulsate 5000 times per second.
Pulsating stabilizes the arc, lowers the amount of operational heat, and ultimately reduces warpage. Other features worth mentioning include its peak amperage and time. 
The Miller Dynasty 400 welder comes with a DIG control. This feature allows you to vary the welding parameters to suit your applications. Alternatively, you can change the characteristics to suit the electrodes you are using.
This welder has an adaptive start control. The adaptive hot start control ensures that the arcs are positive and do not stick. 
Additionally, the Miller Dynasty 400 welder has a frequency control for alternating current. This feature is vital in AC stick welding as it stabilizes the weld and makes it smooth.
AC Wave Shapes
The AC waveforms play a crucial role in the Dynasty 400 welder. With the advanced digital waves, this welder can form puddles that solidify fast. Moreover, its efficiency is backed by the high travel speeds, thus offering deep penetrations.
This welder can also perform welding action with soft square waves. These waves are vital for forming arcs as you have maximum control. Additionally, it offers a good wetting action, making your work much easier.
If you're a fan of traditional arc welding, then this machine's operations will ignite your good old welding memories. The sine wave is responsible for this phenomenon and offers a quiet and good wetting action.
Lastly, the Miller Dynasty 400 welder has a triangular waveform. This wave shape has quick travel speeds essential in welding thin material. 
Moreover, it regulates the heat input providing low amounts that are good for thin aluminum workpieces.
Fan And Programmable Memory
It has a stand-alone fan that operates only when necessary, thus limiting noise pollution. Additionally, it has a 9 independent memory that stores your custom settings and parameters. 
From your custom parameters, the Dynasty 400 welder automatically evaluates the post flow for you. This feature saves your tungsten and limits its porosity.
"Miller Dynasty has a fan on demand which saves power and cuts noises. Moreover, its auto post flow program saves you the hustle of manually setting the post-flow time."
Advanced Technology
With the integration of top-quality technology in its design, this welder is convenient for all work settings. Its auto line power management is ideal for volatile power situations. 
It also comes with VRD functionality. You should note that you can disable this voltage reduction device at the Advanced Tech Menu.
It Is Easy To Use
It is fairly easy to use this welder. While on TIG operation, you can regulate the heating on the tungsten electrode using your foot. 
You have to step on a foot puddle as though you're pressing the brakes or accelerators on your automobile.
"Controlling the electrode-heating may pose challenges to absolute beginners. However, the learning curve isn't very steep and you can ingrain that skill with time."
Pros And Cons
Who Should Use The Miller Dynasty 400?
There are no restrictions on who can use this machine. Anyone with a zeal for welding and who prefers high-end products can use this machine. Moreover, it has plenty of merits that anyone who's into this product will enjoy.
For that reason, this welder is suitable for individuals who prefer a quiet working environment. Also, it is power efficient and won't burden you with insane electricity bills. 
Additionally, it has a programmable memory where you can specify your parameters. This feature saves you from keying in parameters every time you want to use it. Therefore, you won't have to struggle to memorize your settings.
I don't know about you, but who would intentionally miss out on a durable product with such a huge warranty? 
Final Verdict
The Miller Dynasty 400 is such a remarkable welder with plenty of features. Its unique design saves your resources, hence your money. Besides, the cutting-edge design and features will make your work stand out.
You should invest in this welder as it offers versatility critical in TIG welding. It is renowned for its effectiveness in welding aluminum pieces. Additionally, it is durable and comes with a 3-year warranty plan.
Also you can check out our in depth review on Hobart Champion 145 Review here.