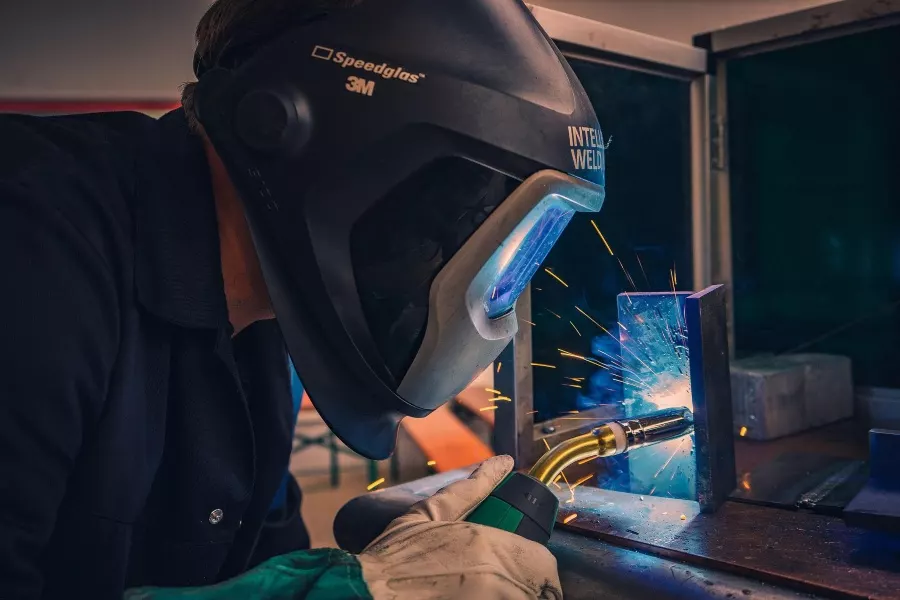 Any welder needs a good Miller Syncrowave 210 review to help them figure out if the machine is good for them. There are numerous TIG welders in the market, and some stand out for power, speed, and quality. You must sort through the products to land the best one.
What qualities does the Miller Syncrowave 210 bring to your project? You need a welder that will enhance the quality of your work. Welding is a critical skill, and the machine must help in ensuring quality. Let us take a closer look at the Syncrowave 210 to see if it will be a good fit;
Is The Miller Syncrowave 210 Worth Your Money?
The Miller Syncrowave is one of the best options for welding you could go with. It has advanced features that make it easy for beginners and professionals. Their pro-set and auto-set features make this product stand out from the competition.
You can input some measurements, and the welder will compile the best weld parameters. It can do stick welding, TIG, and MIG making it great for many projects. Why get two or three welders when you could get only the Miller Syncrowave 210?
Most of the settings on this welder are easy to change. You can use the control panel to alter most of them with the turn of a knob. It can work with an AC frequency and DC voltage with minor adjustments. This is the best welder you could choose for your small projects.
Miller Syncrowave 210 Review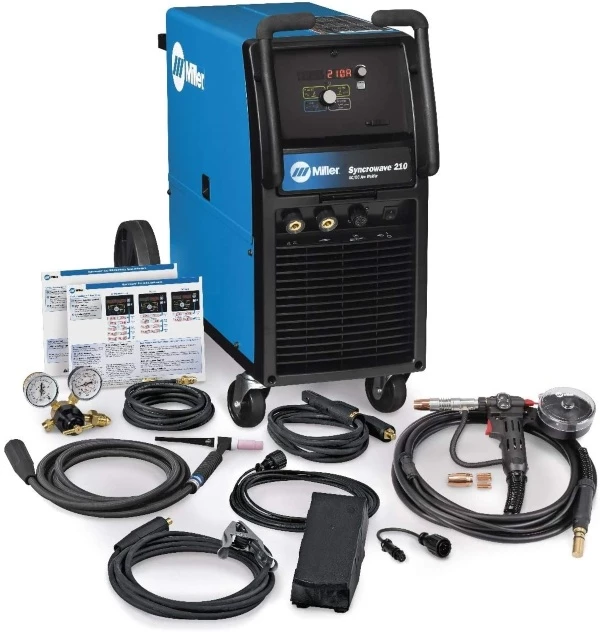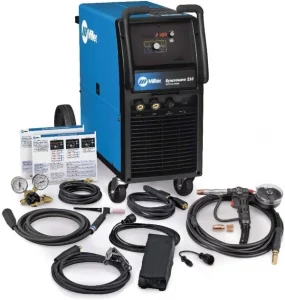 No products found.
(Ideal for professionals, personal users, and light industrial applications)
SPECIFICATIONS

Welder Type: TIG, MIG

Special Feature: Pro-set features

Input Voltage: 210V and 240V

Aluminum Welding: Yes

Pulse Range: 0-150 pulses per second

TODAY'S TOP DEAL

View on Amazon

REASONS TO BUY

It can weld both TIG and MIG

It allows welds thinner than other machines

It is power efficient

REASONS TO AVOID

It is a bit bulky
Features
It is multi-functional
It can take the workload of 2 welders. Why get 2 welders if you can buy one that does better work? Most Multiprocess welding machines cannot TIG weld aluminum. You need an external spool gun to work on aluminum.
The Miller Syncrowave 210 eliminates this problem, and you won't need an inverter machine. It has AC TIG that allows you to weld aluminum expertly. You can increase your travel speed using the spool gun in MIG welding.
Miller Syncrowave's TIG pro-SetTM feature
Welding can be easy or hard, depending on your settings and their accuracy. This feature gets rid of the guesswork when preparing weld parameters.
Weld parameters are crucial in producing high-quality welds since they determine the power, heat, and penetration. This feature can greatly improve convenience, speed, and quality using preset settings.
To automate the weld parameters, select the feature and adjust until the display shows Pro-set. These will be professional settings best for the material you are using.
5 amp TIG capability
This welder is designed to have more flexibility than most and can weld a wide range of materials.
Other welders in this category can't weld metals nearly as thin as the Miller Syncrowave 210 can process.
Adjustable AC balance (TIG)
The welder has an AC balance adjustability feature for TIG. This feature allows the user to adjust oxide removal.
This process is crucial to creating great quality aluminum welds that most machines can't compete with.
Pulse range of 0 to 150 pulses per second
An adjustable pulse capability feature. The pulse feature in this welder ranges from 0 to 150 pulses per second.
This high rate increases the welder's puddle agitation, travel speed, and arc stability. This makes it great for stainless steel, aluminum, and most other metals.
It also cuts down on distortion and heat input which saves power and enhances the quality of the weld.
MIG Auto-set Feature
It has a MIG auto-set settings feature. You will be comfortable if this is your first machine since it automatically sets the weld parameters. This automation offers MIG welding, but you won't deal with the stress of changing settings to get the best weld parameters.
It works with low-power inputs
It is an innovative and power-efficient welder. Welding needs a lot of power, but the Miller Syncrowave 210 has an inverter-based power source. This allows it to draw less than 30 amps and produce a welding output of 240V.
6010 Stick electrode capability
This welder can run comfortably with the high-quality 6010 stick electrode, which allows it to burn longer.
It works effectively even when the conditions rent ideal. This makes it a great choice when working in windy conditions or with corroded metal.
You can increase the DIG settings for electrodes with more penetration like the E6010 for thicker metals.
You have numerous options for the Miller Syncrowave 210, making it one of the best welding machine options.
How To Choose Welders Based On The Intended Task
Choosing a welder might be simple for people with years of experience but not beginners. It might be hard, especially if it is your first machine. Some aspects are crucial in a welder, and you must account for them. Let us get into the details and help you pick;
1.  Arc Welding
When choosing a welder, you need to consider where and when you will use it. Arc welders use an electric arc that delivers power to an electrode stick. Stick welding is common and has many applications.
The electrode stick's outer coating creates a gas shield that prevents electrode contamination. The electrode's core will melt and form the filler metal to create a weld. Arc welders are light and can weigh as little as 6kg.
Their light weight makes arc welders a great choice for outdoor work. Arc welders deliver a lot of power since they are designed for welding thick heavy metals. If you have corroded or rusted metals, arc welders are your choice.
This high power level is problematic since stick welding will burn through thin metals. This is where the MIG wire feed welders come in. The Miller Syncrowave 210 is an example of such welders.
2.  MIG Welders
The welder has a motor on which a wire runs up into the welder hose. You must pump external shielding gas into the hose depending on how you use it. MIG welders use two types of wires, solid and gasless.
When using solid welding wire, you must have an external shielding gas to protect the arc. You will pump the gas as the arc starts to keep it stable and produce a high-quality weld. You can use AC or DC depending on your settings and the welder's features.
Gasless wire has an outer layer designed to burn off when the arc starts. This layer will provide the shielding gas necessary to prevent the core's contamination. You, therefore, won't need to carry an external gas tank for shielding.
MG welders aren't the best in portability since the welder can be about 30kgs without the external gas tank. The setup is not ideal for constant movement, so it will be best for a shop. MIG welders are easier to learn, and they can weld thin metals.
You can weld steel, stainless steel, aluminum, and others. You must remember to get a special spool gun for welding aluminum.
3.  TIG Welding
TIG welding is the most versatile and accurate welding method but the most complex to learn. It works with steel, stainless steel, aluminum, titanium, magnesium, etc. The best part is using the same shielding gas for all these materials.
It can weld thick metals and thin ones depending on your settings and how you use them. This is a favorite process for most high-level welders because it produces great quality work. The high quality of those services will make your business better.
You will need an AC frequency to weld aluminum or titanium using any machine. You will need to setup a spool gun in most welders unless it has specific specs for aluminum. The power input is crucial for all types of welding machines.
Some welders can only run on 120V, while others need more power. Most welders are designed with step-up or step-down transformers to meet the power requirements. Consider the power output options before getting a welder.
How To Use The Miller Syncrowave 210 TIG/MIG Welder
The Miller Syncrowave 210 is one of the best welding options you could go for. This welder must be on your equipment list if you need some metal welded strong. This welder is great for personal users and light industrial use.
The Miller Syncrowave 210 will come with the following equipment; a quick reference guide, the spool gun, cables, connectors, and MIG equipment. You need to swap the power pin to the flow-through dense connector.
This is necessary to make the Spool gun compatible with the Syncrowave 210. You will need a wrench and a screwdriver to do this. First, remove the Phillips screw, then the strain relief cap, which comes loose at a quarter-turn counterclockwise.
Use two wrenches to loosen and remove the power pin connector. Reverse the process with the flow-through dense connector to complete.
You can use the same process to switch between the connectors. Once done, connect the electrode receptacle to the TIG welders.
When welding, use filler metal compatible with the material being welded. The shielding gas is also important and will differ based on what you are welding. Choose a welding gas compatible with the filler metal and the welding base.
The Miller Syncrowave has an auto set, an automated settings feature. Hold the menu button on the machine's front panel to use this feature. The words "User menu" will display on the control panel screen.
Use the button above the menu to select the wire size, base material thickness, and shielding gas. The welder will use the data to get the best settings to weld. You can change the settings yourself if you have the experience since the control panel is easy to use.
TIG welding is also simple with this welding machine. A weld parameter chart inside the door will help you get the right amperage. You can use pro-set to get the best weld parameters for TIG welding.
To use the pro set, press the menu button on the control panel to display the parameter. Adjust the encoder control until the Pro set flashes once on display to reveal the associated setting. In both AC and DC TIG, hold the menu button for 2 seconds to access the user menu.
Use the menu to optimize the machine depending on your settings. The Miller Syncrowave 210 is an efficient, easy-to-use welding machine option that can work for many projects.
The Proper Maintenance of A MIG Welder
You need to know crucial maintenance tips to help your welder perform optimally for years. Welding machines are expensive, costing thousands of dollars, so messing with them won't be wise. Let us look at some ways you can maintain your welder;
For everyday use, turn off the welder and unplug it from your power source. This will ensure there isn't voltage moving in the plug to prevent damage and accidents. Wrap the gun loosely, so it does not get kinks or breakages.

Cover the TIG machine when it isn't running to keep dust and debris off. This ensures the machine stays clean at all times and it won't have clogs or rust. Use high pressured air to dust the machine off every few weeks to remove the dust.
Use the compressed air on the lines to get any debris out of them. The debris can damage the welder if you don't clean it enough.
Turn off the gas at the tank and purge the gas lines. This will take the pressure off all your equipment, increasing durability and reducing the need for servicing. Regularly check gas hoses and fittings since they get loose over time.

Check and repair the weld cables. These cables carry a lot of power, sometimes 240V, and could lead to fatal accidents if they are open. Additionally, breaks in the line can increase resistance and compromise your machine's operation.

Tighten your ground clamp at least once each month. Regular heating and cooling cause expansion and contraction; therefore, the clamp will come loose with time. This clamp is crucial in discharging the welding machine.
You also need to clean and tighten weld terminals since they form a coat after a while. This coat limits their conductivity, and it will affect the machine.
Bottom Line
Hopefully, this Miller Syncrowave 210 review has helped you see if it is a good option for you. This welder is one of the best in the market, but it works depending on your settings. It can do stick welding, TIG, and MIG with a few adjustments in settings and equipment.
This is one of the best TIG machines you will find, and it is a great performer. Its versatility and easy-to-use control panel make it very user-friendly. An ideal choice for your first machine since it has many automation options.