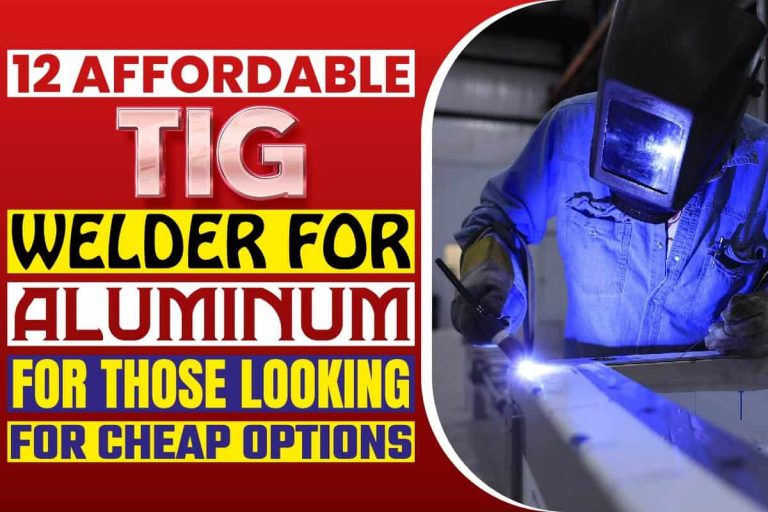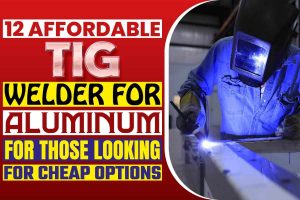 Often times, beginner and budget-conscious welders often look for the best tig welder for aluminum in the wrong places. They often ignore the key factors that necessary for consideration. The simple truth is that the best tig welders for aluminum are those that come with added features to enhance the operations of the welders. They are the welders that will save you money on the long run, in addition to being affordable. Unfortunately, cheap TIG welders will come with their own limitations because manufacturers want you to pay more for better quality machines. The secret to making the right choice is to match the ideal machine with your personal requirements.

Top 3 Best Affordable TIG Welder
Current output

AC/DC

Frequency

Weld Thickness

Extras

Affordability

2018 AHP AlphaTIG Welder
10-200 amps

AC/DC Dual voltage

200 Hz

¼" to 3/8"

2T/4T sequential remote control, foot pedal

Not very affordable

2019 Everlast Power I-Tig
200 amps

AC/DC dual voltage

50-60 Hz

1/8" to 5/32" maximum

Foot pedal

Affordable

Diversion 180 TIG Welder
10-60 Amps

AC/DC Dual voltage

50-60Hz

3/16 -3/32"

Foot pedal

Quite Pricey
Review Of The Top 12 Affordable Aluminum TIG Welder
The following are considered to be some of the best affordable TIG welders for aluminum.
1. Lotos CT520D Air Plasma Cutter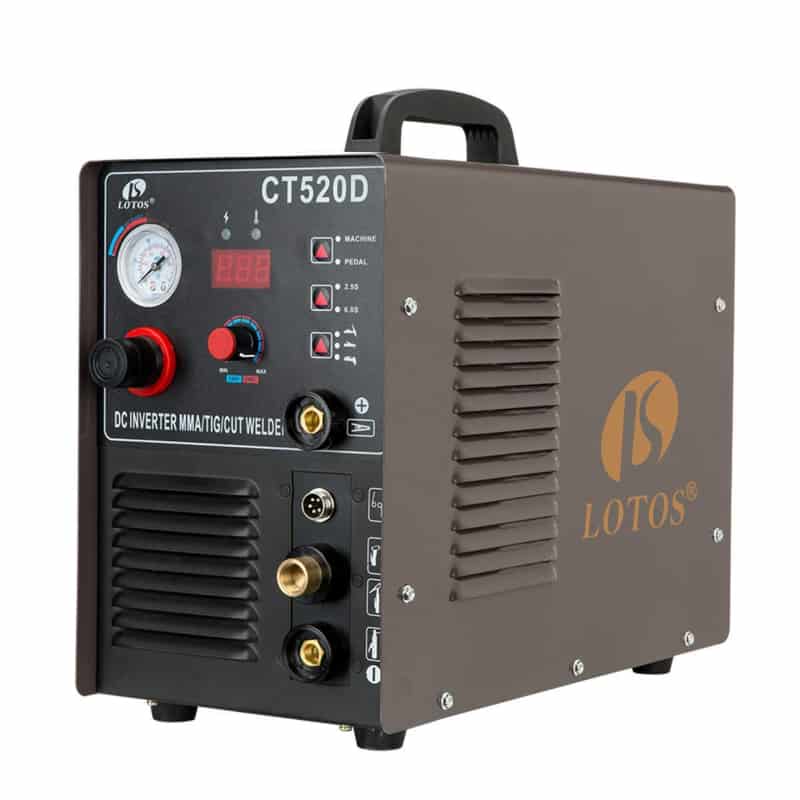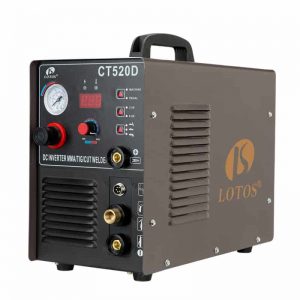 The three-in-one combo TIG welder is one of the most affordable aluminum welders you can find around today.
Specifications
15–200-amp, DC TIG electric current output

Stick/MMA/ARC 3-IN-1 combo welder

½" clean cut

Brown color

Plasma cutter

Non-hazardous compressed air

HF ARC start hand touch control

Foot pedal welding heat control

Easy ARC start

Made from steel material

It weighs 33.1 lbs.

110/220V

50/60 Hz
Features
The plasma cutter is an affordable tig welder that produces ½" clean-cut and a maximum of ¾." The compact-designed machine comes with a handle at the top for easy carry. The non-hazardous compressed air used for welding will produce a clean cut for aluminum, stainless steel, mild steel, copper, and alloy steel.
Lots of features come with this machine. It can achieve a stable welding arc with its Easy ARC start, Deep weld pool, and adjustable hot striking arc current, plus an improved Arc starting functionality.
You can set this device up in less than a minute. The pre-installed NPT ¼" industry-grade type-D plug alongside the air filter regulator will ensure you connect to your air compressor quickly. The connection is also aided with a stand coupler available on the air compressor to make the setup or installation quicker.
There are lots of consumable sets this machine is compatible with. LCS22, and LCS33, are some of the compatible consumables. The device is not compatible with LCON20, LCON 40, and LCON90. Loots LCS22 and LCS33 and any other third-party consumable.
With the 30-day full refund guaranty and a limited 1-year free warranty, you can purchase this device with peace of mind.
The steel body is solidly built, and some of the included components are; power supply, TIG torch, Plasma cutter torch, ground cable, and filter regulator. This machine's automatic dual voltage and dual frequency ensure that you can switch from one power setting to another depending on the type of metal you are handling.
Pros
Compact design
Foot pedal control for welding heat
Stable welding arc
Easy setup
It is compatible with many compatible sets
Cons
Suitable for thinner metals only
2. LOTOS LTPDC2000D Non-Touch Pilot Arc Plasma Cutter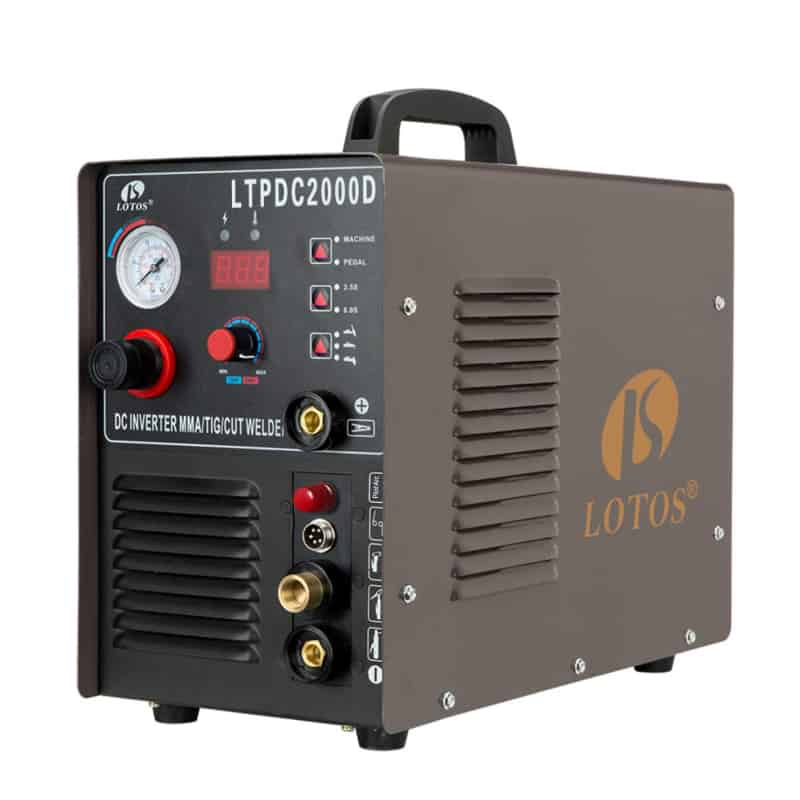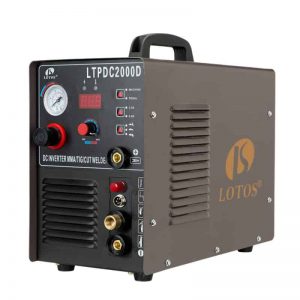 This device is an accurate representation of the Lotus brand. It is an inexpensive tig welder for professional welders but still pricey for beginner welders.
Specifications
10-50A plasma cutter

200A Tig and Stick welding

½" clean-cut and ¾" severance thickness

Brown color.

Non-hazardous compressed air cutting

Adjustable hot striking arc current

PAPST advance cooling system

Dual voltage and dual-frequency input
Features
This device is a non-touch plasma cutter with 10-50 amps output for plasma cutting, plus 200 Amps output for stick and tig welder. Aside from the ½" clean-cut, the maximum severance cut is ¾." The pilot arc torch of this machine can cut through rough and rusty surfaces with very minimal slag generated.
It relies on non-hazardous compressed air for cutting aluminum and other thin materials like copper, stainless steel, mild steel, and alloy steel. It provides quality weld on thinner metals, and with a precise foot pedal welding heat control, you can reduce or increase heat to welding depending on your needs.
HF arc start hand torch is another feature on this machine that helps welders maintain arc stability for great welding results. You will get a deep weld pool and great welding shape with the Easy Arc start. This machine is excellent for welding with both acidic and basic welding electrodes.
It is compatible with several consumable sets. Some of the compatible sets are PCS 22 and Lotus PCS33. As versatile as it is, this machine is not compatible with consumables like Lotus PCON40 and PCON90. The device can be set up in under a minute. It comes with a pre-installed NPT ¼" industry type D plug plus an air filter regulator. All these components will allow you to attach the welder to the air compressor via a stand coupler.
A PAPST cooling system will ensure the plasma aluminum cutter has durable and stable performance. The package contains accessories such as an air filter regulator, ground clamp ¼" NPT industrial type D plug, consumables, and an instructional manual.
It comes with a 30-day full refund policy and a 1-year limited manufacturer warranty. This means you can purchase the machine with peace of mind.
Pros
Immaculate cut
A pilot arc torch can cut through rough surfaces
Foot pedal welding control helps maintain heat usage
Works with basic and acid electrodes
It is compatible with many consumable sets
One minute set up
PAPST cooling system for regulating heat
Cons
The foot pedal is not included
3. PrimeWeld 3-in-1, 50 Amp Plasma Cutter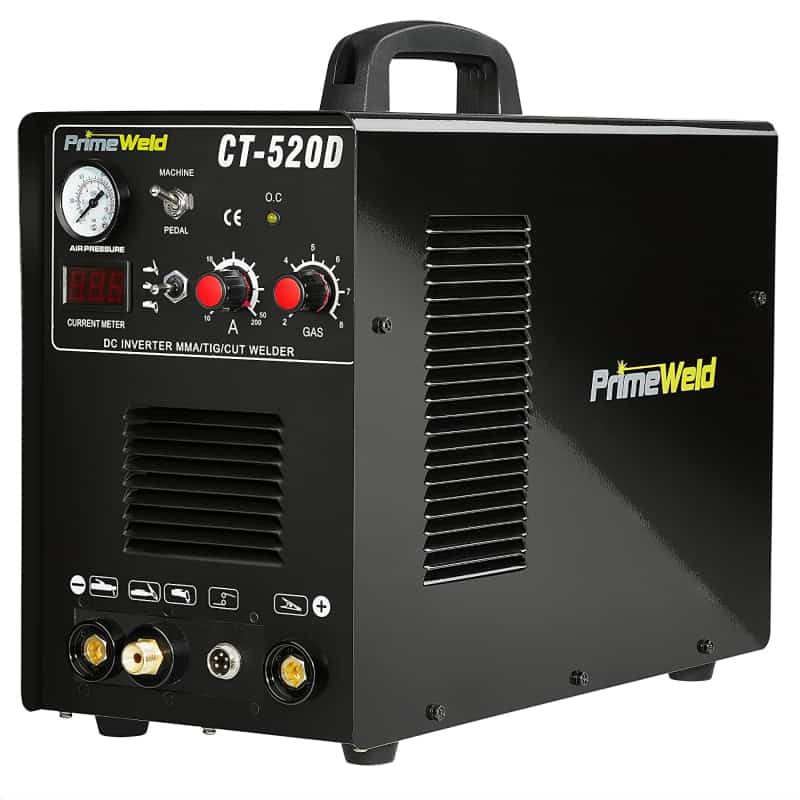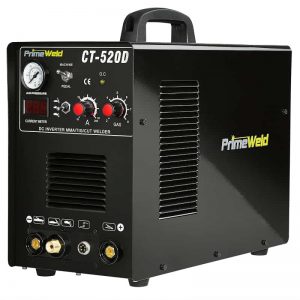 This is a compact and portable plasma cutter and welder that is portable enough to handle your welding demands.
Specifications
200A TIG welder

200A Stick welder

50A plasma cutter

Welding and cutting 3-in-1 combo machine

Up to ½" thickness cutting

50/60 Hz

85% power efficiency

32 lbs.

Steel body design

23.58 x 16.81 x 12.8″ in length, height, and width.
Features
It can handle aluminum and other metals up to half an inch thickness. With 85% power efficiency, your machine will produce the best welding results.
The versatile 3-in-1 cutting and welding machine rely on 50A plasma to cut thicker materials like copper, cast iron, and mild steel. The 200A for TIG Torch can weld thinner materials like aluminum, magnesium, and stainless steel. You can use the 200A stick welder for minor welding repairs.
With lower energy consumption, this machine offers cheaper operational costs. It is pretty safe and user-friendly because it doesn't use flammable components, hence no risks to the welder. The portable and reliable, the lightweight machine can be easily transported from one place to another when working. It comes with a 60% duty cycle at the maximum amps when welding. It can also switch easily from DC TIG welder to DC stick welder.
A whopping 3-year manufacturer warranty accompanies the excellent customer service rendered by its manufacturer. Technical specialists can help you arrange a replacement part within the US if there is an issue with the machine. This customer service is available seven days a week.
In addition to the compatible consumables, other things include in the package are; Air hose, TIG Torch, Earth clamp with cable, Plasma cutting torch, Arc Holder with cable, Air regulator, and 110v power adapter.
Pros
Highly versatile for different metals
It consumes less energy
Environmental-friendly
It is lightweight and portable
Excellent customer service
Cons
It does not come with a pilot arc in cut mode
4. PRIMEWELD TIG225X 225 Amp IGBT AC DC Welder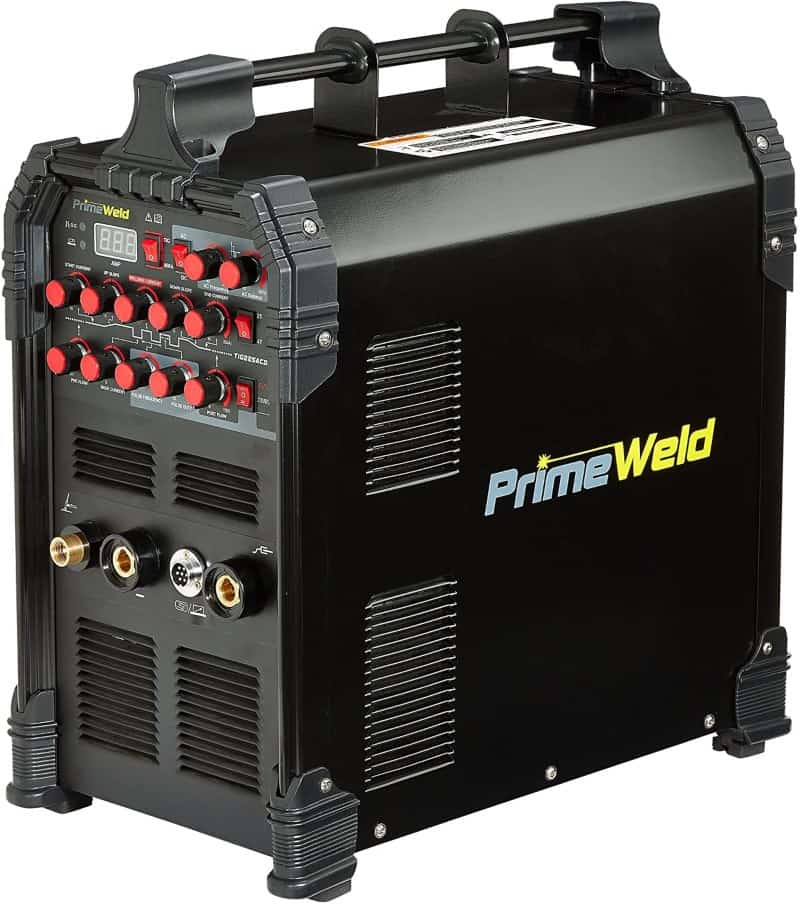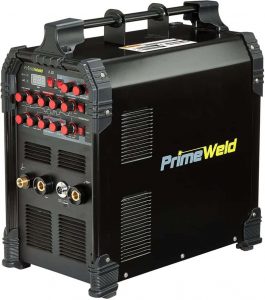 With an incredible 225Amps power rating, this machine delivers one of the best welding results on aluminum and steel.
Specifications
225 Amps TIG/Stick welding power.

Start Amp 10-225 Amps, and 10-225A end Amp

TIG/Stick welder with pulse function

CK Superflex head and hose on welder

200 Hz on Pulse

AC Frequency 40-200 Hz

¼" aluminum and 3/8″ mild steel cutting.

110/220 Volts

HF start hand torch control

Precise foot pedal welding heat control

Advance inverter with PWM.

AC/DC dual power control

10-90% Pulse time on

0-10% Upslope and 0-25% downslope

90 lbs. weight

24 x 19 x 12 inches measurement
Features
The 225 amps TIG/Stick welder has a pulse function and can efficiently cut aluminum, stainless steel, and many other thin materials. The CK 17 series super-flex TIG Torch has a torch head with a CK super-flex hose work with a CK Dinse connector to enhance welding results.
It delivers excellent cutting results across different metals. It can achieve a ¼" cut on aluminum materials and a 3/8″ cut on mild steel, copper, and stainless-steel materials. The 110/120V can weld the 7018 and 6013, giving you clean cuts with minimal slag along the way.
There are two features on this device that offer more heat control on your welder. The precise foot pedal welding heat control and HF start hand torch control provide greater control and handling on the welder.
The Advanced Inverter Technology works with the Pulse Width Modulation (PWM) to use IGBT technology for power efficiency and welding delivery. The complete setup of CK Dinse connector, CK flex tubing, and CK17 Flex head torch provide the best welding experience you can ask for.
Pros
Superior power rating
High frequency on the pulse
Supercuts delivered
Better heat control and arc stability
3-year manufacturer warranty
Cons
Slight expensive for beginners on a low budget
Quite weighty
5. LOTOS TIG200AC/DC Aluminum Tig Welder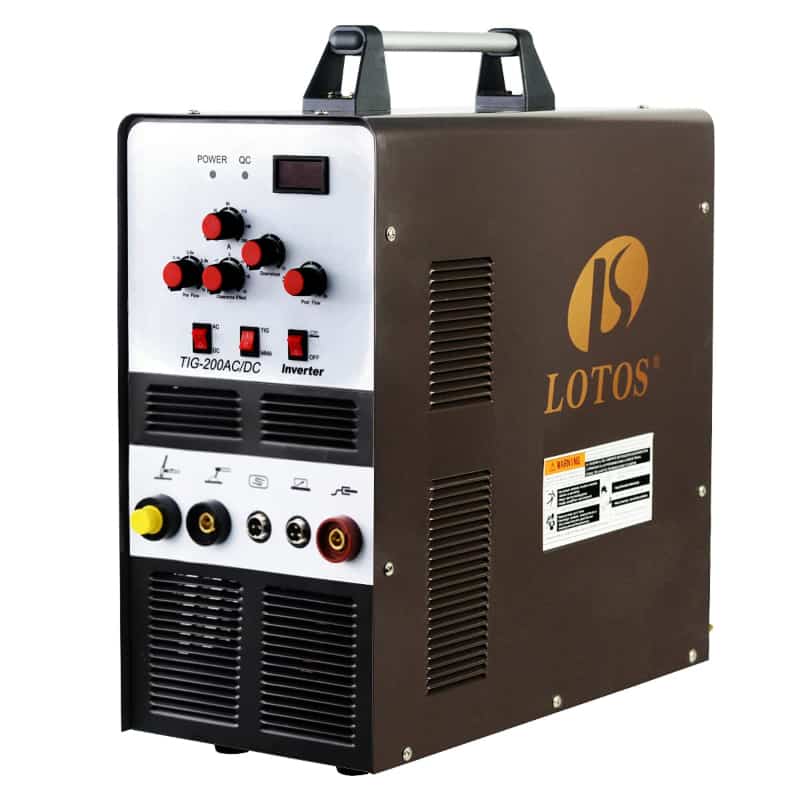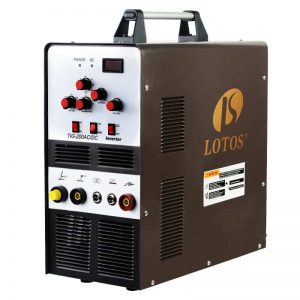 This unique device is a 200A AC square wave inverter for the best aluminum welding. It is as efficient and robust as it looks.
Specifications
110/120V and 220/240V dual voltage

50/60 Hz

200 Amp AC/DC TIG current output

80% power efficiency

HF start hand torch control

Precise foot pedal welding heat control

Argon regulator

Brown color

15-200 Amps for Stick/MMA welding

Easy Arc start

Adjustable hot striking arc current

PAPST advance cooling system

Made of aluminum material.

Weighs 58 lbs.

123.6 inches in length

3/8″ welding capacity
Features
With 200 Amps DC/AC output, this machine is feature-packed. It is built to provide accurate welding about aluminum, stainless steel, and other thinner materials. The precise foot pedal welding heat control helps regulate the amount of heat applied to welding.
With the Easy Arc start feature, you can achieve a stable welding arc, a deeper weld pool, and an excellent welding shape. The adjustable hot striking arc current feature will improve the arc starting function. This welder is also suitable for welding with acidic and basic electrodes.
The PAPST advanced cooling system maintains stable and durable performance by further controlling heat dissipation. The package includes everything you need; TIG Torch, power supply, MMA/Stick clamp, foot pedal, argon regulator, 110/220V converter pigtail, ground clamp, instructional manual, and the consumable sets.
In addition to the 1-year limited manufacturer warranty, you can also get a full refund within 30 days of purchase if unsatisfied with the product. You will have to submit a registration form online at the manufacturer's website for any inquiry or customer support.
The body is made of aluminum materials, making it very light to handle.
Pros
80% power efficiency means cheaper operations
Precise foot pedal prevents excessive heat damage
It works with both acidic and basic electrodes
PAPST cooling system for stable welding
30-day full refund
Cons
It Can attract clouds of dust quickly if not stored properly
6. YESWELDER ARC Welder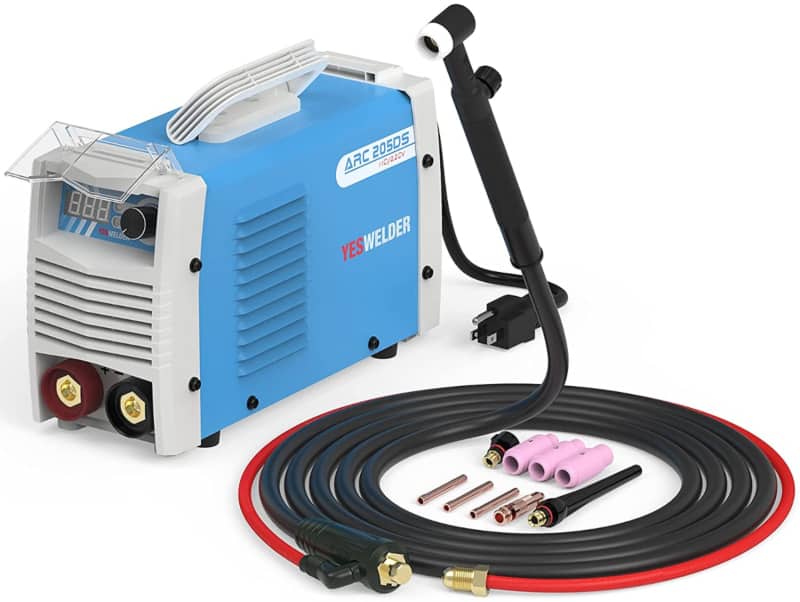 This could be your best budget tig welder because of its compactness, high power rating, and excellent performance.
Specifications
205 Amps power rating

13ft. size

Digital inverter welder

IGBT soft switch technology

Stick MMA welder

TIG Welding Torch

Air-cooled Lift TIG Torch

Powerful Arc starting

Hot start and Arc Force

20-205 Amps

50Hz frequency
Features
This aluminum welding machine is ideal for metal categories 6010, 6011, and 7018. The DC stick arc welder offers excellent cutting for aluminum metal and several other kinds of metals. The powerful arc starting feature ensures stable arcing of welding.
The IGBT soft switch technology offers excellent arc stability during welding. The arc force and hot start feature provide more convenience. You can apply between 20 and 105 amps depending on the thickness of your metal.
The machine is most suitable for aluminum and other thinner metal welding. The components of this machine and the portability of the device itself make it compatible with professional use.
There are many automatic protections features on this device. There is automatic compensation for voltage fluctuation plus electric current protection. It also comes with overload protection and temperature control protection.
There is a brand-new Lift TIG gun included in the welder's package. The machine comes with an easy setup that can be completed in under a minute. There is a dual ball-bearing design that will ensure consistency of cooling. Automatic cooling will prevent overheating and burning of welded materials. Regulation of welding temperatures also reduces the risks of slags and other distortion on welded surfaces.
Arc force and hot start simplify welding

Pros
Arc force and hot start simplify welding
More excellent arc stability with IGBT technology
Varying power output for different metals
Electric current protection and voltage fluctuation management
Easy connection
Low noise and high RPM
Cons
You will have to buy TIG Torch
7. TOOLIOM 200A Welder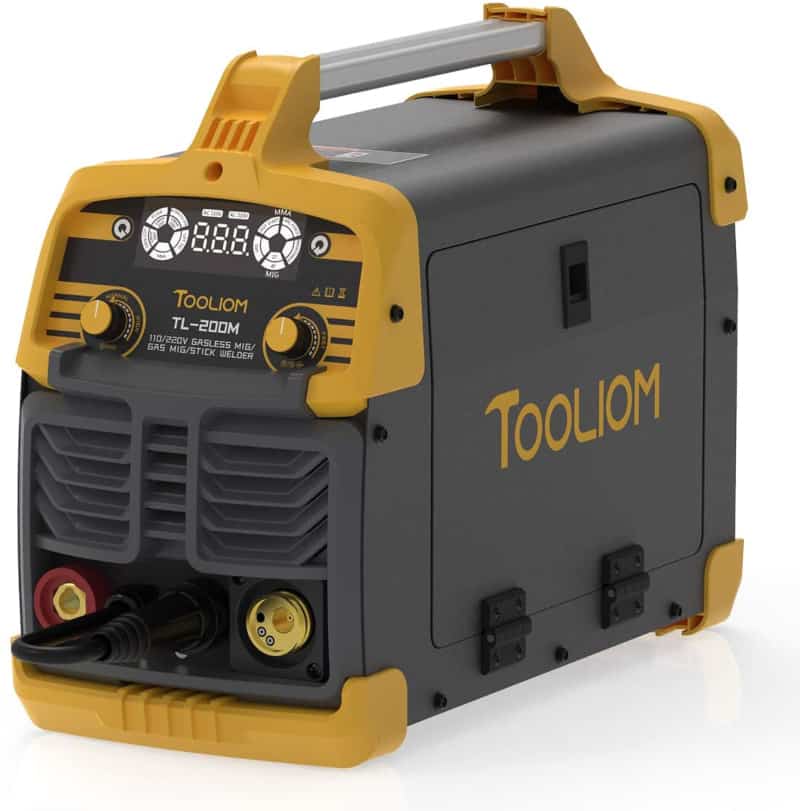 This device is a 3-in-1 Flux MIG solid wire and Lift TIG welder dual voltage welding machine that delivers excellent welding cuts.
Specifications
3-in-1 Flux MIG

Lift TIG/Stick welder

110/220V dual voltage

200A for MIG welding

Software control for synergetic function

Up to 5/32″ welding

31.9 lbs. weight

Measures 20.5 x 15.6 x 12.6 inches

Black and yellow color

One-button use

2T/4T operation
Features
Perhaps the synergic adjustment function of this machine is one of the best features you will see on it. This function is controlled by special software that comes with the package. The synergic adjustment function is an intelligent automated feature that matches current and voltage with different weld materials. This is particularly good for beginner welders.
It is not the cheapest tig welder but is still affordable for beginner welders. This machine has multiple features, including Lift TIG, Flux MIG, gas MIG, and MMA. With up to 200Amos output, you can weld a metal plate of up to 4mm plate.
This machine has the edge over its main rivals. It can handle between 2 to 10 lbs. rolls of wire. It is prepared to feed 0.8mm with solid core wire and up to 0.9mm with flux core wire. This device is built to handle the E7018 primary electrode; hence it may not be the best option for acidic electrodes.
The dual voltage design of 110/120V and 220/230V provides variable power for different welding needs. There is an automatic fitting feature to make the dual voltage compatible with varying conditions of welding. The machine relies on the 2T/4T operational modes. The 2T option is available for spot welding, and the 4T operating mode is suited mainly for release fingers or long-term welding.
Pros
Multi-functional MMA, TIG, and MIG welder
Auto current and voltage with welding match
Great with beginner welders
It can handle up to 10lbs of wire roll at a time
Affordable
Cons
Mainly suitable to handle primary electrode
8. 2018 AHP AlphaTIG 200X, Tig/Stick Welder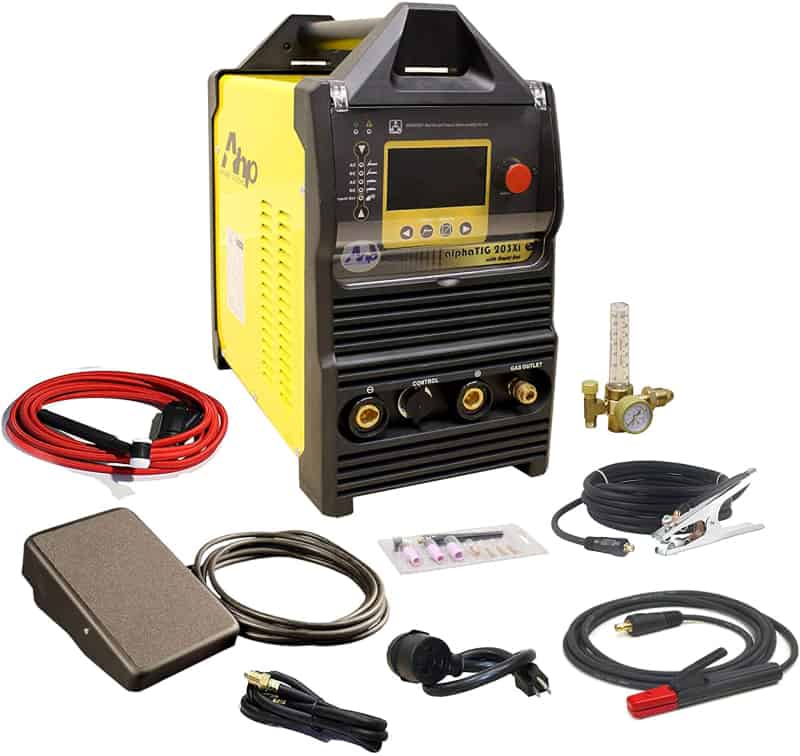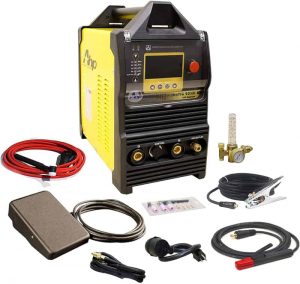 This machine is one of the few TIG welders on this list with an LCD screen for monitoring your welding settings.
Specifications
110/220V AC/DC dual Voltage

LCD screen control

200 Hz Frequency on Pulse

New Torch

¼" aluminum cut and 3/8″ mild steel cut

Welds 7018 and 6013 range

Advanced inverter technology with PMW

HF Start TIG and foot pedal

Black and yellow color

Made from stainless steel body

Plastic handle material

Weighs 69 lbs.

Measures 19 x 23 x 12 inches
Features
This welder provides professional welding features with a new smartboard technology that delivers a rapid set of functions. One of the features is a fully adjustable AC frequency and AC balanced settings, and all these improve penetration, Tungsten life, and arc cone plus etching width.
With the rapid set function, you can choose the tungsten size depending on the thickness of the material. The 2T/4T sequential feature allows the welder to apply a remote switch to control post flows, start and end cycle amps without the need for a foot pedal. The Pulse mode is available for both the AC and DC.
With a Pulse frequency ranging from 0.5-200 Hz, and variable starting Amps, switching between different welding requirements is accessible here. It can provide ¼" clean-cut for aluminum and thinner materials and up to 3/8″ for mild steel and copper.
The Pulse width modulation feature works with the IGBT feature to enhance the arcing stability. There is a foot pedal control for better welding heat control. With a 3-year manufacturer warranty, you can purchase this device with peace of mind.
Pros
Rapid set function for quicker setup
Improved penetration with AC balance settings
Cleaner cut for aluminum and other metals
Suitable for beginner and expert welders
Better TIG welding controls
3-year manufacturer warranty
Cons
Not as affordable as many options on the list
9. 2021 PowerArc 160STH, 160Amp Welder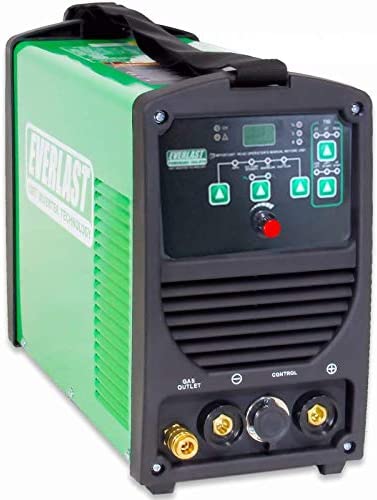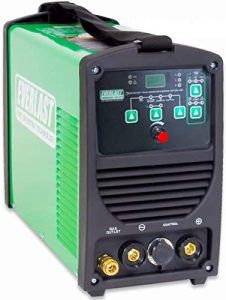 This device is one of the latest aluminum welders around, and it offers great features for the perfect welding.
Specifications
160 Amp welder

IGBT inverter

110/220V/240 dual voltage

HF TIG stick

36.8 lbs. weight

Green color

Measures 20 x 12.5 x 13.5 inches

Stainless steel material body

Low power consumption

DC power source

35% duty cycle

Portable

Hot Start

Impact-resistant carry case

Stainless steel material body construction
Features
This machine comes with lots of features that benefit all welders, from beginners to experts. The portable devices come with a shoulder strap for more convenient transport. The easy-to-use Hot start feature creates a reduced electrode striking effect. There is also an auto-regulated arc force control plus the standard HF and Lift start TIG that works with a display that shows your electric setting.
The DINSE connectors ensure an instant connection that takes less than a minute to accomplish. The welder comes with an impact-resistant case that protects the device efficiently from mechanical and non-mechanical bumps. The foot pedal feature provides complete amperage control.
It comes with a 10-150amp to match different welding needs. The dual voltage is 120/240V. There is an adjustable post-flow control for your TIG welding.
All TIG components are included in the package. You will also find all necessary consumables along with the extras here.
Pros
Lightweight and portable
Stable and smoother DC Arc
5-year parts and labor warranty
LCD for viewing electric and welding display
Straightforward installation
Impact-resistant case for added protection
Cons
The machine cannot weld 6010-rod ranges
10. Diversion 180 TIG Welder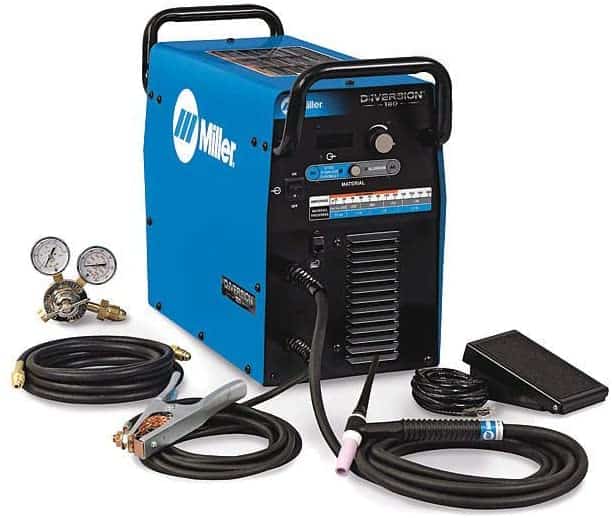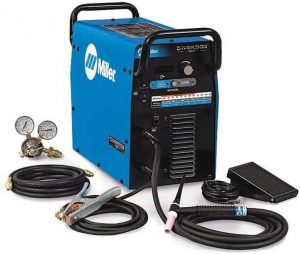 This device is a unique aluminum welding machine with a difference. It offers all welding capabilities expected of a modern machine.
Specifications
3/16″ to 3/32″ material thickness

50 lb. weight

120-240V AC power rating

Digital display

AC/DC polarity

10-60A output

Blue and black colors

65 lbs. weight

Measures Made of steel and ceramic materials

It measures 26.5 x 13.5 x 21.5 inches.

Remote foot control

35% welder duty cycle

50-60 Hz.

17 x 9.8 inches height and width measurements

MVP plug for multi-voltage
Features
This machine is a fantastic welder that works for diverse material thicknesses. It can cut from 3/16″ for mild steel and aluminum to 3/32″ for copper and metals of similar thickness. It comes with a 12.5ft. Torch or work lead with a clamp and a back cap. The collet body comes with 2% Tungsten which is excellent for welding.
There is a regulator or flow gauge with a hose, and this works with the inverter-base AC/DC power source to deliver stable welding. There is a fan-on-demand to ensure cooling of heat when necessary and also regulate welding temperature.
The MVP plug for multi-voltage use will ensure variable voltage application for different jobs. There is a digital display where you can view and monitor your welding settings or make changes. The remote amperage foot control feature also helps in regulating welding heat.
You can use many application fields for this welder, including aerospace, equipment manufacturing, construction, shipbuilding, infrastructure, and processing facilities. The ceramic and steel body material ensures sturdy handling for mechanical strength. It comes with all the necessary cables for easy installation.
Pros
Digital display for viewing your settings
Remote foot control for heat control
MVP plug ensures multi-voltage use
Fan-on-demand for regulating welding temperature
Easy connectivity
Cons
Costlier than other welders on the list
11. 2020 PowerArc 140ST Welder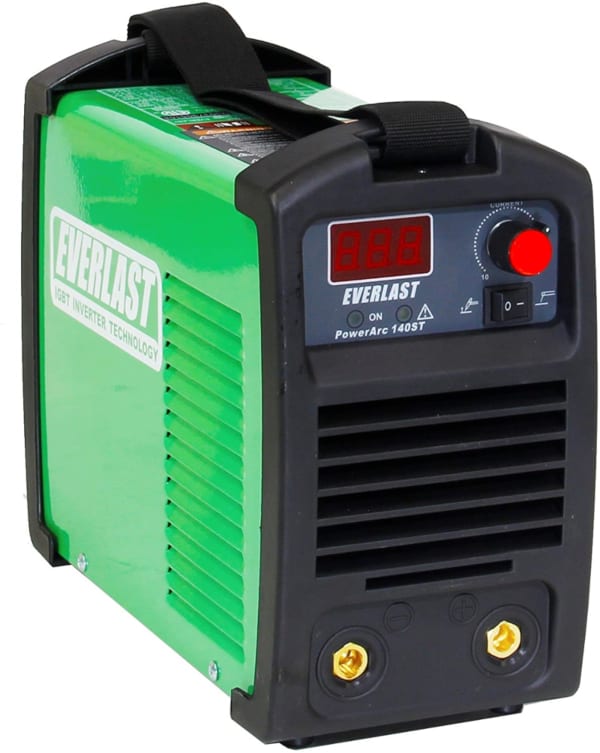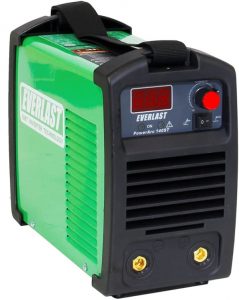 This option is another new welder that also happens to be an excellent cheap tig welder. The compact welder offers a clean TIG cut for your aluminum metal and other thin metals.
Specifications
40 amps power rating

Arc stick

Lift start

IGBT technology

110/220V dual voltage rating

Standard 17 series gas valve torch

Auto adaptive hot start

Carry case
Features
The auto-adaptive hot start on this machine ensures that welding heat is quickly adjusted to your welding needs. This is a machine to go for if you look for maximum performance inside a smaller welder package.
The IGBT inverter welder offers both stick and DC TIG lift features that offer compatible welding settings for different purposes. With its carry case, you can take this machine everywhere with you. With its DINSE style connector, you can connect your TIG torch with a cable to this welder. The DINSE style connector also provides connectivity with the clamp.
There is a strong welding arc stability on this device, which makes the arc at parity level with larger machines. The combination of the auto-adaptive hot start with the auto-adaptive arc force control improves welding. These controls are essential where rod sticking poses a considerable problem and hard to start welding electrodes.
With its dual voltage, you can weld on the go and any compatible metal. The package contains most of the things you need. Stick electrode holder and cable, at least 6ft. work clamp length with cable, wire brush and Lift TIG features are included.
Pros
Very portable
It comes with a carry case
Very simple to use
Improved welding with two auto controls
Inert gas welding is safe and environmental-friendly
Cons
You have to buy a gas regulator separately
12. 2019 Everlast Power I-Tig 201 DC STICK TIG welder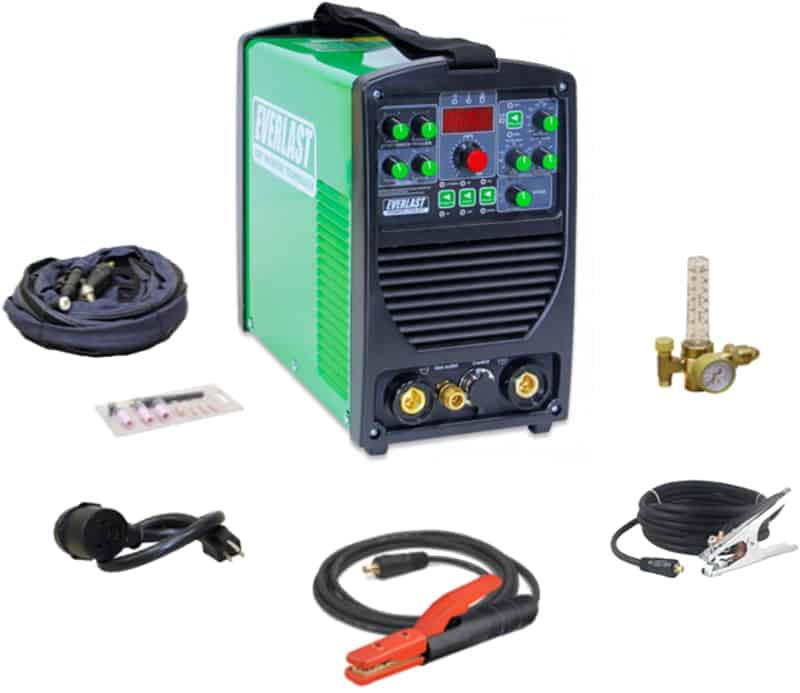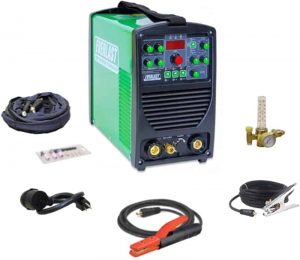 This is a DC stick for all TIG welding needs. It works great for aluminum, steel, and many other thin metals.
Specifications
110/220V dual voltage

Digital IGBT inverter design

35 series DINSE-style connectors

40 lbs. weight

Measures 26 x 6 x 14 inches

Green color

Aluminum body material

22 Amps

200 Amps maximum for TIG welding

6ft. input power cable with plug

Minimum 0.007″ steel welding

5/32″ maximum weld diameter

1/16″ to 1/8″ diameter electrodes

Digital LCD

5/16″ to 3/16″ single-pass welding thickness

1/8″ to 5/32″ steel stick welding
Feature
Despite its relatively smaller size, this portable welder can go toe-to-toe with more prominent brands in terms of performance. The economical DC welder could pass as the best low-cost tig welder. It is a replacement for the I-TIG 200 series, and it has become important where better heat controls are needed. Gun smithery and stainless-steel fabrication shops will need this machine mainly due to thin metal cutting and more heat control.
Though it has been upgraded, you can still have that analog feel when using this machine. It has a minimal low amp start feature that makes it great for better heat control. With the incorporation of a digital LCD, you can control welding parameters, and this ensures reliability.
Some great features and add-ons you will see here include; DINSE style connector with electrode holder, argon regulator, and Everlast 26-series TIG torch. The consumable set, adapter, 6ft. power cable with the plug, and user manual.
Pros
Portable and lightweight
5-year warranty for parts and labor
Clean cut welding
Very cheap
Plug and play connectivity and control
Compact and lightweight
Low amp start feature
Cons
Slight lagging may occur with prolonged usage
Tungsten electrode not included in the package
How To Choose A Cheap TIG Welder For Aluminum- A Guide
We all know that choosing an affordable aluminum welding machine is essential to most welders, especially beginners. You can't just jump on any cheap option you see; you should be guided by certain factors as highlighted below;
1. Go for Immediate Past TIG Welder
Most brands always make improvements or upgrades on existing TIG aluminum welder when creating a new version. For this reason, new welders often cost more than the immediate version. You will also notice that the prices of a welder's quick past performance often drop when a newly upgraded version is released into the market. This could be the best time to save money and get a cheap TIG welder by going for the 2020 version instead of the 2021 version, and the differences may not be much.
2. Go for Certified Fairly Used or Refurbished Instead of New TIG Welder
Not all used or refurbished TIG Welders are certified, and you can get scammed for going for anyone. You need to do a little research and find out dealers who sell certified branded TIG welders only. Certified refurbished welders, for instance, come with replaced parts that are original from the manufacturer. Non-certified used and refurbished Welders may contain replaced components that are not genuine, and you may end up spending more on repairs or replacement in the future.
3. Pay Attention to Special Deals Like Black Friday and Cyber Mondays
Do you want to get the best low-cost tig welder? Pay attention to Black Fridays and Cyber Mondays, and other discount seasons. With these special days, you can get as much as 50% off, sure TIG welders, which is a lot of money you will save. Claim these discounts online long before the deal day and avoid the late-minute rush.
4. Consider Lease Instead of Outright Purchase
If you are an occasional welder, you may want to consider a lease agreement instead of outright purchasing the machine for welding. Some welding machine manufacturers offer cheap lease agreements you can take advantage of, and they also work with registered vendors for the same purpose.
Frequently Asked Questions On Buying Cheap Aluminum TIG Welder
The following questions are some of the most commonly asked concerning TIG welding for aluminum;
Question: Why Do I have to Use DC Current for Aluminum Welding?
Answer: One issue with using AC current only is that current may not penetrate deeply into the joints, thus leading to shallow weld. When joining aluminum pieces of ¼" thickness or more, you wouldn't get a good weld on a solid pass with AC welding.
With AC current, you may have to perform up to three keys, especially on joints, to achieve the perfect welding. On the other hand, DC will save your time and even produce stronger welds on joints and other parts of the weld material.
Question: Why is Cleaning Metal Important Before Welding?
Answer: You need to clean your metal just before cracking an arc for specific reasons. The number reason is that the melting point of the oxide on the surface of your metal is higher than that of the base aluminum metal. Welding oxidized aluminum will lead to the contamination of the weld, thus preventing your weld from solidifying. The final result of welding oxidized aluminum is the appearance of ugly beads.
DC cannot clean your aluminum efficiently. Start the cleaning by using a solvent wipe to remove the grease, paint, and oil. You can use the degreaser to remove the oil and grease and then paint thinner to remove the stain. Application of acetone can remove oil, grease, and paint but avoid using harsh chemical bleaches.
Question: Why Must I Hold the Welding Torch at 90 Degrees?
Answer: You must hold your welding torch at 90 degrees to the workpiece when welding and also keep the tip to the surface to generate consistent puddle and clean weld. Keeping your electrode upright will also provide the best gas-shielding effect on your weld for better control over the arc. Similarly, you must hold the welding rod almost flat to get a clean stack of dimes.
Question: How do I Combine AC and DC Currents to Get the Best Welding Results?
Answer: You will need to combine a number of techniques when combining DC/AC current for welding. Beven the metal edges of pieces to be joined and make them form a V shape. Create a root bead with a direct current. This will allow DC to give a deep penetration plus a solid base for your weld.
Brush your weld and make it clean to eliminate any Oxidation and contamination. Lastly, create a cap weld with your AC current; this will scrub off contaminants on the surface of the root weld plus the edges on the joints. The AC current will also make your weld more attractive.
How To Use Aluminum TIG Welder- Tips And Ideas
Aluminum TIG welder has become the most popular welding option today for its numerous benefits. To use your Aluminum TIG welder successfully, follow these simple steps;
1. Make Safety Your Priority
Wear the required safety goggles and proper welding jacket. Put on the manufacturer recommended welding helmet and gloves. Aluminum can be a very reflective metal that requires lots of energy to weld, the arc intensity may lead to sunburn.
2. Choose the Correct Polarity
Aluminum will generate an oxide layer hence you should clean the oxide layer with a dedicated stainless-steel brush or carbide cutter is important. You should use an AC current polarity with aluminum welding. Since the direction of AC current changes throughout the welding, the AC current will provide a cleaning effect to help you see a molten weld pool.
3. Make Adjustment to the Balance Controls
The electrode used in welding come with a Negative and positive electrode portion with cycles. While the negative electrode is where the welding takes place, the positive electrode is where the cleaning of oxide takes place. You should adjust the ratio between the negative and positive electrodes based on the result you get in the weld environment. If peppering occurs and you see black fleck, it means you should lower the negative electrode activity to remove more oxide from the welded material.
4. Always Reset Your AC Output Frequency for New Welding
AC output frequency affects the placement of your weld, and simply put, the frequency is the number of times the per second power switches polarity. Your frequency setting should depend on the input power. Some modern welders may come with between 10 to 120 Hz preset. Keep in mind that the higher your output frequency, the more stable the welding arc becomes.
You will get a narrower and tighter arc to weld tighter spaces on a material. You may choose lower frequency when welding outside arc cone, for instance, the joints. Lower frequencies are more suited for materials with 3/8″ thickness or higher.
5. Set the Appropriate Amperage
Fortunately, amperage on many welders is now being controlled by foot pedal or the finger-tip control. The general advice recommended by experts is to use 1 Am for every 0.001″ aluminum thickness. This means that a welded material with 0.125″ thickness will require 125 amps.
On the other hand, you don't need to apply this rule when metal material is thicker than ¼", for instance, you can apply around 200 amps on a 3/8″ material. Joint design may also affect the amperage. T-joints for instance, can allow heat flow in three ways, but the but joints only allow heat in two ways. It simply means, T-joints on metals will require more amperage input.
You should learn to set amperages independently because they help achieve greater penetration and productivity. Greater amperage often means better penetration and could help remove even more Oxides from the welding process.
Conclusion
In addition to the product reviews and guide above, you should consider your personal needs before going for the best tig welder for aluminum. If you don't match your needs with the ideal welder, you may not get the best desirable results. Similarly, you should get used to setting your welding parameters, especially with regards to current, and frequency. Oftentimes, welders get poor results because of wrong parameters. You should be able to choose the appropriate amps based on thickness and type of metal. It is also important that you take your welding safety important to avoid accidents. Do not ignore the use of heat and temperature controls. Invest in any necessary extra that is not included in the package.