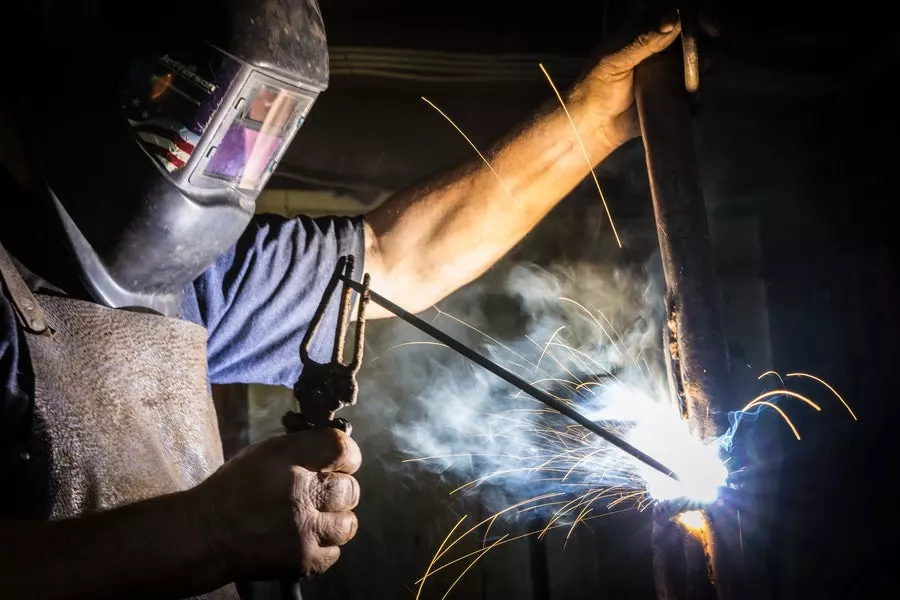 If you are looking for an entry-level and comparatively cheaper welder, then you should check the Millermatic 141 review. The welding machine is by Miller Electric and ranks as a standard and versatile model.
Miller Millermatic 141 can do a wide range of DIY projects. Whether a professional or home welder, you need a great machine like the miller 141. The little portable welder has the versatility to weld various types and sizes of steel metals.
In this Millermatic 141 review, you'll learn about this model's features, pros, and cons. It will help you make an informed purchase decision. So,
Is Miller Welder Worth The Money?
Yes, the Miller Millermatic 141 by Miller Electric is a versatile welder that can handle many DIY projects. It has the auto-set feature that sets it apart from other welders in its class. This state-of-the-art control automatically sets the machine's parameters for you.
The Millermatic 141 also has the versatility to weld aluminum, stainless and mild steel. In addition, the welder is portable; therefore, you can use it anywhere. Nevertheless, the machine comes with a comprehensive 3-year warranty on parts.
Millermatic I41 Review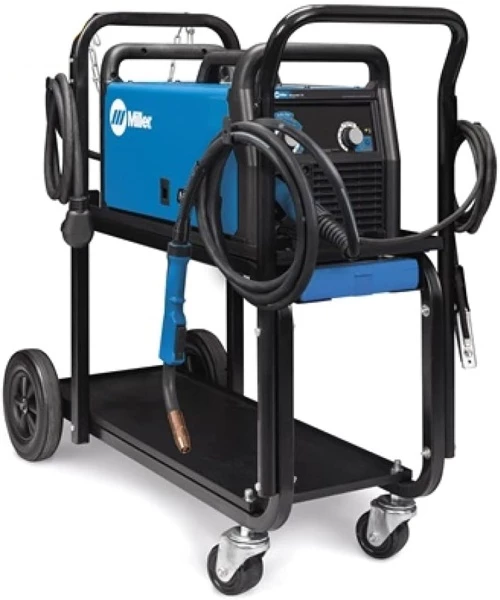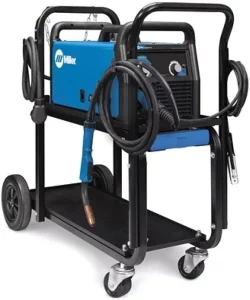 SPECIFICATIONS

Brand Name: Miller Electric

Item Weight: 51 lbs.

Amperage Range: 30-140 A

Wire Speed: 15-360 IPM

Maximum Spool Size Capacity: 8 Inches

TODAY'S TOP DEAL

View on Amazon

REASONS TO BUY

Fairly reliable and durable

Quite affordable

Handy accessories in the box

Super easy for beginners to use because of the auto-set feature

Very smooth spatter-free capability

REASONS TO AVOID

Slightly lower power rating
Features
1. Auto-Set
The feature eliminates the uncertainty of setting wire feed speed and voltage for your welding application.
Auto-set feature offers the right setting to weld mild steel. The infinite voltage control allows you to set your parameters manually. In simpler terms, here's what you can do with the auto-set feature.
 

Dial the material thickness of what you intend to weld, enabling you to start welding using your ideal parameters.

 

Choose the wire diameter, material type, and gas type.
You can manually set your welder anytime you want to weld aluminum, mild and stainless steel. The blue light indicates that the auto-set feature is activated. Overall, this feature makes the setup very easy, even for beginners.
2. Thermal Overload Protection and Tip Saver
It is a common feature in Miller welding machines that you cannot overlook. Thermal overload protection will shut down the unit when its critical components reach a certain temperature. It helps to prevent damage to components.
If your Miller Millermatic 141 overheats, the thermal overload protection will activate the over-temperature light. The possible causes of overheating in welders can be blocked airflow and exceeding the duty cycle. However, the feature automatically restarts the unit when it cools.
The tip saver is another feature that ensures maximum protection for the welding machine. In the case of a short circuit, the tip saver shuts down the output. Therefore it protects the machine's internal parts from damage while extending tip life.
3. Smooth-Start
It allows the welder to start smoothly with no spatter. The Millermatic 141 MIG welder ranks as the best starting welding machine. With this feature, you won't need a spatter to clean up and a pop-gun to start.
4. Auto Spool Gun Detect
It's a handy feature that detects a MIG or spool gun's connection. Therefore it eliminates the need for a switch. The amperage range of the Miller 141 extends from 30A to 140A. The machine's duty cycle is 20% at 90A and 100% at 40A. It means at 90A; you'll need an 8-minute cooling period.
5. Quick Select Drive
It offers three grooves which makes the setup quicker. The grooves include a flux-cored wire and two for different solid wire sizes. There's also an angled cast aluminum drive system that ensures easy setup and creates consistent feeding.
6. Operation Modes
Auto-set Mode
This mode reduces guesswork, thus saving you setup time. Using this feature is straightforward; turn the wire speed control fully clockwise. It would help if you used the auto-set function when you need convenience, speed, and confidence in preset controls.
Manual Mode
Use the manual mode when a custom parameter or the welding exceeds auto-set capabilities. A parameter chart inside the access door has a simple guide.
The guide helps you determine the best wire feed speed and voltage settings. However, always refer to the control's white area when using this model.
7. Price and Warranty
The Millermatic 141 is a bit more expensive than other Miller 140 welders. The additional smart features such as infinite voltage control and auto-set features make it pricy. If you're so tight on budget, you can consider other models in the 140 series since they are more affordable.
Millermatic 141 MIG welder has a comprehensive three-year warranty covering labor and parts. The original power rectifier parts have a five-year warranty, while the gun has a 90-day warranty.
8. Portability
The design of Millermatic 141 increases portability. This welder only weighs 51 lbs., which is lighter than the Millermatic 140. Therefore it's much easier to lift and carry around. The new Millermatic 141 design features a handle in the center and the other at the front and rear.
The handles make it much easier to carry the machine. Regardless, 51 lbs. is still not so light, so you might need a wheeled cart to transport it.
Factors To Consider When Buying A Millermatic 141
Today, welding is a popular industry in the world. The estimated size of global welding products is approximately $14.49 billion. Therefore if you're on the market for a new machine, you'll most likely come across a wide range of options.
However, this buying guide narrows to a specific model, the Millermatic 141. It'll help you make an informed purchase decision. Here are some important factors to consider when purchasing the Miller 141.
1. Welder Type
The type of welder you purchase should suit your need, i.e., the projects you intend to work on. In case you aren't familiar with types of welders, the common ones are TIG, MIG, and stick welders. Each type of welder has its unique functions, which you should know.
However, if you need extra versatility, you can opt for multi-process Miller Electric welders. A multi-process welding machine supports all or most of the welding methods.
2. Duty Cycle
The duty cycle is the time you can use the welder before it needs to cool. Generally, the period is usually ten minutes in most welding machines. For instance, a welder with a 60% cycle will run for 6 minutes and be left to cool for 4 minutes.
Due to the nature of their work, welding machines get extremely hot. Therefore you'll have to turn them off so they can cool. However, high-end welders do have longer duty cycles and can run as long as you need them to complete a particular weld. Therefore don't purchase a machine that needs too much time to rest.
3. Price
The money you're willing to pay plays a key role in buying the ideal welding machine. However, before buying the welder, ensure the price is in harmony with the welder's features. But this doesn't mean you must break the bank to get a great welding machine.
You should set a realistic budget and stick to it. But again, don't calmly settle for cheap and low-quality machines.
4. Nature of The Metal
Common welding metals are aluminum, stainless, and carbon steel. Carbon steel is the common welding material compatible with most welders. Additionally, carbon steel can withstand more excessive heat than other metals.
On the other hand, TIG or MIG welding is ideal for stainless steel. It's because this metal doesn't need too much heat or strength.
Aluminum needs more complex welders like MIG. However, you can also use a high-end TIG machine for the aluminum weld. You should note that each metal has its specific requirements. Therefore, you should identify the metal you'll work with before selecting a welding machine.
5. Metal Thickness
Other than metal type, you should also consider factors like metal thickness. Some machines can only work on thick metals, while others only work on thin-plate metal structures.
6. Portability Level
You'll have to consider the level of portability you need. If you are welding from a particular place, portability might not be a critical concern. Some DIY welders like working from their stations.
However, you need a highly portable machine if you intend to travel to various job sites. A portable machine is lightweight and has other attributes that add to portability, like handles.
7. Consider Your Experience Level
There are different welding methods, and each has its unique benefits. Unfortunately, they're not all so easy to use for beginner/ novice welders. If you're a beginner, start with MIG welding since it's easy to learn.
MIG welding will allow you to complete high-quality welds in time. A beginner should avoid stick welding because of its tricky nature. Please start with the easiest method and slowly work up to complex ones after leaving the novice stage.
What Can The Millermatic 141 Do?
The Millermatic 141 is a 110V welding machine designed for small projects. Several welders laud the machine for producing clean welds with minimal spattering.
The 110V welder is a favorite for both professional and beginner welders alike. Its minimalistic nature makes it so user-friendly.
Note that at 110V, the miller doesn't have the strength to weld thick metals like a 220V machine. However, it can weld up to ¼ – inches of steel.
The machine will achieve its full range capacity on a 20 Amp grid. Plugging it in a normal 110V socket will operate at a decreased power level.
That's because it's not a dedicated line. You'll have to install a 20 Amp breaker directly into your circuit for the Multimatic 141 to achieve its full potential.
Frequently Asked Questions
How Thick of Metal Can Millermatic 141 Weld?
With the Miller 141, you can weld aluminum from 14-18 gauges and stainless steel from 24 to 3/16 inches. Flux-cored welding only allows you to reach a full 3/16 inch, making it less powerful than other 140 machines. However, it provides a great user experience and quality.
Do You Need AC to MIG Weld Aluminum?
MIG welding Aluminum is much faster than TIG, and you can use standard DC settings. Therefore you won't need a welding machine with AC/DC capabilities. However, do not use the standard torch when welding aluminum.
Why Are My Aluminum Welds Black?
Weld soot is a result of the interaction between magnesium and aluminum. Aluminum and magnesium boil at lower degrees than welding arc temperature. This makes some magnesium and aluminum evaporate in the weld filler metal.
What Happens If The Gas Flow Is Too High?
When welding aluminum, too much gas causes a loud arc noise. It also makes puddling on thick aluminum hard. Like in steel, too much gas also causes contamination in aluminum.
Can You Weld Mild Steel With a Spool Gun?
Yes, however function of the spool gun is to help you weld other metals than steel. It doesn't replace the main feed. You can quickly flip over to welding aluminum and other metals with the spool gun.
When Should You Use a Spool Gun?
The function of the spool gun is to help feed the difficult wire. It ensures no messy welding by placing the feeder on the gun. Having reliable wire feeding is so important in welding.
Bottom Line
The Millermatic 141 review aims to inform you so that you can make a great purchase decision. Miller 141 is a great quality machine that has revolutionized the 140A welders' class.
Its new and smart auto-set feature makes it the perfect machine for beginners looking to minimize setup time. The machine is ideal for hobby welders using your small workshop or garage who don't wish to spend a lot. But yet want to achieve very high-quality welds.