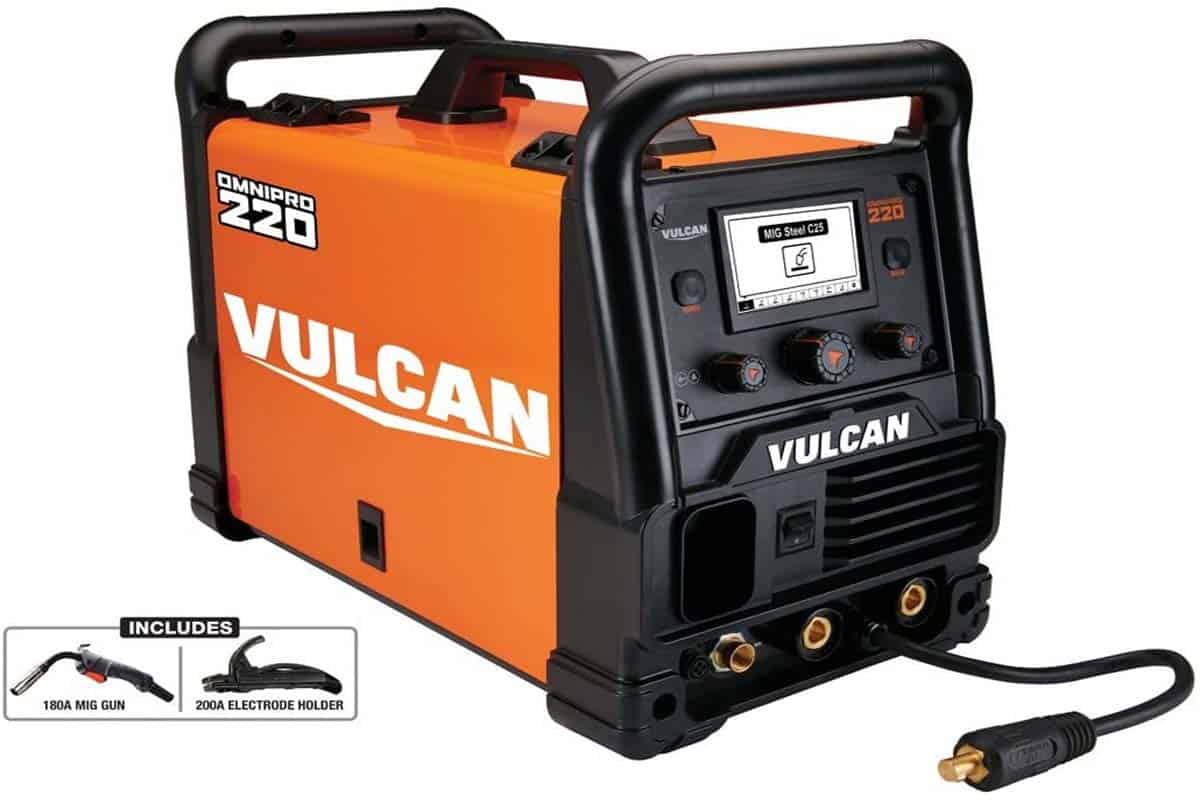 This Vulcan OmniPro 220 welder review brings you everything you need to know about this machine. So, before you make your final decision, spend some time to read it.
This machine has been branded by many as a welder whose performance is equal to its price tag. So, is it worth your penny? Should you take their words seriously?
As for me, I can only conclude after conducting thorough research, which this post is all about.
So, ready? Let's take a look at the Vulcan OmniPro 220 together!
A Brief Look At The Company – Vulcan
This review is about the Vulcan Omnipro 220 welder. Therefore, it will make sense to talk about the brand. By now, you may have figured out that the welding industry is loaded with tons of crappy welding machines and manufacturers whose only primary concerns are loading their pockets with cash and nothing more.
But a look at Vulcan shows some encouragement. The history of the company speaks volumes for itself. Vulcan, since inception, has always been one of the leaders in the welding niche, providing quality and technologically advanced welding machines that meet the needs of beginners and professionals.
For the records, the company has been in business since the year 1980. So, they have many years of experience behind them. It also points to the fact that they are doing things right. Otherwise, the company wouldn't have remained in the business this long.
The company, Vulcan, has hundreds of welding machine models to its name. And from what I have seen in most of their products, it is safe to say that the company is up-to-date technology-wise.
The Vulcan Omnipro 220 Welder Review: Features Of The Welding Machine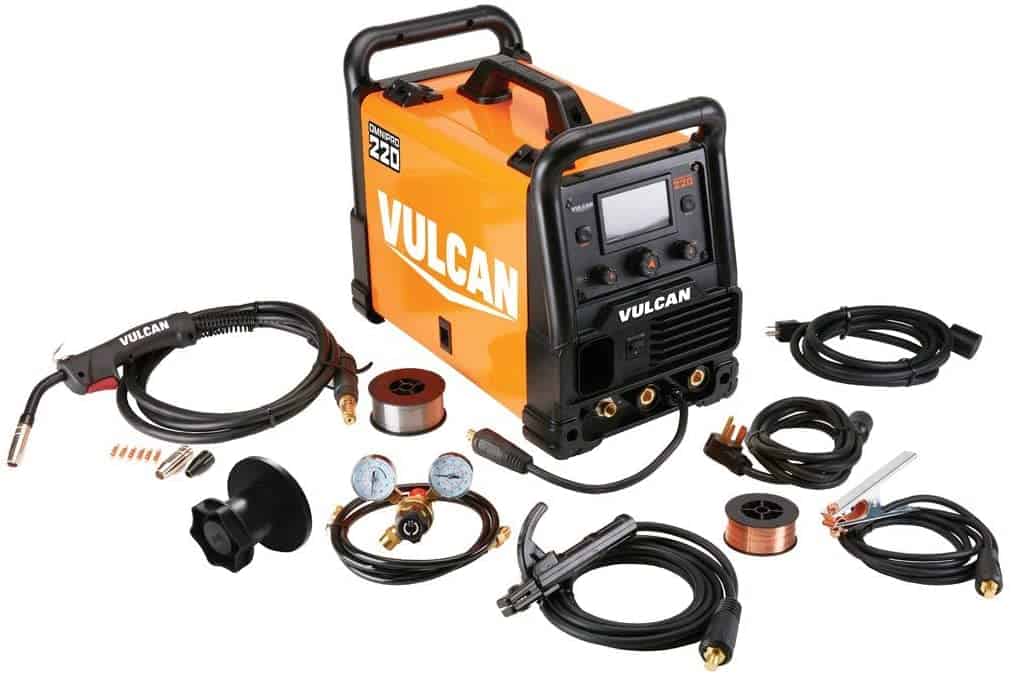 Alright, enough of the company history, let's focus on the Vulcan Omnipro 220. Firstly, keep in mind that this machine is one of the newest releases by the company (as of the time of writing). I also expect to see some of the latest advancements in technology in this machine.
So, let's take a look at the features one by one. What sets this welder apart?
The welding capacity
The Vulcano OmniPro 220 is a multipurpose welding machine. What this implies is that you can use it to MIG, DC STICK, FLUX CORE, and DC TIG weld.
So, if you are in the market for a versatile machine, this Vulcan welding machine ticks all the boxes.
Why is being versatile a noteworthy feature? Firstly, not all welders at this price point are versatile or multi-functional. Again, being multi-functional means there is no need for you to splash the cash on multiple welding machines to handle different welding projects – so you get to save money and space!
The Vulcan OmniPro 220 can TIG weld, MIG, STICK, and Flux core weld, which is a plus for a machine at this price point.
The weight and portability
A lightweight welding machine would make a lot of sense. You will be able to move it from one spot to another with ease without feeling exhausted or get some bruises in your hand.
The Vulcan OmniPro 220 weighs 49 pounds, which is fair enough, giving the wide range of features it has.
So, what's the verdict on the weight of this welder? Well, I would advise you to plan on getting a wheeled cart to make it easier to transport from one place to another. But that would mean spending some little extra money though.
The wheel cart will serve other purposes besides making it easier for you to transport your welding machine. It would help to store additional tools and accessories you need to get your various welding projects out of the way. So, it is not a bad idea to spend some extra cash on building a wheeled cart.
This machine comes with a sturdy carrying handle, which you can use to move it around. But then, most people might not be comfortable using this carrying handle always, considering the weight of the machine. However, on the positive side, this unit's modest dimension makes it easier to store. It won't take up too much space in your workshop or van when transporting it to your worksite.
Now let's focus on the portability of the Vulcan OmniPro 220. How portable is this welding machine? Firstly, it is cute on the outside, and build quality looks good. Vulcan sure knows how to give other brands a run for their money when it comes to the portability of their welding machines, judging from all their previous creations.
So, can the Vulcan OmniPro withstand abuse in worksites? Yes, it can. It is a rugged welder that can take a beating and still perform efficiently. Thus, it is a wise choice for indoor and outdoor use.
Ease of use
Nothing compares to having a welding machine that is super easy to use. For beginners, it makes it a breeze to achieve precision in their welds. Plus, you can also get your welding projects out of the way without breaking a sweat.
Firstly, the Vulcan OmniPro 220 is a breeze to set-up, which is a big plus for individuals who have just kick-started their welding journey. In short, the machine comes almost ready to weld out of the box.
This welder comes with a whopping 132 pre-loaded programs, which is a big plus for those who are just getting started. How? Whenever you want to weld a material, all you need to do is choose the welding program that best suits your needs and start welding. Additionally, having these pre-loaded programs in the Vulcan OmniPro 220 will not only enable you to save time. It ensures great precision and ease of operating the machine.
Another highlighted feature the Vulcan has is the 4.3 inches LCD. This full-color display system makes process selection a breeze and gives you complete control over the outcome of what you are welding. The implication is that there is a chance that you can achieve a high level of precision, irrespective of the material you are welding, including your skill level.
Flexibility and powerful
Firstly, I would like to point out that this welding machine has a dual voltage, which is between 120V/240V. And excitingly, this feature comes with some degree of flexibility.
Now allow me to explain why both voltages make this machine flexible. Firstly, on the 120V, you can use this machine on the standard outlet in your home conveniently. What this implies is that there is no need for you to get a special outlet just because you want to weld. All you need do is to plug in your welder and start welding.
The 240V gives you much higher output and makes it possible to tackle heavy-duty welding projects.
Please Note: The Vulcan OmniPro would run seamlessly on a power generator, making it possible for you to handle welding projects, even in remote areas. Nevertheless, you need to choose the right generator for your machine to achieve maximum performance and prolong the lifespan of the welder.
So, what power generator is ideal for the Vulcan OmniPro, a welder that delivers an output ranging from 30 amperes to 220 amperes? Here's what you need.
The minimum generator size for a Welder whose output ranges from 30amperes to 220amperes is a 13+kva generator. However, the ideal generator size, which would also allow this machine to function optimally, is a 15+kva generator. So, what power generator would I recommend? The 15+kva will make a wise choice.
This welding machine also makes use of inverter technology, which is a big plus. It's proof that Vulcan is way ahead of other competitors with regards to technological advancement. The inverter technology is responsible for this machine's unmatched efficiency and power (going by what we have seen in other welding machines at this price point).
The inverter technology makes Vulcan OmniPro perform better and faster in both cutting and welding of diverse materials.
What's more, the inverter technology on the Vulcan is responsible for its ability to offer a stable arc. Of course, by now, you should know how vital arc stability is in welding. It is one of the features in a welding machine that will guarantee you a smoother weld, without issues of spatter.
The rugged industrial-grade cast aluminum drive system is another reasonable upgrade to this product. As a consequence of this drive system, you can enjoy a great deal of metalworking service.
What about the wire feed speed? Well, that's another thing this machine has that makes it a joy to use. The speed ranges between 50 – 500 inches per minute.
Duty cycle
The duty cycle is an essential factor to consider before choosing any welding machine. It refers to how long the machine can perform without stopping to cool down.
On the OmniPro 220, you will find out that the duty cycle is 40% at 130 amperes, which is quite impressive for a welder at this price point. And with reduced downtime, you won't be wasting too much time on a single project.
Additional safety feature
Welding machines are power intensive. So, there is a high tendency for them to overheat. And as you know, overheating can cause damage to the machine when proper safety measures aren't put in place by the manufacturer.
Well, the Vulcan has a thermal protection system, which prevents the machine from damages caused by overheating. Though this feature is present in some other welding machines, nevertheless, it is still noteworthy.
What The Omnipro 220 Can Handle
This machine boasts a dual voltage option and, thus, can handle a wide range of materials. These include aluminum, steel, cast materials, chrome-moly, and stainless steel.
Here's a chart on the welding capacity of this welding machine;
| | | | |
| --- | --- | --- | --- |
| | Material | Material thickness | Voltage |
| 1. | Steel | 24ga to 1/8 in. | 120V |
| 2. | Stainless steel | 24ga to 3/8 in. | 240V |
| 3. | Aluminum | 22ga to 1/8 in. | 120V |
| 4. | Aluminum | 22ga to 3/8 in. | 240V |
Pros
Dual voltage
Multi-functional
Inverter technology
Rugged construction
Robust aluminum drive
The machine TIG, Flux core, STICK, and MIG weld
Cons
Not budget-friendly
Requires a wheeled cart for easy carrying
Also, here's a video on how to set up the welder:
Is The Omnipro 220 From Vulcan A Wise Choice For You?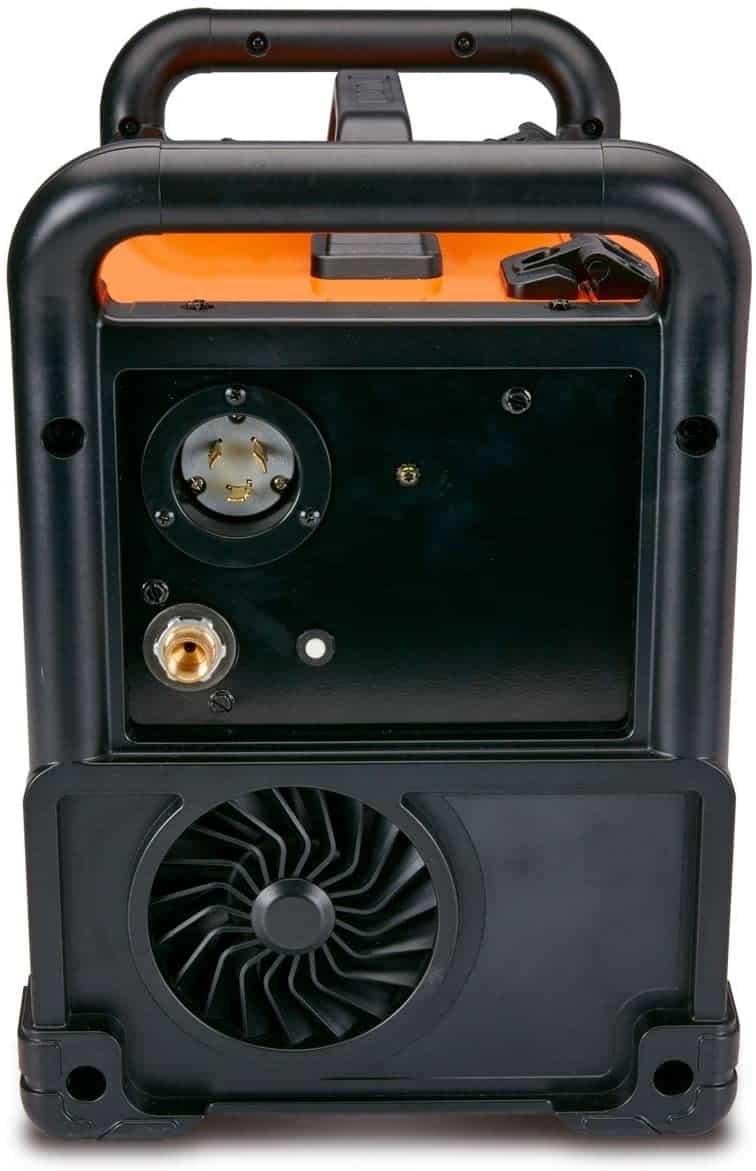 The Vulcan OmniPro is versatile and powerful enough to hand a wide range of welding projects. Thus, it will be a wise choice for beginners, intermediate, and professional welders.
Its ease of use and simple controls make it a good option for newbies who may have little or no experience with welding. With the vast array of pre-loaded programs on this machine, all you need to do is choose the ideal settings based on the material and start welding.
However, I understand that this welding machine has too many advanced features, but thanks to the LCD and intuitive interface, the machine is a breeze to use.
So, you are getting a machine with some advanced features that you would find useful. But its hefty price tag might serve as a drawback to some persons.
But if you are seeking a machine whose performance can match its price point, then the Vulcan OmniPro 220 fits the bill. It is not budget-friendly but worth the value for the money.
Additionally, if you are in search of a lightweight welding machine that you can move around conveniently, the Vulcan OmniPro 220 might not be a good fit for you. The machine does have a carrying handle for convenience. But your hand could suffer some bruises when you start moving the welder from place to place.
Check More Details, Price and Availability on Amazon
Conclusion
It's a good thing you are here and have gone through this Vulcan OmniPro 220 welder review. But before I take my leave, I would like to know what you think of this machine. Do you strongly believe that the Vulcan OmniPro is right for you? Again, if you already have this machine, what has been your experience thus far? We would like to hear from you.
How Was The Article? Please Leave a Review: