If you are looking for a thorough Weldpro 200 review, you are in the right place! This is a premium quality welder that deserves your attention. This welder is a great addition to any toolkit. It allows you to achieve any project you put your mind to and do so effectively and reliably.
The performance this welder offers is on par with many flagship products on the market right now. We are sure that this welder is a must-have for the proper accomplishment of any project.
Read on to find out more about the features, benefits, and functions of this welder. We also offer you the essential information to figure out if this product is right for you.
Weldpro 200 Amp Inverter Multi-Process Welder
Weldpro company is based in America and is a distinctive division of Linlong Limited. They have been a global leader in welding products for more than 20 years. Furthermore, they offer performance and results for many customers around the world.
Their products are impressively built thanks to their team of specialists and experts. This results in a welder that is outstandingly reliable and versatile. Furthermore, the experience is fully optimized and user-friendly.
Weldpro 200 Review
Weldpro 200 is a great choice if you want to do your job with ease and in record time. Any fine adjustments are made without effort, unlike other MIG/stick devices. The construction is also very compact for the power capabilities it delivers. Besides, you can carry, handle, and store it with ease.
This welder is ideal for flux core welding as well as MIG welding. It is also suitable for TIG welding, which makes this welder a versatile and flexible one. It can also easily handle stick and aluminum welding thanks to the spool gun. You can also buy an optional spool gun separately to increase the versatility in welding.
Here's a video review of Weldpro 200 (Unboxing and Initial Thoughts):
Weldpro 200 Amp Main Features
This welder comes with plenty of power, packing an amperage range of two hundred and thirty volts. This is quite surprising when we take into account its size. The MIG also boasts a forty to a two-hundred-amp range which is quite convenient. Additionally, the TIG welding offers a range of fifteen to two-hundred-amp range. Some of the highlights of this product are:
Some of the highlights of this product are:
The wire speed and amperage are easily adjusted thanks to the dual digital display
It delivers great portability and an outstanding handling experience;
Compact and lightweight design, contributing to the ease of storage
The optional spool gun increases the convenience when welding stick or aluminum
A smooth and reliable performance due to the 14ga-0.31-inch welding thickness
Increased welding safety due to the VRD high temperature and overload protection
The welder boasts a duty cycle percentage of 30 at 200 amps. Furthermore, the featured digital display on this model makes it easy to see. It has a large and bright screen, suited for any environment, from low light conditions to bright ones.
The display is used to check on the amp rating and the wire speed. Besides, it can also be used to set these metrics, which is a great addition for a welder in this price range. This makes this welder an excellent choice for beginners. It can also display the VRD high temp, offering great protection against overloading. This also allows you to prevent any damage to the machine's inner workings.
This welder is easily maneuvered and controlled, offering an intuitive design. It delivers easy switching between processes. The experience is easy, suitable for beginners. The setup is quick and hassle-free. This is because of the clear instructions and the essential tools in the package. These are a few of the features making this welder a perfect tool for experts, as well as beginners.
Pros
Able to offer three distinctive welding processes
This is great welder for beginners
Comes with all the essential items so you can start immediately
It comes at quite an affordable price
Built with sturdy materials
Compact and easy to carry
Packs a lot of power
Cons
The spool gun is not included in the price
Is The Weldpro 200 Amp Inverter Multi Process Welder Worth The Investment?
This welder is a multi-purpose one, offering great variety in its uses. The product is ideal for beginners. Or, it can also handle with ease any other demanding welding projects. The primary purpose of this welder is MIG welding, but it is also ideal for Flux core welding. The 200 Amp Inverter ensures that your welding experience is effective each time.
The brand that manufactures this welding model is a leader in the welding industry. They offer reliable welding products for more than 20 years. The long history is, thus, an assurance that the product is reliable and durable. The welder can also handle TIG welding. Furthermore, you can also stick pieces of metal with ease. You can do so buy purchasing the optional spool gun.
It is designed in a portable and compact manner. This ensures not only that you can store it in tight spaces but also to handle it with ease. There is also a built-in digital display that shows you the voltage and wire speed while welding. It is a great and useful addition because you can weld with higher efficiency. Another great feature is that the digital display also boosts your safety.
This model also boasts increased safety against overloading. The VRD high temp indicator promotes a higher degree of safety. Additionally, it is also versatile, with a multitude of settings. You can set it up to offer the best experience while working on a specific welding project.
The display also shows your current mode at any given time. This can be set for different metals that may need different welding settings. It is also very easy to set up, including all the essential tools in the package, so you can start immediately. Experts and beginners alike can use this product due to the ease of setting up this welder without any help.
The package also includes clear, thoughtful instructions. This allows you to start the welder with ease. Additionally, the manufacturer offers exemplary customer service if needed. A warranty comes with each welder to ensure against any issues of the product.
All in all, the Weldpro 200 packs in a plethora of useful features that recommend it as one of the best on the market. Furthermore, it offers high value for money. What is truly great is that it is suitable for both beginners and more advanced users.
What Is The Weldpro 200 Used For?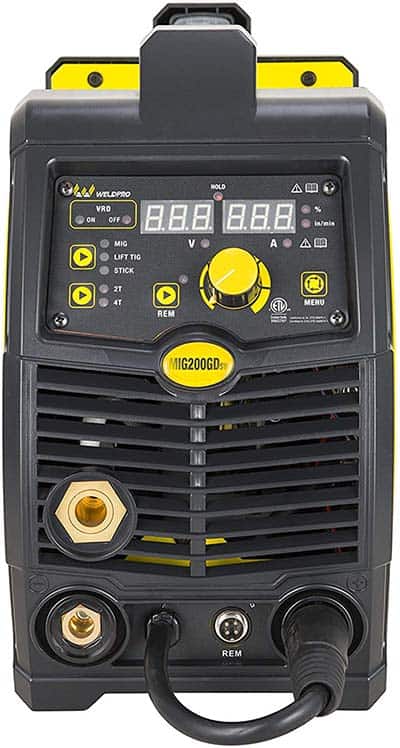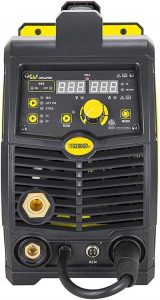 This welder is a versatile, compact and premium quality one. It ensures that every welding project you have is properly and efficiently done. The Weldpro 200 is also ideal for multiple welding processes, such as MIG and flex core.
It packs a lot of power, so you can use it at home for your welding projects. Yet, it is powerful enough for using it in industrial projects.
You can stick together aluminum and metal pieces using the spool gun. You can also buy an additional one. This recommends the product for true lift TIG welding. If you want to finish your projects quickly, make sure you buy the optional spool gun.
The Weldpro 200 Amp Inverter also features an easy to use and intuitive design. It is suited for beginners as well as experts. Furthermore, it is capable of doing a wide range of welding projects efficiently.
If you are looking for a welder, you might as well buy the most versatile one. This ensures the success of a wide array of applications. This is important so you don't have to buy different ones for different purposes. This is an all-in-one welder that makes every welding job a breeze.
The versatility of this portable and compact welder is impressive. It does not only offer only MIG but Stick and TIG welding, as well.
So, this welder has a wide array of applications. This makes it one of the most versatile welders on the market. Furthermore, it offers a compact and portable design that boosts handling and control. The welder is compatible with a spool gun which is sold separately. The spool gun boosts the versatility of this welder. This means that you can finish even more welding projects.
Final Verdict
Thus, we reached the end of our Weldpro 200 review. We can now state that the versatility of this compact welder is mind-blowing. It allows you to finish any project you desire and doing so in an easy and efficient manner.
This welder is ideal for MIG welding, as well as flux core, TIG welding. If you buy the optional spool gun, it can also add the Stick feature. This further increases its reliability and versatility. The compact design ensures that you can take this welder with you in different locations. You can handle it with ease and store it any tight spaces in your home or workplace.
All these features come together to form a reliable welder ideal for beginners. It is versatile, as well as coming at a very reasonable price. This is a leader in the welding industry, and it can offer you the satisfaction of a job well-done every time.
How Was The Article? Please Leave a Review: