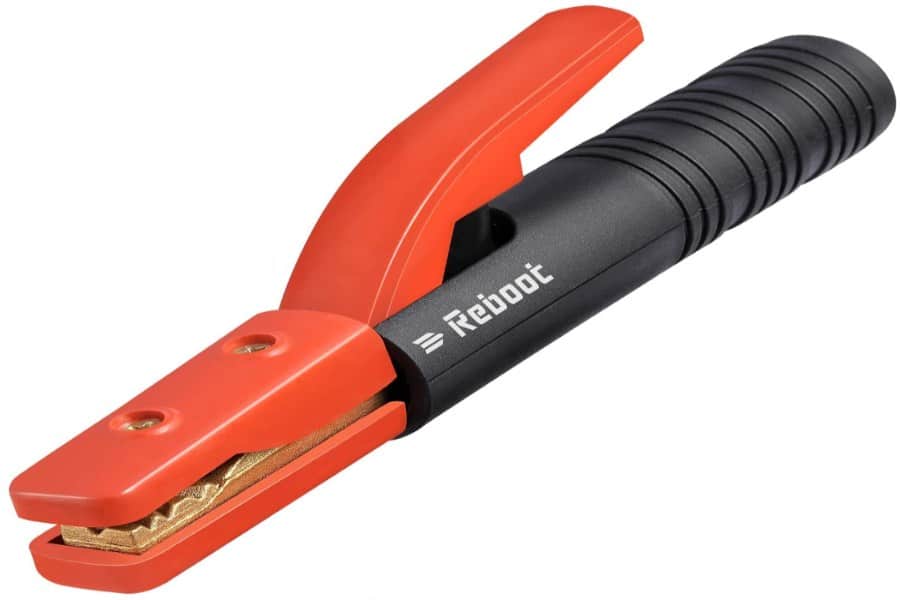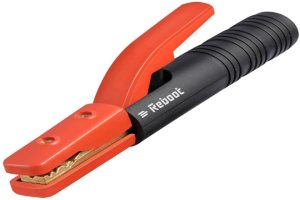 Anyone into welding knows how the right equipment plays a vital role in the welding process. It doesn't matter when you're doing it professionally or for leisure. Quality equipment will ensure that you weld efficiently like a pro.
These welding stingers are crucial, especially in Shield Metal Arc Welding (SMAW). This manual metal arc uses an electrode with flux to weld base metals. This action creates a weld pool that rapidly solidifies to join the metals.
What does this mean? Simply put, the filler material melts under heat due to the electric arc—the electric arc forms between the electrode stinger and the metal workpiece. 
With plenty of stingers available in the market, it may be hard to select one best suits you. That's because different welding torches serve different purposes. Luckily, this post will provide you with guidelines you can follow.
It explores various electrode holders available in the market. You'll find clear-cut specifications alongside their features. 
Additionally, it provides pros and cons, which you can weigh to determine the best stingers for your work.
Top Three Welding Stingers In The Market
Product
BUDGET PICK
OUR BEST PICK
EDITOR'S CHOICE
STINGER Stv002 Electrode Holder Insulated
Lincoln Electric KH521 Electrode Holder, 300 Amp Capacity (Pack of 1),Black
Lenco Model AF-25 Electrode Holder 250 Amp, Item# 01030
Maximum Cable Size (inches)
BUDGET PICK
Product
STINGER Stv002 Electrode Holder Insulated
Maximum Cable Size (inches)
OUR BEST PICK
Product
Lincoln Electric KH521 Electrode Holder, 300 Amp Capacity (Pack of 1),Black
Maximum Cable Size (inches)
EDITOR'S CHOICE
Product
Lenco Model AF-25 Electrode Holder 250 Amp, Item# 01030
Maximum Cable Size (inches)
Also you can check out our in depth review on best ahp welderss here.
Top Best Electrode Holder Reviewed
1. Stinger V Electrode Holder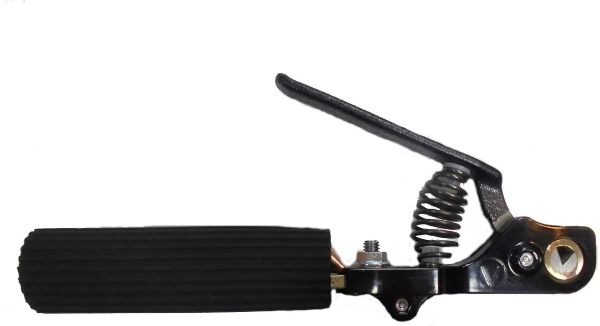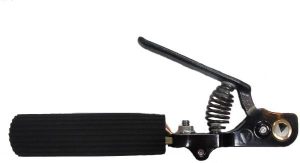 Overview
This electrode holder can handle both light and mid-range current, suitable for general-purpose welding. With this stinger, you can weld just about anything.
"The Stinger V STV002 electrode holder is designed for general-purpose welding. With this stinger, you can take on any welding operation. You can use it for light to medium range welding applications. It has remarkable features that make it attractive."
Product Specification
| | |
| --- | --- |
| Color | Black |
| Weight  | 12 Oz |
| Amperage Ratings | 0 – 350 A |
| Electrode Capacity | 5 Mil / 3/16 inch |
| Cable Capacity | 1 / 0 ga |
| Dimension | 10 x 4 x 1 inches |
Features Of Stinger V Electrode Holder
Efficiency
This stinger is a classic clamp-based stinger that most welders swear by its efficiency. Everything is bound to go well when in use with its simple design. Stinger manufactures this high-end product whose quality doesn't compromise its relevance.
Safety Design
It has a sturdy spring that would demand great effort to pull it out. Its components are premium brass, copper, and iron, providing unique properties. Additionally, it has an insulated handle that cushions your arms from hot working conditions.
Despite its outstanding features, the Stinger V electrode holder has its shortcomings. For instance, its spring lacks insulation. Therefore, you may inadvertently end up hurting yourself when releasing the rod. 
Flexible Stinger
Stinger V is one of the heavy-duty electrode holders available in the market. It can handle practically anything thrown at it. 
It is so strong that it cannot crumble even if you use it to hit nails. You can go ahead and try using it as a hammer. You'll see how powerful it is; thus, you can use it for more than just holding electrodes.
In addition to lacking insulation, this stinger can be a little bit expensive. Unlike conventional electrode holders, this one triples the price of the other stingers. However, the money is definitely worth its service.
You can check its price on Amazon and more features about this product. Moreover, you'll get an explanation on why you might need to check product compatibility before buying it.
2. Lincoln Electric KH521 Electrode Holder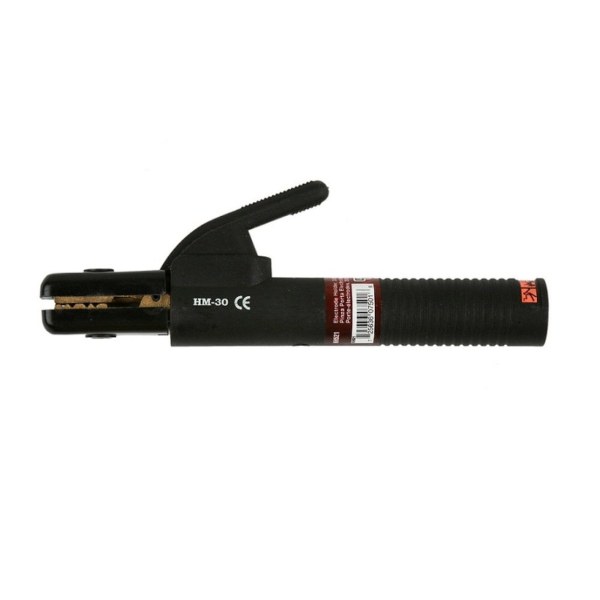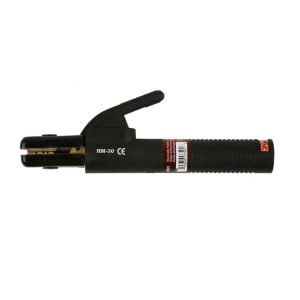 Overview
The Lincoln Electric KH521 stinger is light and durable enough to handle high-heating conditions. 
Besides, it is made of copper tongs which enhance its conductivity. For that reason, this welding torch is ideal for professional welding. 
The Lincoln Electric KH521 holder is also an excellent choice for professional welding. It is a lightweight electrode holder built to last. 
Therefore, you won't need to replace this stinger very often as it is very uncommon for it to wear out.
Additionally, it is heat resistant and thus won't suffer from the typical high-heat conditions during welding. Ultimately, it has an amperage rating of 300 A. That's enough capacity to weld most of the base metals out there.
This stinger also has copper tongs that increase its conductivity levels. Other features worth noting are its fiberglass finish on its jaws and handles. These features make the Lincoln Electric KH521 electrode holder reliable in the long run.
"The KH521 welding stinger provides a solid grip. Aside from the plastic insulation getting hot during operation, this stinger is useful for high amp applications. Besides, the plastic falling out or becoming hot is common in most holders."
Product Specifications
Color

Black

Weight 

1.00 lbs

Amperage Ratings

300A

Dimensions

9.2 × 3.6 × 1.5

inches

Material

Copper

Duty Cycle

20%
Features of Lincoln Electric KH521 Holder 
Great Design That Provides You With Control
This welding electrode holder is cost-effective, considering how remarkable its design is. It is short and robust, thus providing a stubby hold. 
Unlike the Stinger V electrode, this stinger is shorter and makes you feel like you're in total control of your load. 
Since this stinger is light, it won't make you feel exhausted from hours of welding. Its small size provides it with an edge over most conventional stingers that may bruise your wrists. Therefore, this stinger is suitable for beginner and pro welders.
Made From High-Quality Material
With a great choice of material, this stinger is relatively light since it has plastic insulation. The insulator is very tough and performs pretty well. 
However, the handle may fall off when this stinger remains in use for long under high heat conditions.
"The quality of the KH521 electrode holder is high. The standard is comparable to other high-end products delivered by this brand."
Capable Of Operating At High Amperages
It would be best if you considered setting your welding operation around 300 Amperes for optimal conditions. 
You should also note that the handle heats up even at this amperage and may be pretty uncomfortable to use it. 
Additionally, this stinger is ideal for large projects as the holder can use a cable of up to 2/0 gauge. The good thing is that Lincoln Electric provides you with this stinger at a competitive price.
"Despite its great make, some welders recorded issues when using this stinger. One particular user reported a faulty shipment that fell apart in days. However, it is encouraging that some users had plenty of positives about this product."
3. Tweco Tong Electrode Holder


Overview
This stinger is ideal for adverse welding conditions with a stubby single-piece handle. Moreover, this welding torch works quite fine in high-heating conditions. It is your go-to stinger if you weld in mid ranges.
It features an ergonomic design to eliminate fatigue hence making work more appealing. It has a single-piece handle that extends to the entire jaw. Therefore, it reduces the inventory that comes with it.
Additionally, its handle doesn't necessitate the inclusion of an insulating component as it's safe to use it. 
You should also note that this electrode holder has a tremendous thermo-set material which is reversible at the top and bottom.
This stinger is generally potent and highly efficient. Besides, it is capable of handling high-temperature applications. 
For this reason, it is my verdict that this stinger is exceptionally durable and can work in any condition.
It requires a hex screw for holding the cables in place. Therefore, it may be imperative that you purchase a hex screw beforehand.
"Tweco Tong electrode holder is ideal for most welding applications. It offers a pleasant experience when held by a thumb or under its lever. I would definitely recommend anyone to try out this amazing electrode holder."
Product Specifications
Stinger Weight

1.35 lbs

Dimensions

9.5 × 3 × 3

inches

Material

Copper alloy

Amperage 

250 AC
Features Of The Tweco Tong 
Ergonomic Design
This electrode holder has an efficient design and comfortably fits in the palm. Besides, the smooth plastic it uses is cozy enough and won't bring any injuries to you. 
It has a sturdy make that is heavier than the Lincoln KH521 electrode. It should last you for years with these features, even if you use them daily. 
Durable
This stinger has a hefty spring cushioned using plastic to protect you during the welding operation. Further, its jaws are made well and should last you long enough. 
As you already know, quality design in the jaws determines how long the electrode holder will last. 
Like most conventional stingers, it is impossible to replace the teeth of the stinger. To replace them, you will have to change the entire jaw completely.
Can Handle High Amperage Applications
For optimal results, you can comfortably operate this stinger at around 300 A. It behaves perfectly at that rating and seems like it can go beyond. Furthermore, it can fit a cable whose thickness is around 2/0 gauge. 
"This electrode holder performs perfectly in many welding projects that don't demand more than 300 A. However, you can use it on heavier current applications and it'll do just fine."
4. Lenco Model AF-25 Electrode Holder 250 A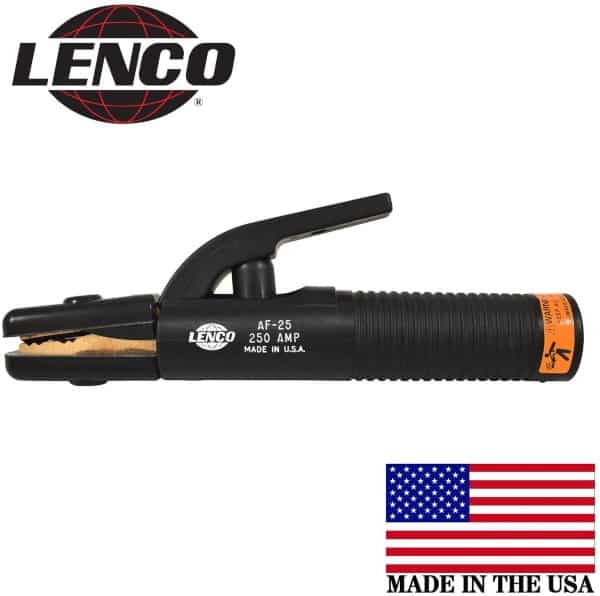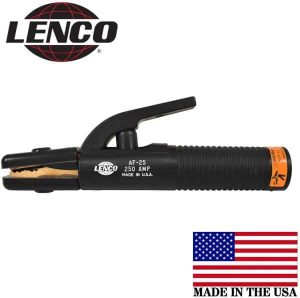 Overview
The Lenco AF-2 Model is a mid-range electrode holder for light applications. It works efficiently at currents around 250 Ampere ratings. Its excellent design makes this stinger look like it can handle heavier applications. 
This electrode is in a classic clamp design, and its operation isn't a no-brainer. Its stubby design comes from reinforced plastic. This plastic also serves as an insulator to protect you during welding operations.
Moreover, the strong plastic holds the springs in place, making it quite impossible for them to come out. 
Even so, you won't accidentally pinch yourself by the springs when on the operation. For this reason, this stinger is safe to use for all kinds of welders.
It is perfectly suitable for electrodes of up to 3/16 inches and cables with a gauge of 2/0. That implies that the Lenco AF-25 Model covers your large projects. 
Its artistic craft comes from the United States; hence you expect the quality to abide by industry standards. 
There's no critical flaw in this stinger. However, you'll have to replace the entire jaw if one of the teeth has complications.
The manufacturer recommends checking this product for compatibility before buying it. This stance arises as most stingers have outlets suitable for American consumers. Since power outlets vary with regions, you may require a power adapter to use it efficiently.
"This mid-range stinger meets most welders' goals globally. Its awesome features and competitive price has given it a five-star review on Amazon."
Product Specifications
Stinger Weight

1.01 lbs

Dimensions

9.8 ×3.15 × 1.65

inches

Cable Length

8 – 1/2 inches

Cable Capacity

2 / 0

Color 

Black

Amperage

250 Amps
Features Of Lenco Model AF-250 Stinger
Excellent Quality And Easy To Use
The Lenco Model AF-250 stinger is a clamp-based electrode holder. It is, therefore, somewhat easier to use it like most other stingers. 
Additionally, this welding stinger comes from the US. As you already know, there are many regulations in the kind of quality. Products must meet some standards before penetrating the American market. 
For this reason, the Lenco stinger is of high quality and doesn't come with a steep learning curve. Even a total noobie would use it pretty quickly.
"The Lenco Model AF-250 is well made in the United States. Its medium size provides a comfortable welding experience. Furthermore, it holds welding electrodes at various angles just like other models."
Reliable For Mid-Range Applications
A reliable mid-range stinger works best for up to 250 A loads. It is, therefore, suitable for most casual welding. 
This stinger has a strong plastic that also acts as an insulator. The plastic is tough enough to withstand the high-heat application environment. 
Safely Designed
The rigid plastic in use doesn't just insulate you in the course of work. It covers the springs, preventing you from hurting your fingers when adjusting the rods. 
This safety mechanism goes a long way in protecting you during the welding process. You'll enjoy tackling your rigid and long-term projects without worrying about accidents. 
5. Lincoln Electric Twist Stinger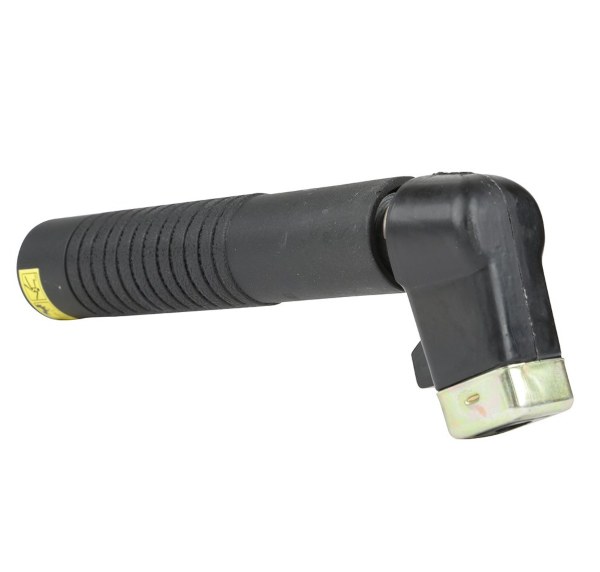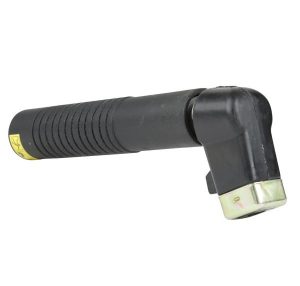 This welding torch is designed using fiberglass material; hence it is lightweight. It is ideal for welders and metal fabricators whose work happens in extreme heat conditions.
The Lincoln Electric stinger is heat resistant and works pretty well under most heat conditions. It also features insulation that lets you operate at high temperatures without worrying about accidents. 
It has a jaw that grips the electrode and handles for the operator. The jaw and the handle are light as the fiberglass material is used to craft the stinger.
This material makes the stinger lightweight and easy to work with during welding operations. Most professional welders need this quality in their extended welding operations.
"This lightweight stinger has copper tongs in its make. The tongs enhance the conductivity, thus ensuring that the welding process is seamless. It is also rated 400 Amps hence is capable of performing well in most welding operations." 
Product Specification
Color

Black

Weight

13.76 Oz

Dimensions

10.75 × 5.12 × 1.69

Inches

Amperage

400 Amps

Material

Fiberglass
Features Of The Lincoln Electric Stinger
Heat Resistant
This model has excellent insulation and a sturdy appearance. Its insulations cushion you from the hot temperatures resulting from burning electrodes. Additionally, this stinger has copper tongs that conduct the excess heat away.
"Welding results in a lot of heat. It is crucial that the excessive heat is conducted away lest it injures the operator. The Lincoln Electric electrode holder does a great job in shielding individuals from the excessive heat."
Lightweight
This electrode holder has handles and jaws made of fiberglass. Fiberglass is one of the lightest materials used in most engineering designs.
For this reason, the singer won't be cumbersome, and you won't struggle much when working with it. 
Suitable For Most Welding Applications
The Lincoln Electric twist electrode holder is rated 400 Amps. This rating is higher than the conventional 250 A standard in most welding applications.
With this stinger, you can burn practically all electrodes and fuse every workpiece. The 400 A is just more than you'd require for most welding cases.
6. Reboot Welding Electrode Holder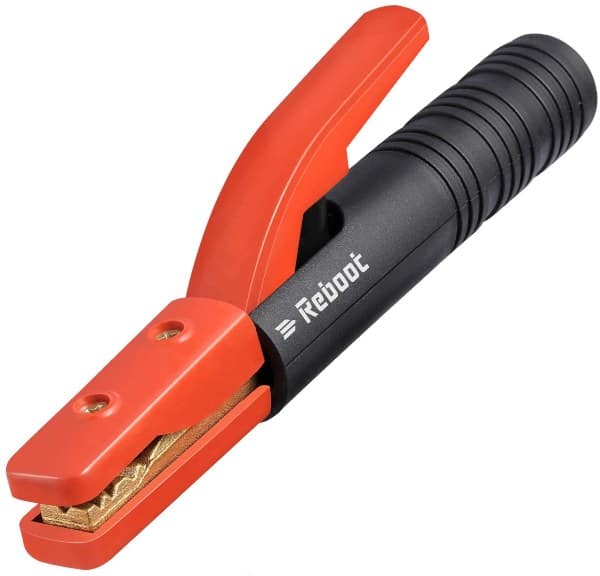 Overview
This welding torch is a heavy-duty welding stinger made of brass. It has a 300, 400, and 500 Amps rating, making it ideal for mid-range and demanding projects. A professional welder would fancy this electrode holder.
The brass has highly conductive copper tongs. These tongs conduct current rapidly, thus making the welding process efficient.
The Reboot stinger has well-shielded springs by the complete insulations on the stinger. All these safety designs will ensure that you weld safely. It is reasonably easy to use, and you're unlikely to struggle when starting.
You'll need a stable power source to operate this stinger. The holder connects to the welding cables and conducts the current to the electrode. 
It has an insulated handle that you can use to guide the stinger over the weld joint. This action lets you feed the electrode into a weld puddle as it fuses with the weld pool.
"The Reboot electrode holder works greatly. It has a strong spring that holds the welding rods firmly. It holds like no one's business and its performance will leave you impressed."
Specifications
Amp ratings

300 A, 400 A, and 500 A

Stinger Weight

1.32 lbs

Dimensions

10.87 × 3.46 × 1.73

inches

Material,

Copper, Brass

Electrode Capacity

5/8  to 7/16 inches

Color 

Red
Features Of The Reboot Welding Electrode
Durable And Firm
It has significant amperage ratings (500 Amps) that are durable. It can handle electrodes of 5/8 to 7/16 inches capacity. Additionally, it is the primary AWG Gauge cable holder suitable for 10 – 20 feet cable.
It has a jaw whose teeth are grooved artistically to offer a firm grip. The grip is strong enough to hold rods at angles of 90°, 180°, and 45°. At these angles, the electrode remains firm making the welding process easy.
Tough Design
The Reboot stinger gets its toughness from top-quality brass material. Its handles have insulation that protects you from excessive heat. This unique design allows for an easy cable connection using spanner and spacing sheets. 
This stinger can handle heavy projects since it comes from brass. It will last you for years, even if you use it more often.
Suitable For Many Projects
From the product specifications, you can see that the Reboot electrode holder handles heavy currents. Starting from 300 Amps, you can use this stinger for most elementary welding applications. 
Additionally, you can use this electrode holder for operations that need current ratings of 400 A and 500 A. 
These ranges are perfect for most heavy welding applications. Therefore, this is your go-to stinger when you're welding structures and automobiles.
"The Reboot electrode is most suited for most welding applications. It is capable of handling mid-range welding and the heavy welding projects."
7. 300 Amp ESAB MMA Electrode Holder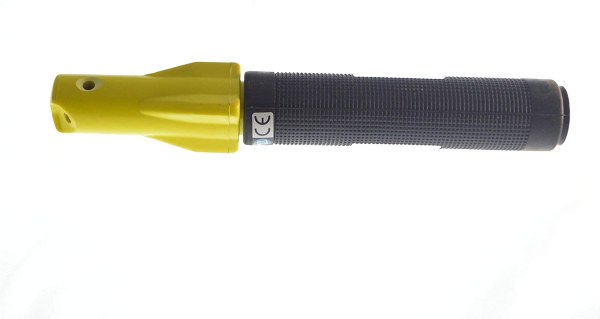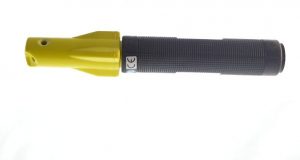 Overview
The ESAB MMA stinger is lightweight and has good amperage ratings. It is suitable for mid-range and light welding operations. Unlike the conventional clamp-based stingers, the ESAB 300 Amp electrode holder is screw-based. 
It features two holes that hold the welding rods at different angles. One holds the welding electrode at 90° while the other holds it at 45°. 
Additionally, it has full insulation at the head thus won't contact the metal surface. Its handles offer a firm but soft grip as they are from rubber. You can, therefore, never go wrong when using this electrode holder.
This lightweight stinger comes from Sweden, a country renowned for durable products. Its package comes with a wrench that screws and holds the cable in place.
It works best on cables of 2/0 gauge and supplies electrodes with a current rating of 300 Amps. Therefore, this electrode holder is suitable for most welding conditions.
"This welding torch feels comfortable in your hands regardless of the amount of time in use. It provides a firm and comfortable grip that provides the operator with maximum control. The 300 Amps variation works okay even without finger extension."
Product Information & Specification
Weight

1.25 lbs

Dimensions

14.41 × 4.61 ×1.93

inches

Material

Brass and copper

Amperage

300 Amps

Duty Cycle

35% – 300 A

60% – 250 A
Features Of The Product
Easy To Use
Although this stinger is screw-based, you won't struggle to work with it. It is a great product that you can control, just like other stingers. 
The difference arises from the way you insert the welding rods. Instead of clamping the electrodes like in clamp-based stingers, you will have to screw the electrode. 
"The ESAB 300 Amp welding stinger is fairly easy to use. It features holes on which you will have to screw the electrodes. You can place them either in 90° or 45° angles."
Lightweight
The stinger design is done in Sweden and uses a light enough material. Therefore, you will have an easy time working on your projects without breaking a sweat.
Safety Design
This electrode holder features a stubby ergonomic design. It is, therefore, somewhat easier to handle this welding torch using your hands.
The stinger also offers a comfortable grip that is gentle in your hands. Subsequently, you won't feel your palms hurting even with extended use.
Lastly, this stinger has perfect insulation. Your arms are thus safe regardless of the extreme working temperatures of this welding torch. 
"As you can see, this stinger is safe and gentle to your arms. You can comfortably work with it without worrying about mishaps and injuries."
8. Hobart 770028 Welding Electrode Holder


Overview
It is lightweight and sturdy, thus allowing for operators to maneuver even for long working periods. Its high amperage makes it ideal for all sorts of welding.
Despite its stubby appearance, the Hobart 770028 stinger has thin plastic. Consequently, the electrode may fall off even by just turning the handle! 
It is capable of mid-range welding application and challenging and daunting welding tasks. This stance is possible due to its high amperage ratings of 400 Amps. Moreover, cables of gauge 2/0 can perfectly fit in this welding torch.
You should note that this welding stinger handles rods of up to 5/16 inches. Additionally, these rods will still burn even when as close as an inch from the torch's head. You can also bend it to your preferred angle and hold it securely.
"The Hobart 770028 is a secure screw-based welding torch capable of a wide range of welding operations. Moreover, its lightweight and sturdy ergonomic design make it possible to work on it for extended hours. It has a comfortable design that allows you to work for hours.."
Product Specifications
Dimensions

12.3 × 4.5 × 2.8

inches

Amperage Ratings

400 Amps

Compatible Electrodes

Up to 5/16 inches

Cable Gauge

2 / 0 

Welding Roda

5 / 16 inches
Features of the Hobart 770028 Welding Stinger
Capable Of Many Welding Applications
Since the Hobart 770028 stinger is rated 400 Amps, you can use it for many welding applications. This rating is high enough for most mundane applications as welding rarely exceeds 250 Amps.
Additionally, you can use this welding torch on longer projects due to its high amperage ratings. Therefore, you can use this stinger on practically all welding applications.
"The Hobart 770028 stinger has a high amperage making is ideal for most welding situations. With this stinger, you can burn electrodes even if they'ew just an inch from the torch's jaw."
Ergonomic Design
The Hobart 770028 welding stinger has a unique design optimized for maximum performance. It is sturdy and allows for ample room for the operator to maneuver. Besides, it has a comfortable feel that will gently wash your hands.
Lightweight
This welding electrode is lightweight and comfortable. It won't pose any challenge you can't handle during your welding process.
Additionally, you can use this stinger on up to 5/16 inches rods. The beauty about this stinger is that you can burn these rods even when they're just an inch long. 
Pros and Cons
Maintenance Tips For Welding Equipment
Guns And Torches
Guns and welding torches wear out over time. You should regularly inspect these parts to uncover anything that may concern you.
Ensure you inspect any loose or damaged connection. This practice will prevent you from damaging your welder further. Additionally, periodic inspection of the torch and guns will guarantee quality arcs throughout.
Failure to resolve the issues you identify will ruin the quality of your arcs hence leading to poor welds. 
Always store the torches and guns properly. Avoid placing them in a damp area or in places where they're vulnerable to physical damage. 
Careless handling of these two pieces of equipment will accrue damages fast. The faulty equipment may expose you to weld burns or electric shock when the damage is severe.
Welding Stingers
Like guns and torches, your welding electrodes also wear out with regular usage. Cracks and wears-and-tears are some indicators of degradation in the quality of your stingers. Please make sure you contain these issues the moment you spot them.
Another critical area you should take care of is the stinger's insulation. Ensure that the handle is intact before your welding operations. Neglecting this flaw will damage the stinger or even inflict injuries to you. 
By simply swapping the electrode before it dissipates down to the electrode, you can prevent damage exacerbation on the stinger.
Electrode holders should always be a top priority during your routine maintenance. That way, you will know when to dispose of the electrodes if they are faulty.
Cables And Leads
Cables and ground leads are vital elements in your welding machine. Make it a habit to regularly inspect them and take action if the cables are loose, frayed, or damaged.
Your cables get compromised when improperly wrapped or when you step on them a lot. Additionally, reckless storage will further damage the cables. 
Regular replacement of worn-out ground leads will ensure your welding machine remains effective. Furthermore, proper maintenance of the ground leads will minimize the chances of shocks during the welding operations.
Consult The Welder's Manual
Welders manual is a crucial source of information for your welding equipment. You'll get the specifications and tips on maintaining your welding electrodes.
It's always a good practice to read the manual as it contains the steps you can follow for maintenance purposes. 
Also you can check out our in depth review on best lotos welders here.
How To Hold Your Stinger Confidently
The quality of your arcs tells a lot about your confidence level when holding a welding stinger. It gets trickier when you have to hold the stinger with one hand and the workpiece.
In such cases, the welding rod's tip may flap around, and you have unregulated arcs. Probably because your arms are shaking due to fatigue, the poor arcs come about. So how do you get around this problem?
You can use your shoulders to offer extra support by wrapping the leads on your forearm. With the shoulders doing the heavy lifting, your arm is free to manipulate the arcs. 
Alternatively, you can clamp your workpiece using a vice. This way, your arms remain free, and you can combine them to hold the welding rods steadily. 
You should note that you'll need to practice the earlier techniques to ingrain your confidence. These tips will ensure that your welds come clean like professional welders'.
Also you can check out our in depth review on best firepower welders here.
Best Stinger Buying Guide
You should bear in mind some tips before purchasing a welding electrode holder. It would help if you aimed for one with most of your desired features. Keep reading this section to get a complete guide on stingers in the market.
1. Brand
In every market segment, well-known brands offer material of some quality. Even though you might have to dig deeper into your pockets, you're sure of receiving value for your money. So, what are the top brands in the stinger niche?
Stinger
and Lincoln Electric
produce numerous remarkable pieces of welding equipment. It is no doubt that most of their electrode holders are ergonomic and serve their purposes well. However, you should be ready to spend top dollar to acquire their stingers.
Alternatively, you can explore cheaper options from mid-tier brands. Their products are also great, and there's usually a slight margin in their quality compared to top brands.
2. Clamp-based Or Screw-Based Stingers?
This one boils down to individual preferences. Clamp-based stingers are ubiquitous, and most welders are comfortable in them. 
On the flip side, screw-based welding torches are generally new, and not everyone is comfortable with them.
Clamp-Based Stingers
This one is a classic welding stinger that most welders are familiar with its operation. They have a clamp-like device for holding the electrode in place. It has a brass handle with insulation to keep you safe from injuries. 
You'll need to open its jaw to insert the welding electrode. You can perform this by squeezing the electrode and locating the tread or the jaw pattern. 
In such stingers, you can place the electrode at your desired angles. They allow you to set the welding rods at angles of 45, 90, or 180 degrees. It could be any angle, provided it suits your welding applications.
Screw-Based Welding Electrode
The screw-type stingers are relatively new, and not all welders have experience working with them. It has a hole on which you'll insert the end of the welding electrode. You have to turn the handle to screw the electrode in place.
Its ergonomic design makes it relatively easier to use. For that reason, many experienced welders would get around this electrode pretty quickly. 
Now that we've established some background into the stinger designs let's look at the best stingers in the market. 
We'll begin with a comparison table for the top stingers. Be sure to read to the end to get the best out of this post. 
3. Ergonomics
Light stingers are generally terrific as they pose minimal injury risks to your wrists. Most stingers made of fiberglass are usually solid and lightweight. 
However, some stinger designs use copper and other materials to craft easy-to-use welding torches.
Heavy and sturdy electrode holders are good, but they will be unforgiving when you weld for hours. 
After an extended welding operation using a heavier stinger, you'll experience fatigue and pain in your wrists.
4. Amperage
This factor is dependent on your nature of work. Stingers with around 250 to 300 Amps are great for most light applications. Such include welding metallic doors and simple structures.
You should consider acquiring a stinger of higher amperage if you're working on complex projects. 
The downside of high-amperage stingers is that they use a great deal of power and making it expensive in the long run.
Final Verdict
Welding electrodes are essential for welding processes. It would help if you always aimed for electrodes that complement your welding requirements. Be sure to refer to this article when you have doubts about the electrode that best suits your needs.
Before selecting an electrode holder, you should consider aspects that point you out to the right stinger. 
Such include the amperage, weight, and brand. These factors will help you select the most appropriate welding torch.
Lastly, always invest in a suitable electrode. These welding rods vary with stingers and have different use cases.