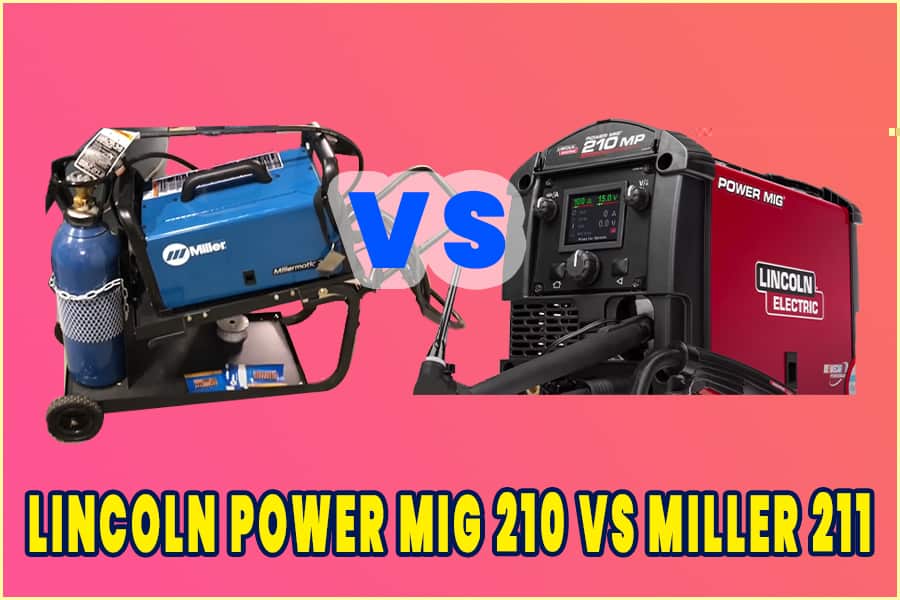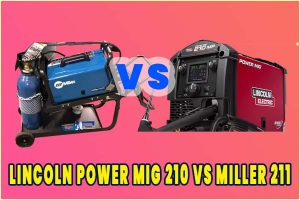 The Lincoln Power MIG 210 is a multi-process welding component. You can use it for various welding procedures, counting MIG, TIG, stick, and flux-cored. On the other hand, Miller 211 is a single-unit welder designed for two processes: flux-core and MIG.
Both of these welders come with their advantages. A multi-process welder may seem like the winner in this game, but the single unit welders also have their place. This post carries out a comparative analysis of both units. In the end, we shall see which of the two is worth the investment.
Comparison Of The Differences
Specifications
Lincoln Power MIG 210
Miller 211

Welding Process

MIG, DC TIG, Flux-Core, DC Stick

MIG and

Flux-Core

Input voltage 

120V, 230V

120V, 240V

Output

 

30-140 Amperes 

30-130 Amperes

(120V)

30–230 Amperes (240V)

Duty Cycle

40%, 120V

25%, 230V

20%, 120V

40%, 240V

Wire feed speed

50-500 imp

60-600 imp

Weld materials 

Steel and Aluminum 

Steel and Aluminum

 

Weld density 

12 ga. – 24 ga., ⅛", 3/16″, ¼ ", 5/16 ", and ⅜ "

24 ga. to 3/16 " (Steel) and 18 ga. – ⅛"(Aluminum) @ 120 V;

24 ga. – ⅜" (Steel) and 18 ga. – ⅜" (Aluminum) @ 240 V

Weight

42 lbs

38 lbs

Dimensions 

356 x 273 x 483 mm

318 X 286 X 521 mm

Warranty

3 years

3 years

Good for

Maintenance

,

fabrication, restoration, and light industrial task

Maintenance

,

fabrication, restoration, and light industrial task

Price
 Check Price On Amazon 
Check Price On Amazon 
Now that we have a general feel of these two welding tools let's look at them individually. We'll delve deeper into the specifications, features, pros, and cons. 
Also you can check out our in depth review on best lincoln welders here.
The Lincoln Power MIG 210 Welder
This uniprocessor unit is a favorite among small-scale welders. You can use it at home, school, or in a small welding shop. You can use it in an industrial setting, but it only means light maintenance and repair jobs. It packs enough power to get the job done for multiple processes. 
This is the pick we have got in our hand and we will be reviewing it completely.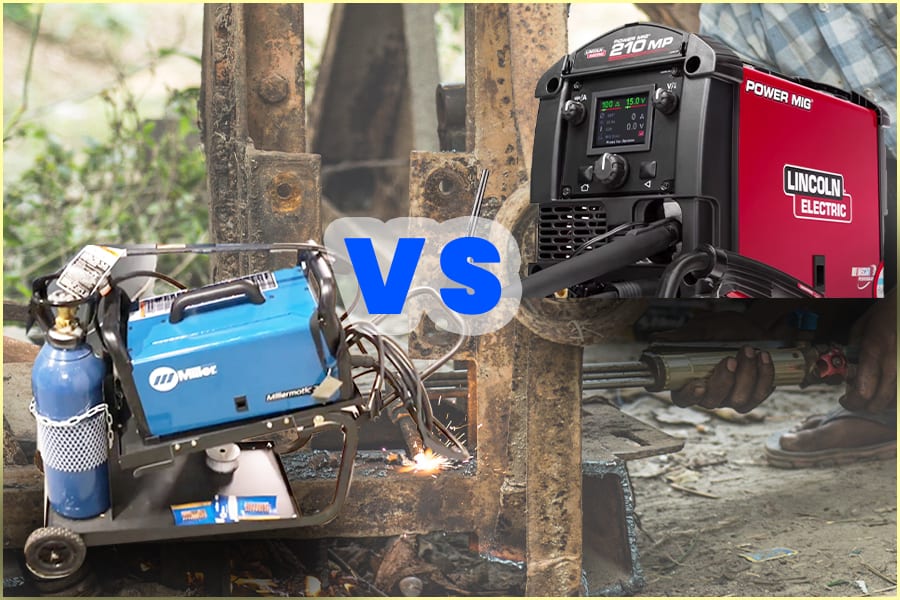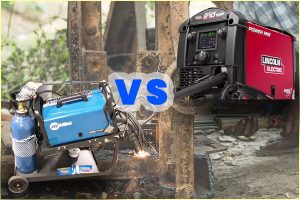 Lincoln Power MIG 210 Specs
Brand name: Lincoln 

Weight: 42.00 lbs (19.05 kg).

Input Current: 20A, 19.7A

Dimensions: 356 x 273 x 483 mm

Input power: 120V, 230V

Wire Feed Speed: 50-500 imp.

Cored AWG: from .035–.045 in (0.9–1.2 mm).

Output Amp Range: 120Volts: 20-140; 

230V: 20-220 Amps

Max OCV: 56 Volts

 Output, duty cycle, voltage: 120Volts: 100Amps/19.0/40%;

230Volts: 200Amps/24Volts/25%
Features Of Lincoln Power MIG 210
This welding powerhouse is designed to accomplish any small-scale welding task. The features are geared toward making work easier and ultimately efficient. 
Welding processes 
 Lincoln Power MIG 210 is an efficient uniprocessor welder. That means whether it is MIG, stick, FLUX-Core, or TIG, this welder will get the work done. This adaptable nature saves both time and money. 
There is no need to buy multiple single-process welders to handle different job needs.
"Multi-process welders can handle MIG, TIG, FLUX-Core, and stick welding, making it efficient and cost-effective."
Material density
A welder is judged by the material it can weld. Any welding machine that cannot handle thick materials is considered inconsequential. The Lincoln Power MIG can weld 3/16″ aluminum and ⅜" stainless steel with 210 Ampere output. 
"A welder should be able to handle varied thickness to be deemed as worthy. Otherwise, there is no need to invest in it."
Duty cycle
A welder prefers a machine that can work longer without shutting down due to overheating. Otherwise, it affects productivity. The work cycle is the amount of time a welder can work without stopping to cool down. 
The MIG 210 has a duty cycle of 120V: 40% at 100 Amperes and 19V and 230V: 25% at 200 amperes and 24V. That is an impressive feat for this grade of welding machine.
"Generally, reduced downtime will increase productivity, efficiency, and time management."
Portability
The Power MIG 210 weighs approximately 42 pounds. That makes it relatively portable and easy to carry to job sites.
"At 42 lbs, the MIG 210 is easy to carry and does not require trolleys unless dealing with multiple welders. However, a wheel-cart will ease the burden if it happens to be around."
Power
The Lincoln Power MIG 210 packs a punch with its dual voltage feature and comes with 120V/230V input power. That makes the best weld to use at home and professionally, requiring high voltage output. No changes to your outlets are necessary.  
"The wire speed range makes this welder a must-have because it achieves a speed between 50-500 inches per minute."
Here are the videos for these welders:
Miller 211
At face value, the Miller 211 may seem a non-factor compared to the Lincoln Power MIG 210. However, this underestimated machine has incredible features and specs. It is efficient in specific processes and projects and needs to be given a fair chance to make its case.
Miller 211 Specs
Brand name: Miller

Dimensions:318 X 286 X 521 mm

Weight: 38lb. (42 with welding rod)

 Processes: MIG and Flux Core

Input power: 120V/240V 

Wire Feed Speed: 60-600 IPM

Output, City cycle, voltage: 120V: 20% at 115 amperes and 19.8V;

240: 40% at 150 amperes and 21.5V  

Material density:  24 gauge to 3/8″ Steel; 18 gauge to ⅛" aluminum
Features Of Miller 211
Although the Miller brand name can contribute to the high price range, the Miller 211 can back it up with quality features. Some exclusive elements, such as the Auto Set™, make it an excellent welder.
Auto Set™
The Miller brand has successfully implemented this feature. It automatically makes adjustments according to the tasks done. The feature enables the user to use the right setting despite using different steel rods. It eases the burden, especially when making quick changes.
"This feature will have a field day with such a feature because it will enable them to make fewer mistakes."
Smooth Start™ technology
Whether experienced or not, every welder would rather accomplish a task smoothly with less cleanup. This welding machine has a feature that promises that.
The Smooth Start™ technology is a Miller Brand exclusive that allows a clean and smooth welding process. Even though it appears too good to be true, it works.
"Don't worry about ejecting welding guns or a messy work-site. This machine gives an enjoyable experience throughout."
Overload Protection
Welding machines are prone to overheating and extended duty cycles. That can be detrimental to its life expectancy.
The Miller 211 comes with an overload protection feature that automatically shuts the machine off in the two instances. It also plays a major role if there is a blockage in the ventilation system.
"The indicator will turn on in case the overload protection turns on. This way you will know what step to take instead of guessing."
Power
This machine is a dual voltage welder, making it efficient for tasks at home or an industrial site. As long as the project is small, this welder can handle it.
It has an input voltage of 120V and 240V. These make it appropriate for low-level and relatively high output voltage requirements. Although it is not that high, the output voltage gives the Lincoln Power MIG a run for its money.
Duty Cycle
 Lincoln Power MIG 210, the Miller 211 has an impressive duty cycle. Some might consider the Miller 211 better in this aspect.
The 80% at 100 amperes and 19.8v with the 120V duty cycle plus the 20% at 200 amperes and 21.5V with the 240V input power make it a worthy opponent to the Lincoln Power MIG.
"A short duty cycle is the enemy of productivity. Put this into consideration before you purchase any welding machine"
Material Density 
If there is a reason to purchase the Miller 211, the weldable material density should be. It can handle a 12 gauge to a 24- gauge aluminum easily. 
Also you can check out our in depth review on lincoln 180 weld pak review here.
Final Verdict
Both welders make great machines depending on the application need and area. From our standpoint, Lincoln Power MIG 210 can be coated on for versatility and the miller for quality and high standard execution.
The materials being welded make a choice easier as well. Lincoln is great for aluminum. The fact that it supports multi-process makes it a winning contender. It also comes at a lower price than most brands of this class.
It is a great welder for a hobby welder and a professional. However, it lacks compactness and deluxe features like Miller 211. We hope this article provides all the answers you need to make the right decision.