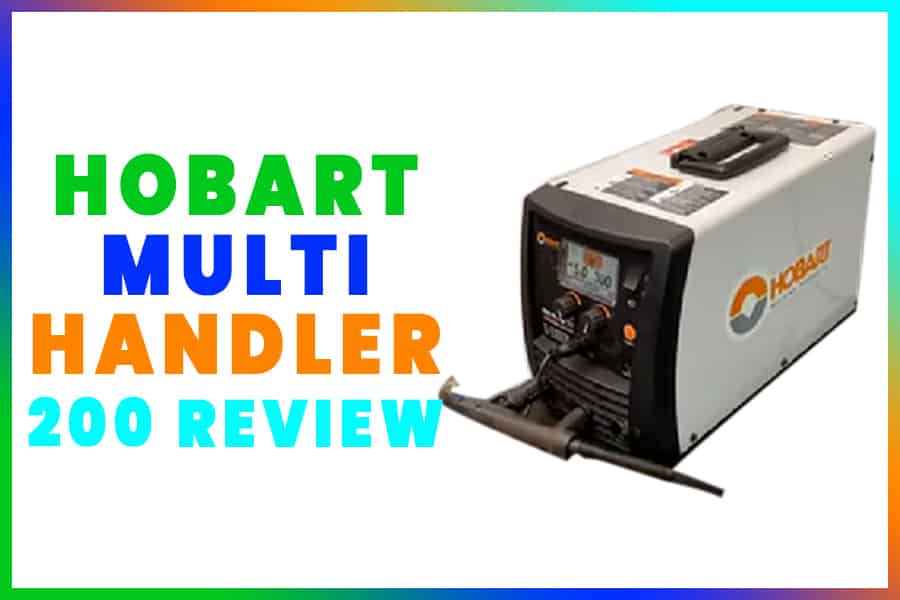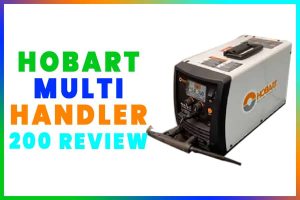 Purchasing a welder, especially for novices, may be a challenging task. Because there are so many welders on the market, selecting the right welder can be a tad difficult.
The welding tool is perfect for multi-process welding. What is multi-process welding? It refers to a welding machine's ability to handle MIG, TIG, Flux Core, and stick weld tasks. To discover the best rods to use with multi-functional welders, click here.
It is the flexibility that all professional welders need in their equipment. It is a top choice for many welders who do professional-grade and simple DIY welding projects.
Is Hobart Multi-handler 200 Worth it?
The short answer is a resounding yes. Anyone who has done welding before will appreciate the benefits of having a multi-process welder. People who own workshops understand that a single welder is the ultimate functional device.
Not only are you getting a multi-purpose device, but also a sturdily built piece of equipment. The machine will take a beating and still function optimally.
This is the pick we have got in our hand and we will be reviewing it completely.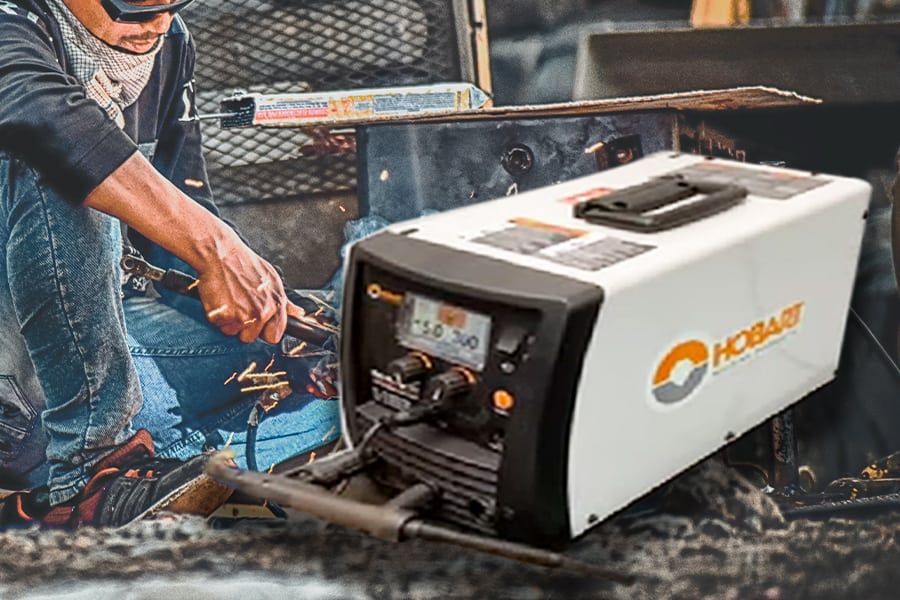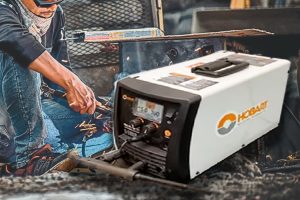 Quick Overview
The Hobart Multi-handler 200 is a machine designed with versatility in mind. It is compatible with many welding styles and techniques. It also has one of the most intuitive user interfaces of all welding machines in the market.
You should invest in the machine, ideal for heavy and light-duty tasks. It is the type of welding machine you can have stationed in your workshop and for simple DIY projects in your garage.
"he all-in-one Hobart Multi-handler 200 is perfect for broad use cases. It is not often you find a welder that supports MIG, TIG, Flux Core, and stick welding all at once. Not only will it save you money, but also serve you for years. It is sturdily built with high-quality materials."
What's in The Box?
Dual-gauge regulator

120V/240V power cord

Gas solenoid valve

Work cable plus work clump

HR-100 gun

Thickness gauge

Quick select drive roll

Two TIG torches

Multiple insulator nozzles

Electrode cable

Tungsten Inert Gas Torch with the corresponding holder

Two contact tips: 0.030 and 0.035 inch

Hobart Multi-handler 200
Specifications
| | |
| --- | --- |
| Dimensions | 13.4 x 10.6 x 20.8 inches |
| Weight | 38.4 lbs. |
| Input Voltage | 120/240V |
| Output Rating  | 30A-200A |
| Polarity | DC and AC |
| Mode Icon | CV and CC |
| Input Current | 20/30A |
| Corresponding Input Frequency | 60Hz |
| Input power | 120/240 |
| Maximum Rating | 200 |
| Machine Processes | MIG, TIG, Flux Core, and stick weld |
| Warranty Length | 5-years/3years accessories |
| Gun Cable Assembly Length  | 10 feet |
| AC Voltage | 1/120/240 |
Hobart Multi-handler Features
The Hobart Multi-handler has multiple features that make it the ideal welding machine. These useful features:
Multi-purpose welding
The Hobart Multi-handler is one of the most flexible welding machines in the market. Fewer machines offer the array of welding options as Hobart's product.
Having multiple welding options on a single device will save you thousands of dollars in procuring different machines for different tasks. An all-in-one welder has everything you need to have a fully functional workshop.
You get both AC and DC welding options with the TIG and stock options. For MIG and Flux, you get DC welding options. There are practically no limitations to flexibility with a Hobart Multi-handler machine.
Having an all-in-one welder is the perfect choice for professionals. They are also perfect for simple and casual DIY projects that require less attention to detail.
The machine is compatible with all kinds of welding tips. Click here to discover the bit sizes that you can use with the machine.
"You will not understand the flexibility of using one welding machine for all your work until you try the Hobart Multi-handler. It is the machine to replace all the welding equipment in your workshop and garage."
Portable and Compact
Welding machines are characteristically bulky and largely immobile pieces of machinery meant to be used at a fixed station. 
It is not the case with the Hobart Multi-handler. The Hobart Multi-handler is incredibly compact, measuring 13.4 x 10.6 x 20.8 inches.
It weighs only 38.4lbs. 
Aluminum is used for the body. Aluminum is ideal since it is both lightweight and durable. The machine is ideal for professionals who do not have access to a workshop and travel their tools to their job sites.
These welders are ideal if you need a machine that can move around your workspace effortlessly. There are further benefits to being light and small. 
Because of its proportions, the machine may be readily stored in small spaces, as it takes up very little room.
The welding machine has a large handle at the top that makes it easy to carry, adding to the overall transport ergonomics.
"It's never been easier to transport a welding equipment. The machine  has a robust and solid handle in addition to being light and compact. Moving the machine is relatively easy. It is perfect for travel."
Outstanding Warranty Duration
Buying a welding machine is a huge decision. These are long-term purchases, and they cost a considerable amount. Understandably, you would want some assurance from the manufacturer if the product is defective.
The Hobart Multi-handler has an outstanding five-year warranty, more than twice what you get with other welding machines. The warranty duration for accessories and specific parts differs.
In summary, the five-year warranty covers primary rectifiers, transformers, and stabilizers. The three-year warranty covers drive systems, generators, and PC boards. Everything else is covered under the 1-year warranty.
Given how well these machines have been constructed, you're unlikely to need your warranty. It's good to know that the manufacturer has placed such a high value on the machine's performance and dependability.
The warranty does not cover damages caused by careless handling and maintenance of the item. Like any other hardware tool, you must use the robust machine cautiously.
"You have the comfort of a reasonable warranty duration. Though failures are uncommon, the manufacturer's long warranty provides reassurance about the product's overall quality and durability."
The Hobart Multi-handler ships with multiple accessories 
Many manufacturers underestimate the need to incorporate auxiliary equipment with their welding machines. 
It causes the customer to look for these parts, which may be quite annoying. Worse, the customer may find up purchasing incompatible items.
The Hobart Multi-handler comes with several accessories. The accessories include dual-gauge regulators, a 120V/240V power cord, a gas solenoid valve, a working cable, a work clump, an HR-100 gun, a thickness gauge, and a quick-select drive roll, among others.
A criticism that you can levy against most welding machine manufacturers is that their accessories hardly keep up with the overall quality of the main machine. It is not the case with Hobart, whose commodities have decent quality.
Purchasing all the requisite accessories separately will cost you thousands of dollars. The equipment also carries with it a decent warranty duration.
"Thanks to this welding equipment, you won't have to look for accessories any more. All of these extras would have cost a significant amount of money. The accessories' service warranty makes the purchase even more appealing."
Output amperage flexibility
You can easily tell how flexible or functional a welding machine is, based on the amperage range. 
The best machines provide the user with a wide range, which is the case for the Hobart Multi-handler.
You may utilize a large current range with the machine. Because of its wide current range, you may use a machine with a wide variety of welding rods. It provides you with more freedom and alternatives for your current welding projects.
Depending on the type of welding rod, you can change the range. It enables good welding penetration and is appropriate for soft and rough welding arcs.
The welding machine's large output range makes it appropriate for DIY projects at home and professional welding in your workshop. Many welders prefer this level of adaptability.
"With the ability to select any current output from 30A to 200A, the Hobart Multi-handler is an excellent choice for both casual and professional welding. "The equipment is ideal since it gives welders much-needed flexibility."
Great User Interface (UI)
A lot of welding machines in the market have dated user interfaces. It is not uncommon to find a welder resembling a seventies machine. 
Dated user interfaces make machines unattractive and harder to use. People prefer simpler and less quaint machinery.
An excellent feature of the Hobart Multi-handler is its intuitive user interface. These machines are really easy to understand, thanks to the interface. It makes it perfect for beginners and learners.
It will display all the essential information on the backlit LCD screen. The information includes the charge on the machine, input and output voltage, input and output amperage, among others.
You control the entire device using two selector knobs and one button. It makes the overall experience enjoyable and straightforward.
"The Hobart Multi-handler is one of the easiest-to-use welding machines. The backlit LCD makes everything better. It is easy to get the readings even in low ambient light. With two buttons and a knob, it is quite easy to understand the machine and its workings."
Pros and Cons
The Hobart multi-handler is a great machine. It, however, has some cons. The benefits far outweigh the disadvantages, but we shouldn't ignore them. Here is a summary of the pros and cons:
Also you can check out our in depth review on miller dynasty 400 review here.
Who Should Buy The Hobart Multi-handler?
The machine is appropriate for a variety of users. It is suggested for beginners just starting in welding since it is simple to operate. 
The equipment is also appropriate for persons who generally undertake medium to heavy-duty welding chores.
If you travel for work, you should also get the machine. It's small and easy to transport. It is portable and may be taken anywhere.
"As a newbie, the Hobart Multi-handler allows you to become acquainted with the fundamentals of welding. The machine is really simple to operate, and you should have no trouble using it."
Here's a video review of this welder:
What Is A Practical Hobart Multi-Handler Alternative?
The Lincoln 180 Weld Pak is a great alternative. Here is how it starks up against the Hobart Multi-handler:
Conclusion
Buying a welding machine may be a difficult undertaking, especially for beginners. Because there are so many welders on the market, choosing the perfect one may be challenging.
The welding machine is ideal for multi-process welding. Multi-process is the capacity of welding equipment to do MIG, TIG, Flux Core, and stick welds.
The machine is suitable for a wide range of users. It is recommended for learners who are just getting started with welding since it is straightforward. The equipment is also suitable for medium to heavy-duty welding tasks constantly.
Also you can check out our in depth review on best century welders here.