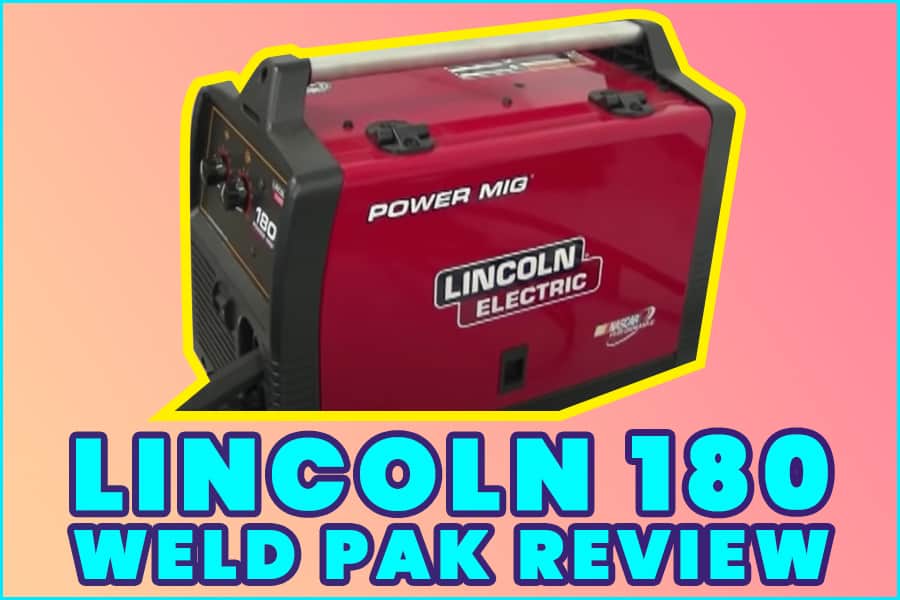 Buying a welder can be a difficult undertaking, especially for beginners. There are so many welders in the market, making the decision more difficult.
The Lincoln 180 Weld Pak is a professional-grade, high-quality welder you might consider if you get into welding. It is perfect for both simple home projects and serious workshop setups.
Is Lincoln 180 Weld Park Good For You?
The Lincoln 180 Weld Pak is a machine you should consider purchasing because of its flexibility and quality.
The welder is compatible with Metal Inert Gas (MIG) welding. It is perfect for joining aluminum sheets. 
It is a great job site welder that is not only sturdily built but also easy to use, making it perfect for both beginners and seasoned professionals.
This is the pick we have got in our hand and we will be reviewing it completely.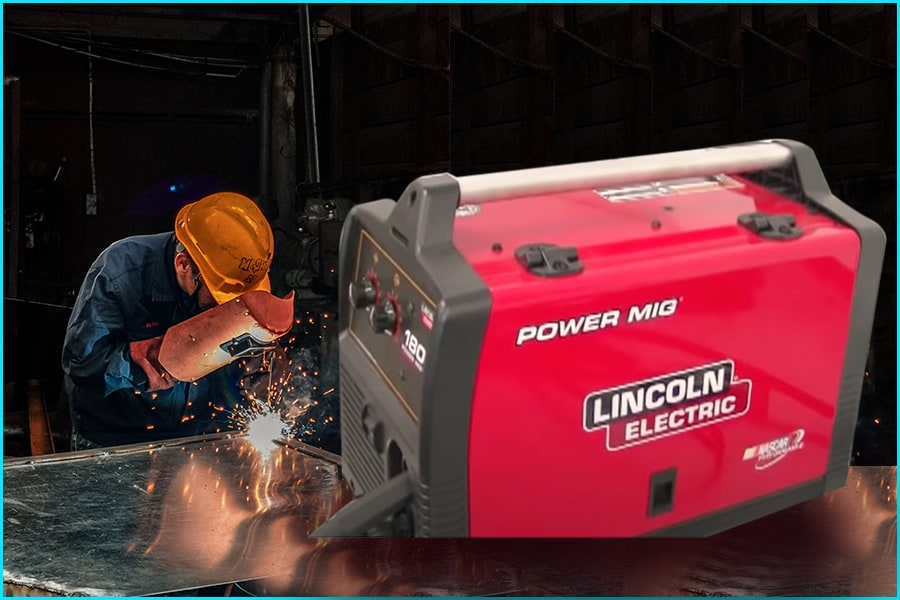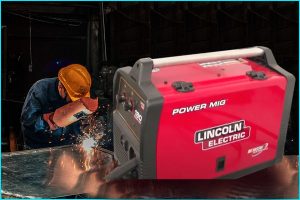 Quick Overview
The Lincoln 180 weld Pak is a superb welder designed for simplicity and functionality. The machine checks all the right boxes for most professionals. It is ideal for both light-duty and medium-duty projects.
Here's a video review of this welder:
Is it worth investing in? It is undoubtedly a great machine, and you will get many good years out of it. 
The machine is optimized for multiple voltages. It utilized DC polarity, making it ideal for use with an array of welding rods.
"The Lincoln 180 Pak is best suited for light-duty and mid-duty tasks. Each unit ships with a proper sample flux and MIG flux wire that assist you to get started on your tasks. For beginners, it demystifies the basics of welding, and for pros, it is a simple tool to use."
What's In the Box?
Flux sample wire

MIG sample wire

Lincoln Weld wire tips

Electric shielding gas bottle adapter

Gas nozzle

Spindle adapter

Gas Regulator

100 L welding guns

Lincoln 180 Weld Pak

Setup and use instruction documentation
Specifications
| | |
| --- | --- |
| Dimensions | (357 mm x 258 mm x 462 mm) |
| Weight | 25.4Kg/56 lbs. |
| Input Voltage | 200/208,220/230/240 |
| Output Rating 1 | 208: 130A/17V/30% |
| Output Rating 2 | 230: 130A/20V/30% |
| Polarity | DC |
| Mode Icon | CV |
| Input Current | 20A |
| Corresponding Input Frequency | 60Hz |
| Input power | 208/230/1/60 |
| Maximum Rating | 180 |
| Machine Processes | MIG/GMAW |
| Warranty Length | 3 Years |
| Gun Cable Assembly Length  | 3.048 Meters |
| AC Voltage | 208/230 |
Also you can check out our in depth review on Lincoln Power MIG 210 vs Miller 211 here.
Lincoln 180 Weld Pak Features
The Lincoln 180 Weld Pak comes with several useful features that you will certainly like. These features include:
Portability and compactness
Where welding machines are a concern, the Lincoln 180 Weld Pak happens to be smaller. The machine weighs only 56 pounds, which is excellent for transport and travel.
The body is made of aluminum. Aluminum is excellent as it is light and also happens to be sturdy. 
The machine is perfect for professionals who lack a workshop and transport their equipment to their working areas.
These welders are also perfect if you want a machine easily moving about within your workshop. Being light and compact has other advantages. 
Because of its dimensions, you can easily store the machine in compact places, as it barely consumes any storage space.
To add to the overall portage ergonomics, the welding machine comes with a long handle at the top, making it easy to carry.
"Transporting a welding machine has never been easier. Not only is it light and compact, but it also comes with a sturdy and grippy handle. It is the perfect machine for welders who travel for work."
Input and Output Power Flexibility
Of all the welding machines in the market, few come close to the Lincoln 180 Weld Pak in input options. With the machine, you can use a sizable current range.
Because of its broad current range, you can use the machine with a sizable range of welding rods. It gives you flexibility and options for your current welding tasks.
The Lincoln 180 Pak outputs current in the range of 30A to 180A. You can alter the range depending on the type of welding rod. It allows you to have decent welding penetration and is ideal for soft and hard welding arcs.
Having a sizable output range makes the welding machine suitable for DIY tasks at home and professional welding in your workshop. It is the type of flexibility that many welders desire.
"Having the option to choose any current output from 30A to 180A makes the Lincoln 180 Pak a great option for casual and professional welds. The machine is perfect because it provides welders with much-needed flexibility."
Multi-Purpose Welding
In keeping with the flexibility of the Lincoln 180 Pak machine, you will be getting multiple welding options.
The welder supports not only Metal Inert Gas welding but also flux-corded welding. You can easily weld iron sheets together with the MIG options, with less thick steel ones. The MIG option works great for Aluminum welds. It is great for light metals.
For more intensive welds involving thick materials, flux-corded welding would be appropriate. You can archive many welding options with the machine, making it perfect for most welding jobs.
Having several options makes the machine ideal for workshops where you get various jobs. You wouldn't have to switch between machines, and this makes the Lincoln 180 park great.
"Not only is the Lincoln 180 Weld Pak ideal for DIY tasks, it is also excellent for serious welds that require greater attention. The machine easily handled light and mid-duty tasks as it uses both MIG and flux-corded options. You also get sample flux and MIG wire with your purchase, which enables you to test the machine's capabilities."
Decent warranty period
One of the biggest criticisms with hardware equipment, especially welding machines, is that they do not afford you a decent warranty period. 
It is not the case with the Lincoln 180 Weld Pak. The manufacturer has gone above and beyond to provide you with a lengthy 3-year service warranty. The warranty covers any manufacturing anomalies.
You will not be using your warranty, considering how excellent these machines have been designed. 
It is reassuring knowing that Lincoln has put so much faith in the performance and reliability of the machine.
The warranty does not cover damages that result from reckless handling and improper management of the device. The sturdy machine needs to be handled with care, just like any other hardware tool.
The warranty covers the machine and the accessories. It includes cords, adapters, regulators nozzles, etc.
"You have the satisfaction of a decent warranty period. Though 99.99% of the machines ship without defects, the lengthy warranty is such an assurance from the manufacturer regarding the overall quality of the product." 
Multiple accessories are included with your purchase.
Many manufacturers overlook the importance of including corresponding accessories with their welding machines.
It leads to the consumer searching for these parts, which can be frustrating. What's worse is that the consumer might end up buying incompatible parts.
Lucky for you, the Lincoln 180 Weld Pak ships with all the necessary parts. These machines come with a flux sample wire, MIG sample wire, Lincoln Weld wire tips, electric shielding gas bottle adapter, gas nozzle, spindle adapter, gas regulator and100 L welding guns.
When you buy the Lincoln 108 Weld Pak, you will save thousands of dollars in accessories and other parts.
To add to the benefits of opting for the machine, most of the accessories are covered under the manufacturer's 3-year warranty, so you can have them exchanged if they are defective.
"You no longer have to source for accessories, thanks to this welding machine. All these accessories would have cost a considerable amount of money. The service warranty on the accessories makes the purchase even more compelling."
Torque Optimization
Welding machines typically run loud. They can be a nuisance, especially when you use them in residentials. Normally, you would have to soundproof your workshop when working with welding equipment.
Thanks to its comparatively lower noise output, the Lincoln 180 Weld Pak is suitable for residential use. The machine runs so silently you wouldn't notice that it is running unless you get close.
You have to use the requisite ear protection equipment with all welding machines, including the Weld Pak, as excessive exposure will eventually cause deafness.
Torque optimization is great not only for minimizing the noise levels but also for protecting the electrical components of the machine.
The machine can automatically minimize the power draws and RPM to prevent the circuit board from overloading, preventing it from getting damaged by excess current.
"The Lincoln 180 Weld Pak runs so silently that you will not have neighbors complaining. The machine is suitable for DIY home projects due to the minimum noise. You also have your circuitry protected from excess current thanks to the torque optimization."
Pros and Cons
While the Lincoln 180 Weld Pak ticks all the major boxes, the machine has notable shortcomings, let us take a quick look at the pros and cons.
Also you can check out our in depth review on best lincoln welders here.
What Is A Practical Lincoln 180 Weld Pak Alternative?
The Vulcan OmniPro 220 Multi-process Welder is flexible equipment that you may use for a wide range of welding tasks. It accepts 120/240 volts and may be plugged into any normal outlet.
Comparison
| | | |
| --- | --- | --- |
| Feature | Lincoln 180 Weld Pak | Vulcan OmniPro 220   |
| Amp Output  | 30A to 180A | 30A to 220 A |
| Processes | MIG, Flux-Core | MIG, Flux-Core, TIG, Stick |
| Weight  | 56lbs | 49lbs |
| Voltage | 2208V/30V | 120V/240V |
| Wire feed speed (per min) | 40-400 | 50-500  |
| Warranty | 3 Years | 1 Year |
| Price | Check Price On Amazon | Check Price On Amazon |
The Vulcan OmniPro 220 is a compelling alternative for viewing the welding machines side-by-side.
The Vulcan has notable advantages, including compatibility with a standard 1240V outlet. It also uses TIG welding, unlike the Weld Pak. It is also lighter.
The maximum output is also greater at 220A.
Unlike the Weld Pak, the Vulcan OmniPro is not quite as durable. The fans are the weak link. It also offers significantly less dust protection. Its warranty lasts only 1 year.
Final Verdict
The Lincoln 180 Weld Pak is a professional-grade, high-quality welder to consider if you're new to welding. It's ideal for both simple home tasks and professional workshop settings.
It is suitable for novices who are new to welding since it is simple to operate. People who normally undertake mid- and light-duty welding chores will benefit from the machine.
Metal Inert Gas (MIG) welding is possible with this welder. It's ideal for joining aluminum sheets together. It's a fantastic worksite welder that's not only well-made but also simple to operate, making it ideal for both novices and seasoned pros.
Also you can check out our in depth review on best dekopro welders here.