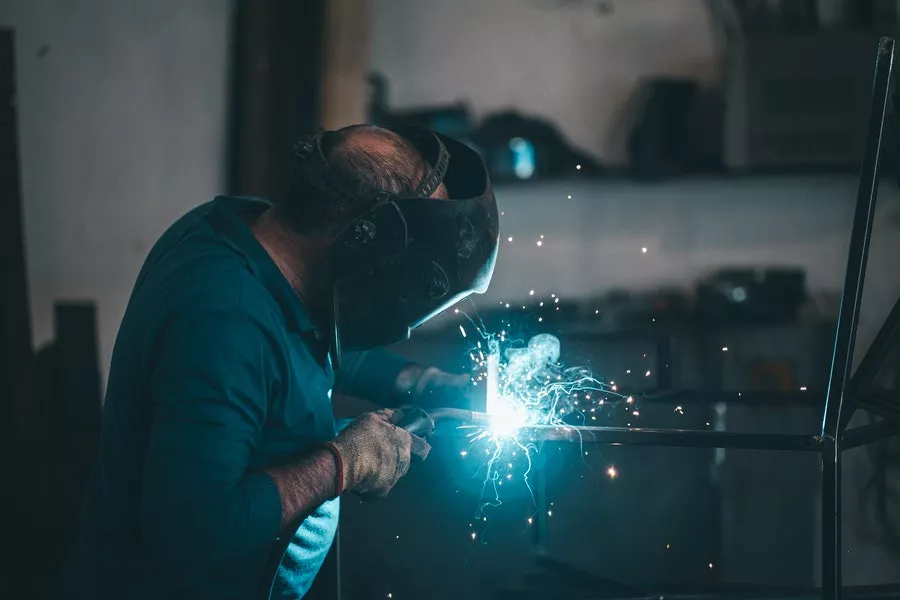 Our Lincoln MIG 210 MP Review is a guide to help you know whether you should consider buying the welder. 
Lincoln is a household name where welder manufacturing is a concern. The company has a catalog of welders to rival the best machine makers in the market. 
Their power MIG welders are the most famous among the products they make. Metal Inert Gas welding channels current through the MIG electrode and the contact metal; the heat generated is enough to fuse the metal. 
The Lincoln Power MIG 210 MP is a dual-voltage professional-grade power MIG welder with many great features. 
This is the one we have tested out: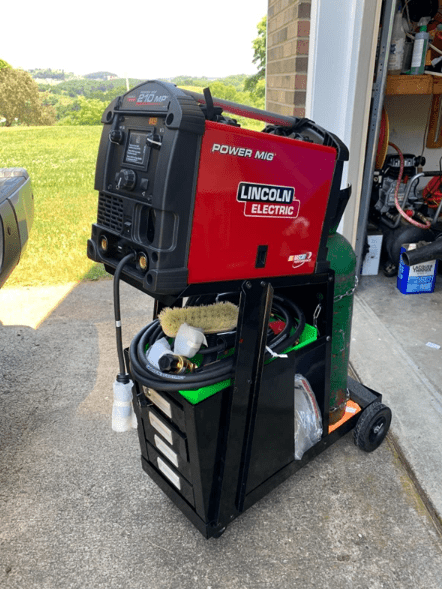 Lincoln MIG 210 MP Review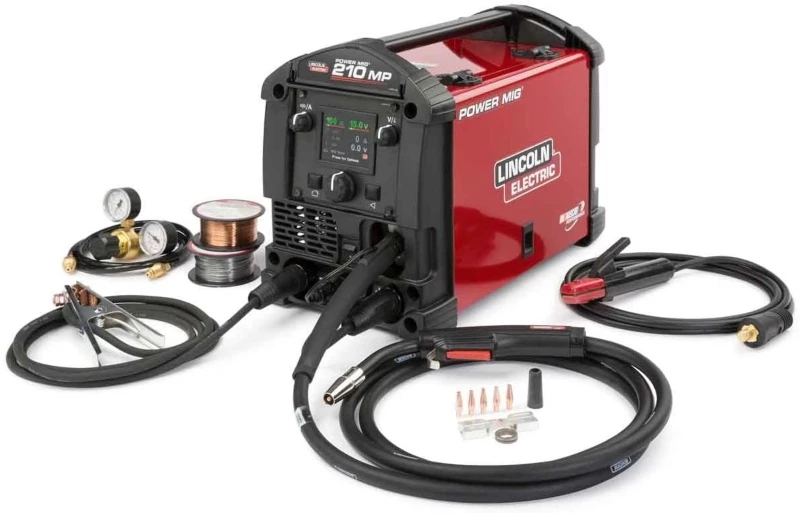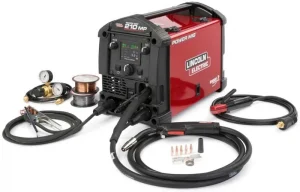 The Lincoln Power MIG 210 MP is a flexible mid and light industrial applications welder. Many professionals love the welder because it offers great flexibility. 
Specifications

 

Amperage Range 20-220A

 

Welding Processes: DC TIG mode, MIG welding, flux corded, DC Stick

 

Net Weight: 40 lbs. 

Voltage: 120/220 

Warranty: 3 Years 

Mode icon: CC/CV 

Polarity: DC 

Today's Top Deal

 

View at Amazon

Reasons to Buy

 

+ Multi-process Welder

 

+ Accessories included

 

+ Dual voltage input 

+ Flexible use cases 

+ Simple UI and settings 

Reasons to Avoid

 

–

DC welding only

 

–

Foot pedal sold separately

 
Features 
High Amperage Welding Range 
One of the best features of the 210 Mp multi-process welder is the amperage range, which is normally a good indicator of a welder's flexibility. 
The Lincoln MIG 210 MP has an impressive input current range from 20A to 220A. It gives the welder great options. 
Thanks to the range, you can have course and smooth welding arcs. The current control allows you to get deep penetrative welds for intricate jobs and shallow welds for simple jobs. 
You can use many welding tips ranging from 6010 to 7018. You can use the welder for various tasks because of the input current range. 
MP Multi-Process Welder 
The Lincoln Power MIG 210 MP is a versatile machine. It has many machine processes that make it ideal for casual and experienced welders. It has four welding processes: 
Flux Corded Welder: You can use flux corded wire to weld with the machine. You feed the wire electrode into the welding machine.

Stick Welding: Using flux-covered stick electrodes, you can lay the weld onto a metal surface. The recommended voltage is 27V, 175A.

MIG Welding: In metal inert gas welding, current passes via the power MIG electrode and the contact metal. It is great for welding aluminum.

TIG Welding: The welder is compatible with DC TIG welding. You use a non-consumable electrode (DC TIG weld aluminum) and shielding gas to prevent oxidation. The TIG torch heats the electrode.
The all-in-one welder is ideal for most jobs. 
Accessories Available 
The Lincoln MIG 210 MP has all the accessories you need to get up and run. These accessories are all-inclusive with your purchase. So, what do you get out of the box? 
– Gas and Gasless Nozzles 
– Adjustable Gas Regulator and Hose gas 
– Work Cable and Ground Clamp 
– Electrode Holder and Lead Assembly 
– Spindle Adapter 
– TIG Torch 
– Sample 1 lb (0.45 kg) Spool of SuperArc® L-56® Mild Steel power MIG Wire 
– Gun Cable Liner (pre-installed in the spool gun) 
– Magnum® PRO 175L MIG Gun – 10 ft. (3.0 m) (K4076-1) 
– Single Welder 120V and 230V Input Cables 
– Driver Rolls 
The manufacturer takes the inconvenience of having to source all these parts yourself. Note that the foot pedal doesn't come with your purchase. 
Lightweight and Portable Welder 
The Lincoln MIG 210 MP packs a lot of excellent features in a tiny and compact form factor. It has a small profile, which is ideal for transport. 
The welder weighs 40lbs or 18.14kg. It is relatively light compared to any other multi-purpose welder. 
The welder's dimensions are 14in×10.75in×19in. The compact design makes it ideal for portage because you can store it easily. 
Due to its lightweight and portable nature, the welder is ideal for workers who lack a fixed workstation. You can easily move it about. 
There is a carrying handle on top of the case. It adds to the transport ergonomics of the machine. The welder is ideal if you lack a job site. 
Intuitive UI and Welding Settings 
Power MIG welders are popular because they are easy to use, and the MIG 210 MP is no exception. The welder is appropriate for professionals and beginning welders. 
The controls are easy to learn, thanks to the simple layout. The presentation is simple and ideal for new welders, who will quickly get acquainted with the machine's workings. 
The welder has a sizable LED screen. It displays the necessary readings such as the machine process, voltage, amperage, etc. It makes reading these units easy and quick. 
The knob adjustment mechanism allows users to enter their inputs fast and easily. It makes for a decent user experience. The UI's design allows you to have an easy time as you can focus on welding rather than settings. 
Dual Voltage Welding Capability 
The power Lincoln 210 MP has dual voltage capability. You can run it off two input voltage: the 120 low voltage and the 230 high voltage options. 
You can use a common power supply, as most range from 110V to 240V. 
The welder uses DC options. Dual voltage inputs provide great flexibility over the welding processes. It also lets you get the best out of the different machine processes. 
The welder takes away the hustle of having to step down voltage from your main power source. It is ideal, especially for workers who travel to different locations for their jobs. 
You get the 120V and 230V cables with your purchase. The welder allows you to use most DC power outlets without a step-down machine. 
Diverse Use Cases 
An ideal welder should be flexible and have multiple use cases. It is the case with the Lincoln MIG 210 MP. 
The welder can handle mid-duty tasks easily. It is useful for general repairs around your home. You can use it for repair, welding, and maintenance tasks like reinforcing joints. 
The machine easily handles general fabrication tasks. It makes it the ultimate welder for DIYers and casuals as it can weld mild or stainless steel. 
Professionals will love the machine. It makes light work of general carbon fiber welds great for automotive repair shops. Distilleries will also get used out of the welder because of their processes and amperage range. 
Long Warranty (Three years) 
Any piece of hardware equipment should have a decent warranty. The Lincoln MIG 210 MP offers buyers a great warranty that lasts three years from the date of purchase. 
The machines rarely have factory defects. The warranty is there for those rare occasions where some parts may be faulty. 
The warranty covers the main unit and its accessories. You have the assurance of service if you get defective parts. 
What Should You Look For In A Lincoln Welder? 
Lincoln makes many welders suitable for different jobs. Some general-purpose welders can handle a broad number of tasks. 
Multiple welders get tailored to a professional welder. How do you know what you should consider? Here are some pointers: 
1. Machine Processes
A good welder should have more than one machine process. Machine process refers to the different welds you can perform with a machine. 
Most premium welders (multi-process welders) accommodate MIG welding, DC TIG, flux corded welding, and stick welding. 
You can have a TIG machine only or a TIG process and stick welder for budget options. TIG welders are good for most tasks. MIG is great for welding aluminum. 
Having a welder with different machine processes gives you flexibility. Multi-process welders are suitable for everybody. 
2. Amperage Range 
Amperage range matters as it determines the machine's flexibility. A high amperage range allows you to use different rod sizes. 
It is important, especially when dealing with diverse welding tasks. Some require a thick, less viscous molt than others. 
A decent amperage range is great for professional welders as it allows them to meet most job requirements. 
Some welders can go as high as 300A. They are suitable for welding shallow and deep material thickness joints. 
3. Dual voltage support 
Dual voltage support allows you to connect your welder to different power input sources. Most power input sources are either 110V or 220V. Dual voltage support allows you to use either, provided you have the right power cord. 
Having dual support means you don't have to step the voltage up or down. You also don't have to worry about triggering the breakers as you weld. 
4. AC/DC input
It is a premium feature for welders. Some machines support both AC and DC power input sources. It makes the machine versatile and usable in any situation. 
AC TIG welding also opens the machine to a broader range of aluminum welding rods. You have the option to use specialized rod types for particular machine welding jobs. 
DC welding is convenient, especially if you need to do welding off the grid.
5. User Interface 
The user interface dictates the user experience. Some welders are clunky and old-fashioned. The interfaces reduce the appeal, making them difficult to learn and use. 
Modern welders have simple knob inputs and LCD or LED screens. These screens output vital information that you MIGht need as you work. 
Some welders indicate the machine process on the main display. A good UI makes the setup process easy. 
6. Warranty
Always check your machine's warranty before buying. A new welder will set you back a few thousand dollars. You must therefore ensure that the investment is secure by checking the warranty. 
The warranty should cover the parts too. Read through the fine print to avoid spending extra to replace faulty parts. The warranty should cover the repair work hours on the parts. 
7. Serviceability 
Service is an important aspect to consider when buying a welder. You should avoid buying discontinued models as they are often out of service. You will not find parts of old models, making repairs impossible. 
Check the model's service parts with the manufacturer before buying a welder. Newer models are always a safe option. 
8. Jobsite or Portable Welder? 
Welders come in different sizes and weights. Some welders are bulky and large. Such welders are suitable for people with a fixed workstation. The welders are not portable. 
Other welders are compact and light. Some welders come with a handle and a set of rolling wheels. These welders are ideal for people who travel with their welders. They are suited for DIYers.
9. Cooling
Cooling is an important consideration that you shouldn't overlook. Welders generate a lot of heat when they are in use. They, therefore, need decent cooling mechanisms to stay functional. 
It would help if you bought a welder with large cooling vents to allow for sufficient aeration. Check whether the fans are large enough to channel heat out of the machine.
10. Accessories 
Auxiliary parts can be hard to find. It is why many manufacturers bundle them in with the main unit. 
Aside from the foot pedal and spool gun, most accessories get included with your purchase. Ensure that you get the parts when you buy the machine. Note that some models MIGht exclude the TIG torch. 
Buy a machine from a manufacturer with a warranty or a guarantee on the accessories.
11. Wire feed speed range (for flux core welders)
It applies to flux core welders. The corded wire size range and speed determine how fast the welder works. 
A flux core welder with a high feed speed is ideal because it is faster. Some flux core models allow you to adjust the feed speed. 
General Maintenance For Your Lincoln MIG 210 
A MIG welder requires maintenance just like any other machinery. Failing to maintain your MIG welder will cause it to fall into disrepair. It also shortens the lifespan of the welder. How do you maintain the machine? 
1. Weld Terminal Maintenance
Keep the MIG welding terminals clean to guarantee great and consistent weld performance. Dirty terminals produce low-quality, amateurish-looking welds, which are undesirable. 
Because the terminals typically come loose over long weld sessions, TIGhten them every 50 hours of use. Cover the terminals once they are cool if you do not plan on using the welding machine. 
Do not store the terminals in a dump environment as they will stop working properly. It leads to poor welding quality. 
2. Air Filter Maintenance
The air filter traps dust and foreign particles and prevents them from being sucked into the pump. These filters accumulate dust if you run them in a dirty environment. 
When the filter is too dirty, some particles MIGht get sucked in. Remove the filter and clean it thoroughly at least once every eight hours. 
3. Top-up your Oil
Do not neglect to check the oil level in your welder. Examine the levels and top them up frequently to prevent heating issues. 
Oil the moving parts to reduce wear and tear. Oil the fans at least once every 100 hours of machine use to keep them spinning. 
4. Fuel Filter Maintenance
Do not use your welder for long periods without checking the fuel filters. To keep the welding machine functioning smoothly, you must replace the filters regularly. 
If the filters are not clean, impurities such as rust and sediment will enter the injection system. Unclogging the filter is necessary to keep the injection system clean and prevent breakdowns. 
Check the filter periodically to keep your welder running.
5. Check the Batteries
You should replace the battery connections after at least 100 hours of machine use. The connectors will wear out after a long use period and need replacement. 
Always double-check that the connections are secure. Loose couplings can cause the welder to shut down or not turn on at all during operation. 
Replace old batteries when they run out. Clean the terminals to prevent dirt and debris from settling on the electrodes.
6. Cooling System Maintenance
Whichever welder you choose, you must have the cooling system clean. Clogged cooling systems induce overheating. The electrical components of the welder will get ruined by excessive heat. 
There may be too much dirt around the cooling systems if the welder turns off randomly while you're using it. 
Use the right power input cables with your welder. Using the wiring cables, MIG channel excess heat into the welder and trigger the breakers. 
Run your welder in a well-aerated and cool environment to prevent overheating. 
Bottom Line 
We hope that our Lincoln MIG 210 MP Review has been of help to you. Lincoln has created a great MIG welder with the 210 MP. It is easy to set up and use, even for beginners. 
The 210 MP produces good welds with little splatter, making it a perfect choice for home projects or light industrial work. If you are in the market for a new MIG welder, the Lincoln 210 MP should be at the top of your list.