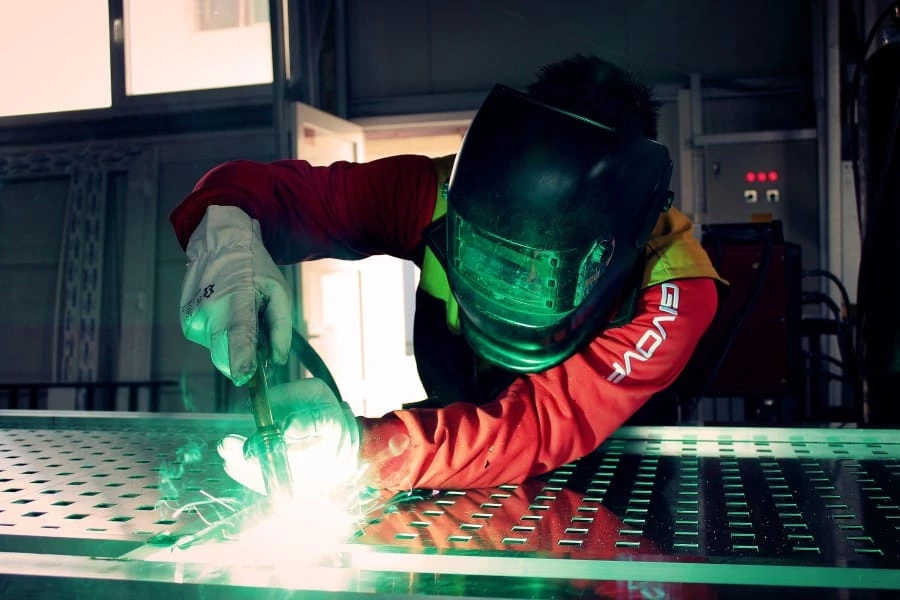 This Miller Multimatic 215 review has insightful information to guide you when purchasing this welder. 
Choosing the right welder for your particular needs from a market bombarded with options is tricky. It becomes more confusing when you narrow your selection to a specific model. 
Miller Electric Mfg makes Miller Multimatic 215. LLC. It is among the most popular manufacturers of arc welding products. Miller Electric has been operating for around 90 years and is known for high-quality welders. 
The company manufactures different sizes and types of welders. They include submerged ARC, DC TIG, MIG, multiprocess welders, etc. This article focuses on one of its popular models, the miller Multimatic 215.  
Is Miller Welder Worth The Money? 
Absolutely yes, the miller welder is more than worth it. The welder is expensive, but there's a legitimate reason behind it. Miller is the ideal welder for anyone who needs a small and reliable machine. 
It's a multiprocess welder, meaning you can use it for all welding types. It creates outstanding small artwork and metal sculptures and is good for a small amount of welding and hobbies. 
The quality of its weld is impeccable and is always clean and smooth. Its other strength is portability; the welder features two handles and is lightweight. Setting it up and using it is also so straightforward. 
Miller Multimatic 215 Review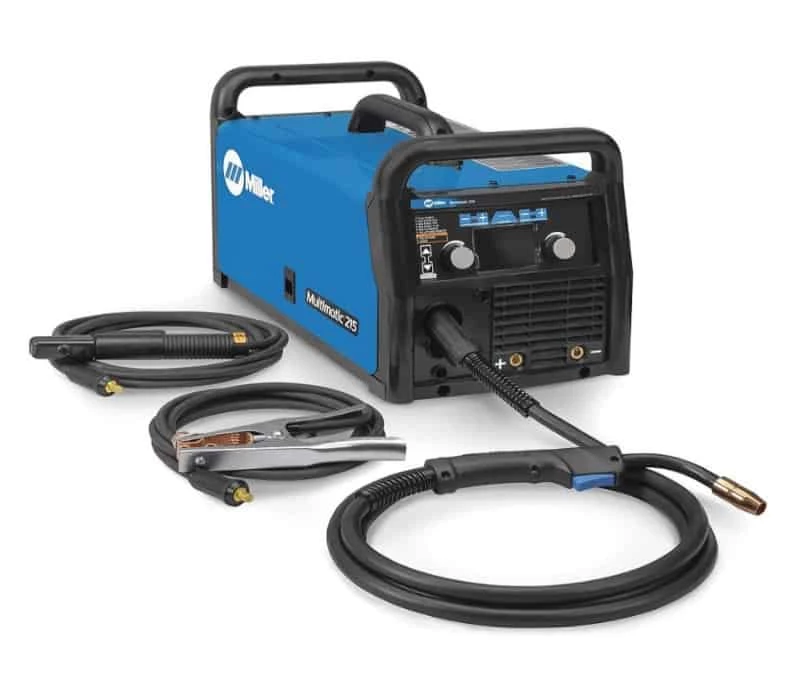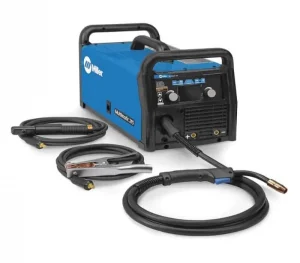 SPECIFICATIONS

 

Brand Name: Miller Electric

 

Item Weight: 38.0 Pounds 

Item Thickness: 11 Inches 

Welding Material: Steel 

Outside Diameter: 1.5 Millimeters 

TODAY'S TOP DEAL

 

View at Amazon

REASONS TO BUY

 

Lightweight and portable

 

Works well with both lightweight and heavy metals 

Easy to switch between modes 

Multi-process 

Easy to set up and use 

REASONS TO AVOID

 

Inconsistent performance between processes

 
7 Reasons Why Miller 215 Is the Most Versatile Welder 
Before people spend money and time on a specific product, they always check its details. Similarly, you should check out the Miller Multimatic 215 amazing features. 
It'll help you get the assurance whether the welder fits your needs or not. Here are the amazing features of Miller 215 by Miller Electric. 
1. Multi-Process 
The Miller Multimatic 215 is a multiprocess welder designed for various types of welding. It can perform stick, MIG, DC TIG, and flux-cored welding. Therefore you can use it for various activities, including automotive repair, fabrication, farm projects, etc. 
2. Auto-set Elite Function 
It's one of the intelligent features of the Miller Multimatic 215 welder. The feature helps beginners and professional welders get the most out of the welder. Therefore you don't need to read the guidelines to use this machine. 
The auto-set Elite feature allows you to configure the welding machine wire speed and voltage. However, the changes in wire speed and voltage depend on welding method, material thickness, and diameter. You can fine-tune these parameters with the knob on the side of the LCD screen. 
3. Portability 
In addition to its versatility, the Miller Multimatic 215 is highly portable. It's lightweight at 38 pounds and has two handles that make it easy to carry. 
4. LCD Screen 
The LCD is clear and displays lucid and detailed information. The information helps you in the initial setup process. 
You can also find the information in a guide sheet on the unit's side door. Miller Multimatic 215 has taken the guesswork out of the welding processes for hobbyists and novice/beginners. 
5. Power Configuration 
Out of the box, the machine runs on both 110V and 230V. Amazingly it doesn't require any configurations; the user needs to change the power wire plug. The multi-volt plug makes it easier to switch between volts. 
Miller Multimatic 215 features a built-in power inverter, which senses the input power. The unit also includes a 2-pound wire spool and spool adapter. Therefore it can easily switch to a larger spool. 
6. Smooth Start Feature 
The smart feature is another amazing one, and it ensures a smooth and steady arc with minimal spatter. The motor kick starts at a slower speed and then gradually increases to its normal speed. This often yields a very smooth arc. 
7. Duty Cycle 
It's one of the most important parameters when choosing a welder. The Miller Multimatic 215 provides a huge duty cycle that's enough for odd jobs around your homestead. That's from small-scale auto body repair and farm projects to fabrications and many others. 
Miller Multimatic 215 is a multi-process, meaning it supports various welding methods. Therefore the duty cycle varies for each method. 
For instance, the duty cycle of Flux-core wire and MIG welding is 60% at 110A and 20% at 200A. In comparison, the duty cycle of stick welding is 40% at 90A and 20% at 190A. Finally, the duty cycle of DC TIG is 40% at 140A and 20% at 190 amps. 
Factors To Consider When Buying A Miller Multimatic 215 
There's a wide range of welding machines and tools on the market. But finding the right one for your needs can be tricky. 
However, this article is about the Miller Multimatic 215, one of the popular and versatile welders. Generally, a good welder should be efficient and long-lasting, which is a significant investment. 
It's wise to spend some time checking the welder features. It helps you ascertain whether it's in line with your needs. 
Your job satisfaction and company productivity will increase with the right equipment. Here are some crucial factors to consider when buying a Miller Multimatic 215. 
1. Nature/ Type of Metal 
Generally, most welding is usually on carbon steel because welding machines work well with this metal. 
It's because carbon steel handles heat well. However, TIG and MIG welders are best for stainless steel since they don't need much heat. On the other hand, aluminum welding needs more complex welders like the MIG machine.  
A high-end TIG machine can also handle aluminum quite well. Therefore, you must always consider the metal you'll mostly use before buying a welding machine.  
Luckily, the Miller Multimatic 215 is a multi-process. Thus it can handle various welding options. 
2. Maintenance and Spare Parts Availability 
The Miller Multimatic 215 is high quality and durable. Regardless of its brilliance, there's a moment when it'll need maintenance or spare parts. 
Therefore before buying the Miller Multimatic 215 welder, have information about its nearest service point. 
You should also know their response time and ensure spare parts and consumables are available. However, note that high-quality consumables will ensure a longer life cycle. Hence significantly reducing the maintenance cost in the long run. 
Always use genuine manufacturer's consumables since they are cost-effective and safe. Additionally, check the warranty process before making the final purchase decision. 
3. Price 
The price is important because it dictates the type of welder you'll buy. Price is money, but this shouldn't be the case when purchasing a welding machine. The welder's price should stand for quality, reliability, service life, serviceability, etc. 
Use your money to buy a reliable machine. The Miller Multimatic welder machine is expensive but will offer you back value for your money. That's because it's long-lasting and high-quality. 
There are many other cheap Miller Multimatic models, but their quality isn't impeccable. Overall, whatever welding situations or needs, Miller Multimatic 215 will work well for you. 
4. Welding Machine Usage 
Is the welding machine for personal or shared use? The end user's opinion is crucial when making the purchase decision. 
Brand loyalty comes into play if the welding machine serves an individual user. You can pick a welder from your most trusted brand, like Miller Electric. 
But, if the welder serves several users, you'll have to consider the interface, language options, durability, etc. In industrial settings, purchasing a welder depends on experimentation and demonstrations. 
Here the welders familiarize themselves with the machine features. If they like and easily understand the features of a particular machine, then you can buy it. 
The salespersons should guide you through the welder's features and offer enough trial periods. You can also get more information about the welding machine from other users. 
5. Welding Location 
The location for your welding work should help you decide on how to choose a suitable welder. Pick a machine that operates at 150 volt AC or 220-240 volt AC supply for indoor welding. 
Generally, most welding machines operate at 115V. It's also the normal supply that most domestic and commercial places receive. 
6. Power Supply Requirements 
Welding machines use AC and DC power inputs and outputs. AC power supply is cost-effective and easy to handle but has low thermal efficiency. In addition, AC is also more popular than DC. 
However, AC is not ideal for non-ferrous alloys and metals but is great for iron group metals. AC has difficulty beginning arc, making it less capable for welding metal sheets. It's the most preferred power supply for TIG welding. 
On the other hand, MIG welders use a DC power source. The DC power supply offers a steady voltage for welding. 
Amazingly the Miller Multimatic 215 uses both AC and DC power supplies. Therefore the machine will cater well to all your needs. 
Type Of Welding 
There are different types of welding which include: 
MIG Welding
It's the most popular welding type since it costs less. MIG welding is also easy to learn and capable of handling various projects. In this welding process, the welder can steadily hold the torch with both hands, unlike in TIG. 
It also has an incredible wire feed speed that makes it four times quicker.
TIG Welding
You'll surely appreciate TIG welding after completing your project. TIG welding produces high-quality and clean welds. 
TIG also eliminates splattering because it only uses the required amount of filler metal in the weld puddle. Therefore ensuring you have a high-quality weld.
Stick Welding
According to professionals, it's the most effective welding technique for connecting alloys and joints. 
However, it's the least efficient type of welding. In this welding process, you'll need a consumable rod electrode. 
The rod works anywhere, whether outside or inside, and the process is easy. The weld seam doesn't use shielding gas protection, but electrodes have a flux coat that protects the weld. After welding, you have to remove this layer. 
Stick welding doesn't use the shielding gas, making it a popular and economical choice. 
Welding Machine Feature and Specifications 
You should check out the welding machine's features and system specifications. You'll be able to know some key elements of the machine that'll prove vital when choosing it. 
For instance, the machine's specifications will help you understand how long you can use the machine. 
You'll also learn about duty intervals and weld you can carry out in standard intervals of 10 minutes. 
Therefore you should properly understand various variables like duty cycle. If you exceed some, you'll be damaging the system's circulation. 
Amperage 
The amperage is another important factor to consider when choosing a welding machine. It determines the type/ nature of jobs the welding machine can handle. There is a huge amperage difference when working on various metal thicknesses. 
As a welder, you should understand what works well for you and the flexibility you want from a welding machine. 
Welding Positions You Anticipate 
Most arc welding operations happen on a workbench with the workpiece lying horizontal and flat. 
However, there are instances when this orientation isn't feasible. It's usually referred to as "out of position welding." 
In addition, some jobs happen onsite and in less ideal conditions. For instance, there are times when you'll have to perform vertical or overhead welding. 
Here flux-cored is the best welding process since it utilizes a continuously fed wire with flux in the electrode. 
You can use other arc welding methods for out-of-position welding. However, they'll have some challenges and limitations. 
It's the setup that is usually tricky. For MIG and TIG welding, the shielding gas cylinder must be near the workspace for hooking up to the machine. Therefore this could impede out-of-position welding. 
How To Maintain the Miller Multimatic 215 Welding Machine For Long-term Use 
Maintenance is crucial to preserve your Miller Multimatic 215 welding machine's longevity. If your welding machine goes down, there can be issues like poor end-product quality. 
Therefore, you should carry out maintenance practices to ensure your machine runs efficiently. However, before any maintenance, ensure the machine is in a safe place and switched off. Remember to short components and capacitors before touching them. 
Here is the guide on how to properly maintain your welding machine. 
Always keep the welding machine clean. The welding machine parts need a proper redistribution of grease and new grease application.

 

It would help if you drafted a maintenance schedule. It can be daily, weekly or monthly routines. These repair schedules will help sustain the machines for a longer period.

 

Check out the machine's specifications to understand its work cycle. Please do not use the welding machine past its recommended period, usually 10 minutes. You can monitor this by picking projects that will not overwork the welding machine.

 

Keep the welding machine neat from dust. Always remove the machine's cover and blow compressed air into the units. It helps remove debris and dust from the mechanical parts. Remember that too much dirt affects wire feeding, leading to an unstable arc.

 

Replace broken or worn-out parts such as contact tips.

 
Allow your welders to be in charge of maintaining the welding machine they use. It's because they understand them better and thus know where issues are. 
Frequently Asked Questions 
How Thick of Metal Can The Miller Multimatic 215 Weld? 
The Miller Multimatic 215 has all-in-one multi-process welder capabilities. It can weld (flux-cored, TIG, DC stick, and MIG) mild steel with thickness of up to 3/8 inches in a single phase. 
Can Miller Multimatic 215 Weld Aluminum 
If you want to weld aluminum, you'll need to do it with MIG, which requires an additional spool gun. Amazingly it's so easy to add the spool gun to this unit. However, the Multimatic 215 cans are not TIG aluminum. 
How Many Watts Does Miller Multimatic 215 Use? 
Multimatic 215 is one of the multi-process welding machines and thus supports several welding processes. Stick/ MIG do run up to 200 amps. Therefore, you'll need a 7000 watts generator to run the machine at its capacity. 
What gas Is the best for MIG Welding? 
The basic gas for MIG welding is Argon (Ar). However, you can add Helium (He) to increase fluidity and penetration of the weld pool. You can use argon or argon + helium for all welding grades. 
What Happens If You Weld Aluminum With Steel Wire? 
Absolutely nothing since both steel and aluminum are weldable metals. 
Why Do You Need a Spool Gun To Weld Aluminum? 
It's easy to distort aluminum, which happens so quickly since the solid wire begins oxidizing almost immediately. The spool gun helps feed difficult wire and prevents messy welding by placing the feeder right on the gun. 
Bottom Line 
According to many Miller Multimatic 215 reviews, the machine is an amazing welder for different welding processes. 
The Miller Multimatic 215 is small and portable for easy, private use. Typically, it's ideal for hobbies that involve little welding. You can use this welding machine to create amazing small artwork or metal sculptures and even do small repairs.