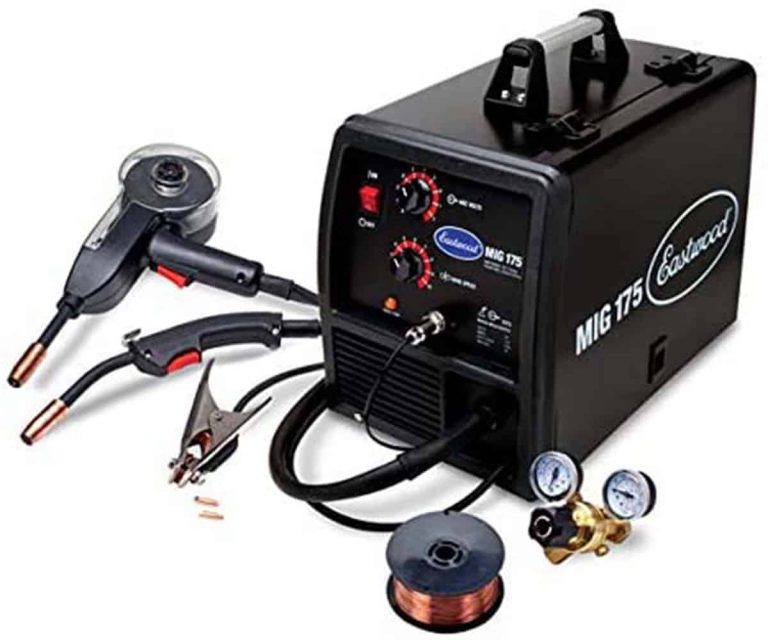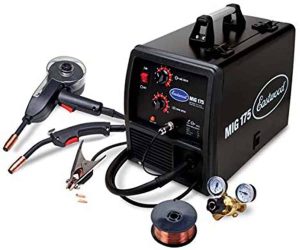 Home improvement projects, construction, creative endeavors, repair and maintenance tasks, and other similar projects are everywhere. With such projects, you must be equipped with the right tools and gadgets. This ensures that your project is well done, as quickly and efficiently as possible. Some of you are even passionate about car repair and maintenance. Others are more into home improvement. Nonetheless, proper tools are required, and one of the most basic and useful tools for such endeavors is a MIG welder. Welding is a basic component of any home improvement project. It is also very useful for repairing vehicles. Welding is useful when repairing old metal shelves, or building your own metal structures. In this article, we will do a honest Eastwood MIG Welder 175 Review and see what it can do for you.
We will discuss:
Review of the Eastwood MIG Welder
The Eastwood Company
The Eastwood Company offers high-quality welding tools since 1978. It was founded by Curt Strohacker. First of all, the company was meant to help vehicle users better maintain and repair their vehicles at home. As the years went by, more and more products were manufactured. It was not until 2003 that Eastwood presented their welding tools.
They began to offer their customers a reliable way of welding and completing their projects. Their motto is "do the job right" and they design their products to accomplish just that, a job well done. They offer great quality products, from paint to welders and more. These are their staple products and they are best known for them.
Products are thoroughly checked for issues and manufacturing errors, and they usually offer ample warranty periods. This cements their trust in their products and shows that their customers are a top priority. Mentioning that, customer service is not inferior to other manufacturers.
As a strategy to keep themselves relevant in this constantly changing market, their customers are their top priority. With their products, you can effectively customize your vehicles, as well as finish your projects efficiently. Welding is a basic component of any home improvement or car repair. It can help you do a great job either at home or in the workplace. You can't go wrong with Eastwood!
What is MIG Welding?
There are several types of welding processes, including Stick welding, TIG welding, and of course, MIG welding. MIG welding is one of the most widely used methods of welding. This is due to the efficient way this method welds.
As a basic principle, welding is just joining two or more pieces of metal. With MIG welding, this is one using high electricity levels. This method does not melt the metal directly. It uses an electrode wire, which then, is subjected to electricity. This creates an arc between the electrode and the metal. The electrode wire is slowly melted; thus, welding occurs.
There are a few safety precautions to keep in mind before welding. These include a well-ventilated area as well as proper protection equipment.
They use Argon gas, as well as CO2 gas. The argon gas is more widely spread and generally better. CO2 gas offers less heat when welding, and the welding is spatter and coarser.
Eastwood MIG Welder 175 Review
We now know what Eastwood strives for and what MIG welding means. Now, we take a direct look at the Eastwood MIG welder 175, discuss its benefits and downsides. Some of the most important factors in a good welder is its type, the amperage, and the price. This is also great because of the multitude of accessories included in the package. There is even a spool gun included.
The package includes:
An earth lead along with a clamp
A wire brush as well as a welding shield
When you buy this welder, the packages include everything you need to start welding. There is an exception, which is the gas cylinder. It is capable of welding 0.8mm to 4mm. It works great on aluminum, as well as stainless steel and mild steel. The performance is smooth due to the spool gun which comes free with the package.This specific welder is not designed for beginners. It is ideal for professionals, but also well suited for intermediate welders. It includes a quick set that makes it easy and completely removes the guesswork from welding.
It boasts an impressively adjustable wire speed as well as heat settings. The amperage ranges from 30 to 175 amp and the feed wire ranges between 58 to 471 degrees per minute. The wire feed is impeccable due to the drive roll mechanism. This is one of the most important aspects of a MIG welder. It offers impeccable wire feed with no signs of slipping or skipping.
The package also comes with a regulator with a hose as well as a spool gun. The spool gun is great for welding aluminum plates ranging from 1mm to 6mm. There are also tips as well as accessories and wires.
It does not come with a gas cylinder, so you need to purchase that separately. There are two varieties, CO2 and argon. Argon is more commonly used, and somewhat better than CO2.
It also includes a quick set weld chart. This is great to minimize the difficulty of welding. It specifies different settings according to the material's thickness.
Here's a video review that may help you:
Here Is A List Of Specifications:
Capable of welding stainless steel as well as mild steel ranging from 0.8mm to 8mm
Spool gun capable of welding aluminum ranging from 1mm to 6mm
A Tweco torch boasting a 9ft long cable included
It has a welding range of 30 to 175 amp as well as boasting a 30% duty cycle at 135 amps
Range of 58 to 471-degree wire feed per minute
Impressively adjustable heat and wire-speed
Works on a 30-amp ring-main at 240v
Keep in mind to work with this welder in an area that is well ventilated. For your safety, is recommended to wear safety clothing and boots that are not flammable. Also, wear welding gloves and an auto-darkening welding helmet.
Pros
Great value for the money
Versatile
Durable construction
Great for intermediate and professional welders
Many accessories included
Cons
Some issues with the roll of wire and the arc may arise
What Are The Applications You Can Use It For?
MIG welding, also known as metal inert gas welding, is a process of welding two or more pieces of metal using an electrode wire fed through a welding gun. Electricity is used to melt the electrode and join the metal.
You can use this type of welding in many situations. You can repair certain parts of your car. Additionally, you can weld together structures such as a metal shelf. There is a myriad of ways you can use a MIG welder. There are also spool guns that are used to weld aluminum.
Some welding projects also include construction and metal structures. This is ideal for those kinds of tasks. It can also be a great replacement for a higher-end welder. This MIG 175 welder is not as advanced as other welders on the market, but it surely offers great bang for the buck.
MIG welders also require some kind of inert gas. There are two types: Argon and CO2. They come in cylinders and can be attached and used with the welder. Argon is generally better as well as more frequently used than CO2. CO2 produces less heat and an inferior arc.
Before any project, make sure you are safe. Ensure that you wear clothing that is not flammable. Don't forget the welding gloves and darkening mask, either. They can protect you from serious injury to your skin or eyes. You should also keep in mind that the area you intend to work in should be well ventilated.
Verdict
As you can see above, this welder is a good deal for your money. It has plenty of power and lots of accessories. The spool gun that is included in the package is free and really useful to weld aluminum. It is also fairly easy to use, either in professional projects or DYI on the weekends.
The product is versatile and durable, as well as boasting numerous features. It can weld a multitude of metals at varying thickness levels. It incorporates a quick set so you don't have to worry about guesswork when welding.
The instructions in the package are concise and easy to follow. The construction is high-quality, and it also comes at a very reasonable price. The only downsides are minor issues with the wire roll and the arc.
It also has a 3-year warranty, but make sure you buy this directly from the manufacturer. Third-party sellers don't offer the same warranty period, so keep this in mind before buying. Overall, a great welder for intermediate and professionals, and comes at a very reasonable price.
You May Like These Review Articles As Well:
Vulcan Omnipro 220 Welder Review