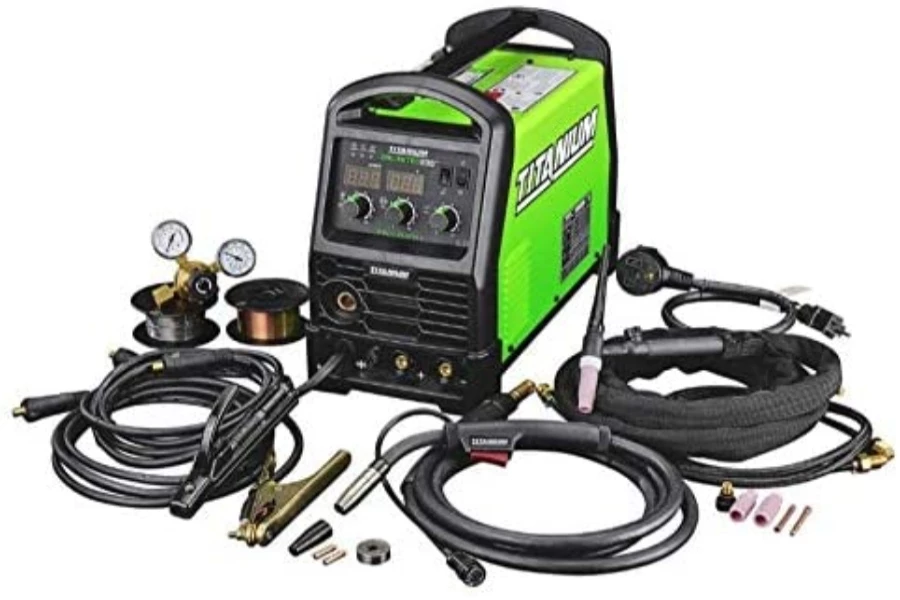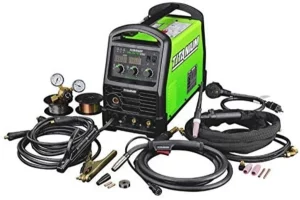 Welders are an essential tool for any home improvement enthusiast or professional contractor. They allow you to combine two pieces of metal by melting and fusing them. 
There are many welders on the market, so it can be tough to decide which one is the best for your needs. 
This article will look at the titanium 200 welder and see if it is the best welder for the money. We will go over this welder's features, pros, and cons, compare it to Vulcan Omnipro 220 and give you our final verdict.
Also you can check out our in depth review on 7 best Titanium Welders here. 
Overview Of The Titanium 200 Welder
The Titanium 200 Welding Bundle is a professional-grade welding system used for various welding applications. 
The system includes a multi-process welder, a TIG torch, a MIG gun, a plasma cutter, and various welding accessories, including a power cord, power adapter, and a flow gauge regulator.
"This welder can be used both professionally and at home, so it is perfect for anyone who wants a quality welder that is easy to use. This welder is extremely durable and comes with a variety of features that make it perfect for any welding project."
High power to weight ratio for superior performance

Spool gun- ready; for quick and easy wire changes

Inverter technology for improved arc start

Dual voltage for added flexibility

It weighs about 24 lbs., making it suitable for people on the go!

Has inductance control for fine-tuning
What's In The Box?
Titanium Multi-process 200 Welder

10ft. 180A MIG Gun

10ft. 150A TIG torch 

200Amp Stick Electrode Holder 

120-Volt Power Adapter

Work Clamp

Power Cord 

Gauge Regulator 

Contact Tips

Gas and Gasless Nozzles

Spindle Adapter 

0.045-inch Cored Drive Rolls and 0.030- inch, 0.035- inch, Solid Drive Rolls.
Specifications
| | |
| --- | --- |
| Maximum Amp Range | 50-200A |
| Manufacturer | TITANIUM |
| Model Number | TI-UL200 |
| Open Circuit Voltage | 69V |
| Input Voltage | 120/240 |
| Weight  | 24lbs |
| Wire Feed Speed | 80-400 inches per minute |
| Dimensions | 21x12x17 inches |
| Weldable Metals | Steel, aluminum, stainless steel, cast materials, chrome-moly |
| Certification | CSA |
| Wire Sizes | 0.025″, 0.030″, 0.035″, solid; 0.030″, 0.035″, 0.045″, flux-cored |
| Power Cord | 8 inches |
| Warranty | 90 days |
Here's a video review of this welder:
Features Of The Titanium 200 Welder
A Durable And Compact Design 
The welder is durable and compact, making it easy to maneuver. It has a welding capacity of up to 200 amps, and you can use it with both AC and DC currents. 
With a duty cycle of 15% at 200 amps, its lightweight frame (24 lbs) and easy-to-use interface make it perfect for any welding job. It also comes with a welding trolley for added convenience.
The welding cart is a convenient addition to the Titanium 200 welder. It allows you to move the welder around quickly, so you can weld in different positions and get the most accurate welds.
 The welding cart is also a great storage solution for your welding supplies; it serves as a storage area for the welding rods and other accessories. The rear wheels may be locked, while the front swivel caster allows easy maneuvering.
Dual Input Voltage
The Titanium Unlimited 200 Welder is a versatile machine that you can use with either 120v or 240v input voltage. This feature makes it perfect for use in various settings, from small workshops to industrial fabrication facilities. 
"With the dual input voltage, the welder can easily switch between volts without having to worry about any compatibility issues. The Titanium 200 Welder also features different powerful amp outputs, which allow it to weld materials up to 1/8 inch thick."
Inductance Control
It offers inductance control, perfect for welding aluminum and other thin materials. This allows the welder to adjust the inductance of the welding current, which in turn allows for better control of the arc. Higher inductance levels will result in longer arc cycle durations.
"With inductance control, the welder can fine-tune the welding process to get the best results possible."
Multi-process Welding
The Unlimited 200 Welder employs a multi-process welding technique. This allows the welder to use multiple welding processes, such as TIG, MIG, and Stick welding, all on the same machine. 
The welder can easily switch between these processes, making it a very versatile tool. It's perfect for welding thick and heavy-gauge metals. It's perfect for welding aluminum, brass, copper, steel, and other metals. 
So, if you're a professional or a DIY welder, this welder will do you justice.
Great Arc Start Using Inverter Technology 
It has inverter technology for improved arc start, meaning that it can weld aluminum, magnesium, and other materials that are difficult to weld with standard welders. 
This makes the welder less likely to produce slag, and it also helps protect the weld puddle from atmospheric contamination. Additionally, the inverter technology ensures that the welding arc is stable and consistent.
Spool Gun Ready
It is equipped with a spool gun to weld aluminum without adaptors. And its intuitive digital controls make it easy to set the machine up for your specific welding needs.
Thermal Protection
The welder is also equipped with a built-in cooling system. This ensures that the welder remains at a consistent temperature, preventing heat damage and prolonging the machine's life.
8 -Foot- Long Ground Cable
When welding, you have to be able to move around. With a traditional welder, that can be challenging because of the cables. 
They get in the way, and they limit your movement. That's not a problem with the Titanium Unlimited 200 Welder.
This welder comes with an 8-foot ground cable, which gives you the flexibility you need to move around easily. 
You can weld in any direction, and you don't have to worry about the cables getting in the way. 
Pros And Cons
"The Titanium 200 Welder is a versatile welder used for various welding projects. It is a great choice for personal and professional use, and it also comes with a welding trolley for added convenience. The welders are made of high-quality materials, and they are designed to last for many years."
What You Should Know About The Titanium 200 Welder Before You Purchase It
When it comes to purchasing a welder, you should consider a few things before deciding. The Titanium 200 Welder is a popular model on the market, but there are a few considerations before purchasing it.
Poor Warranty
One key thing you should note is that the Titanium 200 Welder has a poor warranty. If anything goes wrong with the welder within the first year of use, you will have to pay $100 for an additional two-year warranty.
Additionally, they have a restocking fee of 20% of the price of the welder if it is returned. This fee helps to cover the costs associated with the return, such as the time it takes to process the return and restock the welder.
What Is An Alternative To The Titanium 200 Welder?
The Vulcan OmniPro 220 Multi-process Welder is a versatile machine used for various welding applications. 
It has a 120/240-volt input so that you can plug it into any standard outlet. The welder also has a built-in regulator, so you don't need to purchase one separately.
The OmniPro 220 is an excellent choice for home or small business owners who need a machine to handle various welding jobs. 
It is also capable of MIG and TIG welding, making it a versatile tool for the workshop and easy to use.
The Omnipro 220 is heavier than Titanium 200, but they both have a display screen to adjust your wire feed settings.
Comparison 
| | | |
| --- | --- | --- |
| Feature | Titanium 200 Welder | Vulcan OmniPro 220   |
| Amp Output  | 200A | 220 A |
| Processes | MIG, Flux-Core, TIG, Stick | MIG,Flux-Core,TIG,Stick |
| Weight  | 24lbs | 49lbs |
| Voltage | 120v/240v | 120v/240v |
| Wire feed speed (per min) | 80-400 | 50-500  |
| Warranty | 90 days | 1 Year |
| Price | Check Price On Amazon | Check Price On Amazon |
"The Vulcan Omnipro 220 is undoubtedly faster than the Titanium 200 Welder in terms of wire feed speed, warranty, and in amp output."
Final Verdict
Is the Titanium 200 welder the best value for the money? Well, that depends on your needs and what you're looking for in a welder. But overall, we believe that this welder is an excellent value for the price. 
This welder is easy to use and yields excellent results, making it the perfect option for DIY enthusiasts and professionals alike. 
If you're looking for a welder that is reliable, affordable, and easy to use, the Titanium 200 Welder is the right choice. 
And if you want to work at a better speed, you can choose to go with the Vulcan Omnipro 220.Thanks for reading!