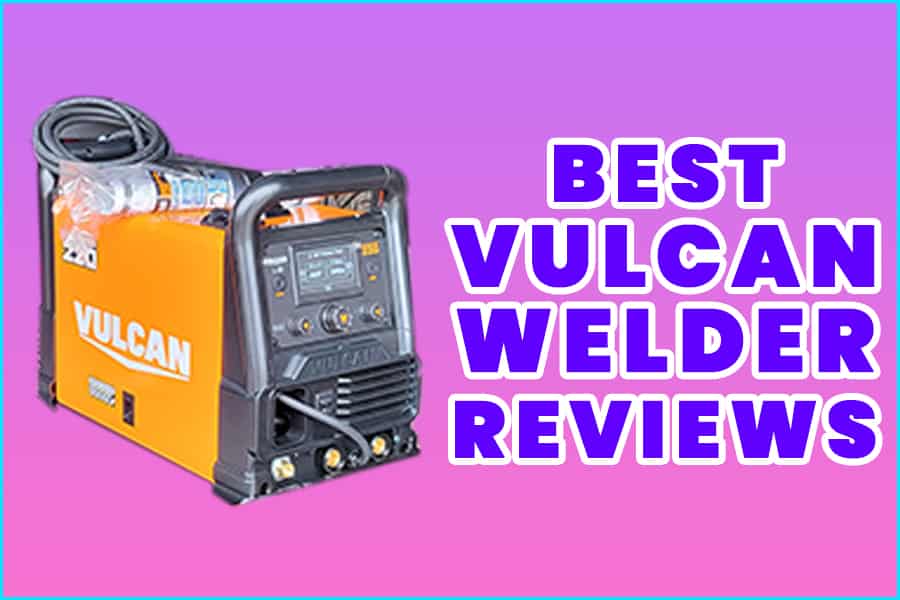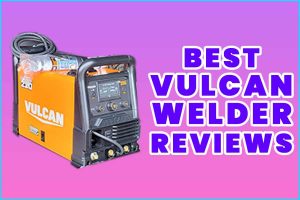 Getting the right welder to do your jobs can make a big difference in the quality of your work and how easy it will be for you to get everything done. 
Many companies offer this product, and the high number can make it hard to choose the best one for you.
One of the most reliable options for welders is the Vulcan welder, and even they have several options for their buyers. 
You don't need to get the most expensive one, only the one that works the best for you so let us help you find the right welder;
Top 3 Vulcan Welders
Product
BUDGET PICK
OUR BEST PICK
Vulcan ProTIG 165 Welder with 120/240 Volt Input (VW165-PT)
Vulcan OmniPro 220 Multiprocess Welder with 120/240 Volt Input
BUDGET PICK
Product
Vulcan ProTIG 165 Welder with 120/240 Volt Input (VW165-PT)
OUR BEST PICK
Product
Vulcan OmniPro 220 Multiprocess Welder with 120/240 Volt Input
What Makes Vulcan Welders Stand Out?
There are numerous generator options on the market, and you could easily go with another one if you don't have a convincing reason to choose Vulcan welders. 
All welders can weld, so it comes down to additional features that will make the experience smoother for you.
Here are some pictures of Best Vulcan Welders we have tested out: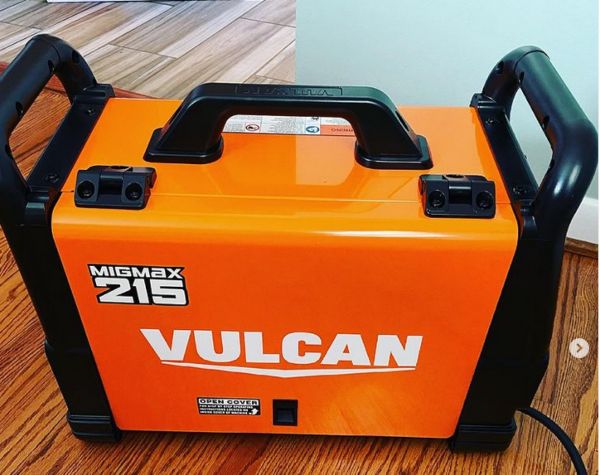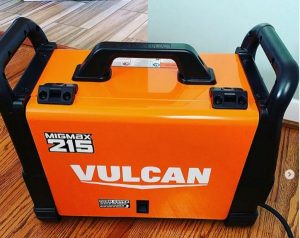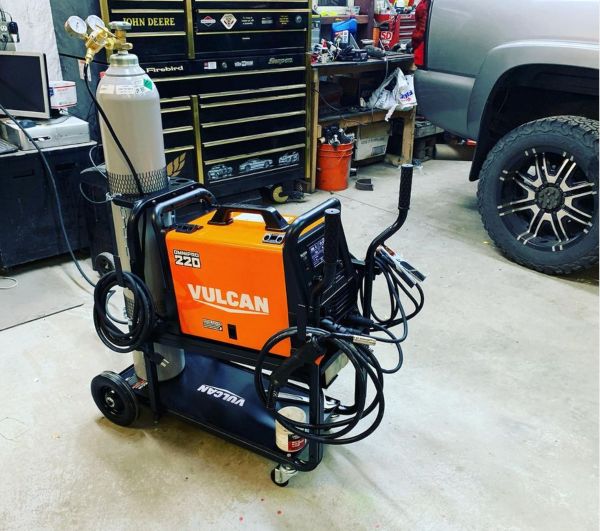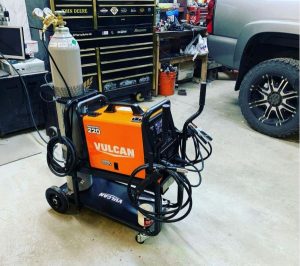 Vulcan welders have several defining features that make them dominate the market; let us get into the details and see if they will work for you as well;
1. Portable design and longevity
Vulcan designs ensure that it is easy for you to carry the welder from one place to another and use it. They have a compact design that makes them easy to carry in a car or hand over short distances.
Adding their small size to their lightweight makes them even better since you will have an easier time storing and moving them. This makes your work that much easier, and it is a compelling reason to get a Vulcan welder.
You might be thinking that the portability and small size have affected the durability of this product, and you will be wrong to think that. 
The Vulcan welders are high-quality products that will offer you amazing service for a long time without repair.
You have to remember that any system will only work well if you have the correct ways of using it. The durability of Vulcan welders is something you can confirm from hundreds of positive customer reviews from people that have used the product for years.
2. Budget friendliness
Welders are expensive since they have some high-end components that need a lot of resources to create. 
However, you will pay less for a Vulcan welder than most other brands, which can be a major boost, especially for users on tight budgets.
Most of the time, people look at cheaper products as having poorer quality, but this is not the case with Vulcan welders. 
You will get a fair price with an assurance of quality both in the product's make and performance.
3. Auto-sensing and arch starting features
One of the most crucial parts of welding is getting the right arc and starting it. You have to deal with all these issues with normal welders, and it can be hard to get everything right unless you have a lot of practice.
Vulcan welders offer you a way to get past this problem and go straight to welding like a pro. They have high-end arch starting features that give you a smooth start without stuttering and auto-sensing to help you maintain a clean weld all the way through. 
4. Works well for both light and heavy welding jobs
Most welders make you choose whether you will use them for light jobs or heavy, and at times, you could have to compromise or buy two. You don't have to be concerned about this when dealing with Vulcan welders.
These welders can work well with light jobs and use a 120V power outlet, or you could change it to a 240V outlet if you want to get heavy-duty performance. 
You can switch between the functionalities and get your work the way you want it without compromising.
5. Multi-material and multiprocess features 
Welders usually work with TIG, MIG, or stick welding; it is rare to get a welder that supports all of them. 
As such, you have to research the method you'll be using and get a welder to do it, which might not be the best when situations require you to use a different option.
You can avoid the expenses of buying several welders by getting a product like the Vulcan Omnipro, which can work with all welding styles. You can do TGI, then go to MIG or Flux core welding with the push of a button.
Also you can check out our in depth review on best klutch welders here.
Top 4 Best Vulcan Welders Reviewed
1. Vulcan Omnipro 220 Multiprocess welder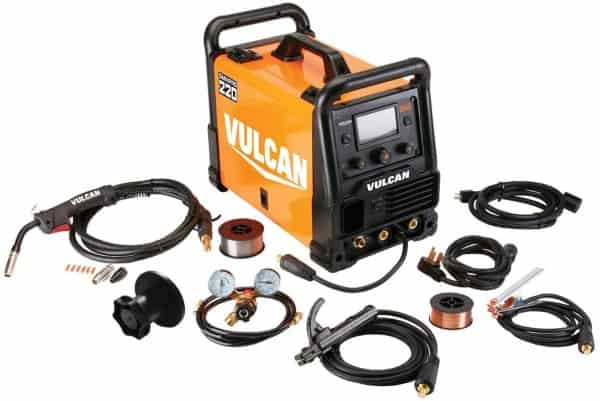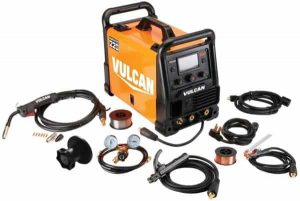 This is a high-end welding option for a user who needs heavy-duty welding for a business or around the property.
Specifications
Weight: 49 pounds

Welder Type: Multiprocess

Voltage Output: 120V and 240V
Features
Portable and lightweight. The Vulcan welder weighs about 49 pounds which is incredibly light considering what the welder can do for you. 
The weight makes it much easier to carry from one place to another, which increases the welder's usability.
It can do heavy-duty work in the house or at a construction site without being too much of a problem since it is easy to support. It has an ergonomic, sturdy handle to carry it to the site and get the work done.
Highly versatile. This welder gives you freedom regarding the type of welding you can do; thus, your job is much easier. 
You might have to choose between stick, DC TIG, or flux-cored welding with other brands, but the Omnipro welder can handle all of them.
You can weld many metals and employ more techniques with this welder regardless of the rod you want to use. All you need to do is change a few settings, and you will be ready to use it.
Dual voltage technology. This welder can work with 120V and 240V, making it a good choice for light use at home or heavy-duty industrial use.
Durable and powerful. Welders are rather expensive, so you need to make sure the money you spend is worth the product you get. 
The Vulcan Omnipro has an industrial-grade aluminum drive system that can withstand high-intensity welding for years.
This product also has an inverter that assures you highly efficient output to give you consistent welds. 
Combining its powerful components assures you faster and more powerful welding performance that will come up with minimal maintenance.
User-friendliness. This welder has the perfect combination of automation and user-friendliness, ensuring you get the best experience. It has an LCD with a simple interface that will be easy to understand and use.
It has 132 preloaded welding programs, and it will learn about your preferences the more you use it; hence it gets better with age.
2. Vulcan ProTIG 165 Welder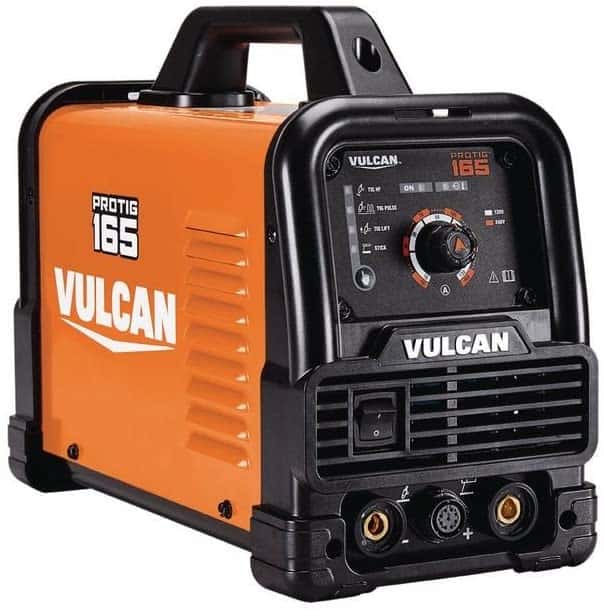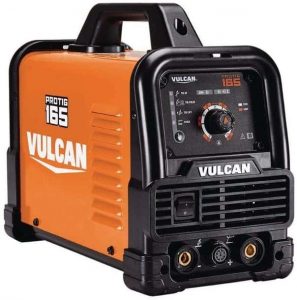 If you are looking for a durable, high-quality TIG welder for home or industrial use, then this is a product you ought to consider.
Specifications
Weight: 20 Pounds

 Welder Type: TIG

Voltage output: 120V and 240V
Features
Efficient and high-quality arc. In welding, especially TIG, what is most important is having a consistent arch running throughout your weld. The ProTIG 165 offers you an efficient arc that will give you the best work you have ever done.
Thanks to Vulcan's converter technology, the welder features a highly efficient arch quality. It is not only efficient but also superstring to ensure durable welds.
Works with both 120V and 240V. It is rare to get equipment that you can use with 240V and 120V, but Vulcan has made this a norm, as reflected in their ProTIG 165 welder.
Therefore, you can see this welder at home with a standard power outlet or a more powerful industrial outlet. Additionally, it can handle different types of metals, so it will be an amazing choice all around.
Low heat distortion. The welding process uses a lot of heat but producing too much heat will diminish the arch power of the machine in question. Therefore, a good welder needs a system to help keep the heat in check and maintain a proper arc.
To do this, Vulcan ProTIG 165 uses pulsing technology to lower and increase the heat, so it maintains the perfect balance. This pulsing will also increase the travel speed, contributing to less heat distortion.
Auto sense feature. Timing the arch while welding is crucial, and it will affect how well the weld will hold up and how it will look. 
It can be hard to get the right place to start the arc, especially for beginners, but this welder has you covered.
It has an auto-sense feature that will use your welding position to trigger the arc and work appropriately to make your welding more accurate.
Compact and easy to move. The first thing you will notice when getting this welder is its briefcase-like shape, which means it is good to carry around. It weighs about 20 pounds which is half that of the Vulcan Omnipro.
Therefore, this product will work best for someone working in a large area; thus, they need to move around more often. 
Works with a wider range of materials. Another crucial aspect you should look into concerning a welder is the number of metals it can work with. 
You should get a welder that will limit the output types of metals you can work with, and the ProTIG 165 gives you all the freedom you need. 
You can get comfy with steel, stainless steel, cast iron, chrome-moly, and other common metals making it a solid choice for any industrial user.
The best for lightweight welding projects. If you are welding as a hobby, you don't have to deal with heavy-duty welders that use a lot of power to give the strength you don't need. Sometimes all you need is to weld thin pipes around the house.
For such a situation, the best welder for you will be the Vulcan ProTIG since it offers excellent support for lightweight non-industrial jobs.
3. Vulcan MIGMax 215 Welder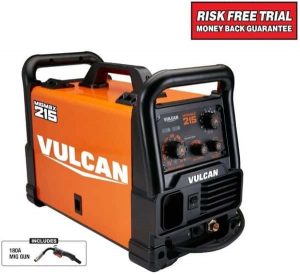 No products found.
This is the best choice for someone looking for a flexible TIG welder from a reputable company that assures high-quality service with minimal maintenance for years.
Specifications
Weight: 44 Pounds

Welder Type: MIG

Voltage output: 120V and 240V
Features
Features synergic interface. This welder is a highly convenient and beginner-friendly product with a synergic interface. This means that the welder can set its operational parameters on itself.
You only need to choose the process, the thickness of the material, and the diameter of the rod you are using, and the welder will compute the settings for you. 
This makes it a good choice for most users who aren't experts in welding, and it makes work easier on experts.
It has high-end arc starting technology. A welder is only as good as the arc it supports, and this welder has the best arch system on the market. Their high-end arch starting system ensures you don't have to deal with slow or faulty arc starts.
Whenever you turn the welder on, it will smoothly turn on without spattering, making work easier for you and reducing frustration.
Lightweight for easy movement. This welder weighs about 44 pounds which is light enough for you to carry around; you can pick it up with one hand and take it to the welding site.
This portability makes the Vulcan welder a solid choice for fieldwork and shops, as it can handle most welding tasks.
It is durable and powerful. This welder comes with an industrial-grade aluminum drive system that makes it one of the most durable welders you could get. It is a good choice for must cutting and welding projects.
You can use this product for intense welding jobs for years without worrying about damaging it. It also has an inverter that increases its performance and enhances its overall efficiency to give the best output.
It runs on dual voltage. You will have the freedom to use this welder anywhere since it works well with 120V and 240V outlets. You could have an amazing experience using this welder at home or with a more powerful industrial outlet.
No products found.
4. Vulcan VW140 MM MIGMax Welder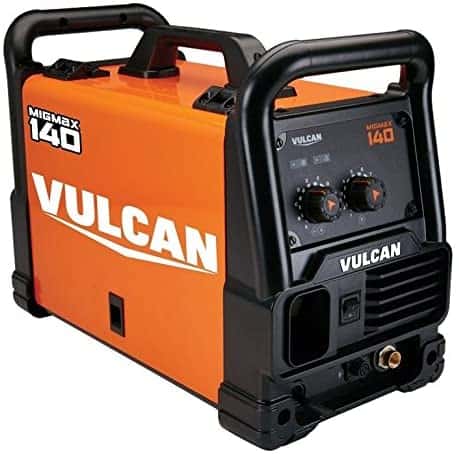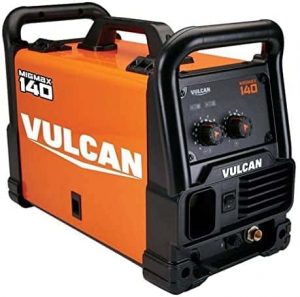 This product will work well for a long list of environments to produce high-quality and durable MIG welds making it a good choice for many users.
Specifications
Weight:  pounds

Welder Type: TIG

Voltage output: 120V and 240V
Features
Innovatively propelled beginning. This addition makes this welder particularly easy to start, and you can have smooth beginnings each time without splashes or irregularities. This will give a uniform arc throughout the welding for superior results.
It can work with different input voltages. The Vulcan VW140 is a flexible welder that can work well with 120V or 240V power sources. This means you can use it with most generators, a standard power outlet, or an industrial-grade power outlet.
This makes the welder a great choice for most uses as you can carry it from one power source to another without worrying about the power requirements. 
Therefore, you can use it for light welds at home or in plumbing or heavy-duty choices industrial settings.
Superior automation features. This welder has numerous automation features that make it a great choice for most people, especially beginners who don't know all the best settings. 
It has a simple way for you to input the process type, rod diameter, and material thickness then the system will calibrate itself to meet all your needs and give the perfect weld. This allows you to get perfection even if you aren't the best welder in the business.
Lightweight and easy to set up. This product is not heavy, and you can carry it with one hand and move it around the work area. It has a handle at the top and two sides to accommodate two carriers if you need help lifting it.
This welder doesn't have any complicated tools that connect wires or parts of it when it comes to setting up. 
You can use only your hands to set it up; you don't need any tools; thus, a beginner will be comfortable using it, and an expert will have fun with it.
Comes with a spool-gun. This product also features a crucial spool gun for welding aluminum, but you have to pay for it separately. Connecting the spool gun to this welder is simple, and the tool is efficient.
Aluminum is hard to work with, and any welder that offers you the tools to deal with aluminum is something you should look into.
This is another high-quality welder that will work well for a user that needs a high-powered welding solution for home or construction projects. It is versatile in use and can be adaptable to work in several situations.
Specifications
Weight: 53  pounds

Welder Type: TIG

Voltage output: 120V and 240V
Features
Works with both AC and DC currents
This flexibility has several advantages since it allows you a more comprehensive range of input options.
You can use all generators and standard power outlets without an adapter or AC/DC converter, saving you time and money.
It also makes stick welding easier as it can work with virtually all standard rods, whether AC or DC compatible.
This increases the metals you can weld, which gives you an advantage in the number of customers you can serve.
Inverter technology
This technology makes the controls on this welder more flexible since it has electrical components that manage most of the parameters.
This means you can be more precise with the settings and get accurate welds that will last longer and look better.
It is lightweight and easy to carry
This welder weighs 53 pounds, and it is not too big. This combination makes it a good choice for a user looking for a mobile welding option for use in the field.
You can carry it by hand and move with it over short distances or stuff it in the trunk of your car and drive without any issues.
The sturdy handle offers a good grip that won't hurt you but will give enough leverage to hold the welder up.
Variable input voltages
If you have two sites and they have different output voltages, you don't need to worry. With the Vulcan Pro TIG 200 welder, you can use both 120V and 240V inputs to get the job done, increasing its usability.
Pre and Post flow control feature.
This unique feature allows users to control how much gas coverage they use in their welding. This is another fine-tuning feature of this welder to help you get the weld you want without compromise.
Also you can check out our in depth review on best titanium welder here.
How To Make Your Welder Work Better For Longer
There is more to welder maintenance than correct use. Sure, using the welder in the right way will help it last longer, but you have to do thorough servicing after a while to ensure you fix any problems before they get serious.
The older your welder gets, the more attention it needs, but if you take good care of it from the start, you will have an easier time when it gets older. Here are some crucial servicing tips that will help you with the welder;
Check gas hoses and fittings.
You need to thoroughly inspect the gas hoses and fittings to ensure no leaks and the gas can flow smoothly.
 The tanks are high pressure, and a small leak could quickly escalate and cause a severe accident.  
 When the need arises, replace consumables like tips, nozzles, liners, and diffusers since they wear out, and the welder will not work as well as you expect it to. This will keep your welder in peak performance to produce high-quality work.
Tighten and clean weld terminals
Welders use a lot of electricity, and if you don't get enough power to the rod, the weld will not be as good as it should be.
Over time, dust, rust, and other debris will land on the terminals, which could inhibit the current.
To prevent this, you need to remove the terminals after two or three months, clean them thoroughly, and then put them back as tight as you bought the welder.
 This keeps an optimum flow of current in the machine, and you will get better performance.
Remove debris from lines
Welders work in dirty environments, and you will inevitably get sand and dust in your lines which can inhibit the welder's performance. Use compressed air to get the dirt out of your system every two or three months.
It would be best to clean the welder every four or five months, depending on your use environment.
Blow it off with compressed air to remove dust and debris but don't use water since it could cause short circuits that might fry the welder.
What To Consider When Getting A Vulcan Welder
Choosing a Vulcan welder can be tricky even if the list is short, and sometimes, a little help can make the final decision much easier for you. Here is a criterion that will help you choose the best product for your welding projects;
Price
You need to account for the money you have at your disposal before choosing a welder. Vulcan welders offer about the same level of performance and quality, so you won't be sacrificing too much if you give up on one based on its high price.
The welding style you want to use
You can have plans to use a specific style of welding depending on the metal you will be dealing with. 
If you want to use MIG welding, you can get a Vulcan MIG welder; if it is TIG, then get one for TIG.
One feature that Vulcan offers that most welders don't is having all the styles in one welder, the Vulcan Omnipro. With this product, you will switch between the welding styles and get the best service from your welder.
Weight
The weight of a welder can affect how you will use it, and you need to consider the weight-based in where you want to use it. If it is for a shop and you won't be moving it, then you can afford to get a slightly heavier model.
If you intend to use it for fieldwork, it would be best to get a lighter option that will be easy for you to carry to work. 
If you had to choose based on size alone, you should go with the smaller, lighter option for easier storage and movement.
Additional features
All Vulcan welders can do a good job, so when it comes to a final choice, you need to think about a product that gives you more than the basics. Numerous features could make a welder stand out.
Automation is something you should be keen on when considering welders. Several Vulcan welders have features that allow you to use them without changing all the settings; the welder will change the settings and get you the best weld based on the surface you are working with.
Overall efficiency
You need to account for the amount of power your welder takes in and what it gives, along with the quality of the weld. 
An efficient welder will cut on power use while producing high-quality welds, and that is the best product to use.
Also you can check out our in depth review on best weldpro welders here.
Conclusion
Choosing a welder for your projects might seem like a straightforward choice, but it isn't, and you might end up with the wrong welder. It would be best if you were keen and accounted for all the important factors to ensure you get the best welder for the job.
Vulcan welders are some of the best in the market, and they come with some rather impressive features that make the welding process more manageable. Automating settings for more precision makes it easier even for beginners to make high-quality welds.
Also you can check out our in depth review on best everlast welders here.