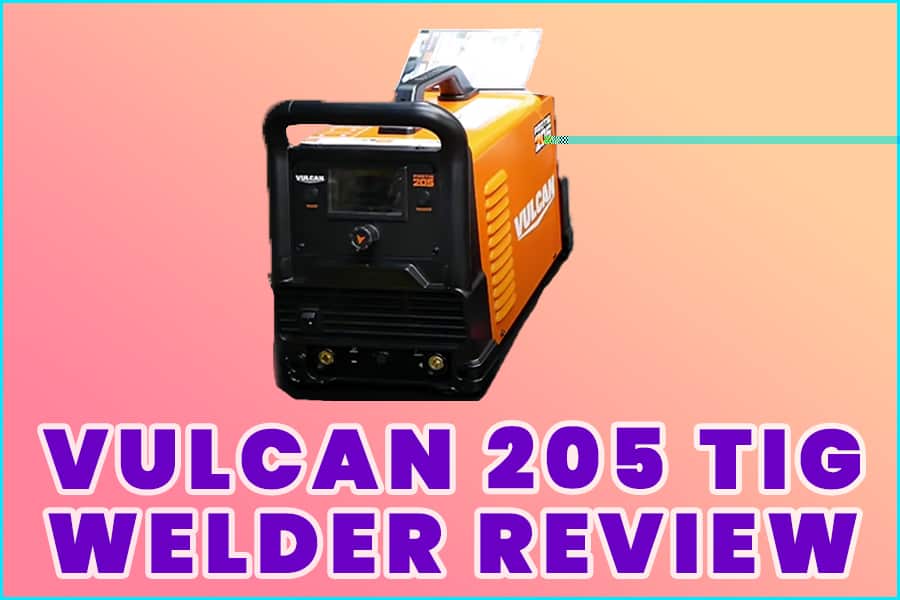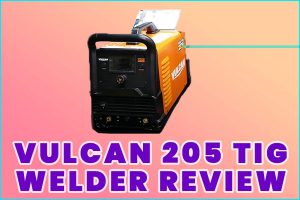 Just because a welder is expensive doesn't mean it is the right welder for your shop. As a welder, you know that the quality of your welds is critical to the success of your projects. A bad weld can mean leaks, poor performance, and even safety concerns. 
With this in view, you may be wondering if the Vulcan 205 Tig welder is the right choice for you. 
In this comprehensive review, we'll look at both the good and the bad of this welder to help you make an informed decision.
Overview Of Vulcan 205 Tig Welder
The Vulcan Tig 205 is an industrial welder that you can use with 120 or 240- volts input. It is a powerful welder that can handle a variety of welding jobs. Its adjustable arc force can easily weld aluminum, stainless steel, and other metals. 
The welder also has a high-frequency start that makes it easy to start welding without using a high-voltage transformer.
This is the pick we have got in our hand and we will be reviewing it completely.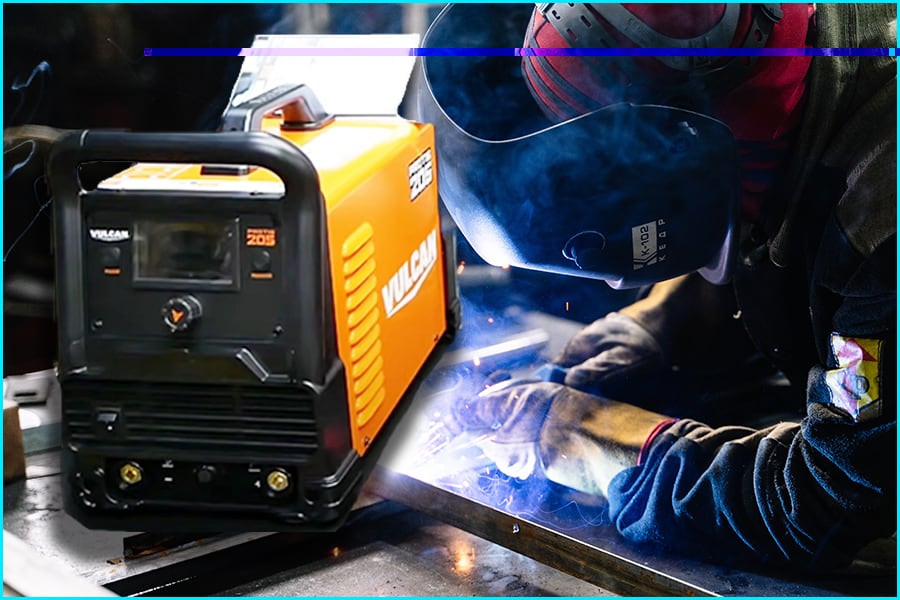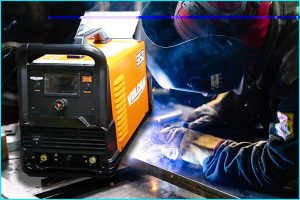 Both AC and DC outputs

Welds various metals

Features Dual Voltage (120V and 240V) 

High-frequency arc starting

Lightweight design

Arc pulse setting for faster speeds and less heater distortion

Ready- to- weld 

An array of accessories included
What's In The Box
Vulcan 205 tig welder unit

150- amp TIG torch

Gas nozzles 

Collets and bodies

2% created tungsten

Work cable and clamp 

205- amp electrode clamp 

Foot pedal

Flow gauge regulator and hose

120V AC Power cord

240v AC Power cord
Technical Specs
Input Voltage

120V-240V

Output type

AC and DC

AC and DC GTAW TIG

DC GTAW-P (pulse TIG) and SMAW (stick)

duty cycle 120V

25%@130 amps

duty cycle 240V

25%@205 amps

Open-circuit Voltage

13.5v

Max output amps

205A

Weight

53 lbs

Warranty

90 days

Weldable metals

stainless steel, aluminum, steel, and chrome-moly

Dimensions

20×10.5×16 inches

Weight 

53 lbs

Prop 65 Warning    

3,13

Certification

CSA

Brand

VULCAN

Welding output on 120v

10-130 amps DC TIG, 10-120 amps AC TIG, 10-80 amps DC stick.

Welding output on 240v

10-205 amps AC and DC TIG, 10-170 amps DC stick.

Price

Check Price On Amazon
Also you can check out our in depth review on best vulcan welder here.
Features Of Vulcan 205 Tig
The Vulcan 205 TIG welder serves both professional and recreational welder. It is equipped with elements that attest to its commitment to excellence.
Here's a video review of this welder:
Dual-voltage 
The Dual Voltage function of the Vulcan 205 Tig is one of its most useful features. It can work with either 120V or 240V.
As a result, it's an excellent addition for anyone who wants to conduct. As a user, you won't have to worry about running out of energy, and you may do some welding at home or work.
"Although the voltage range is not big, it is appropriate for domestic and light industrial work. It is worth the investment for welders within this category."
Digital Display
The digital display is another feature that sets this welder apart. It's much easier to make modifications and keep track of the welding needs this way.
"Voltage and other processes that affect a specific task will be visible to welders. That translates to a tidy job at the end of the day. The setup requirements are presented and may be altered to fit the welding needs, so there is no need to guess."
Lightweight Compact Design
A welder that you can easily transport to and from remote workplaces is a must-have. Vulcan 205 Tig is designed for convenience with its lightweight design. 
"Although 53 pounds may be heavy, it is nothing a simple trolley cannot handle. You can transport this welder to different locations without a trolley or wheel cart. The portability aspect allows users to work in different settings and change locations easily."
Material Density 
The Vulcan TIG 205 is a compact welder that can handle different materials with varying densities. That allows a user some room to fabricate a variety of material thicknesses.
"This welder does well with densities up to ⅛ of an inch with 175 amperes. Normally it will weld a 5/16 inch. This welding power is great for home projects and light industrial welds."
High-Frequency Setting 
This fantastic feature may sometimes be underrated, but you can use it for specific welding needs. 
That allows you to weld alloys and metals with precision and a clean finish. That can be attributed to the TIG welding as well.
It also limits the heat-affected area to specific points and spreads the entire process. Both are very beneficial to any welder.
Power
This welder has a constant power supply in amperes. This continual power supply makes it easy for the welder to make adjustments and achieve precision. 
While other welders do not achieve this level of Voltage and maintain it throughout the process, Vulcan TIG has proven that you can achieve it.
Duty Cycle
The Vulcan 205 Tig comes with a great duty cycle. In a nutshell, the duty cycle is the time it takes for the welder to shuts down to cool down. A welder with a longer duty cycle is great productivity. And the opposite is true.
"Vulcan 205 Tig duty circle gives the welder reasonable time to complete tasks. With 25% at 130 amps in the 120V and 25% at 205 amps in the 240V input power, the Vulcan 205 makes a worthy investment."
Warranty
This welder comes with a 3-month warranty and a 1-year money-back guarantee. That provides buyers a chance to get a replacement in case of any malfunction or a refund within a year of buying the welder.
"Apart from the 90-day guarantee, they also offer a replacement plan charged at $89.99 in the first year and $119.99 in the second year. Both of these options are convenient to purchasers."
Gas Regulator
This welder comes with a gas regulator, unlike other welding equipment. It is easy for the customer since they do not have to go shopping, and there is also the option of welding. 
Applications Of Vulcan Tig 205
As stated before, this is a superb welding machine that you can use at home and in an industrial setting. However, the tasks assigned to it will be limited to light jobs.
Think of maintenance, repairs, and fabrications. 

It is used on bike frames, steel pipes, and so on. 

Aluminum and steel are the preferred metals, although this TIG masterpiece van also handles alloys.
"On-site maintenance, process piping, food/beverage sector, aerospace, and automotive, particularly aluminum, are examples of light industrial uses."
Comparison To Eastwood Tig 200
Specifications
Eastwood TIG 200 Welder
Vulcan Pro TIG 205

Amperage span

10 amperes to 200 amperes

10 amperes to 200 amperes

Duty Cycle

60%, 145 amperes (120V);

60%, 190 amperes (220V)

25%, 130 amperes (120V); 25%, 205 amperes (240V)

Voltage

120V; 220V

120V; 240V

Weight

 

42lbs

53 lbs

Material density

24 gauge to 3/16 inches

24 gauge to 3/16 inches

Weldable metals

Aluminum, stainless steel, and alloys

Aluminum, steel, and alloys

Brand

Eastwood 

Vulcan

Price

Check Price On Amazon
Check Price On Amazon
"Although other welders like the Eastwood TIG 200 Welder have the same capacity in welding capabilities, Vulcan 205 TIG has the compactness that most welders desire. It is best for general home application and minimal industrial work."
Why TIG Welding?
TIG welding is more than just a welding process. It is a precision welder that achieves specific tasks with quality results—the following list of reasons why you should think about it. 
TIG welding can work with a wide range of metals. Aluminum, stainless steel, and alloys are among the materials available. It's ideal for bike frames, vehicles, and aircraft bodies because of this.

Thanks to the control brought about by the foot pedal, it provides better weld control and excellent arc. The pinpoint control of the heat contact point makes it an excellent choice for sculptors and ornamental welders.

This type of

welder

is known for clean welding. Meaning it will not produce smoke or unnecessary spacks. Unless the metal is not clean or is polluted, it will produce smoke. 

TIG welding

is the best option when you want to conserve energy. Due to some of its regulatory settings, most TIG welders consume less power than their counterparts.

TIG welding generates accurate designs and repairs. Once a welder is skilled enough, they can produce precise results. Although it is a difficult process, welders appreciate the results.
Also you can check out our in depth review on weldpro digital tig 200gd review here.
Final Verdict
There are numerous TIG welders in the market today. Most of them meet the needs they are designed for, but only a few take their specifications further. 
Vulcan 205 Tig Welder is a one-of-a-kind welder that comes with distinct features. One of them is the gas regulator, which produces precise and quality welding. It's ideal for use in both personal and professional settings. 
We hope that this read helps you make the best purchase decision possible in the future.