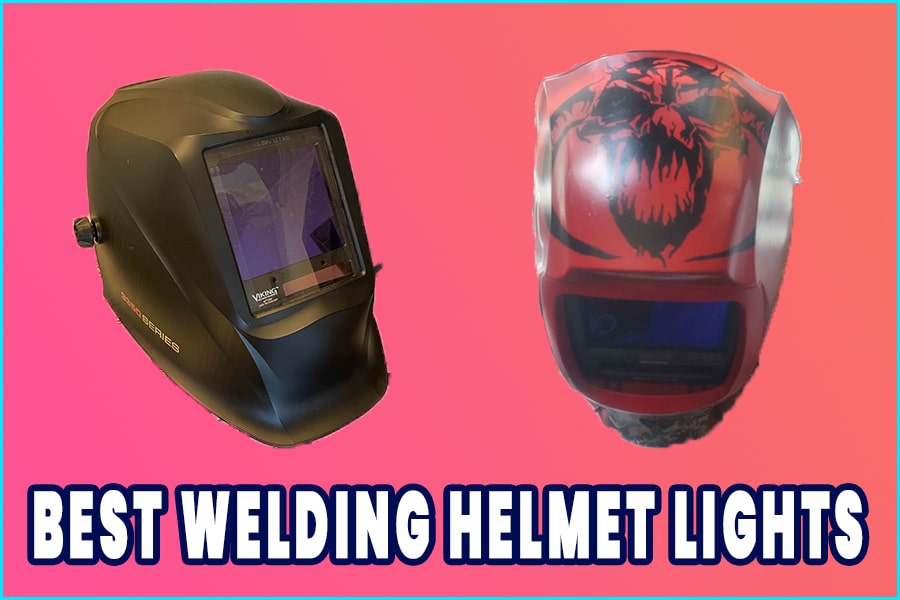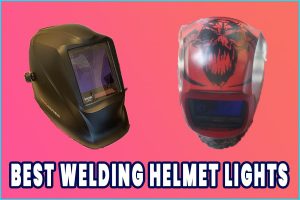 Welding helmets are an essential tool, and they hugely improve the welding experience. The helmet releases you from the trouble of always lifting the hood to position the torch in place. 
Welding helmets offer safety assurance and better protection. Helmets with lights on them create better-surrounding visuals. It's common to hear welders complain about dark workplaces. 
Working in such conditions leads to inefficiencies and low-quality welds. Welders hugely depend on lights for a perfect outcome. There are several basic welding principles when it comes to welding. 
As a welder, you have to follow them for your safety and better products. Choosing the best welding helmet and understanding its standard is crucial. 
Here are some pictures of best welding helmet lights we have tested out: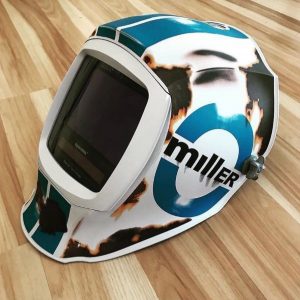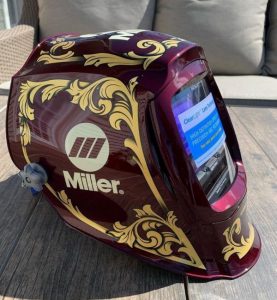 The article list the ten best welding helmet lights and all the information you need to choose the best.
Also you can check out our in depth review on best electrode holder here.
Top Three Welding Helmet Lights
Product
BUDGET PICK
OUR BEST PICK
EDITOR'S CHOICE
Miller Electric Welding Helmet Light,Filter Shade 3, Black/Gray
Streamlight 69140 Vantage LED Helmet Mounted Flashlight, Black
Nightstick NSP-4650B Helmet Mounted Multi-Function Led Dual-Light Flashlight, One Size, Black
Power Source Type
Primary lithium batteries
BUDGET PICK
Product
Miller Electric Welding Helmet Light,Filter Shade 3, Black/Gray
OUR BEST PICK
Product
Streamlight 69140 Vantage LED Helmet Mounted Flashlight, Black
EDITOR'S CHOICE
Product
Nightstick NSP-4650B Helmet Mounted Multi-Function Led Dual-Light Flashlight, One Size, Black
Power Source Type
Primary lithium batteries
The 10 Best Welding Helmet Lights Reviewed
1. Miller Electric Welding Helmet Light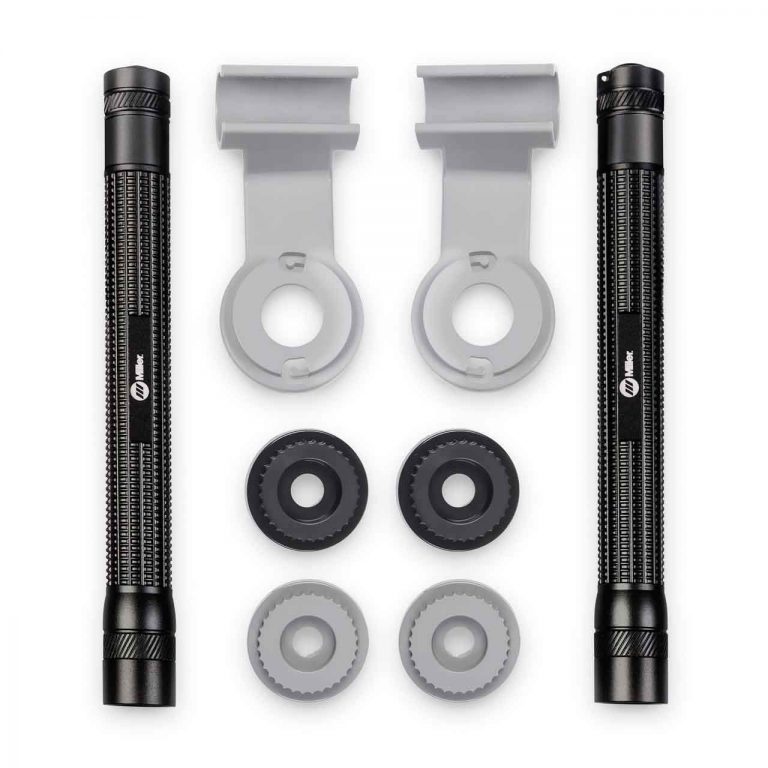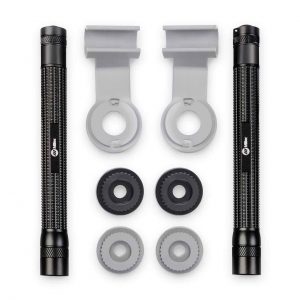 Specifications 
| | |
| --- | --- |
| Installation type | Headgear mounted |
| Power source type | AAA battery |
| Item weight | 2.5 ounces |
| Runtime  | 5 hours  |
Features 
The miller is a popular brand in the welding industry. Miller electric welding helmet light fits most Hobart and miller helmets. 
They include elite, miller titanium, pro, discovery helmets, and many more. 
It doesn't fit the T94 series; however, the kit's lights are similar to those of T94 mounts. Each kit contains mounting gear, AA batteries, and two lights. 
Amazingly the kit installation is simple and only needs about one to two minutes per side. Light set up is two and powerful enough, thus offering great workpiece coverage. 
The lights don't move when you lift the hood, plus you can independently adjust them. The lights are also lightweight, with each weighing about 2.5 ounces, inclusive of batteries. 
Therefore they do have little effect on hood flipping and tilting plus the helmet's overall balance. With the miller welding light, you will have more batteries to replace and adjustments because of the two lights. 
In addition, there are several other complaints about the operation of the light – too many they are low quality. 
However, it comes with a 90-day warranty; if it fails within the period, you're well covered. Miller kit isn't as perfect, but it's still a great option and will perfectly serve you.
2. Stream light 69189 Vantage LED Helmet Flashlight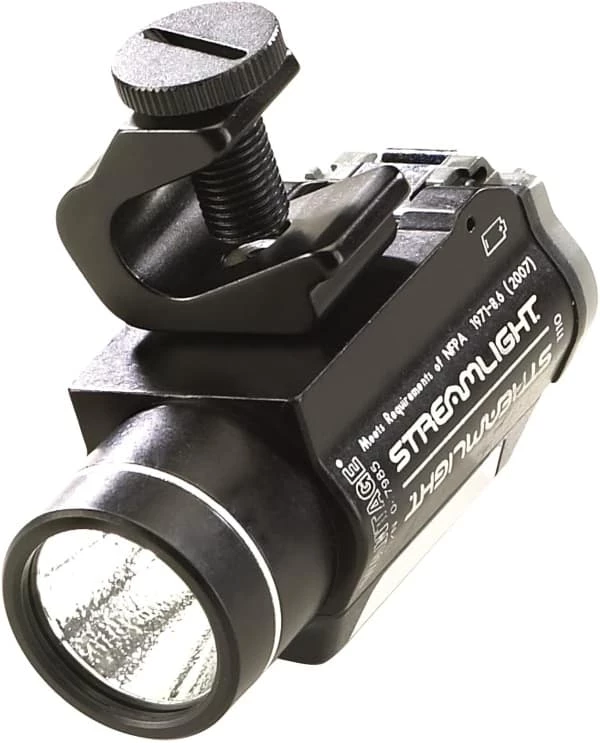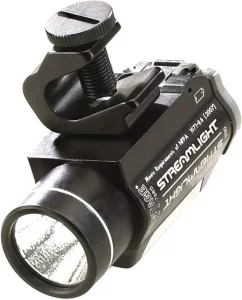 The streaming light comes with an attention-grabbing label than most in the list's best ten welding helmet lights. It's small but offers more light and lasts longer than many traditional flashlights.
Specifications 
| | |
| --- | --- |
| Installation type | Headgear mounted |
| Power source type | Battery-powered (lithium) |
| Item weight | 6.4 ounces |
| Runtime  | 6 hours |
Features 
It has a low-profile flashlight design – the product attaches above and below welding and industrial helmets brim. The housing is 6000 series aluminum which is ideal for aircraft. 
A glance at it, and you'll notice its classic look from the anodized finish. There's polymer housing on the LED section, and its unique engineering offers resistance to high impact. 
Amazingly you can use the light without a helmet. So if you are certain you can safely handle your various welding tasks without a helmet, you can attach the light to a hard hat. 
Helmets' style and design don't matter. You can choose between traditional and modern styles. The helmet also has the IPX7 waterproof rating – therefore, you can use it in water. 
However, make sure the water depth is at one meter for ½ an hour. The product can also withstand extreme conditions such as high temperature, thermal shock, and impact. 
The glass lens is strong and will surely last long in extreme and demanding environments such as welding workshops.
The light is simple and easy to set up and use. You will need several minutes to set it up successfully. Clamping it to the brim will only take around one minute. 
It has an on/off switch that's dual-direction at the rare lights part and thus easily accessible. From the switch, you can activate the tailor main light.
You should know that the LED has C4 technology, which is unique; it's hard to find them in average LEDs. According to the manufacturer and some users, its light output is 2 to 3 times stronger than average LEDs. 
The textured design of the parabolic reflector allows for an excellent beam hotspot. You will have access to optimal peripheral illumination levels, which means easier and better navigation. 
Optimizations of electronic components help regulate light intensity. The light offers 115 lumens and will offer up to six hours of service with a 10% lumen output. 
The tail light is ideal for the welder's safety and great for a place with smoke. It has an ultra-bright blue vision that allows you to see through smoke properly.
3. Nightstick NSP – 4650B Helmet mounted Dual-Light Flashlight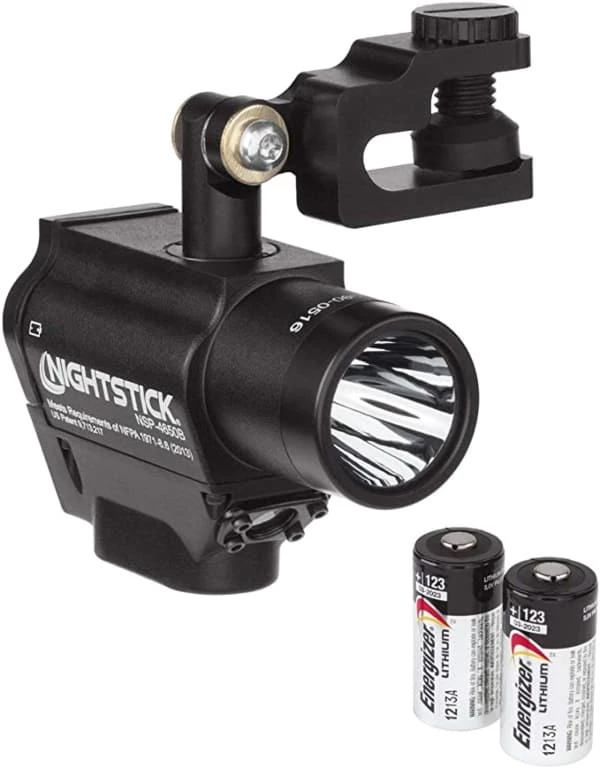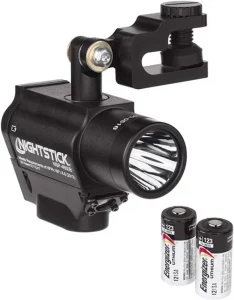 The helmet flashlight is quite exquisite and not what most affordable models look like. However, the helmet light design somehow makes it a good value for the price. 
The model has more bells and whistles than most premium products and standard illumination capabilities.
Specifications 
| | |
| --- | --- |
| Power source | Primary lithium battery |
| Item weight | 0.41 ounces |
| Installation type | Headgear mounted |
| Runtime  | 5 hours |
Features 
The nightstick helmet flashlight is highly durable and checks all the boxes. It's of aluminum, which makes it formidable plus, it has aluminum T6, which is artificially aged and offers maximum strength. 
The drop rate is two meters, and its shock resistance is amazing. It's difficult to damage the flashlight's edges and corners unless you drop it at an exceedingly high rate. 
According to the manufacturer, you aim at any alignment or angle and position the light. The flexibility gives proper external shields and goggle clearance. 
You can integrate the helmet clamp to the brim and will easily fit regardless of the surface or design of the helmet. The no-mar rubber also offers a better grip. 
Plus, it's easy to activate both spotlight and floodlight buttons using gloves and bare hands.
Clamping the light to the helmet is so easy. You can use dual switches or an Allen wrench to activate your love mode. You will also be able to select the brightness level that's perfect for you. 
The nightstick has two: spotlight and floodlight when it comes to the lighting mechanism. Each has different illumination capabilities in runtime, candela, lumens, and modes.
4. TINMIU Rechargeable LED Headlamp Flashlight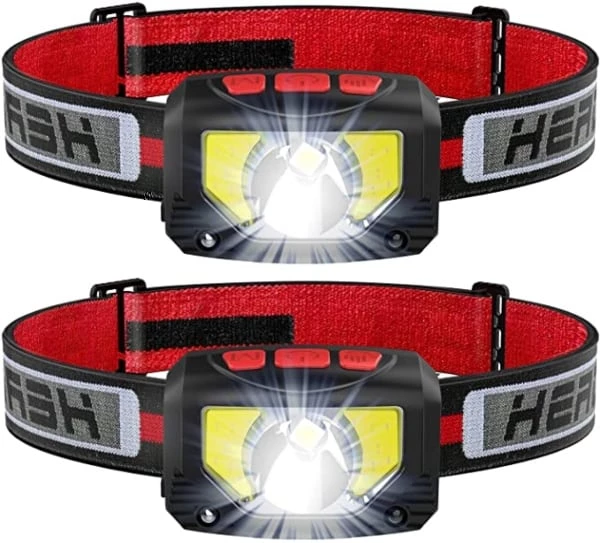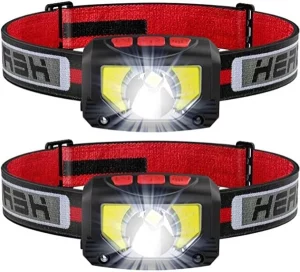 The headlight is an amazing helmet light for people after saving since it's quite affordable. The rechargeable headlamp comes in varying brightness, sizes, color, and functions. 
Specifications 
| | |
| --- | --- |
| Power source | Battery  |
| Light source type | LED |
| Product weight | 7.8 ounces |
| Style  | Motion sensor |
Features 
The great thing is that they're all inexpensive, bright, and lightweight. The best part is that you can easily adapt it to an excellent welding helmet LED light. 
The forehead design is for the forehead, and you attach it in place with a headband. There are a few silicone dabs that hold the light perfectly in place. 
You can mount it on the helmet top, but this depends on the helmet's slope, plus it has light range rotation. It's also quite easy to aim the beam down to your work. 
The most amazing thing about the light is its adjustment range reaches 90 degrees, unlike most that only have 45 degrees. Therefore you can top mount the flashlight on several helmets without shims. 
After finding the perfect spot, you can attach the flashlight with rivets or adhesive. Powering the TINMIU flashlight is quite simple, with only one click. 
It doesn't have any complicated modes that you have to cycle through. It has high-power floodlights ideal for welding and will serve you for more than four hours between charges. 
It also has a hand-free setting that allows you to turn it off and on with a simple wave on your face. It's a great feature since small buttons are usually not glove-friendly. 
5. Life Mounts LED Tactical Helmet ARC Rail Light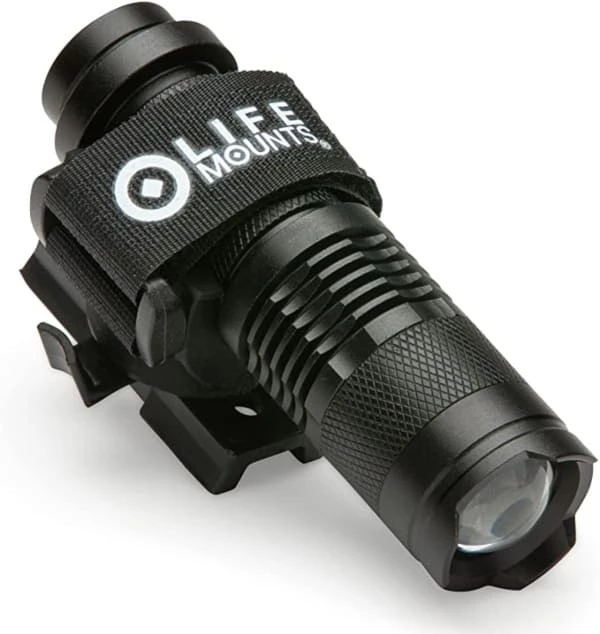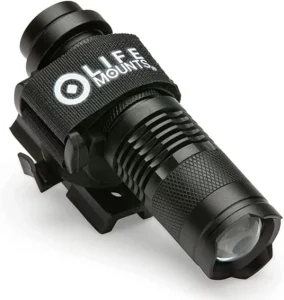 The Life Mounts helmet light is compact and affordable and needs a ready-to-use arc rail. Because of its unique design, it looks more unconventional. 
Specifications 
| | |
| --- | --- |
| Power source  | battery |
| Light source | LED |
| Color | Led |
| Item weight  | 3.4 ounces |
Features 
Aluminum used on the helmet light has undergone treatment, making it stronger. Therefore the housing can withstand impact, shock, and other rigors efficiently. 
Many people find this helmet a tactical type than many regular helmet lights. It has a patented mount built with durable, high-density polythene and silicone rubber.
The headlight offers more than 300 lumens that will illuminate more than one thousand feet of your way. Note that the focus on object and service is slightly better. 
It has multiple modes which function better than their other products. Plus, it's easy to make focus adjustments to some point, but it is not as precise as miller or stream light helmet light. 
To properly and securely fit the light to the helmet then, you need an arced rail. However, the requirement is one of the product downfalls since arc rails aren't ideal for most welding helmets. 
Check out your helmet first to be certain it accepts the arced rail.
6. Princeton Tec Switch MPLS LED Task Light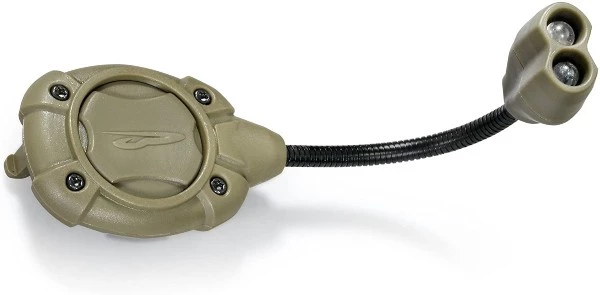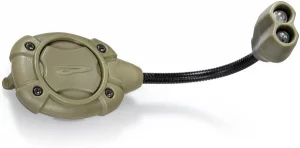 Specifications 
| | |
| --- | --- |
| Item weight | 0.1 pound  |
| Color | Olive drab |
| Style | 1 white ultra-bright, 1 red  |
| manufacturer | Princeton Tec |
Features 
There are many welding helmet lights with the best components in the market. The Princeton Tec model is among the best choice and affordable. 
The light is easily adjustable and incredibly lightweight, and you can use it on any helmet type. If the intensity of your welding task is small, then this affordable light is better than powerful and pricey lights. 
Dual LED lights offer amazing visibility and are in the Flexi-neck platform position. It means you will always have a clear vision of the welding area. Each light offers 10 lumens, and this is good enough to ensure you have perfect welding visibility when near the welding place. 
An amazing bit is that the light is lightweight and has small dimensions. It's almost one inch in all dimensions, and therefore you can use it on any welding helmet and conditions without struggle. 
Its weight is somewhere around 0.1 pounds, and thus you won't have the burden of carrying it compared to other welding lights. 
Each LED light offers different lights, making them ideal for different jobs. One offers ultra-bright white light, and the other has a red light, and they surely make your welding tasks more precise. 
You will attach the light to the helmet's arc and provide light in any direction you desire. The helmet light has one AA battery, has adjustable focus, and multiple modes. 
It's durable with its silicone rubber and HDPE. Plus features secure attachment straps that you can easily remove and use the light for handheld purposes. 
It's drop-proof, making it almost indestructible, plus it is fully weatherproof. 
7. Fox Fury Side Slide C-Clamp Side Mounted Helmet Light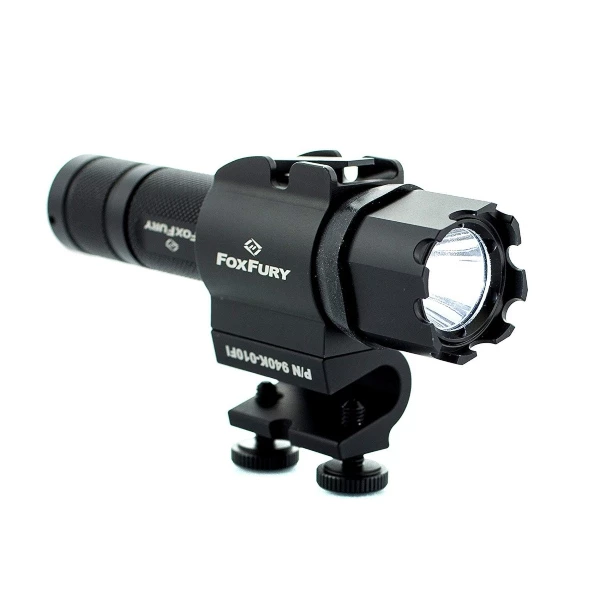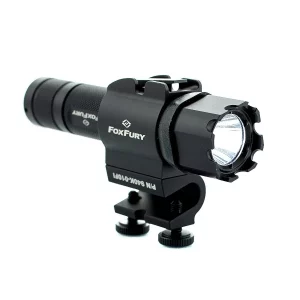 Specifications 
| | |
| --- | --- |
| Power source  | battery |
| Item weight | 5.3 ounces |
| Light source | LED |
| Material  | Aluminum 601 |
Features 
All the helmets lights on the best 10 best welding helmets are quite good, but each has its strengths. The Fox Fury helmet's price makes it a premium helmet that will serve you for years. 
Its high-quality materials guarantee superb brightness, intensity, beam distance, and good illumination. These exclusive features are the cause of its steep price. 
The light head has T6 aluminum, and its housing is anodized with a hard material that offers excellent durability and strength. Its fire rating is quite high at 60 degrees Celsius. Another amazing feature is waterproof; you can use it in water levels of up to one meter. 
It also has the anti-roll head feature that prevents rolling off plain surfaces. Welders love it for its C-Clamp model that includes a side slide lock. 
Therefore you can easily convert the helmet light to a flashlight. The product's weight is 0.56 lb, making the light a little heavy and approximately 5.5 inches. 
Like other modern welding lights, it comes with three modes: flash, low, and high, and they deliver lumens of 275, 70, and 275, respectively. However, the company needs to improve its battery life. 
You will only get 3.5 hours from the battery while on high mode and eight hours on low mode. The flashing mode can only stay for five hours. The perfect beam distance is usually up to 275 meters or 900 feet. 
But you can use it up to the distance of 366 meters or 1200 feet. It also features rear LED that functions as a safety light. You can only side mount the light, making it ideal for job-specific and traditional helmets. 
The helmet light can fit low-profile, full brim, and hard hats. Plus, one can use it on firefighter helmets that have visors, goggles, and protection without any struggles. 
The side-mounting style and flashlight make the helmet model a better choice than most helmet lights.
8. Welding LED Flashlight by Wright Lite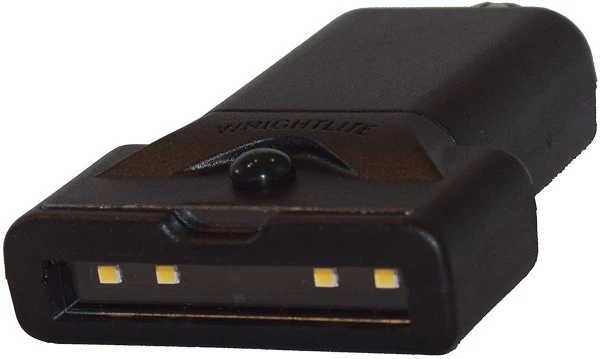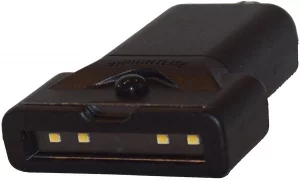 Specifications 
| | |
| --- | --- |
| Power source | battery |
| Material  | ABS plastic |
| Light source | LED |
| Luminous flux | 140.00 |
Features 
There were many deals when welding LED flashlights, and each comes with unique efficiency and features. The wright lite is a popular brand in the welding flashlight industry; this model design fits any welding helmet. 
With the helmet light, your visibility will be bright enough, and you will be able to do your welding work comfortably. It ranks among the best hand-free welding helmet lights. 
The light is easy to operate; you won't have the pressure of lifting the hood to have a clear view. Wright lite is for the helmet's top, and this offers better and enhanced visibility of the whole welding space. 
The welding light has four flashing points that widely spread light on the welding surface and thus better visibility. Therefore it's the perfect light for arc welding and low light conditions. 
It has one unique feature that makes it different from other helmet lights: the magnetic attachment, perfect for ADF welding helmets. It means the WrightLite helmet can magnetically attach to anti-darkening filter (ADF) welding helmets. 
Plus, amazingly, the magnetic attachment is extremely durable and will ensure the light has a strong attachment to the helmet without any misfit. 
The LED is ideal for long-term welding tasks; it offers 8 hours of continuous bright light. The best part is that the long-term lighting power only comes from 3 AAA batteries. 
9. Stream Light 69331 Vantage II 350 Lumen Helmet Mount Flashlight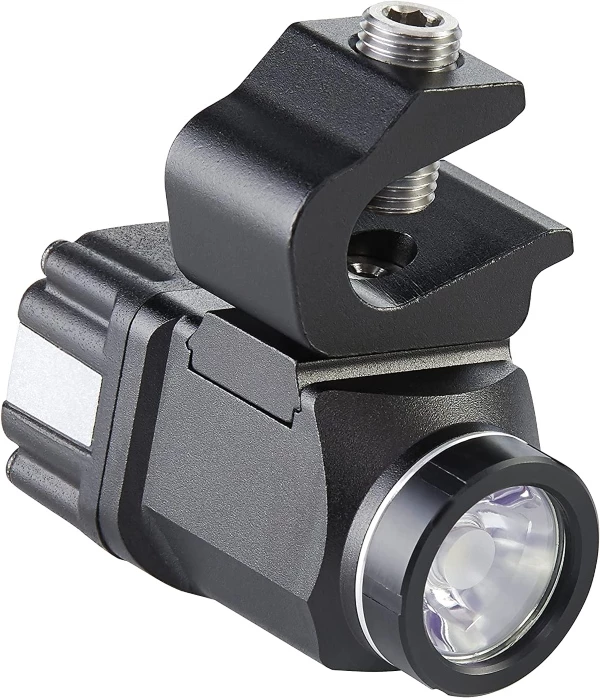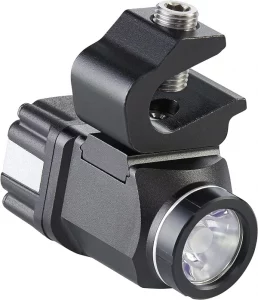 Specifications
| | |
| --- | --- |
| Power source  | Batteries  |
| Material  | Aluminum  |
| Style  | Flashlight  |
| Item weight  | 3.68 ounces |
Features 
The quality and features of this model are almost similar to that of stream light 69140; the only differences are brighter illumination and several other compromises. 
According to the manufacturer, stream light, this model is not tactical. The lights design is low profile and has swivel clamps that allow the welder to attach and detach it on the helmet brim. 
You can attach it below or above the helmet brim without worrying about it coming into contact with debris or dust. The light will ensure amazing results regardless of the helmet; it can be an industrial or welding helmet or even the hard hat. 
Light's housing comprises 6000 series aluminum and has a black anodized look, making its finishing attractive. It has a chemically treated polymer housing that makes it durable and impact-resistant. 
Lenses can meet highly challenging applications because of the Borofloat flat glass, enhancing lens properties. All the materials ensure the product is durable and can withstand thermal shock, impact, and high temperature. 
It also has IPX7 water protection; you can use it in places with stagnant water etc. Plus, you can use it underwater at one-meter depth for an hour without damaging it. 
The light has passed several rigorous tests. Another amazing thing is that setting it up is simple and easy and takes a few minutes. Even new users won't have trouble setting it up. 
A large push button (on/off) on its rear offers convenience. A welder can handle it with gloves on their hand. It has a textured parabolic reflector that collects and reflects light. 
The process's peripheral illumination and beam hotspot are good since it comes from a high-tech flashlight. Different electronic components have great optimizations that allow you to operate without worries of light intensity. 
You should also note that C4 LEDs are far better and stronger than aftermarket upgrades. It has taillight LED, which allows you to have a clear view from behind. 
Light output is among the factors that set it apart from other helmet lights; it offers more than 350 lumens. However, the brightness comes at a price since the helmet light can only last 2.25 hours.
10. Greer ride Rechargeable Hard Hat Light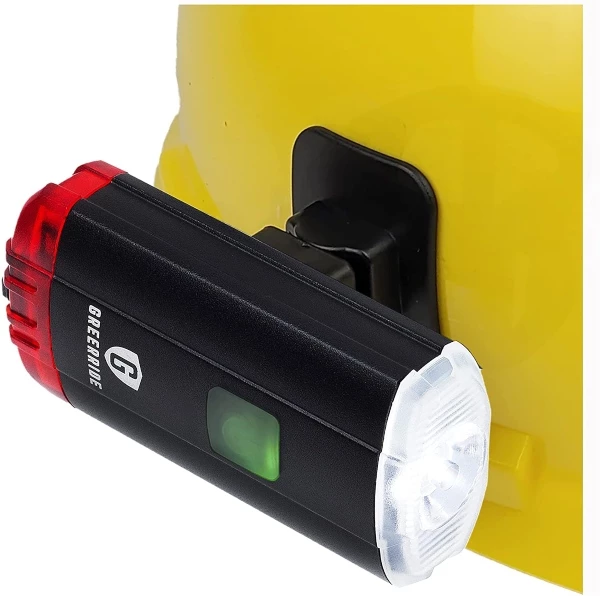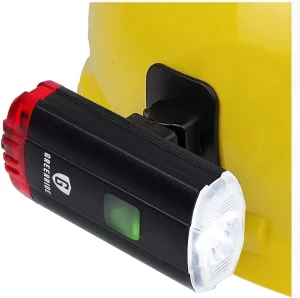 The model is ideal for anyone who needs the perfect helmet light to inspect welds or work lights. Greer ride is durable and will surely withstand all abuse.
Specifications
| | |
| --- | --- |
| Material  | Aluminum  |
| Power source | Battery-powered |
| Item weight | 2.11 ounces |
| Style  | Front and backlights |
Features 
The helmet light is surely for rough use – the casing is aluminum and not common cheap plastic in most helmet lights. 
It's waterproof, and thus you can use it in winter weather or rain – both indoor and outdoor. You attach it to the helmet; it ensures your hands are free to handle other welding projects. Plus, it's tactical. 
The helmet offers comfort and brightness. It has front lights that are very bright and will offer power for four hours when on a high beam and five hours on a low beam. It's enough time to allow you to focus on your projects. 
The helmet light weighs 2 oz. Which is lightweight; you will hold it on the helmet unnoticed. Its attachment to the helmet doesn't require clips. All you need to do is remove the adhesive's pad protective tape and then mount it on the hard hat. 
You can use the light for purposes other than welding. You can use it for emergencies or take it for your camping trip. It has a compact design, and thus you can comfortably carry it in your pockets. 
Overall you can use the helmet light for camping, hiking, and fishing. It has a red light that you can use as a warning light. People love the helmet light because of its ability to recharge. 
Therefore you won't have to spend often on batteries. Recharging it is quite straightforward; all you need is a USB cable (included in the package). 
The lithium-ion battery capacity is 500 mAh which is high capacity and makes the flashlight ideal for your workplace and home project. 
When fully charged, the power button glows green, and you can charge it from a laptop, car USB, and wall USB port. 
It comes with an adjustable installation mount. Its installation mount is also easy and has a curved surface with adhesive. It means you will not require zip ties or straps. 
You first attach the installation mount on a hard hat and then light using a quick-release lever. There are two ways to install the light, i.e., perpendicular and parallel configuration. Adjusting it is easy simple tilt it backward or forward.
The list has the 10 best welding helmet lights in the market. In addition, it has detailed information about each welding light, from specifications to features. 
Therefore making that purchase decision won't be hard. Continue reading the article for more information about welding helmets lights and how to make a good purchase decision.
Also you can check out our in depth review on best reboot welders here.
Factors To Consider When Choosing Welding Helmet Lights 
Choosing a welding helmet light can be quite tricky. Welding LED lights are quite useful and will help you perfect the welds as a welder. 
When setting up welds, it is common for helmets, a torch, workpiece, and hands to block the overhead light. Weld lenses filter the lights, but it's usually difficult for human eyes to deal with extreme contrast between surrounding areas and intense welding arc. 
If you work in such conditions, your vision will surely darken and don't have the welding light. Plus, bright welding spaces are great for safety. 
The helmet lights are the most preferred for lighting welding spaces. Here is more information on factors you need to consider when choosing the right welding light. 
Battery Source
The most standard helmet light battery is the triple-A lithium-ion battery. Plus, many other electronic use this battery because it's quite popular. 
Therefore, sourcing for helmet lamps that use triple-A lithium batteries can be a fair bet. The triple-A batteries are ideal for regular welding projects that don't need more than three to six hours.  
If your welding project is big, you must choose a welding light with heavy-duty AA batteries. They are long-lasting and will ensure you complete your project.
However, a good helmet light needs to offer at least five hours of constant run time.
Plus, it's you that manages battery charging. Ensure you have extra rechargeable batteries when working for longer hours and understand your battery's runtime. 
At times it's good to have a backup light if you own a helmet light with a rechargeable non-replacement battery. 
It's because if the battery's power runs, it'll be impossible to replace the battery, and you'll have to replace the battery. Recharging the battery will surely take a long time, affecting your deadline. 
Whatever option you decide to make on welding helmet batteries should always include backup batteries. It'll help you avoid being in the dark at the most crucial work time.
Helmet Fit 
There are many helmet designs in the market today. Each has a design element that can make it almost impossible to use certain light types. 
Before purchasing a helmet, you need to know the limitation of its style. For example, a helmet with a face shield that rises above the helmet's brim can't use the tilting, high profile, and front-mounted helmet light. 
Such caps' best option is usually the low-profile light. There's also the Gallet-style helmet, which is difficult to attach helmet lights. 
The helmet type lacks a brim, and attaching a side mount light can be quite hard; plus, it has a front shield that extends too high to the front face and thus prohibits using a front mount helmet light. 
Side Mount vs. Front Mount
The helmet mounting options have evolved in years with improvements in lumens and size. Side mounting lights were quite popular in the 80s and were cost-effective options. 
Today most side mounting lights are focused and connect to the helmet using an adaptor or strap. The light beam shines further straight than peripherally. 
Several newer side mounts light models can quickly detach from the helmet. It means you can use them as handheld flashlights at any time. You can also fix other models almost permanently on the helmets. 
All are advantageous, but it depends on the user's preferences. However, you should note that sidelights usually bring about weight imbalances. Heavy ones can lead to helmet tilt towards the side. 
Even though some helmets and lights are lightweight, welders will still fill some neck strain because of the imbalance. 
The strain is much more popular to those working for longer hours. However, you can balance by adding another light side to the other side. It helps balance the weight. 
Front mount welding helmet lights have been around for a long and are quite popular. In the beginning, they were helmet-mounted lamps plus a corded battery pack. 
Today there are many front mount light models with a miner-style spotlight which project light straight. They lack side mount lights but still offer that panoramic visibility. 
Therefore everything will still be okay, and you will have situational awareness. The front mount light is usually self-contained; their light heads have batteries. 
Most headlights use 4 AA batteries that add weight and make the headlight lean forward. 
The front mount lamp can cause neck strain if you work for long hours. Headlamps with triple-A batteries are small and do not last long.
Body Material (Housing)
The most popular housing materials are aluminum and plastic – however, aluminum is the most popular. Aluminum 6000 and 6061 are the most popular for their resistance to impact and strength. 
The superior choice amongst the two aluminum is 6061. Other helmet lights come in an ABS body, which offers more durability. 
Overall it would be best to choose welding lights made from quality material such as aluminum. If possible, restrain from buying those made from plastic or other cheap materials since they easily break. 
Plus, many helmet lights are adjustable. Therefore, you can easily direct the beam to where you need it more. Choose a welding light that will give light directly above the weld site.
Lumens 
The lumen is simply the measure of light amount from the LED or bulb – if the lumens numbers are high, the light is brighter. There's also the luminous flux that has a similar meaning to lumens. 
However, it has some underlying considerations. Welding operations usually need 200 to 300 illuminance lux. The numbers aren't similar to lumens. 
Note that to illuminate 5 square feet of space, you'll need at least 140 lumens. Do not worry about lumens' complex calculations. There's the lumen calculator that will help you calculate the exact lumen amount you need. 
Beam Distance and Candela 
Candela is simply the unit for measuring luminous intensity. The beam intensity is simply the distance the light reaches. 
Not all welders consider these factors as that important but surely have a huge impact on welding.
Lighting Modes 
There are different lighting modes, and at times welders need to prepare different lighting modes. Spotlight and floodlight modes are both useful. 
Different lights have varying features of low and high-intensity levels. Others only have one and fixed levels.
Color Temperature
There are different color temperatures when it comes to welding. You need to select the one that works well with your room and eyes. The best light for welding is the clear daylight bright color. 
Select a welding light with a color temperature of between 4000K and 6000K. Perfect white light for welding should be close to the daylight's color. 
That's around 5000K; it allows your eyes to have a clear view of different colors during welds. High CRI LEDs show colors more accurately and are more important when you want clean and precise welds. 
While standard welds offer general illumination, you can use them if you do not need too many details in your welds.
Weight and Durability
Helmet lightweight considered to be ideal should be 0.1 kilograms and below. Any welding light with more than 0.1 kilograms will feel heavy, and you will experience the pressure on your head. 
To reduce or avoid such discomfort, always select helmets with lightweight. Check the light's durability by looking at the pressure it can withstand and the built material. 
Plus, if the light is weatherproof or drop-proof.
Price
Cheap doesn't mean bad. However, it would be best if you didn't always fall for cheaply-priced helmet lights. Most cheap products do not offer amazing qualities and lack the most powerful and essential features. 
The cheap lights create more problems at times, and your project won't come out as perfect.
Comfort 
There are different helmet lights, and each comes with unique features. Some of the features will surely determine the product's comfort, which does vary. 
You can attach magnetic products to your helmet or other solid objects such as walls or railing. Others have telescoping handles, and thus you can carry them from place to place with ease. 
The last and amazing feature is adjustable head angles which allow you to focus the light to that exact place.
Also you can check out our in depth review on best lincoln welders here.
Importance Of Bright Lighting in Welding 
To properly focus on straight joints and other welding operations, you'll need proper lighting. It's because it improves the welding experience and outcome. 
Additional welding helmet light increases the solid welding capability. Welding helmet shield will protect your face while the light on the helmet improves your vision. 
You need to ensure the welding space has proper ventilation for respiratory protection. Your respiratory health is as important as your visual health.
Types Of Welding Helmets 
Cordless Welding Lights 
The lights are perfect for small workspace and ideal for dark areas such as under vehicles and overhead welding. You can also effectively use it in small welding spaces. 
Overall they are best for tight welding space with limited access to light sources. Cordless welding lights are rechargeable and allow you to have light minus cabling, and you can use it anywhere. 
If you intend to use it for longer hours, you have to monitor the battery charge properly.
Task Area Work Lights 
The light types are ideal for projects that require too much illumination, plus if you own a small workstation. There used better when you do most of your work from the workbench. 
A great welding light should fit on the top of the headgear. You won't have the pressure of moving around with the lamp in your hands.
Magnetic Work Lights 
Such lights are ideal for outdoor and industrial settings since they don't use cords and are great for workbench. The lights are also great for use in very tight places since you can mount them on metal surfaces using screws, clips, and magnets. 
You can use them perfectly if the working space isn't near an outlet since it will save you from the struggle of running cords everywhere. It's great for welding jobs in the open, large, and outside areas with many outlet access.
MIG Welder Torch Light 
Great MIG welder light connects to the welding gun. It's ideal for welders working in places with limited outlets, close-quarters, etc., such as under vehicle engines. 
Your weld site should have a direct light source to avoid shadows on your workpiece. Therefore you will be able to make a clean and quality workpiece. The torch lights are good for an industrial setting. 
When you need too much light, you can also use it, but power access is limited. When selecting the MIG welding light, choose the one with the best metal construction. 
Make sure it comes with varying brightness levels and has adjustable head angles. People love LED technology because they're brighter than old models, their batteries are long-lasting, and they run cooler.
Telescopic Tripod Work Lights 
They are among the best welding helmet lights for welders that require too much light for a small workstation. 
The lights are good for workbench use but not ideal for prolonged use since they get hot after long usage periods. They are ideal for shops and also industrial settings.
Head Mountable Work Lights
You can use the light in places where no other lights can function or in a limited space. It perfectly fits the helmet set above your eyes. 
Head mountable work lights are perfect for industrial shops, plus when working in a space with little outlets access.
High Bay LED Shop Lights 
The lights are great for use in large and high areas, and you can use them for extra lighting for your workbench welding projects. 
It is good for lighting places, but it doesn't reach the work surface. You can add them to your tasks light to remove shadows, plus work well with welding helmets.
Also you can check out our in depth review on best everlast welders here.
Frequently Asked Questions (FAQs)
What is the best MIG welding light, corded or cordless?
The light you choose depends on the working environment and your project. The best LEDs are in corded products. 
However, several amazing cordless MIG welding lights offer flexibility. You can take them to any place you need during a project. 
Light is best and more effective when you put it close to your workstation. You need to consider this and note that cordless light options need charging. 
Therefore you need to have charging places ready before using them.
How should one choose between spotlight and floodlight?
They are two popular lighting modes, and both are useful. It all depends on how you want to have and use them. 
If you work in a very small area that needs strict focus, you should choose the spotlight mode. 
However, the floodlight mode is perfect for illumination across a large surface area, let's say, a huge room.
Can one use tactical light with a welding helmet?
Today there are many tactical lights, and each comes with its unique and many features. Therefore the features make them more versatile and ideal for various applications. 
That's from survival to other industrial works. However, it would be best to look at all light qualities to choose the right one for your project.
What is the importance of NFPA requirements, and are they essential?
The primary role of the organization is to establish safety codes and requirements. The codes and requirements help reduce injuries and death from fire and electrical hazards. 
Therefore it's advisable to follow all the NFPA recommendations. To pass the NFPA recommendations as a manufacturer, you must ensure users' safety. 
As a welder, it means that you should also check whether the light meets all the NFPA requirements.
What helmet type is better, battery-operated or solar-powered?
In most cases, the helmet a person chooses depends on their personal preference. A welder will choose one that offers more convenience.  
Ensure you don't get flashed when choosing a welding helmet that is battery operated. However, note that battery-operated helmets have an automatic turn-off feature. 
The feature turns of a helmet that has been idle for some time. Welders who aren't careful might experience an arc flash and think the helmet is still dark. 
Solar-powered helmets also offer convenience. You won't have to worry about constantly buying and changing batteries.
What is the ideal lumen count for a welding helmet light?
If your project does not need a lot of precision arc, then a light that offers about 150 lumens is good to go. Indeed, there are jobs that you can complete with a precision of 100 lumens, but it's advisable to get a higher number.
Conclusion 
The article lists the 10 best welding lights that have pretty everything to satisfy your welding needs. That's simply properly illuminating your welding workshop. All the products will surely grab your attention because of their amazing features. 
Therefore you need to be critical in your considerations. Pick a welding light that perfectly fits your welding environment and needs. Some of the products are affordable, while others are quite expensive. 
Remember, the price doesn't necessarily limit the performance of a particular product. Having proper lighting will surely reduce shadows and balance our field vision contrast. You have to make an informed decision regarding welding helmet lights.